Snow Angels are a beloved winter tradition. Why not take that tradition and turn it into a paper Snow Angel Ornament perfect for adding some holiday sparkle to your home?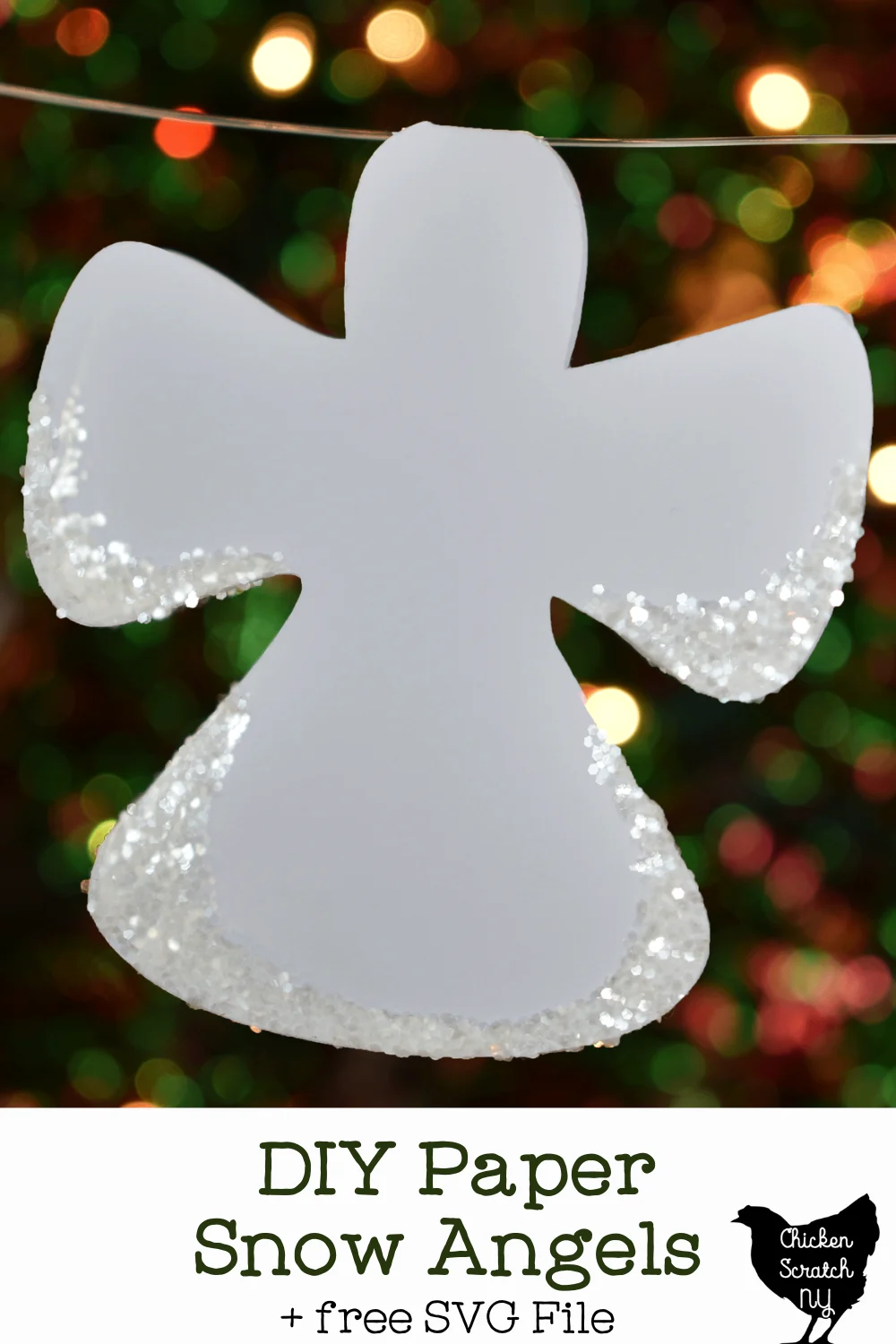 I have to give the credit for this Christmas ornament idea to my 5-year-old, she was helping me load the paper for another project and insisted we make angel ornaments.
After an amusing but slightly frustrating circular conversation (if you have little kids you know exactly what I mean) involving charades, I figured out she meant snow angels.
A little bit of computer magic later and I had a simple shape that met her high expectations.
Snow Angel Ornament Supplies
The supplies for this holiday ornament are simple and likely things you have around the house, especially if you're what I call a 'craft hopper' where you constantly jump from creative hobby to creative hobby!
You'll want to use a thick cardstock for the snow angel ornaments, regular-weight paper won't be as sturdy and it will get wobbly when you add the paint.
If you're going to skip the glitter/glue/paint step (you're a smarter person than me!) you can use any weight of paper.
When it comes to the paint/glue you have a few options and again I recommend using whatever you have on hand. For the majority of my ornaments, I used white Tulip fabric paint in the squeeze bottle.
It's easier to control where the paint goes than with glue and it doesn't puff up the paper.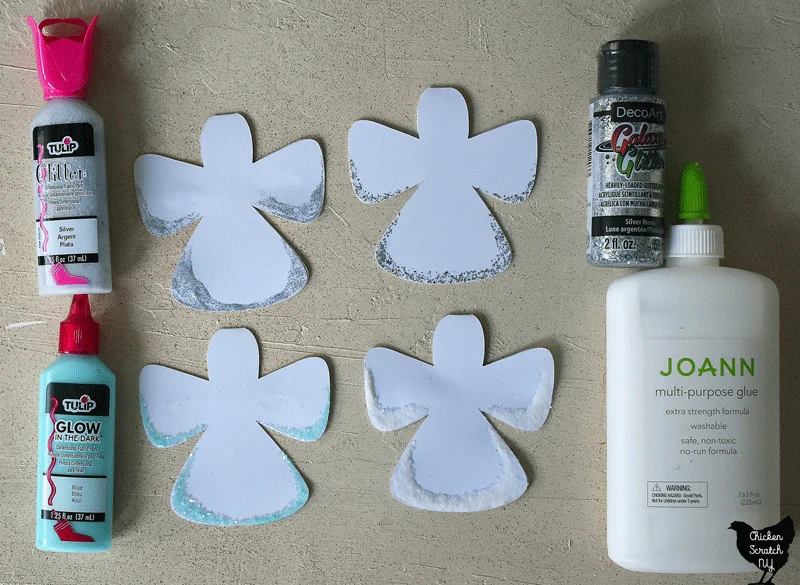 It's the same paint I used for my Ugly Christmas Sweater ornaments, I have a giant bottle and to be honest I didn't want to track down and wash a brush.
I also did a sample with blue glow-in-the-dark paint from Tulip, in general, glow-in-the-dark paint tends to be too pastel for my tastes but I think it works in its favor for this application.
Make Felt Ugly Sweater Ornaments using your Silhouette
I topped both of the fabric paints with chunky iridescent glitter. Now I hate glitter, but I'm willing to make a few allowances for Christmas ornaments and creative children.
You can also use glitter paint, you'll get the glittery effect without all the shedding. I used DecoArt Galaxy Glitter in Silver for one snow angel, the silver is really pretty with the twinkly lights on the tree but I think it would be prettier with white glitter paint.
A few more options are white school glue with glitter or using glitter glue/fabric paint. Again, whatever you have on hand will work.
You will also need a glue stick and thin twine or fishing line to string a garland, or a hole punch and ornament hooks for ornaments.
How to make Snow Angel Ornaments
First things first, download the SVG file and cut a pile of angels from cardstock. They're going to be folded in half so they will look sort of weird straight off the mat.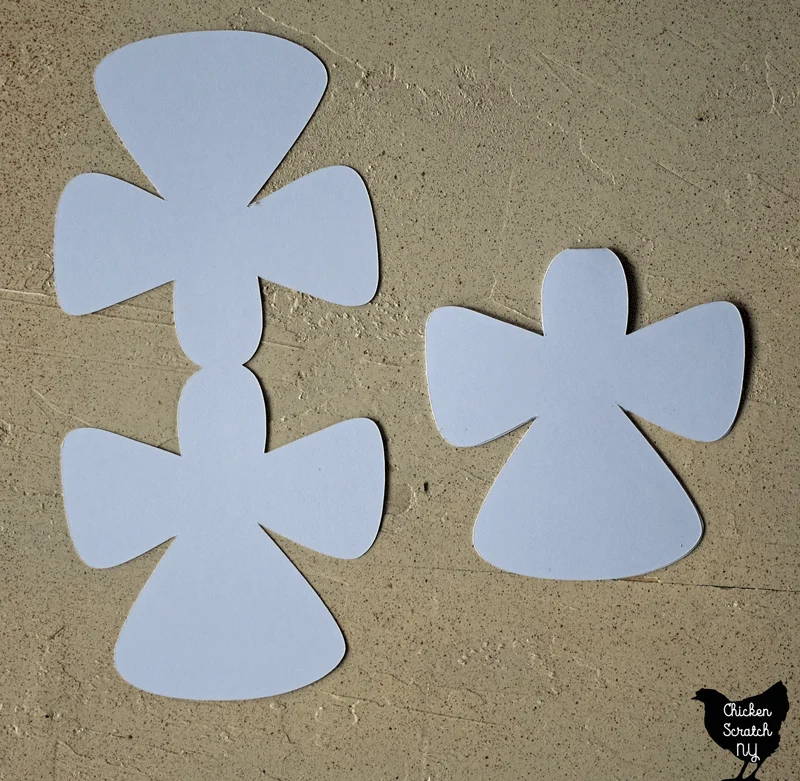 Get the Free Snow Angel Ornament SVG file
Fold them at the top, lining up the bottoms of the skirts and the arms. Apply glue to one side, avoiding the very top, and press the halves together, glue sticks work best for this but use what you have on hand.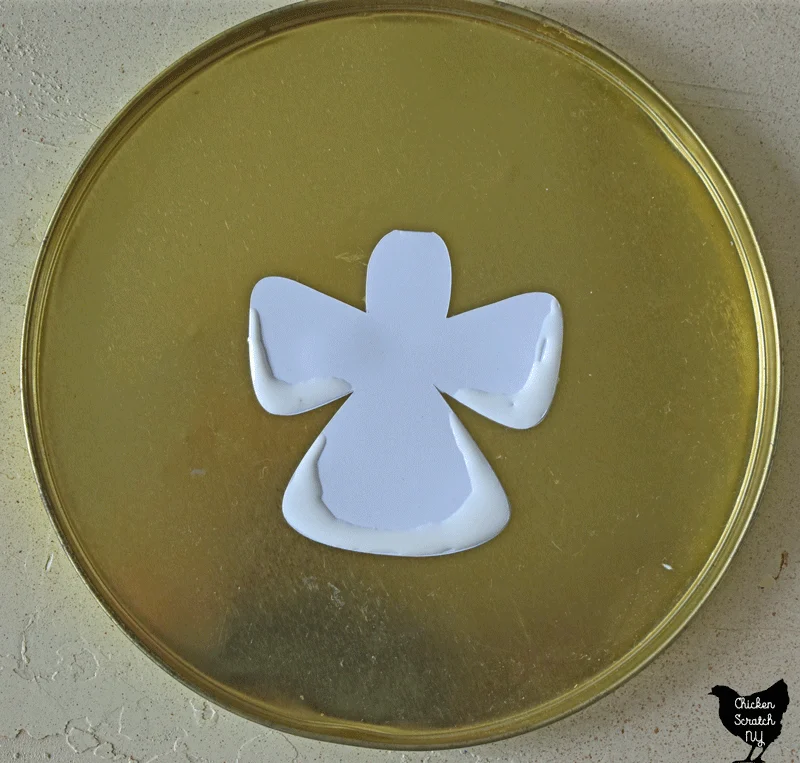 When the glue is dry grab your fabric paint, glue, or glitter paint. Apply it to the bottom of both sleeves and the skirt, tapering as you move up.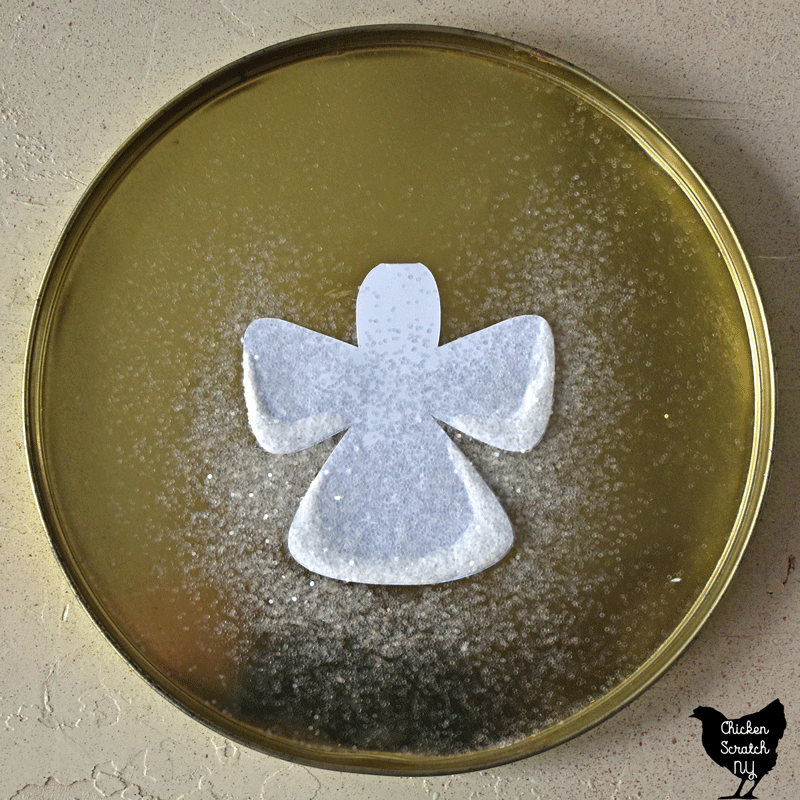 If you are using glitter now is the time to liberally apply it over the paint. I like to do this in a shallow bowl or lid, anything to keep the glitter contained!
The glue tends to go on thick and if you try to shake off the excess glitter when it's still wet you run the risk of the glue sliding around or even off the snow angel and making a huge mess.
Tulip Fabric paint is thinner than the glue and you won't have to wait for it to dry before shaking off the extra glitter.
When the paint (or glue) has set flip the snow angel over and repeat on the other side. If you'll be hanging your snow angels against a wall you can save yourself some time and skip the back.
As far as turning them into ornaments you have two options, you can run some fishing line through the fold and make a hanging loop or you can punch a small hole at the top and use an ornament hook.
We have a large real tree and several fake trees; I prefer ornament hooks for the real tree so the branches don't get mangled and loops for fake trees so you can bend the branch back to lock in the ornaments.
Make a Snow Angel Garland
The original plan for the snow angels was to make ornaments but I ended up with a whole pile and decided they'd make a better garland. I strung them up on fishing line, running it through the angels right at the fold.
I tied a loop in each end and slipped them over small nails to add yet another garland to my holiday decor. The angels are pretty easy to slide around on the fishing line but once you get them where you want them they tend to stay put.
Check out 24 DIY Christmas Garlands
We made the original garlands in 2021 and I wasn't exactly gentle about putting them away at the end of the season. Despite that, they all survived and look just as good this year!
---
Check out my Christmas Page for more ideas or start here: