Mini-desserts are more work than one big one, but soooo much cuter! I bought a mini-bundt cake pan last year and after a disastrous attempt at mini-gingerbreads I hid it in the back of the cupboard until today.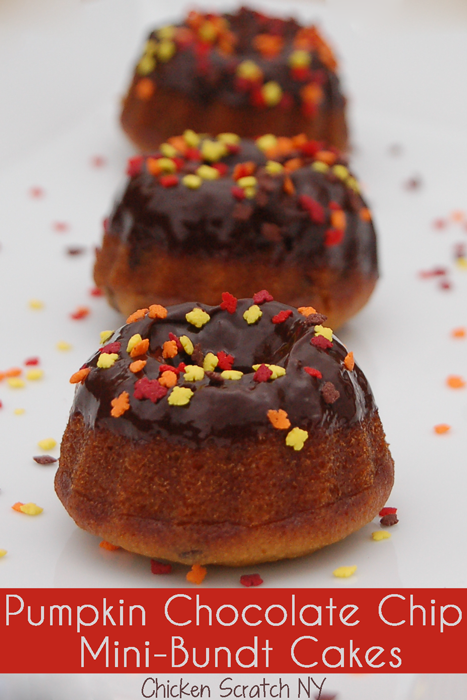 This is adapted from an 'old family recipe'. For all I know it came off the back of a chocolate chip package.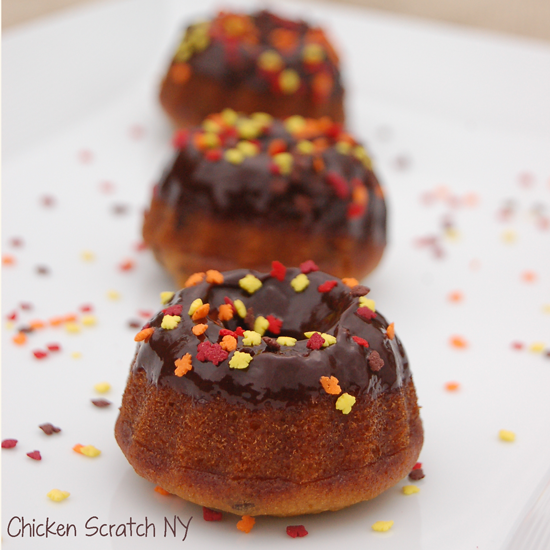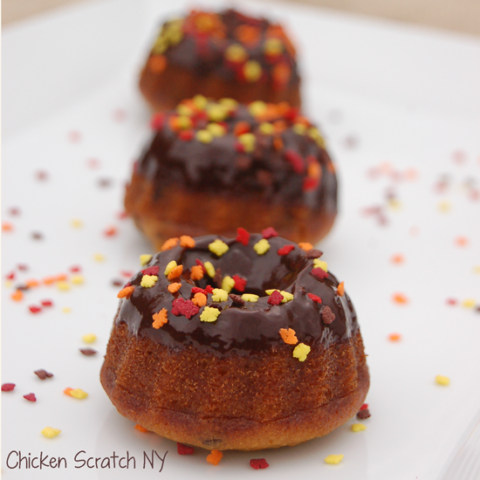 Mini Pumpkin Chocolate Chip Bundt Cakes
Yield:
3 -4 dozen minicakes
Easy autumn dessert featuring pumpkin and chocolate
Ingredients
3 C flour
2 C sugar
1 t baking soda
1 t baking powder
1/2 t salt
4 eggs
1 C vegetable oil
2 C Pumpkin Pie mix
1 1/2 C mini-chocolate chips
Instructions
Combine dry ingredients in mixer bowl
Add eggs, oil and pumpkin and mix until combined. Batter will be the consistency of pancake batter
Fold in chocolate chips
Generously spray mini-bundt pan with cooking spray
Fill to slightly less than 1/2 full, the batter will expand a lot
Bake at 350 F for 7 minutes, rotate pan and bake for another 8 or until a toothpick comes out clean
Alternatively you can use regular chips and bake the cake in a regular bundt cake pan at 350F for one hour or until a toothpick comes out clean.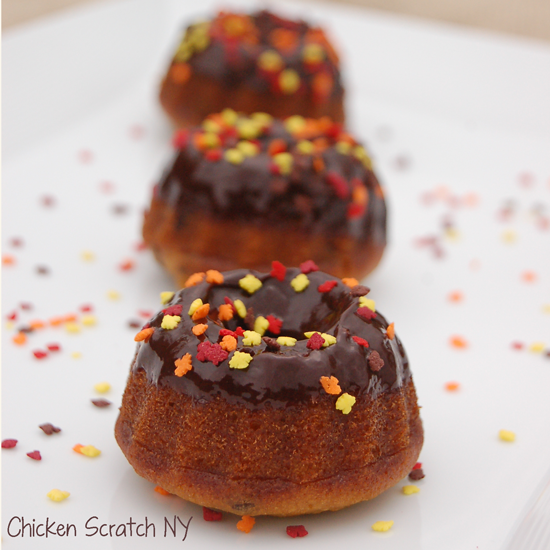 I like to eat the cake plain, it's sweet enough for me but my husband likes them a little fancier. For these I microwaved 1 1/2 tablesspoons of mini-chocolate chips and a splash of heavy cream in a wide coffee cup for 20 seconds. After some vigorous stirring I dipped the tops in the gooey chocolate and sprinkled them with some adorable autumn leaves sprinkles I picked up at the local Mennonite Store.