It's not a party without a pinata! For Mary's Halloween birthday party we took it to another level by filling it with a few surprises and getting the kids in on some pre-pinata crafts.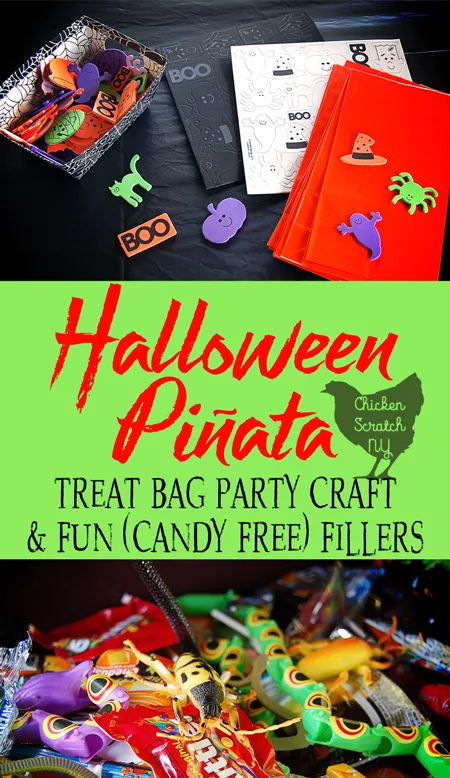 I was lucky enough to partner with Oriental Trading Company for this party, they sent me a few goodies to help us celebrate. Just like with all my sponsored posts all the ideas and ideas and opinions are my own. This post contains affiliate links for Oriental Trading.
On the off chance that you aren't familiar with OTC they have a HUGE catalog of just about anything you can think of. They are the perfect source for party planning and holiday shenanigans.
I spent a few hours (not exaggerating, I LOVE Halloween) going through the Oriental Trading Company Halloween pages picking out stuff for the party. If you're still in the market for Halloween Costumes they have lots of fun options too.
Halloween Treat Bag Craft
When I was planning Mary's party I knew I wanted to have some type of craft project and I knew I wanted a pinata. I decided the best way to combine the two was to let all the attending goblins and ghouls decorate a treat bag with stickers so they had something to put their pinata goodies in.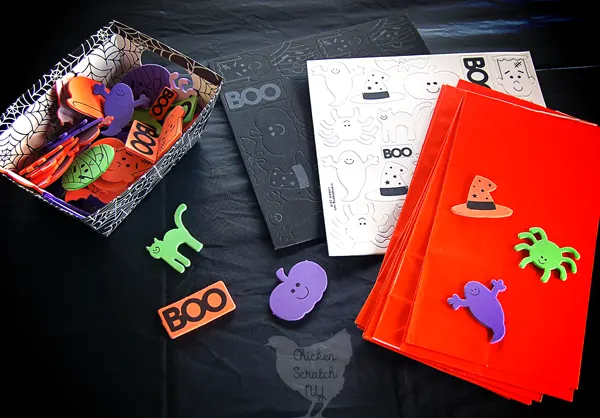 We started out with orange treat bags and foam Halloween stickers from Oriental Trading Company. I wrote each kids name on a bag and filled a few bowls with the stickers. You will need to punch them out of the foam sheets but it only takes a few seconds.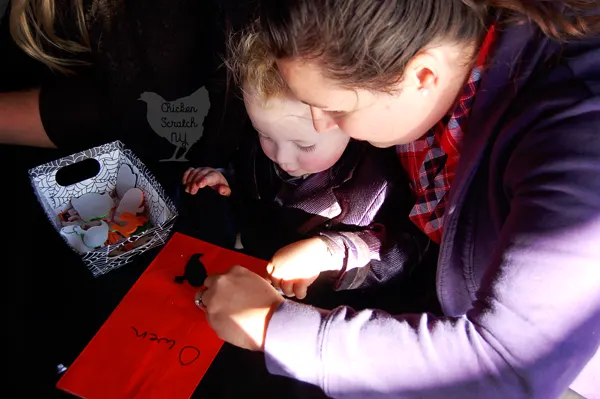 Out of all the activities this one seemed to be the most popular with the kids; even though the party was at a park with a very fast side that I may have taken a trip down ;-). I liked it because it was easy enough that all the kids could participate from the youngest at 23 months to the oldest at 5.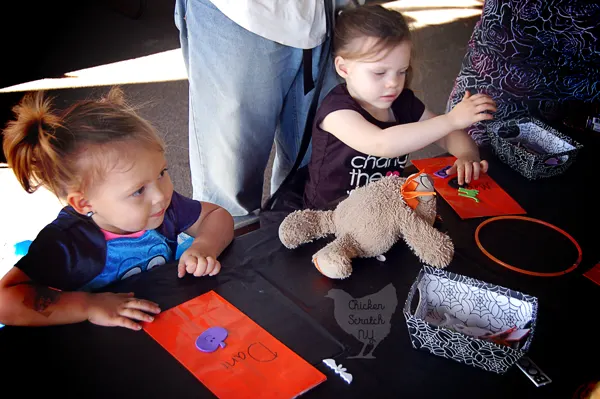 Bag decorating was probably the calmest everyone was all day too! We did have a bag fatality when Mary tried to remove a sticker, so I recommend keeping a few extra bags on hand.
After our bags were decorated it was time for Irving the Giant Spider Pinata. We ended up with a small party, only 6 kids out of the original 12 were there so everyone left with a very full treat bag.
Halloween Pinata Filler
Despite my overwhelming love of Halloween I'm not a huge candy fan, especially when it's being fed to a small child I need to live with.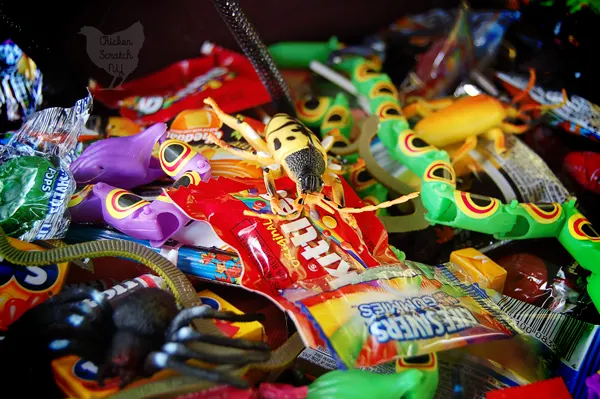 After much deliberation (and my mom telling me I wasn't allowed to fill a pinata with bouncy balls) I decided on the Creepy Crawly Insect Toy Assortment. Everyone loved the toys and they looked very dramatic spilling out of the pinata.
Any small toys will work, mini glow-glow-in-the-dark Halloween rubber ducks or plastic vampire fangs would be really fun as well! I added a snack sized bags of Halloween goldfish crackers and some candy for traditions sake (and because pink starburst make the world go round).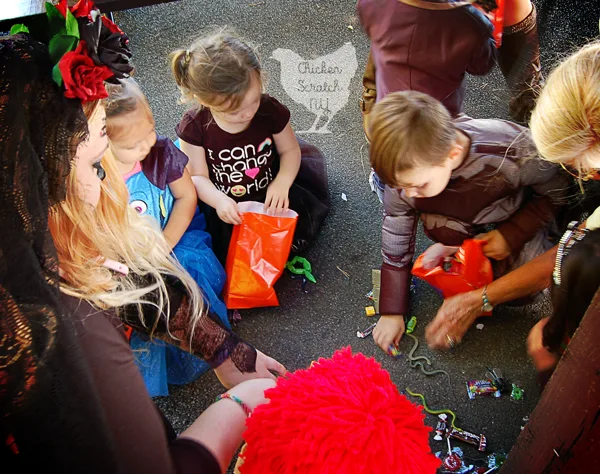 Halloween Pinata
Irving the Halloween Spider Pinata came about because I couldn't find one that I liked. I was able to make it from things I had in my craft room because I'm a craft hoarder.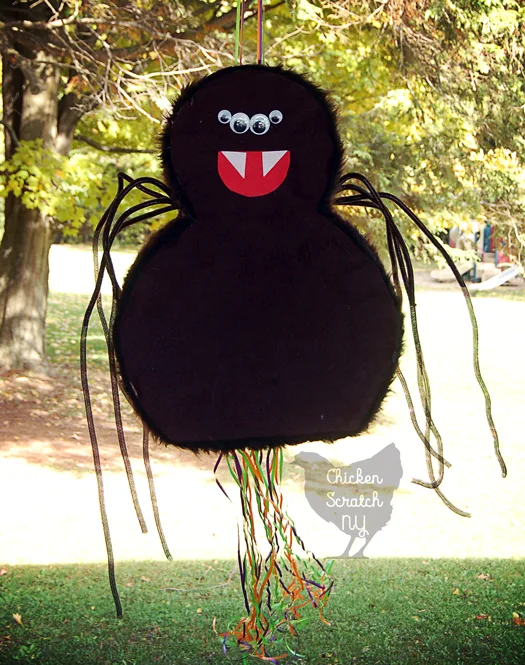 The body is made from thick corrugated cardboard covered with fake black fur and fleece with giant googly eyes and decomesh tubing arms.
There was a plan but in the end I just winged it. I'm rarely 100% happy with my creations but after my kids this is hands down my favorite thing I've ever made.
We brought him home and I'm thinking he's going to be a part of our Halloween decor for quite a while. I made the pinata so the bottom would pop out in one piece.
I went with the string-pull method for a few reasons. One, I couldn't handle watching Irving being beat to pieces and two, if I can avoid giving the kids in my family sticks and telling them to hit things I'm going to!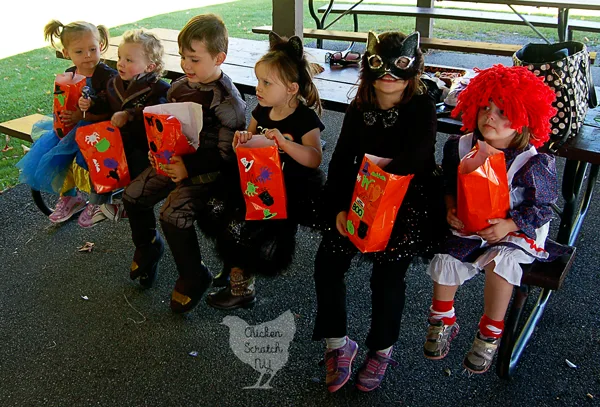 I hope I've given you a few ideas for your next Halloween party. Mary, her cousins and friends all had a great time with the DIY treat bags and the Halloween pinata.
Don't forget to check out Oriental Trading Company and PIN this for later!
Check out my Halloween page for more great ideas or start here: