Something about Halloween puts my brain into over drive. Today I stopped by the store to pick up some last minute things for the wedding and I happened to walk by the fake flowers and got inspired to throw together a quick arrangement of Halloween flowers.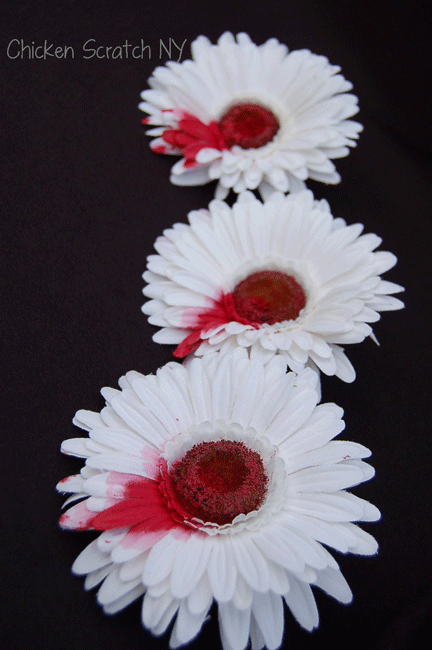 The only thing I needed to buy was 3 fake Gerber daises, grand total was less that $2.
The other supplies were: paint (red and brown), paint brush, white glue, a hair tie, a vase and red food coloring.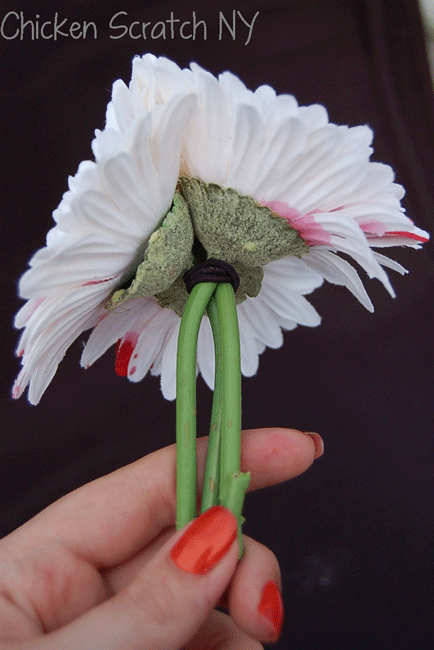 I started by painting the centers red (with a little brown), it's a subtle change but it makes a big difference. Clip the ends off the flowers so they sit well in your vase, secure them together with a hair tie.
Drip the red paint in the centers on the flowers, add enough that the paint over flows and dribbles down the flower. Vary the amount of 'blood' you add to keep each flower looking a little bit different. Bright red looks like fresh blood and adding a little brown or black will make it look older.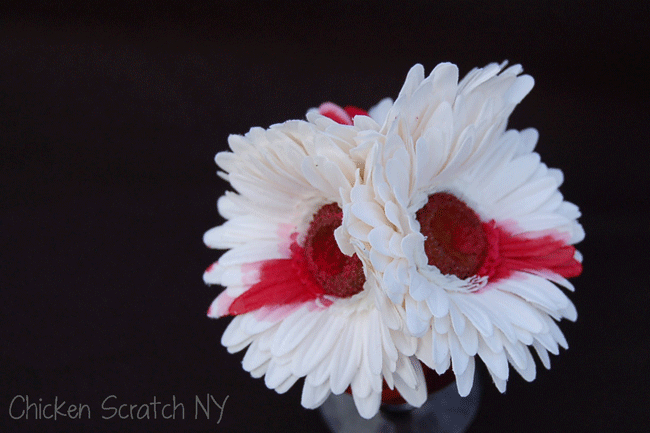 Fill a vase with water and add a few drops of food coloring to get a nice deep red. Pop in the flowers and you have a simple little spooky bouquet.
I went with three bloody flowers but I think a bouquet with only one bleeding flower would be nice, it also means you only need to sacrifice one flower!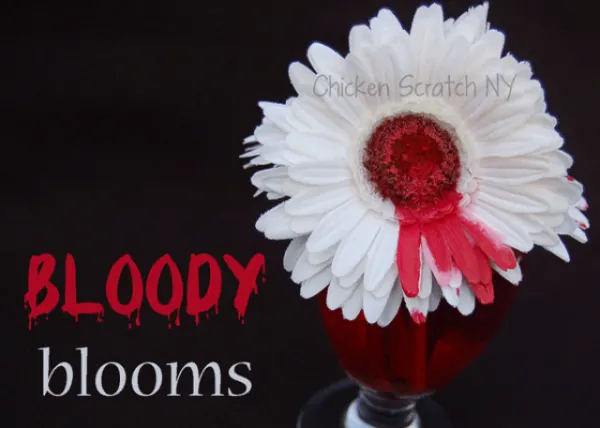 And who says you need a full bouquet? Any self-respecting non-sparkling vampire would love a bloody corsage! I think a larger bouquet of black and white flowers with a few bleeding blossoms tucked in would make an eerily awesome center piece for the dinner table or a Halloween treat table. You could even do a creepy version of my Dollar Store Mummy Vase and fill his head with bloody flowers!