Autumn is in the air and cookies are in the oven. Bake up a batch of chewy Apple Cinnamon Drop Cookies stuffed with cinnamon chips, apple sauce and seasonal spices.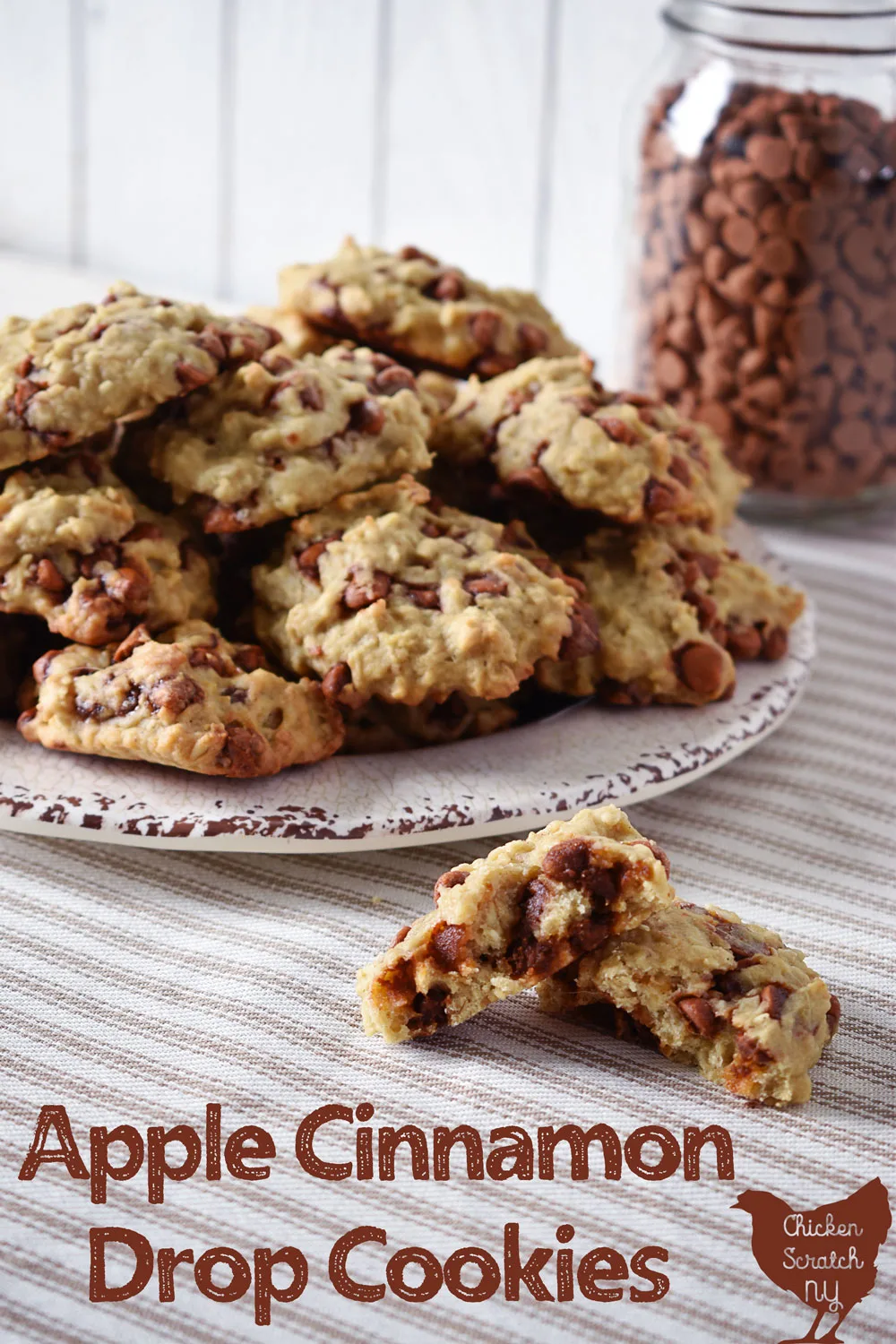 The weather has been getting cooler and it's looking more like fall every day. What better way to celebrate the best season ever than filling your home with the aroma of baking cookies?
This recipe for apple cinnamon drop cookies gets it's flavor from fall spices, apple sauce and cinnamon chips. I picked up a few bags of Hershey's Cinnamon Chips when I was wandering around Target tracking down school supplies for my niece and nephew.
I was pleasantly surprised to find these chips pack some cinnamon bite. They aren't too spicy but there is definitely some sass in them.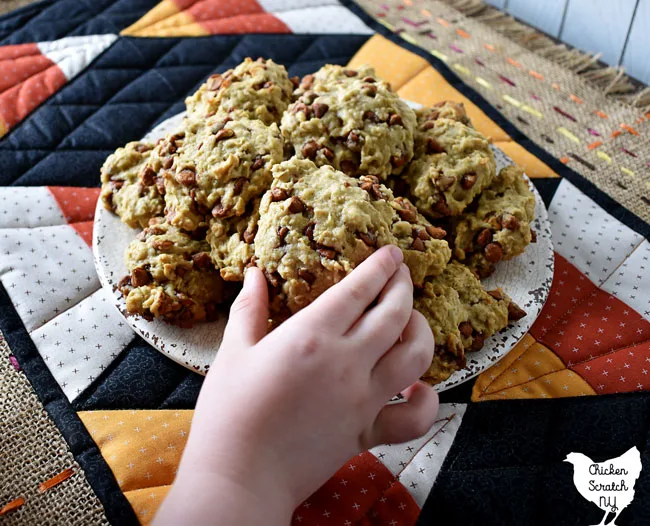 Don't let that scare you though, my kids are both terrified of spicy foods but they gave these cookies a double thumbs up. That is, when they weren't busy snagging them off the plate.
And we cannot forget to mention how amazing the house smelled when these were baking! Even with all the windows open the kitchen smelled like a fairy tale bakery.
Apple Cinnamon Cookie Dough
This dough uses a pretty standard technique, mixing all the dry together, mixing the wet and then combining them. The only exception is the oatmeal, it goes in with the wet ingredients.
Please don't let the oatmeal scare you off either, I'm not an oatmeal cookie person at all but I love these cookies. The rolled oats blend into the other ingredients and add a chewiness without being crumbly or dry.
As for the spice mix I used individual spices but if you're not a crazy person with a cabinet full of every option known to man you can substitute apple pie spice or pumpkin pie spice if you're desperate.
Both spice mixes include cinnamon, ginger, allspice and nutmeg. The difference is apple pie spice has cardamom and pumpkin pie spice has cloves. They'll both work with apples but cardamom is where it's at in apple dishes.
This dough is pretty wet as far as cookie dough goes. Don't get me wrong it holds its shape and it's not runny but it's not the kind of dough you can roll into balls.
The Beauty of Drop Cookies
They're called drop cookies because you literally drop spoonfuls of dough onto the cookie sheet. It's fast, it's rustic and it's easy.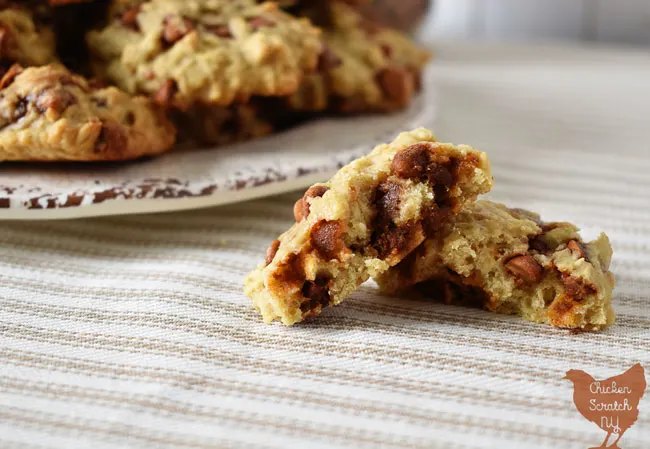 I used a regular spoon to measure out my dough, which I'm not good at and all my cookies are oddly shaped and uniquely sized. Fortunately my kids don't care and they all baked up delicious.
Drop the dough onto a parchment lined cookie sheet leaving about 2 inches between cookies
I fit 12 on my giant cookie sheets. They don't really spread but you don't want to crowd them.
It's a little tricky to tell when these cookies are done because the cookie dough is tan to begin with a subtle golden-ing around the edges is easy to miss.
The apple cinnamon drop cookies are done baking when they feel set on top, the bottoms are golden and you can easily lift them with a spatula.
Yield: 3 Dozen Cookies
Apple Cinnamon Drop Cookies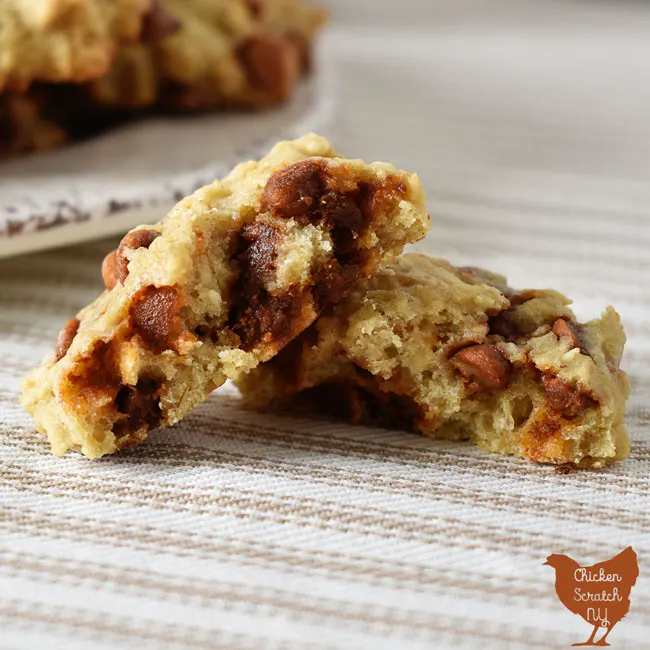 Autumn is in the air and cookies are in the oven. Bake up a batch of chewy Apple Cinnamon Drop Cookies stuffed with cinnamon chips, apple sauce and seasonal spices.
Ingredients
2 cups White Wheat Flour*
1 tsp Baking Powder
1/2 tsp Baking Soda
1/4 tsp Ginger, ground
1/4 tsp Cardamom, ground
1/4 tsp Allspice, ground
1/8 tsp Nutmeg, ground
1/4 tsp Salt OR 1/2 tsp Kosher Salt
1 1/2 cup Old Fashioned Rolled Oats
1 cup Unsweetened Applesauce
1/2 cup Honey
1 stick of Butter, softened
1 Egg, beaten
1 tsp Vanilla Extract
1 package of Cinnamon Chips (10 oz)
Instructions
Preheat oven to 375 and line a cookie sheet with parchment paper
In a large bowl whisk together flour, baking power, baking soda, spices and salt.
In a separate bowl stir together the applesauce, honey, butter, egg and vanilla until butter is well incorporated
Stir oats until they're evenly coated in the applesauce mixture.
Stir wet ingredients into the dry ingredients until there is no more visible flour. The dough will be wet but should stick together..
Fold in cinnamon chips.
Drop dough by large spoonfuls onto lined cookie sheets leaving 2 inches between dough mounds
Bake for 12-14 minutes until bottoms are golden and tops are set
Allow cookies to cool on a wire rack
Notes
*I use King Arthur White Wheat flour for everything, it behaves very similarly to multi purpose flour
You can substitute 1 tsp of Apple Pie Spice OR Pumpkin Pie Spice for the individual spices
Recommended Products
As an Amazon Associate and member of other affiliate programs, I earn from qualifying purchases.
Check out my Recipes page for more ideas or start here: