The first rhubarb recipe I'm going to share with you is the perfect spring breakfast. Today we're making Rhubarb Baked Oatmeal with Blueberries and Pecans to kick off the fun part of Rhubarb Week! Not that growing rhubarb isn't fun, but eating it is my personal favorite. It is the perfect hearty breakfast on a cool morning.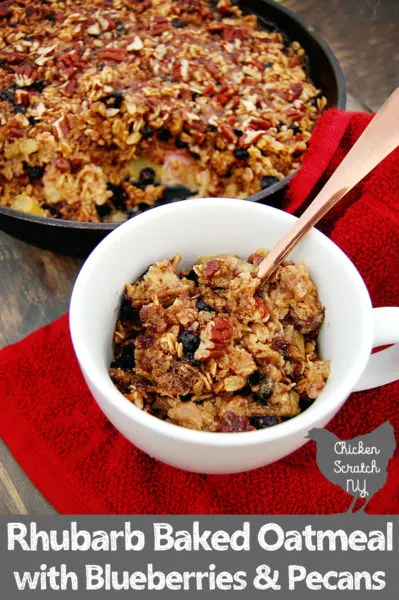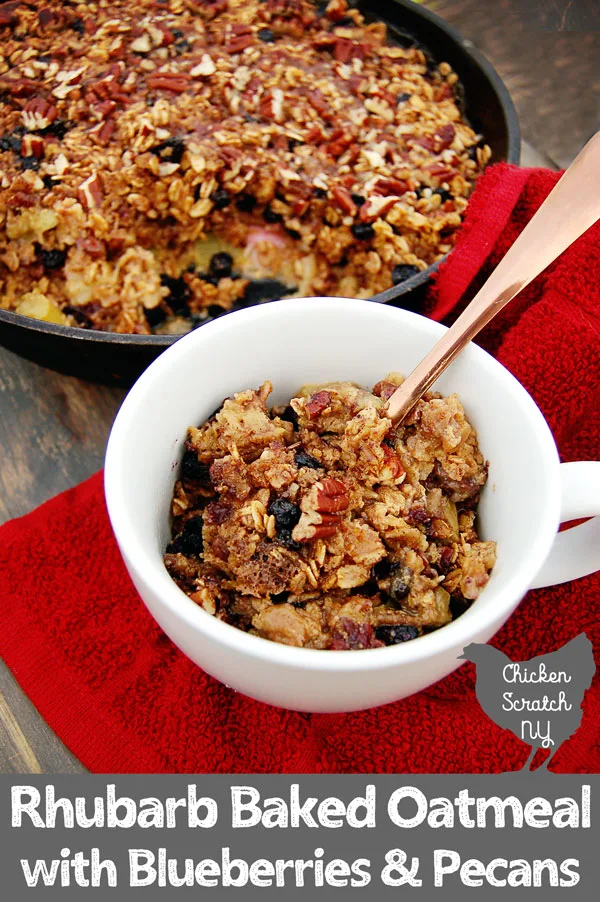 This is the first time I've ever made baked oatmeal and it couldn't possibly be easier. I made mine in a small cast iron skillet, if you look closely you can see how the oatmeal shifted.
The racks in my oven are all wonky from the time I tried to clean all my cast iron at once. Turns out you shouldn't put half a dozen skillets and a cast iron dutch oven in the oven all at once.
Moving on, it's important to put all this into a warmed cast iron pan. Putting food in a cold pan is a great way to get everything to stick.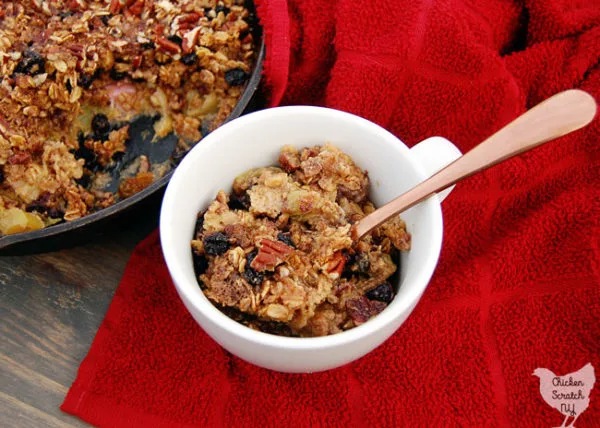 Stir together the oats, brown sugar, 1/2 of the nuts, dried blue berries, baking powder, salt, cinnamon and ginger in a mixing bowl. I really like using a large glass measuring cup, the spout makes pouring much easier.
In another bowl whisk together the eggs, milk and vanilla. Add the liquid and the melted butter to the oats and stir it up well. It shouldn't be soupy but it will be wet.
I tossed my pan into the oven while it was preheating. When I pulled it out I dropped in some butter, swirl it around after it melts and dump in the rhubarb.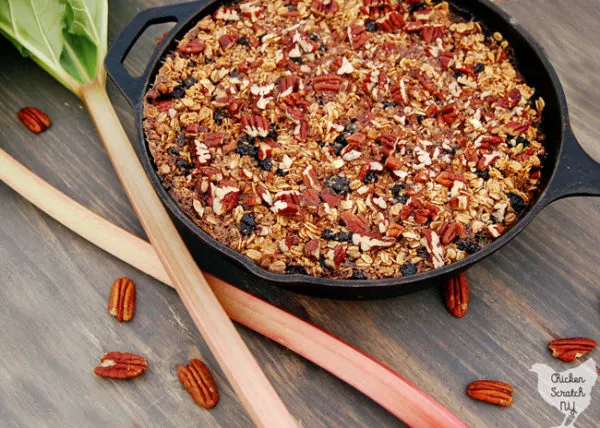 Rhubarb bakes up just like apples. Well, a slightly mushy, very tart apple. Blueberries are a great complement to the rhubarb, the natural sweetness works really well with the tart rhubarb.
The dried blueberries add more than just sweetness. They plump up as the oatmeal bakes, soaking up some of the liquid from the rhubarb and keeping things from getting soggy. You could use raisins if blueberries aren't you thing.
I love the pecans in this, especially the ones on top. They get deliciously toasted while the oatmeal bakes. If you only have a 1/2 cup of pecans in the house, skip the ones in the oatmeal and just toss them on top. You could also leave them out if you're not a nut person but the texture will be different.
This recipe can also pull double duty, not only is it a delicious hearty breakfast recipe but if you top it with some vanilla ice cream? Instant dessert. Especially warm from the oven.
Don't forget to PIN this to your Breakfast or Recipe Board!
Check out the rest of Rhubarb Week: How to Grow Rhubarb, Rhubarb Mimosa, Rhubarb BBQ Instant Pot Ribs & Rhubarb Panna Cotta with Strawberry Balsamic Sauce
Yield: 6 Servings
Rhubarb Baked Oatmeal with Blueberries & Pecans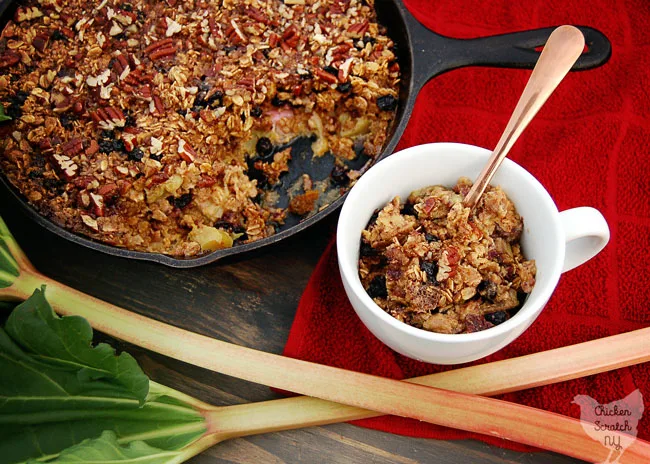 Rhubarb baked oatmeal made with blueberries and pecans is the perfect way to start the day! Warm chunks of tart rhubarb, sweet blueberries and toasted pecans are right at home baked in a cast iron skillet with oats and spices
Ingredients
1/2 tbsp Butter
2 cups Rhubarb cut into chunks
2 cups Old Fashioned Oats, not instant
3/4 cup Brown Sugar
1 cup Pecans, chopped and divided
1/2 cup Dried Blueberries
1 1/2 tsp Cinnamon
1/2 tsp Ground Ginger
1 tsp Baking Powder
1/2 tsp Salt
2 Eggs
2 cups Milk
1 tsp Vanilla Extract
4 tbs Melted Butter
Instructions
Place skillet in oven and preheat to 325
In large bowl stir together oats, brown sugar, 1/2 of the pecans, dried blueberries, cinnamon, ginger, baking powder and salt
In separate bowl whisk together eggs, milk and vanilla
Pour milk mixture and melted butter into the oats and stir until combined
When the oven is preheated carefully remove the skillet and add remaining butter
Swirl until melted and dump in the rhubarb, top with oatmeal and carefully (the pan is hot!) smooth oat meal out to the edges
Bake 40-45 minutes until nuts are toasted, oats are set and top is golden
Serve warm or cold
Recommended Products
As an Amazon Associate and member of other affiliate programs, I earn from qualifying purchases.
Check out my
Recipe Page
for more ideas or start here: