I like to gift people with practical things. But just because they are practical doesn't mean you can't make them pretty!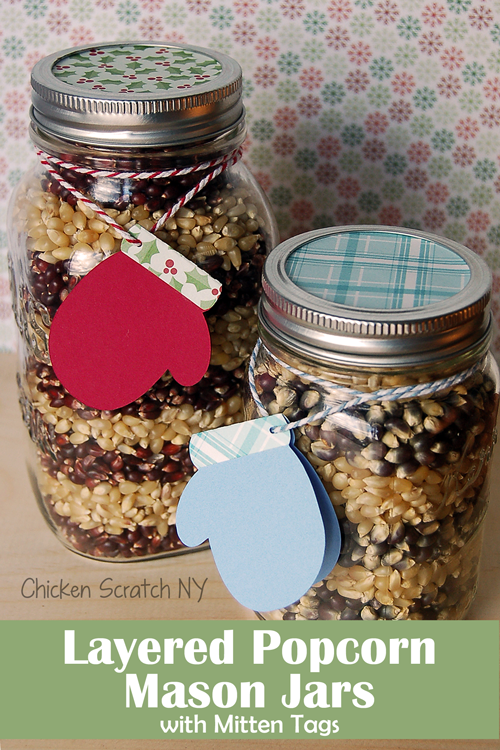 We are big popcorn eaters in my family, and none of the microwave stuff. If you can't get at least a minor hot oil burn it's not real popcorn (that's mostly a joke). I'm lucky enough to have a bulk food Mennonite-run shop on my way home. I can buy specialty popcorn in bulk for really cheap so we hand out quite a few popcorn gift jars.
Layered Popcorn Jars:
White popcorn
Blue and/or Red popcorn
Mason Jar with 2 piece closure
Holiday paper
Bakers twine
Hole Punch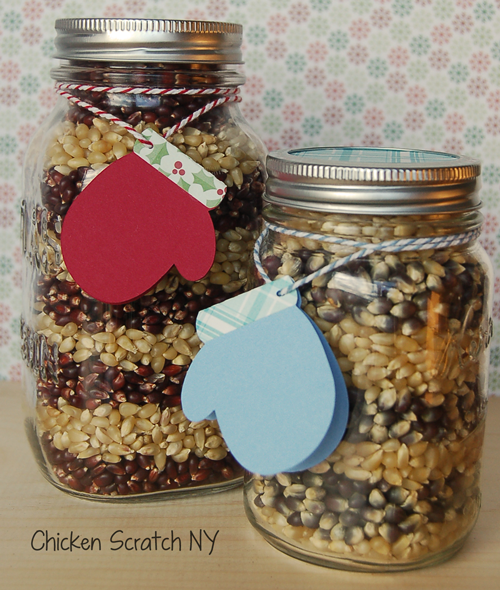 *It's  important that both of the colors are the same size, don't mix baby popcorn with regular popcorn or you'll have trouble when it comes to popping
Start out by tracing the flat lid on a piece of holiday paper and cutting out your circle (you could use a Cameo, Cricut or similar machine if you are making a lot).
Pour popcorn into clean jars, alternating colors about 1/2 to 1 inch at a time.  Gently tap the jar on the table as you go, the more packed the jar is the less likely the popcorn is to shift.
When your jar is as full as possible top it with the flat metal piece of the lid.
Using your silhouette cutter cut out one mitten piece from solid colored card stock. Cut one circle and one cuff piece from pattered paper. You can also use this Studio file or this SVG file.
Fold the cuff and the mitten piece on the dotted line and glue the cuff in place.
Punch a hole, pop a piece of twine through the hole and tie the ends together.
Put the paper circle on top of the flat metal piece and screw on the lid.
Add a holiday message to your mitten tags,  loop the twine around your jar and get ready for gift giving!
You could make a cheap and festive gift basket by wrapping a few jars with some specialty popcorn salt and a large bowl.
Find more holiday projects on my Christmas page