I'm on a mission to fill the world with festive fence posts. In many ways this is the fall version of my Firecracker Centerpiece. Three pieces of wooden fence post and paint. I wonder how many projects I could come up with using those? Probably something my husband never wants to think about!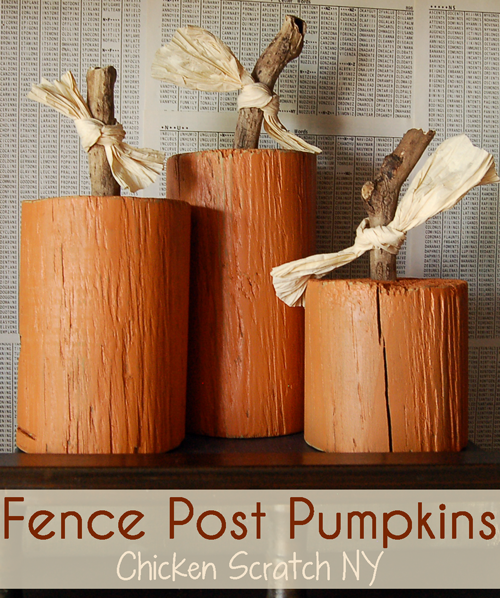 *This project was originally a guest post over the The CSI Project but I thought it's non-Halloween side deserved some love so I'm sharing it here again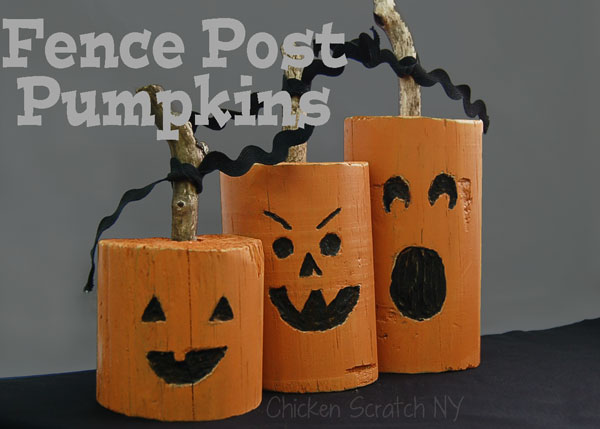 I call these my Fence Post Pumpkins. They work for Halloween and with a quick spin, all through the fall season.
You will need:
3 pieces of wood, all different heights
3  dry sticks for stems (no one wants moldy pumpkins)
Orange and black paint
Dremel with carving bit, Sanding blocks, Paint brushes, Drill with bit large enough for your sticks, Hot glue gun
*You can skip the dremel and just paint the faces if you want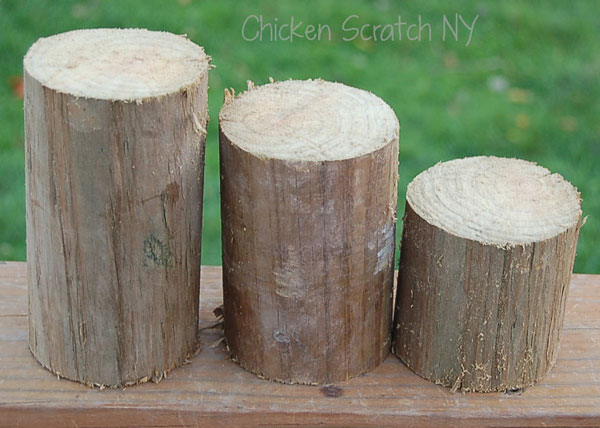 Starting with three pieces of round fence post, sand off any splintery edges and drill a hole, about 1/2 in deep in the top.
Draw or trace a face on each chunk of wood. Using the Dremel carefully carve the faces about 1/4 of an inch deep (safety glasses and masks everyone!).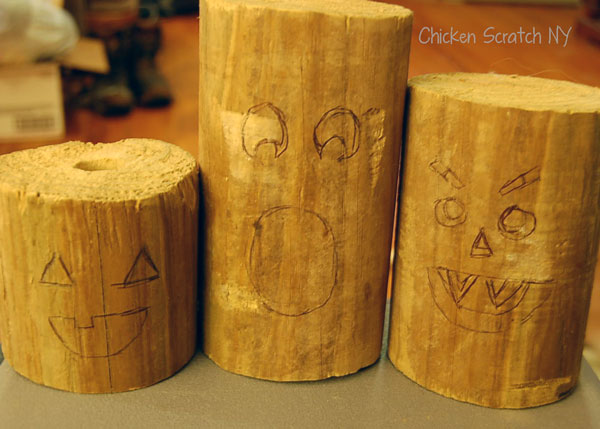 It doesn't have to be perfect, we're going for rustic here!
Paint the sides and top orange and using a smaller brush fill in the face with black paint (if you do what I did and put the face on upside down this is where you drill another set of holes)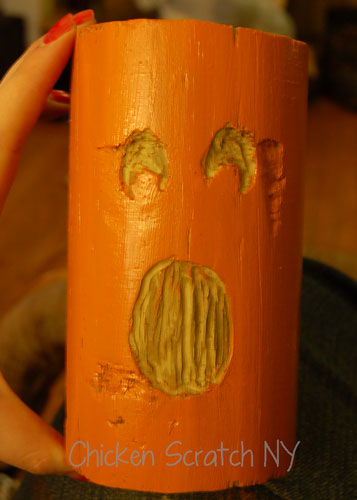 Once everything is dry sand around the edges, over the face and anywhere else you'd like a bit of the original wood to show through. Glue the stems in the holes you made earlier, tie a piece of ribbon, rick rack or raffia to the top and you've got an everlasting pumpkin display! Ignore my nail polish. I haven't painted my nails since the wedding, the orange is what's left from the big day!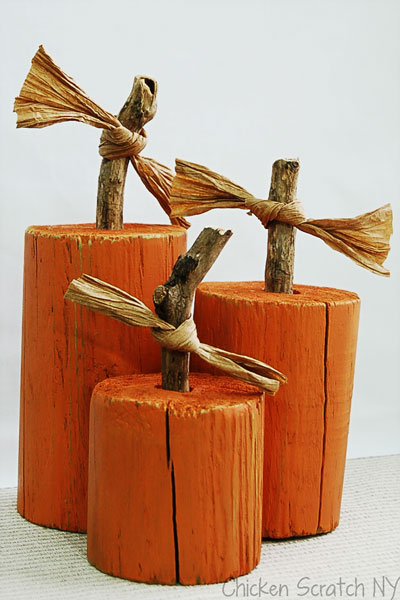 Since Turkey Day is RIGHT around the corner you can totally skip the faces all together. I'm in love with my silly little fence post pumpkins (anyone else know that song?) and if you decide to whip up a pumpkin patch of your own I'd love to see it!
–
I'm kicking it into Christmas already (ask me how happy my husband is.. no actually don't, I try not to swear here!) so make sure to 'like' me on FaceBook so you don't miss a minute of the Christmas Crazy about to go down!