Is there a better time of year than autumn? Of course not! And as our diets switch to 'Pumpkin Everything!!!" why shouldn't our crafting?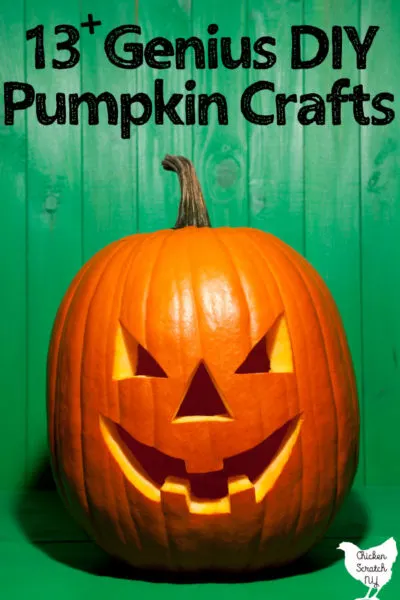 To help out I've put together a list of DIY pumpkin crafts from a wide variety of topics. I've got everything from upcycled cans to fancy woodworking to sweet stuffed burlap, I'm sure you'll find at least one (or two, or three…) projects to test out.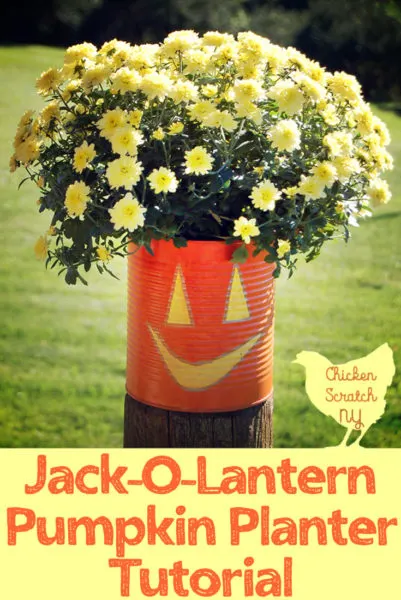 DIY Pumpkin Planters from Chicken Scratch NY
Hit up the recycle bin to make a set of DIY Jack-O-Lantern planters! They can also be used as candy holders or even turned into a festive Halloween Windsock if you flip the face and add some ribbon.
The easy stamping technique can be done by even the smallest of kids so you can get the whole family involved in this DIY pumpkin craft.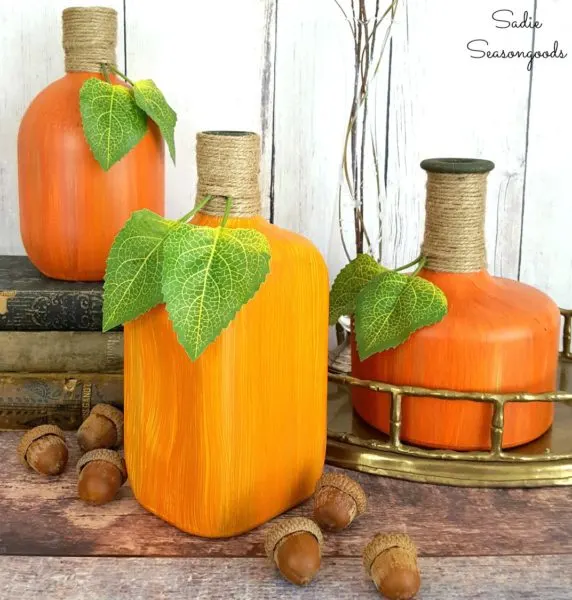 Upcycled Bottle Pumpkins from Sadie Seasongoods
Another fun fall craft for the recycle bin, this one turns empty bottles into adorable pumpkins! I love all the different shapes and the addition of twine for a rough stem texture.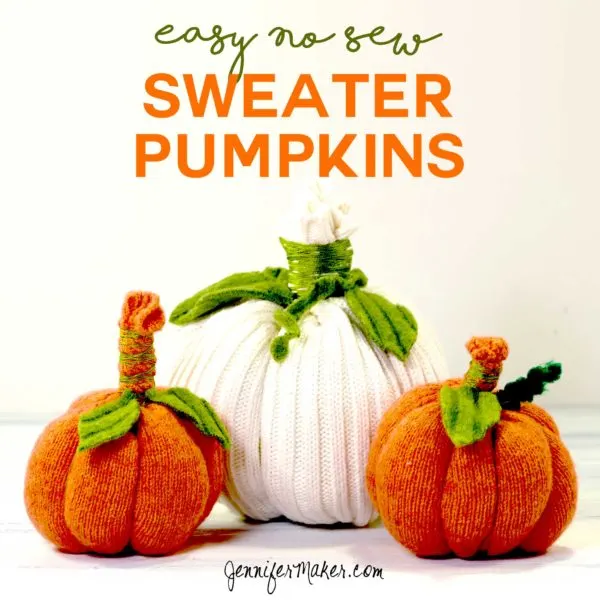 No Sew Sweater Pumpkins from Jennifer Maker
Speaking of texture, these adorable pumpkins made from an old sweater are perfect for colder weather!
When the temps drop we all want to cozy up with a warm sweater and a nice pumpkin treat right? Well, now you can combine to two in this fun craft.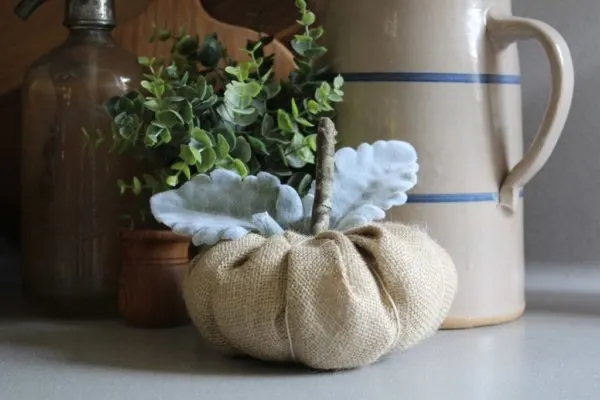 No Sew Burlap Pumpkins from Beauty for Ashes
I have a soft spot for burlap, I love the stuff so much I made it into curtains for my living room. Luckily you don't need 11 yards of the itchy stuff for this project!
I think they look amazing in the bleached color but you could use a patterned burlap for a different effect.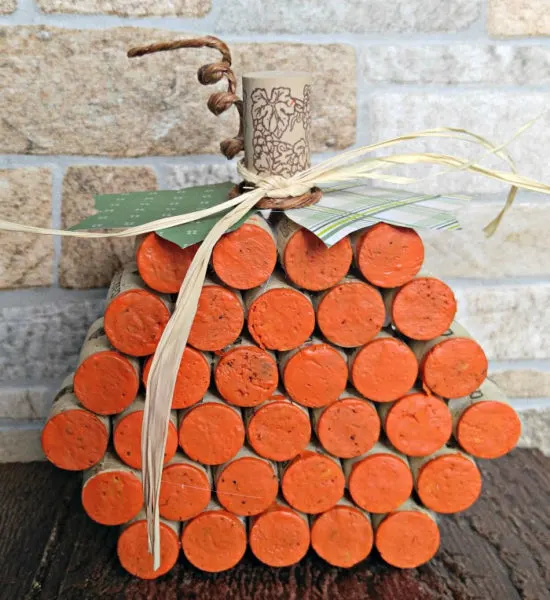 Wine Cork Pumpkin from Always the Holidays
If you find yourself with a stash of wine corks you need to try out this fun craft. You can use any number to create a whole patch of different sized pumpkins.
They would be really cute decorating a wine bar or a liquor cabinet. I'd paint both sides orange and add a spooky or sweet jack-o-lantern face to one side.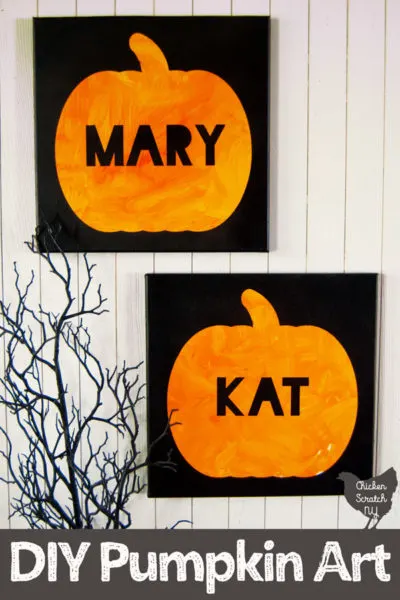 Painted Pumpkin Canvases by Chicken Scratch NY
My first fall craft of the year, I had to get my girls involved! They each got to paint their own pumpkin before I used my silhouette to add the names and pumpkin shape.
Make sure you check out the post for the full directions and a free pumpkin stencil!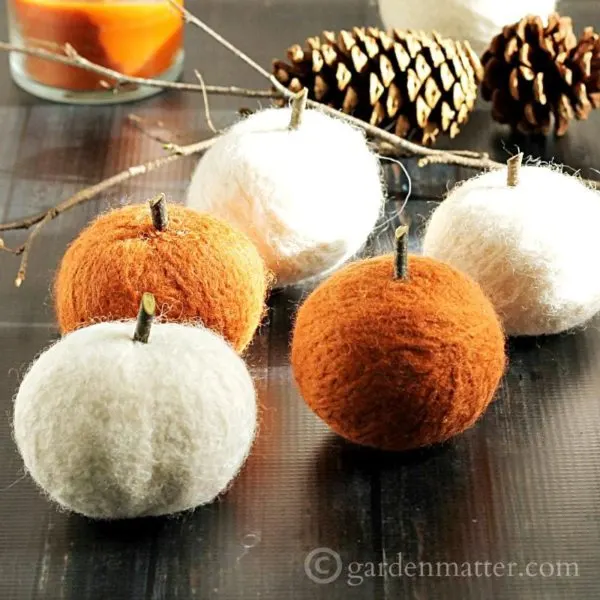 Felted Dryer Ball Pumpkins from Hearth and Vine
I already talked about how fall and cozy are best friends but I think this really demonstrates that relationship. The rough texture from the felt and the tiny twig stems are adorable and so very seasonally appropriate.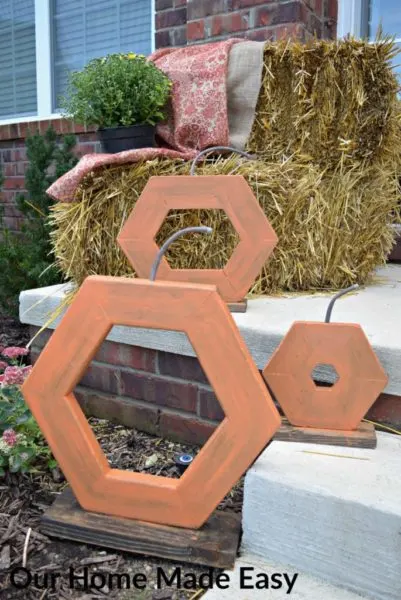 DIY Hexagon Pumpkins from Our Home Made Easy
I'm a rustic country girl at heart but I love the modern approach here. You gotta love the different sizes and the awesome copper accents.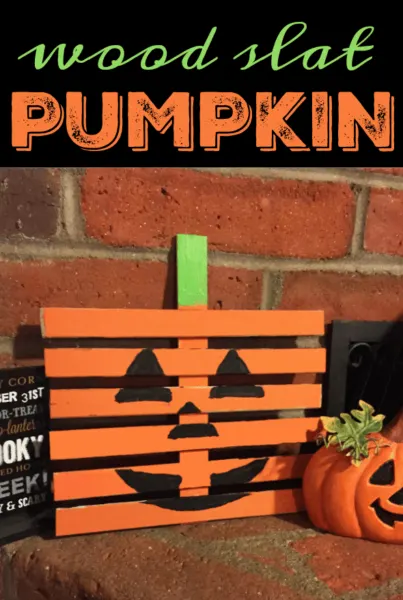 Wooden Slat Pumpkin from So Easy Being Green
Thin wood slats are a great craft supply for the beginner. They're super cheap, easy to transport and easy to cut.
You might even have some laying around in unexpected places. A few years ago I made a sweet and simple Witch Hat Wreath from an old snow fence.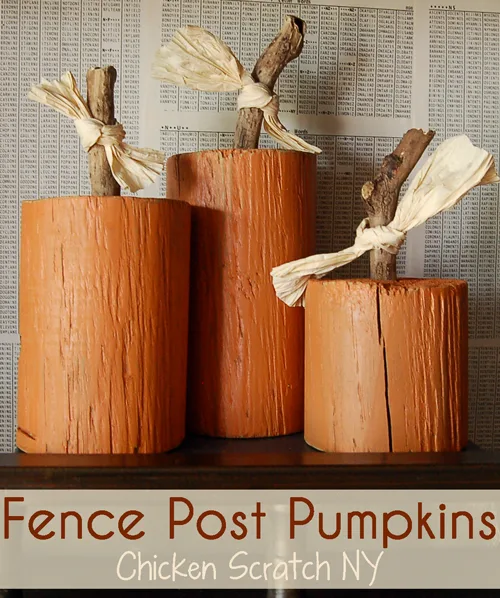 Fence Post Pumpkins from Chicken Scratch NY
Get a two for one with this fun pumpkin craft upcycle project. One side is a simple, plain orange pumpkin, flip them around for a trio of spooky Halloween jack-o-lantern faces!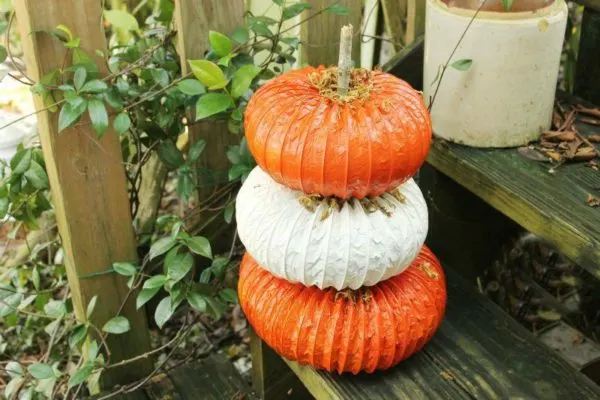 Dryer Vent Pumpkins from This Mama Loves
I have to replace my dryer vent and I'm already planning to us the old hose for a tower of pumpkins. I think the moss adds a perfectly imperfect natural touch to this pumpkin topiary!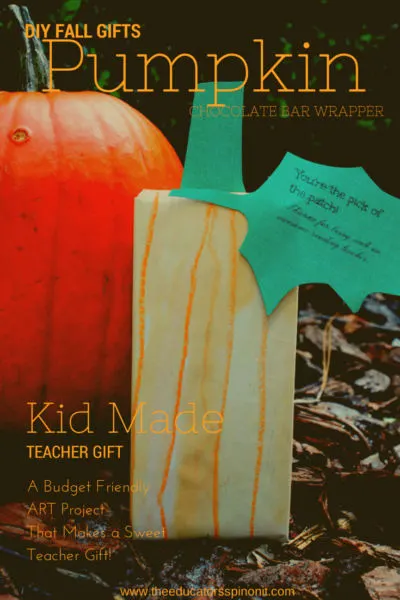 DIY Pumpkin Chocolate Bar Wrapper by The Educator Spin On It
Mary is going to kindergarten this year and I know she'll be psyched to make a bunch of these to hand out. The hardest part will be stopping her from eating all the chocolate!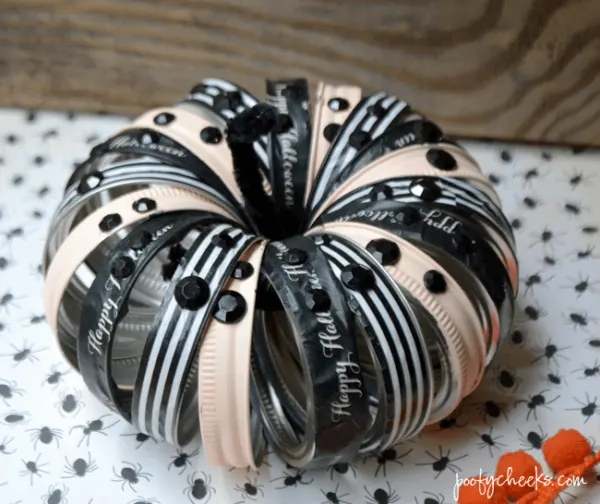 Glam Canning Ring Pumpkin from Poofy Cheeks
This is another project that I've had on my list, I have roughly 9 billion canning rings so I have no excuse not to. This is the first time I've seen such a blinged out and fancy pumpkin though! I know my sister would love one of these on her desk.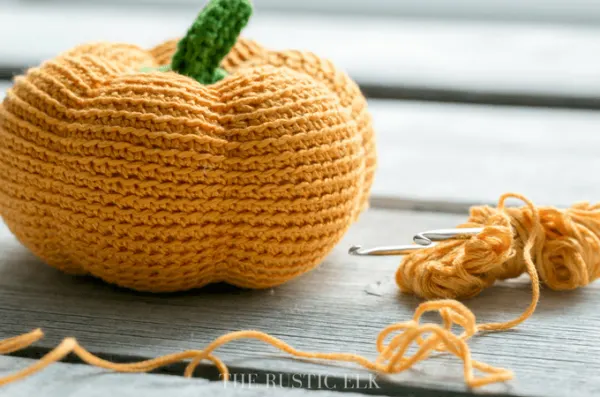 Crocheted Pumpkins from The Rustic Elk
I just got back into crocheting, I'm still working on the temperature afghan from 1940… I think the moral of that story is that I need to stick to small projects, like this one. Who doesn't need an entire field of (crocheted) pumpkins?
Don't forget to PIN this to your Fall board!
Check out my Autumn page and my Halloween page for more ideas or start here: