If you love pine trees and classic patchwork Winter Lattice is the perfect quilt pattern for you! The three Jelly Roll-friendly blocks are great for a confident beginner.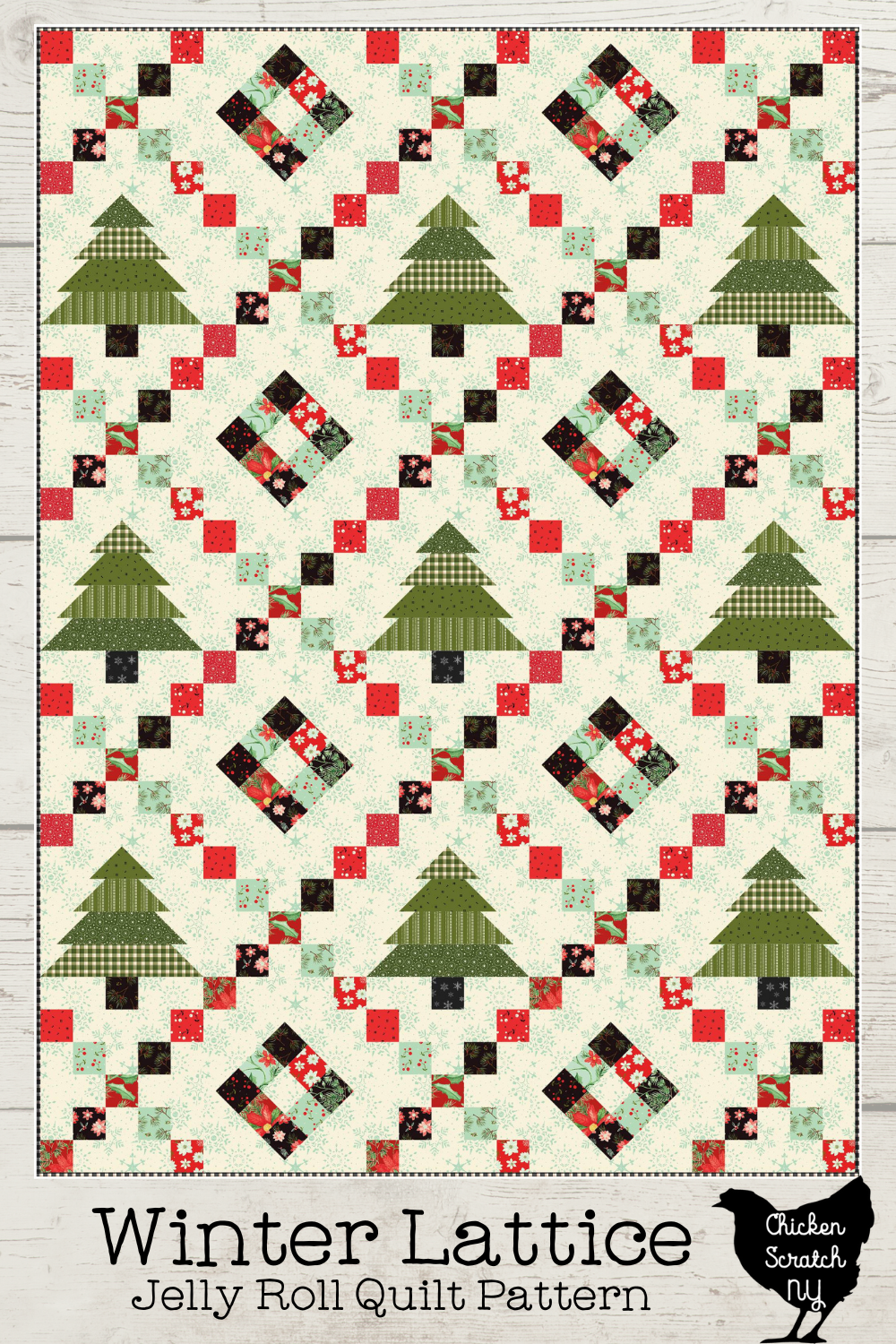 Sew Along
The free Winter Lattice Sew Along will be running for four weeks in the month of November 2022. Each pattern piece will be available from release through the end of December for free.
The free version will be taken down in January and it will be added to my pattern shop so make sure you get all the pieces!
Quilt Along Schedule:
Why do you have to get it from my store?

I know it seems like more work than necessary but it's the best way to do things for a few reasons.

Some help you (like unlimited downloads so once you have the pattern it's yours even if your computer crashes or you get a new phone) and some help me (it's much easier for me to see what people like so I can make more of it!).

It's also the fastest way to make sure the files get sent where they need to be.
The Blocks
The Winter Lattice Quilt has three blocks, one pine tree, and two that are more classic patchwork. They're all the same size and you can easily swap them out for each other.
Each block has its own challenge and skill set but I believe a confident beginner will be able to make this quilt without much trouble. We will be starting with the easiest block and moving our way up in difficulty.
You can easily mix up the blocks, for the lattice look I recommend keeping the main block A where it is but if you don't like pine trees (Block C) you can replace all of them with the diamond blocks (Block B) and the reverse is true.
If you want a full forest of trees you can skip the diamond blocks and make more trees.
Fabric Requirements
The fabric requirements below are for the Winter Lattice quilt with 9 trees and 8 diamonds. You will need the following for a 50 x 70 quilt:
30 Jelly Roll Strips
2 3/4 Background Fabric
3 1/4 yards Backing
1/2 yard Binding (or 7 – 2.5″ strips)
There will be a lot of left over jelly roll strips. It's already a scrappy quilt so I think this would be a perfect candidate for a Scrappy Jelly Roll binding!
Fabric Selections
I'll be working from my extensive fabric stash for this project but I had way too much fun mocking up new variations in Electric Quilt so I had to share some of my favorites with you.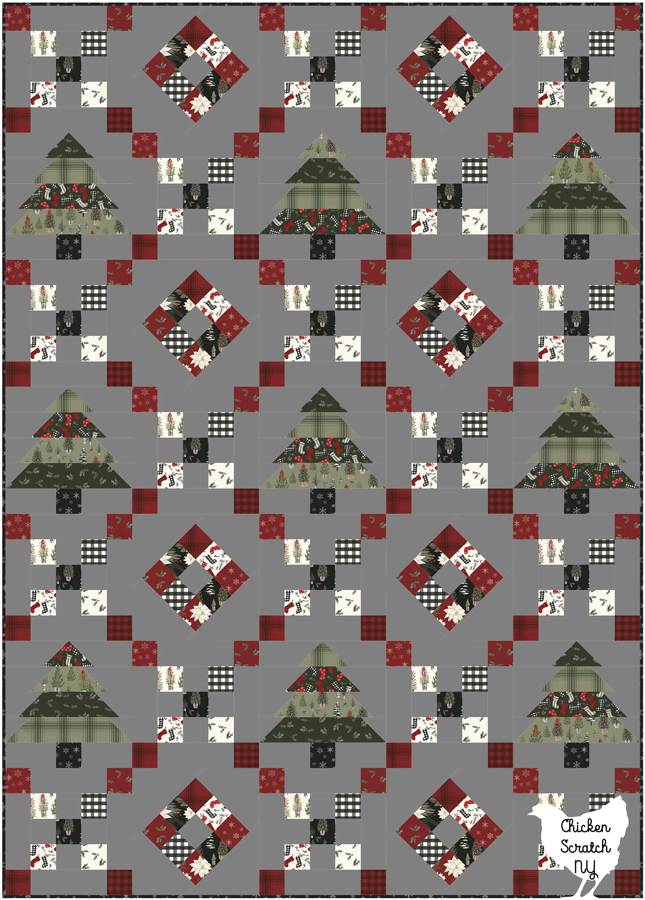 The main fabric line I'll be using is Farmhouse Christmas from Echo Park for Riley Blake, I believe it was a 2021 fabric line but it might have been 2020. I'm using a solid gray for the background.
That fabric is no longer regularly available, you can probably find it on Etsy but similar collections that are easier to find in 2022 are Holly Berry Tree Farm and Home Sweet Holidays both from Deb Strain. It has a lot of similar colors with the traditional reds & greens with cream, gray and black and rural themes.
---
Do you love patterns? Do you want more?!
If you make & share this quilt on your public Instagram page before January 1st & tag it @CSNYSewing and #WinterLatticeQuilt I will send you a code for a free pattern from my shop!
---
If I was buying fabric I'd have a really hard time whittling it down but here are a few of my favorite mock-ups: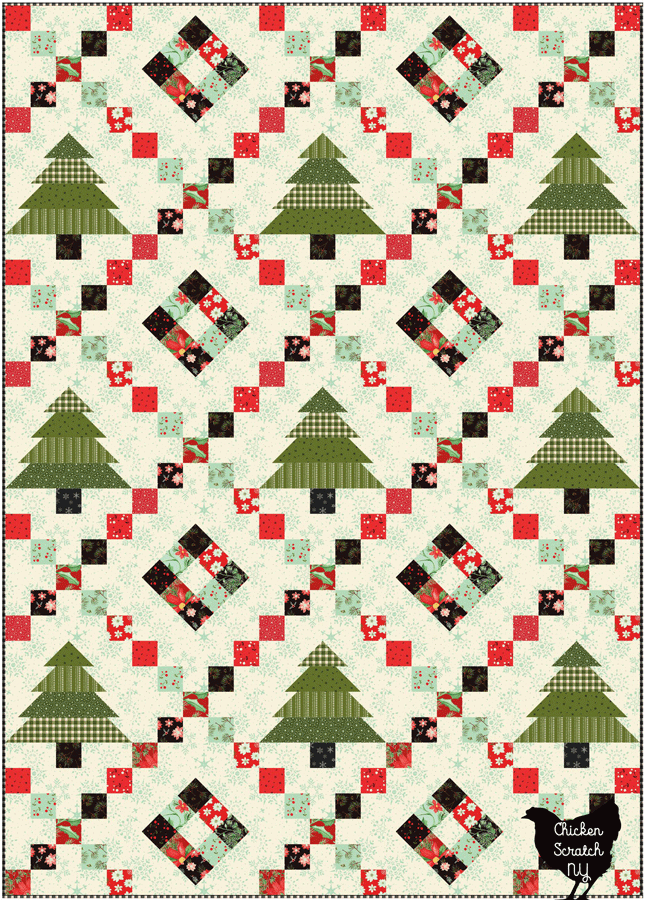 I have quite a few projects made with Adele in Autumn, including my quilt for last year's Pumpkin Lattice sew-along, and I think the companion line Adele in Winter would be amazing for this project.
If I was using this line I'd use the Adele in Winter Jelly Roll, Winter Mint Snowflakes for the background, the Mocha Main yardage for the backing and Mocha Plaid for the binding.
---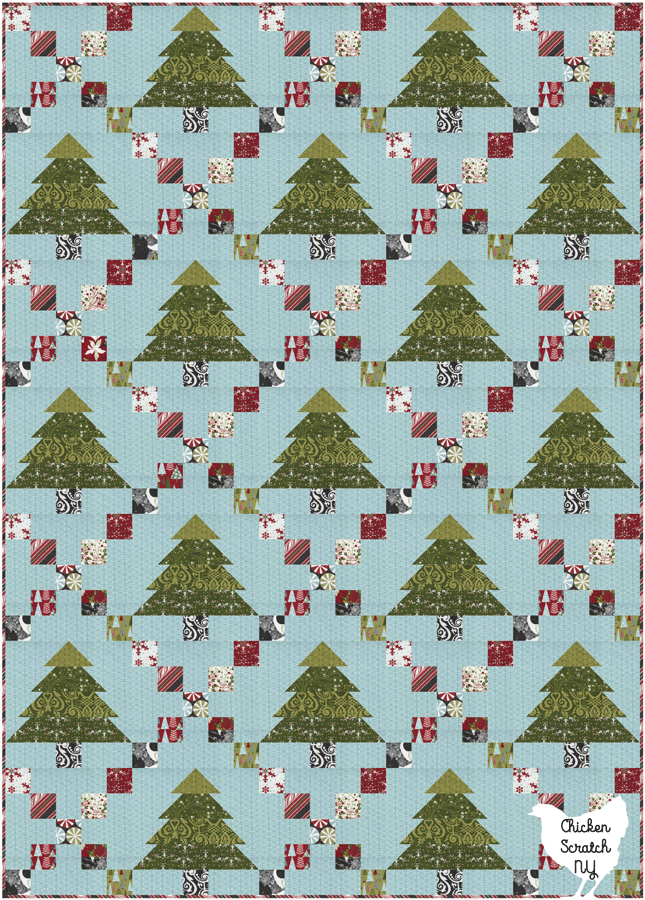 Another Christmassy option is Peppermint Bark from Basic Grey. It's a more modern vibe and I love this mock-up with a blue background.
This is one of my favorite mock-ups, if I wasn't being crowded out of my sewing room by fabric I'd be making this one! I would use the Peppermint Bark Jelly Roll, Frosty Sprinkles for the background, Dark Chocolate Candy Stripes for the binding (I absolutely cannot say no to a bias stripe for binding!) and Dark Chololate Forest for the backing.
---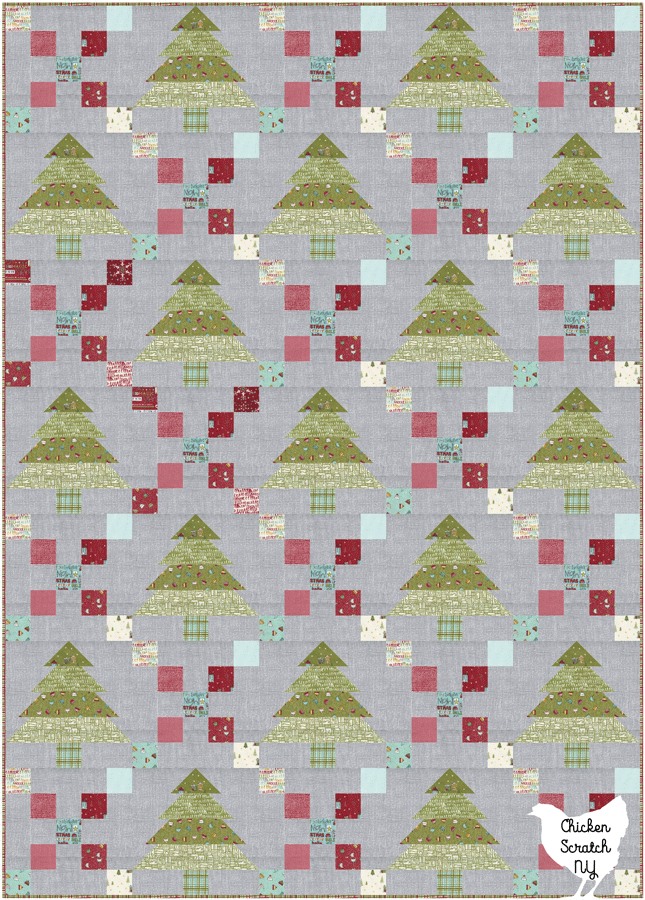 One more scrappy Christmas version, if you wanted to make this quilt for a kid, or just someone who enjoys the cute side of life, I think Snowkissed by sweet water would make an adorable quilt.
I avoid really light fabrics for kids so along with Snowkissed Jelly Roll I would use Stormy Snowballs for the background, Red & Pine Criss Cross for the binding (if I can't have a diagonal stripe I'll always go for a plaid).
---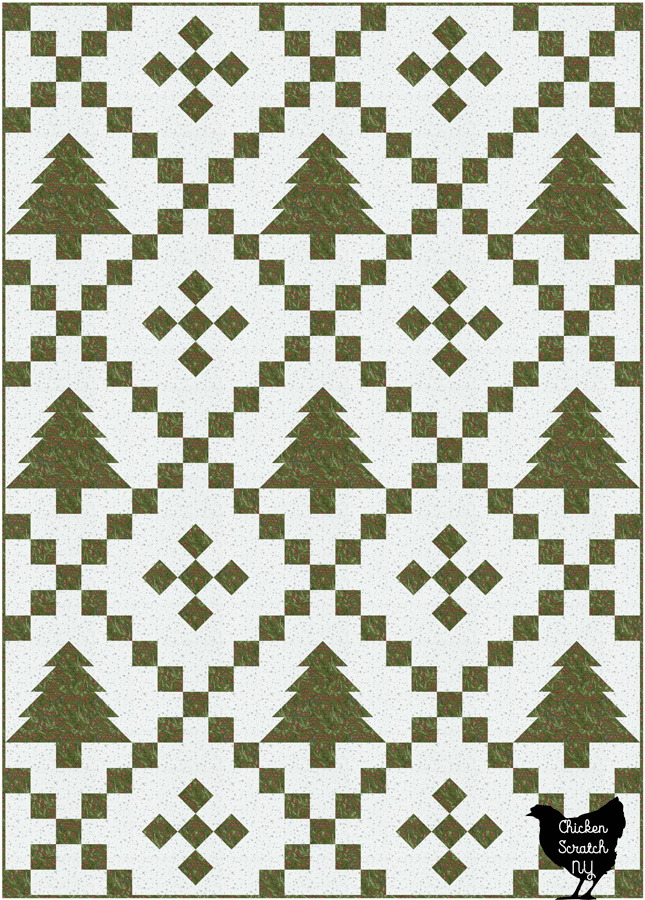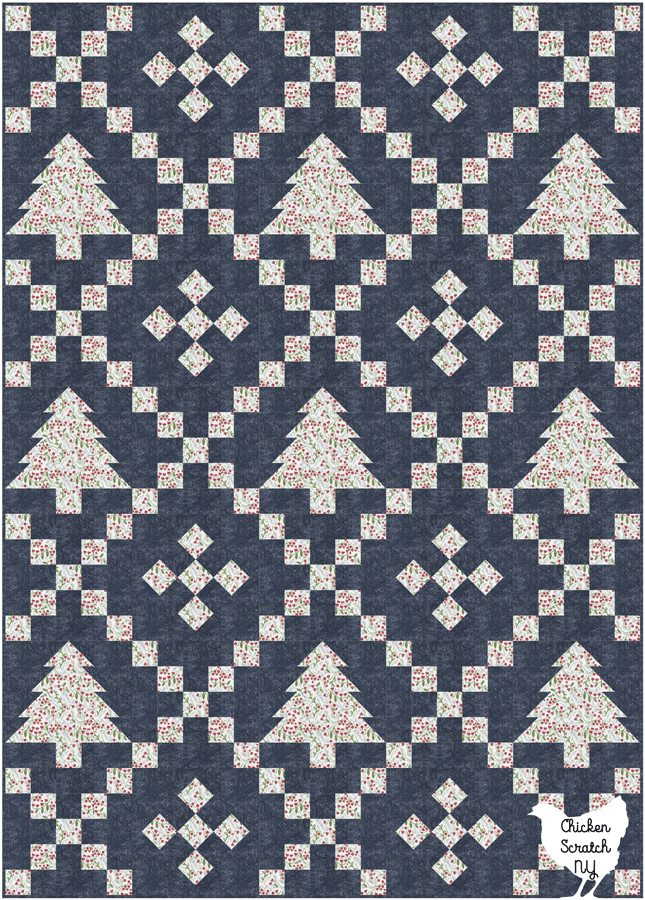 I did want to try and mix things up a bit by abandoning the scrappy look and mocking up the Winter Lattice quilt in two fabrics. Personally, I hate working with solids so I used two prints but you should use fabric that you love.
Both examples are mocked up using Gingiber's Merrymaking collection. For the first quilt, I used Evergreen Winter Berries and Eggnog & Silverbells Campfire Mug.
Between two kids, two cats, and four dogs quilts with a lot of white don't do very well in my home so I wanted to make a darker version. For this layout, I picked Eggnog Winter Berries and Winter Night Metallic Light.
The same fabric was used wherever you would be using the Jelly Roll Strips. There is a little bit of a difference in the Diamond blocks, they're constructed the same way but the fabric placements are a bit different.
If you want to make a two-color version you will need the following:
1 5/8 yards Accent
2 3/4 yards Background
3 1/4 yards Backing
1/2 yard Binding (or 7 – 2.5″ strips)
---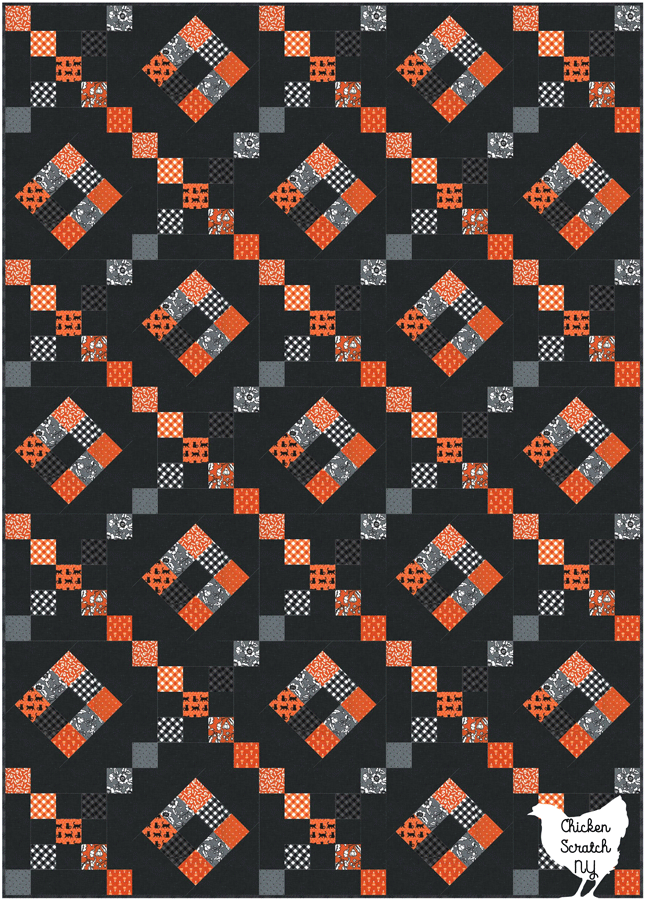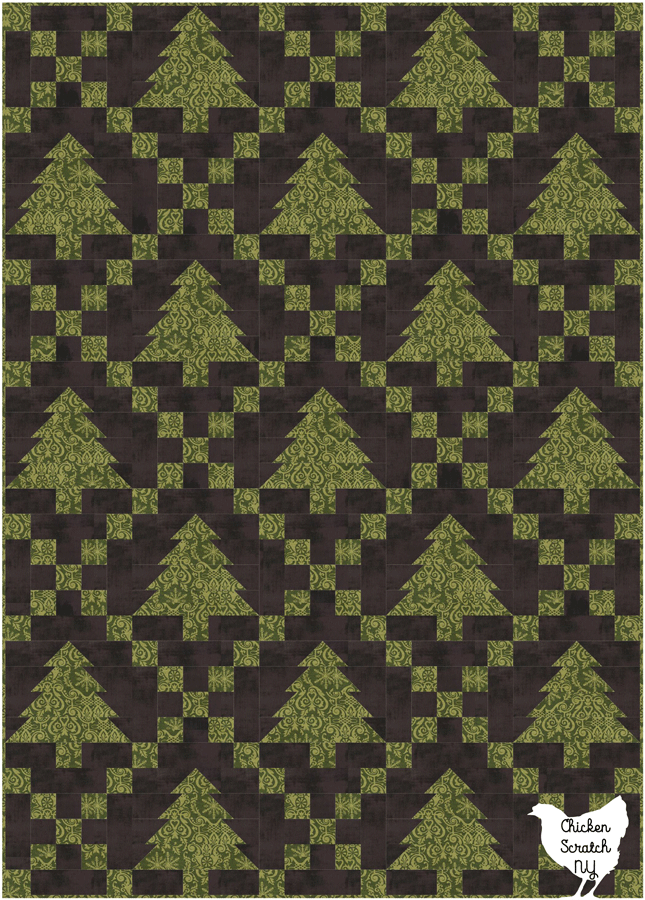 One final option, you can stick to a two-block quilt, either leaving out the Diamonds or leaving out the Trees.
For the all diamonds version I used Midnight Magic 2, which is actually the fabric I used for my test blocks. I used two fabrics from Moda for the all tree version, Peppermint Bark Glacier and Moda Grunge in Espresso.
---
I would love to have you join in and sew your own Winter Lattice Quilt! Join us in the CSNY Sewing Facebook Group and use the #WinterLatticeQuilt on Instagram!
---
Check out my Quilting page for more info or start here: