Buying plants online can be a gamble, you don't get to pick your perfect specimen and you're at the mercy of the seller. I've been buying plants from Richter's for a few years and I'd like to share my experience with you.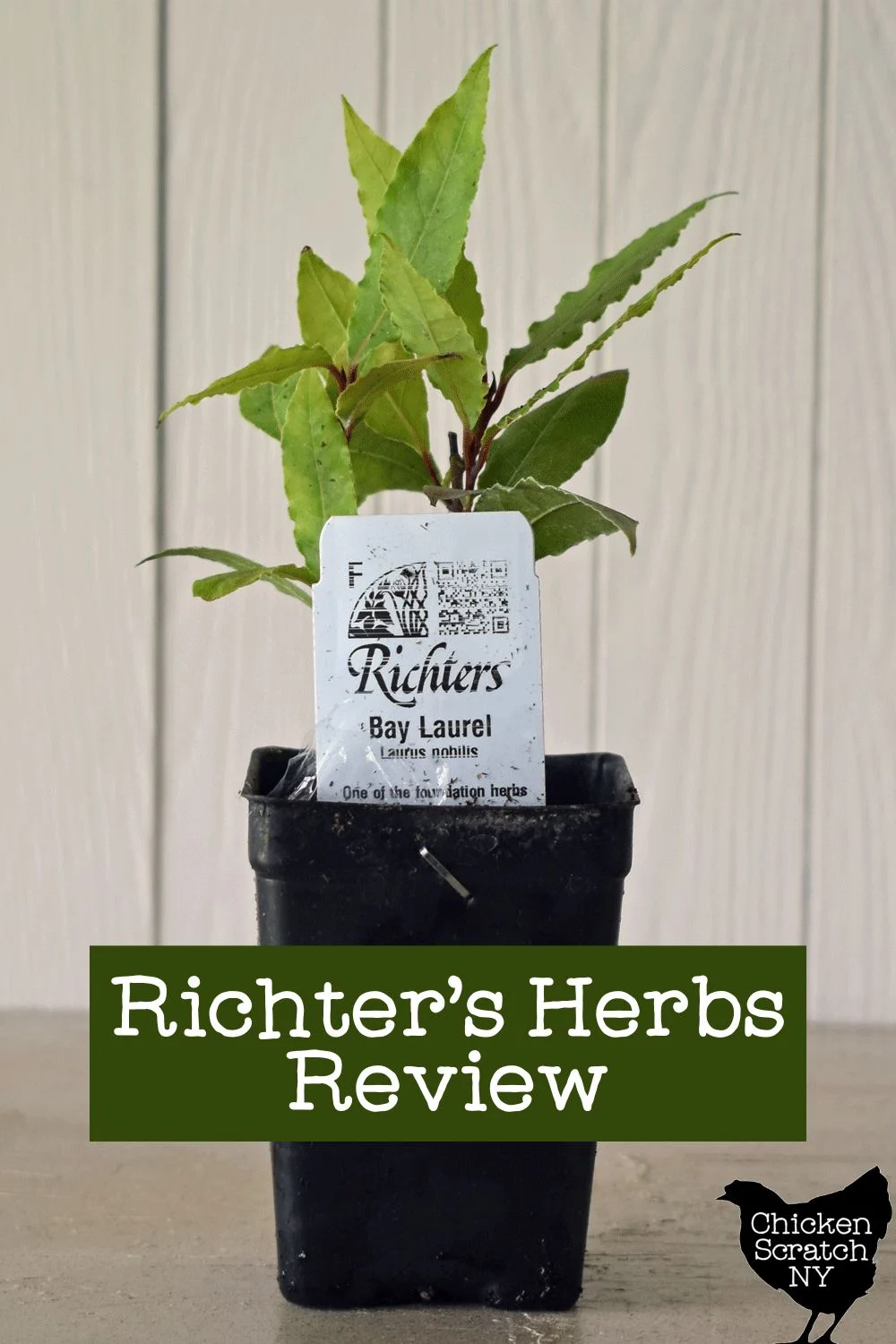 Richter's is located in Ontario, Canada where they have a greenhouse (or greenhouses) open to the public. I never willingly leave my home so I've only purchased from them via their online store.
They offer a physical catalog in addition to the online store, which I did receive and then immediately lose in the chaos that is my office/craft room. It's a pretty simple catalog, the size of a sheet of paper folded in half and it's filled with their offerings.
Product Selection
When it comes to selection, Richter's Herbs is hard to beat. They sell plants (in several sizes), seeds, bulbs, roots, growing supplies, dried herbs, and more.
I placed one order that included seeds and live plants, the seeds shipped immediately and the plants were sent a few months later. I haven't ordered any supplies or dried goods but I imagine the same would be true.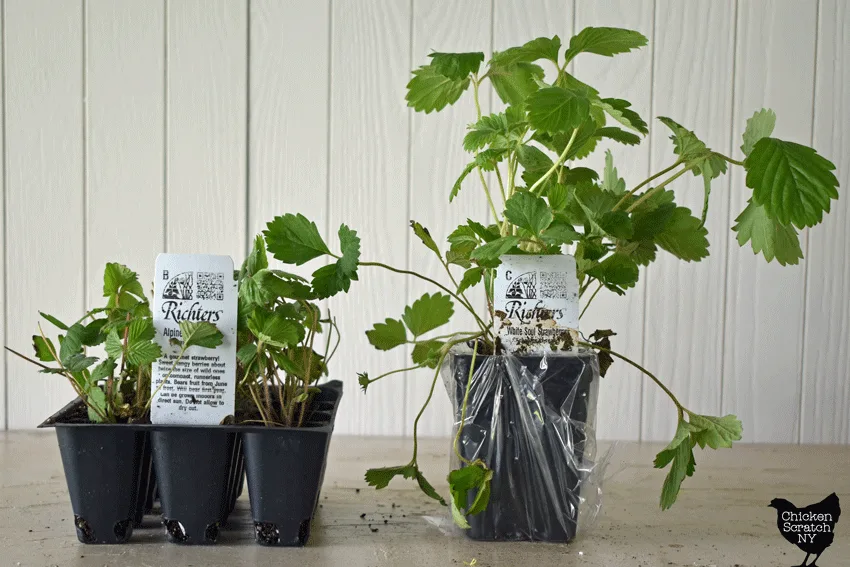 Even though they have herbs in the name, they offer all sorts of plants from culinary & medicinal herbs to flowers, fruits, and vegetables.
As a lover of garden oddities, it's my happy place. I could easily spend a small fortune but I try to reign myself in and only buy things that I would struggle to buy locally or start from seed myself.
This year I ordered Cumin & Epazote seeds, both had quick germination and strong growth. My only issue (and I recognize this is petty and personal) is the seed packets themselves.
They're foil and impossible to close back up. I've ordered seeds from enough places to have a strong opinion about seed packets (the undisputed winner is Fedco Seeds with their easy to open & close packets) and these aren't making the cut.
When it comes to ordering plants there are a few things you need to know, first up, there are different minimums for shipping based on the size of the plants.
The minimum for small potted plants is six and you can mix and match varieties. Many plants have a price break on multiples of 3 or 12 where you can save a bit of money.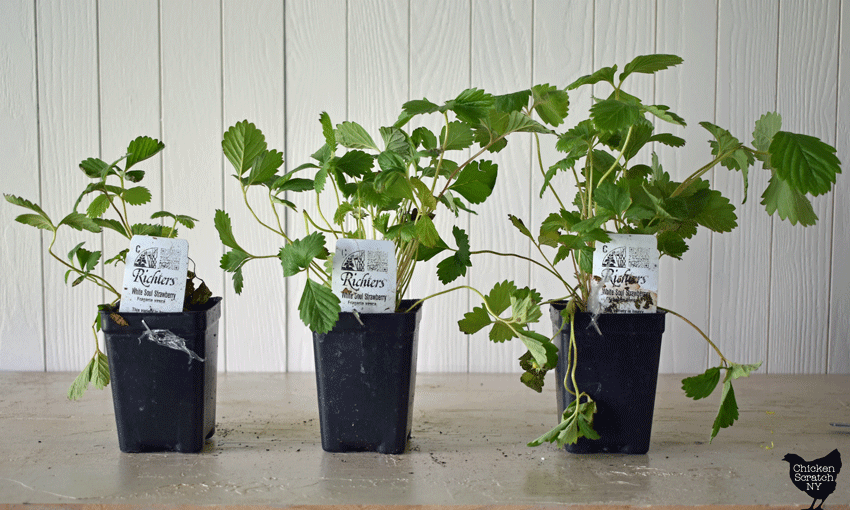 Most of the plants I've ordered have been in small pots and this is where you'll find the largest selection.
Here is a list of the small plants I've ordered:
They also offer a smaller selection of plants in a "Colosso" size which is a gallon-sized pot. This size pot has a minimum order of two.
The final options require a bit of forethought, plug packs, and plug trays. These are the smallest of the plant sizes and the cheapest way to get a lot of plants.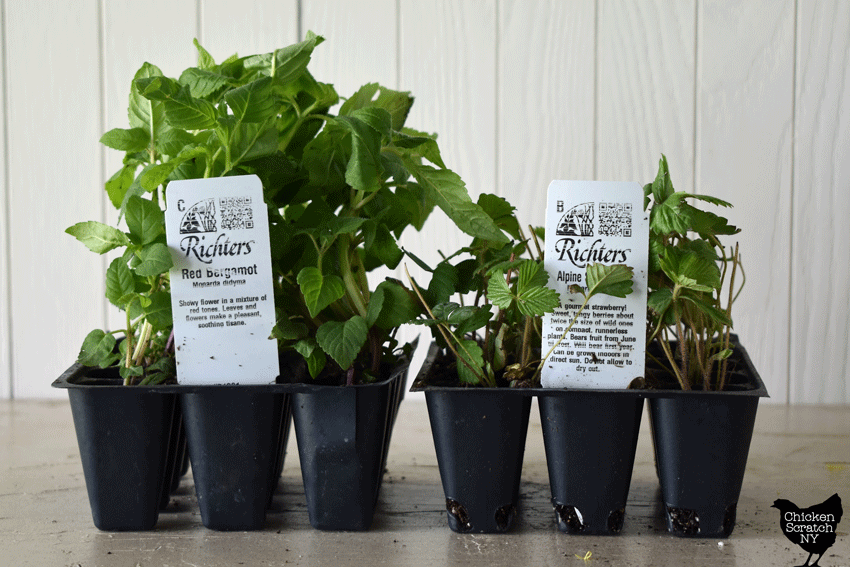 Plug packs have 12 plants and are planted in the spring and shipped from April to June. There is a minimum of 2 plug packs per order.
This was my first time ordering a plug pack, I picked up a twelve-pack of Alpine Strawberries and one of Red Bergamont.
They were both $20 and that seems to be the price of most of the plug packs which works out to $1.67 per plant (I did see a few for other prices but that was the most common).
The plants were small but they are all healthy and have decent root growth. I've started alpine strawberries from seed and it's a long process that involved chilling the seeds and then babying them for a while.
Plug trays have 90 plants, are grown to order, and take at least 8 weeks to ship. I did not order any of them, mostly because the only thing I plant in that quantity is daffodils and garden peas.
The plug trays cost $100, which is $1.11 each.
Discover 4 Types of Peas to Plant in your Vegetable Garden
Plant Quality
If you've never ordered live plants through the mail it can be a little shocking when you open up the box. The plants will look a bit rough but with some water and time, they'll perk right up.
My order from Richter's Herbs was very well packed, the small pots were all in a plastic bag and then secured in a cardboard holder.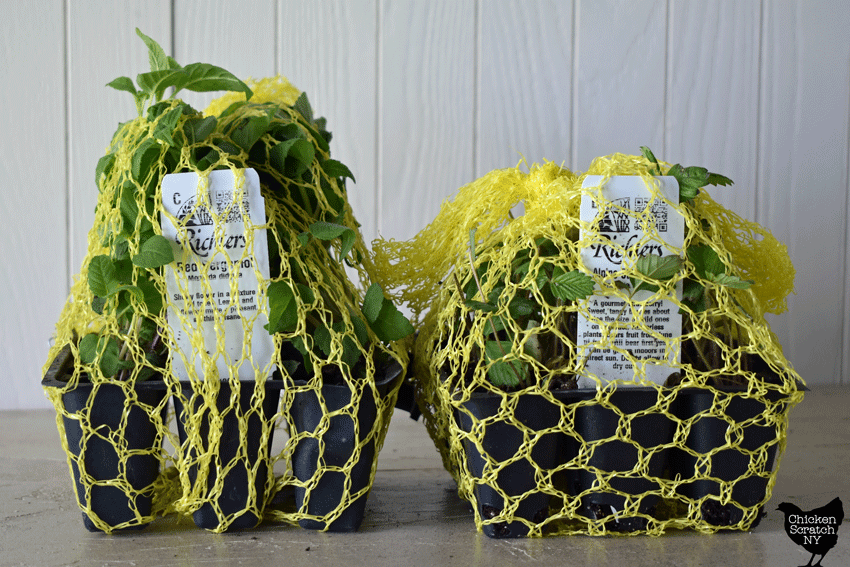 The plug packs were in a yellow net bag inside a little cardboard house. The extra cardboard did a great job holding everything in place and kept it from shifting around on the journey from Canada.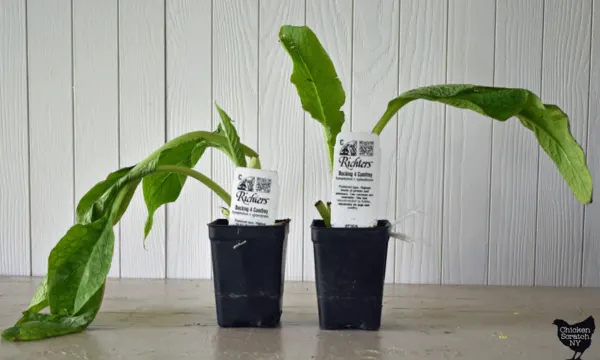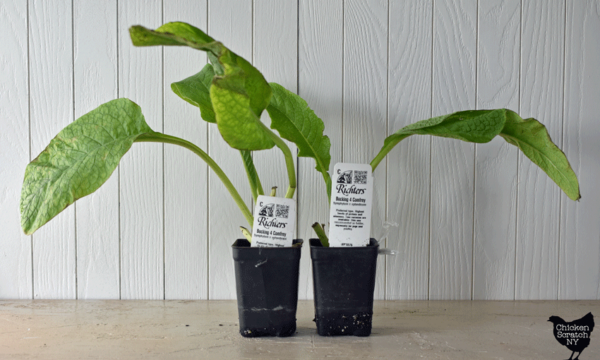 A few of my plants had some minor damage, the most noticeable was the breaks in the giant comfrey leaves but nothing life-threatening. After I watered them the comfrey perked back up and I'm really glad I didn't remove the damaged leaves.
Definitely give the plants a chance to recover before you go in and start clipping back damage!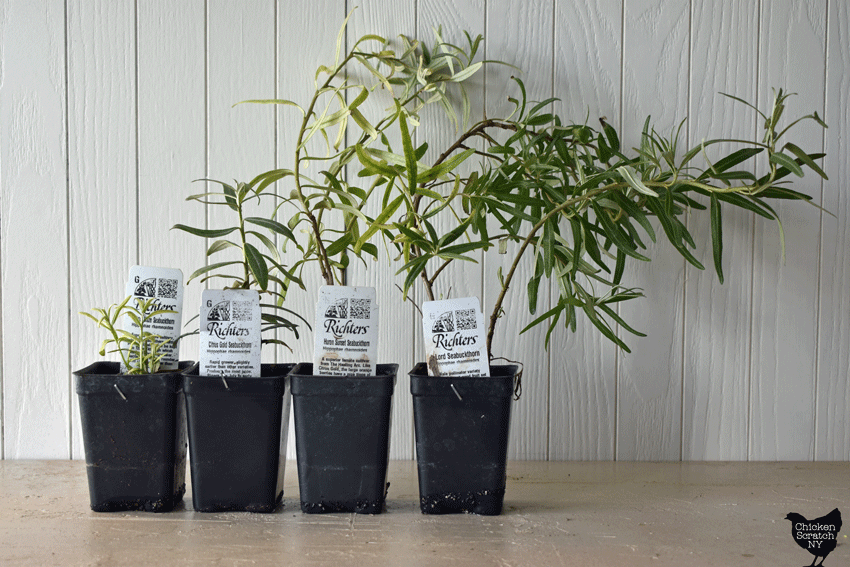 As for the plants themselves, the sizes are all over the place. This is where shopping online can't compare to going to a greenhouse and picking out the perfect plant.
There was a big variety in sizes overall, most obviously between the Seabuckthorn varieties, and even between the 3 White Soul Alpine Strawberry plants that I ordered.
As far as I can tell, they're all healthy, just very different sizes. I've grown enough Alpine Strawberries to know they'll be fine and indistinguishable in a few months.
Learn Why You Need to Grow Alpine Strawberries
On the other hand, these are my first Sea Buckthorn plants and I'm a bit nervous about sticking the tiny baby plants out in the orchard.
Website Experience
My biggest gripe with Richter's is their website. While functional, it's really outdated and can be overwhelming to navigate.
If you know what you're looking for it's easy enough but it's really not set up well for browsing and it's a straight-up nightmare on a phone.
Once you get to the item you're looking for it's a mixed bag. Some items have really well-rounded descriptions, others barely have any info at all.
As a lover of oddities, I'm used to jumping into growing things with little to no background info but if you're the kind of person that needs specifics plan on doing some extra research.
They do have separate areas of the site with extra information but they're hard to find and not intuitive at all.
Shipping & Customer Support
I'm going to talk about these together because the only time I've needed to talk to customer service was about shipping.
When you place an order you're immediately charged and then you'll hear nothing until your order ships. And you don't get to pick the shipping date so you're really just in the dark.
I placed both of my orders in early March and ended up waiting until May to get my plants.
After a while, I started getting nervous so I sent an email to customer service about my shipping date. I received a quick reply and I was told the plants would ship close to my final frost date as long as the weather cooperated.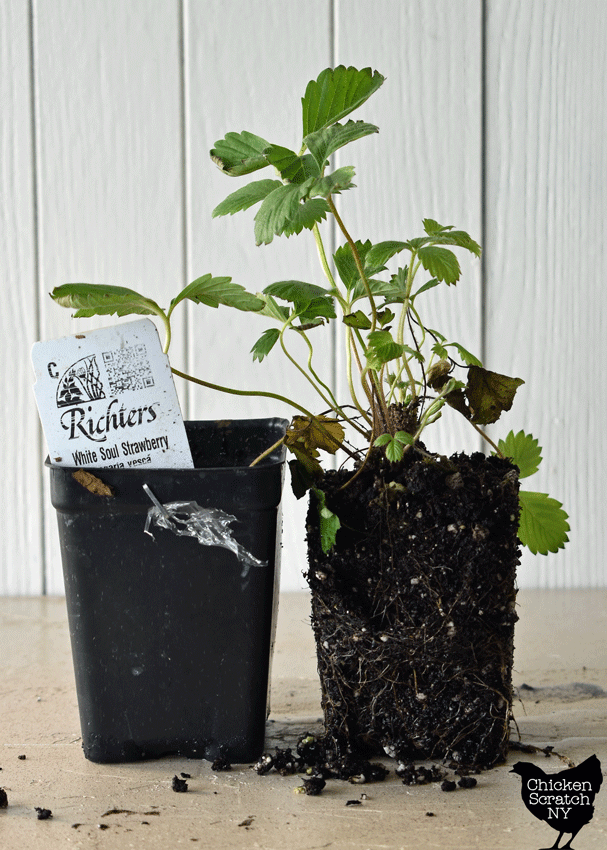 My last frost date is May 15th and my order arrived May 9th. It was shipped through UPS and I received an email when it was shipped, another the day before the delivery, and a final one letting me know the delivery had been made.
I was already waiting outside for the UPS guy so I didn't need that final email but it was nice to have. When I opened the box the air inside felt hot, which isn't surprising considering the unseasonably warm weather.
I pulled the plants out, gave them some water and they all came back to life, looking just about perfect by the next morning.
Recommendation
All things said I do recommend shopping with Richter's if you're looking to add some unique herbs and plants to your garden.
I'm always going to promote a small business over a big box store and this is no exception. They carry a ton of stuff you just aren't going to find anywhere else.
The international factor (if you're in the US) can be tricky but they are very clear on their site about what plants can't be shipped to the US or to certain states.
Make you sure make a note in your phone or on the calendar that you've ordered a bunch of plants because if you place you're order in January you'll have forgotten what you brought by May!
---
Check out my Vegetable Garden page for more ideas or start here: