Radishes are an easy-to-grow root vegetable with a fiery flavor that can be tamed with a little effort. Whether you enjoy your radishes fresh from the garden or roasted and mellow I've got a radish recipe for you to try!
Before you get ready to cook up a radish or two there is one thing to keep in mind. There are many varieties of radishes and they can all be broken down into two categories.
Spring radishes are small and quick growing, popular varieties include the elongated French breakfast radish, the cheerful red cherry belle radish, and the multicolored Easter egg radish. They're a quick garden crop, ready to harvest in about a month.
They're a popular spring vegetable because they don't mind the cold and they make a great garden filler with their quick turnaround from seed to plate. Spring radishes can be grown all season long but they will struggle in the heat.
Learn more about Growing Radishes and 5 Reasons you Need them in your Garden
They're best when they're grown quickly and harvested small. Too much stress from lack of water or too much heat will lead to really hot radishes with an unappealing texture. Spring radishes left in the ground too long with also have texture issues and may even bolt or go to seed.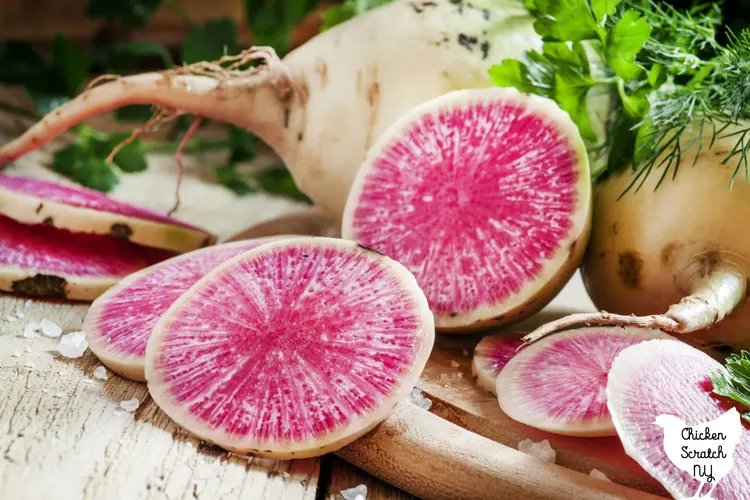 The other category is the winter radishes. This group includes the super-popular Daikon radish, the adorable watermelon radish and the intriguing black Spanish radish.
Despite the name, these radishes are not planted in the winter. Instead, they are planted in the summer or early fall.
They take about 60 days from seed to harvest. Winter radishes take instructions from the sun and a shortening day length is what triggers them to produce the large roots we know and love.
Spring and winter radishes can be used interchangeably in most recipes, just keep in mind the differences in size and the strength of the bite.
Along with the roots, the greens from both spring and winter radishes are edible and can be used in salads or blitzed into a pesto.
---
Check out my Recipes page for more ideas or start here: