If you can make instant pudding you can make this Chocolate Peppermint Icebox Cake Dessert! You can make one cake to share with someone special or make a whole bunch to serve a crowd.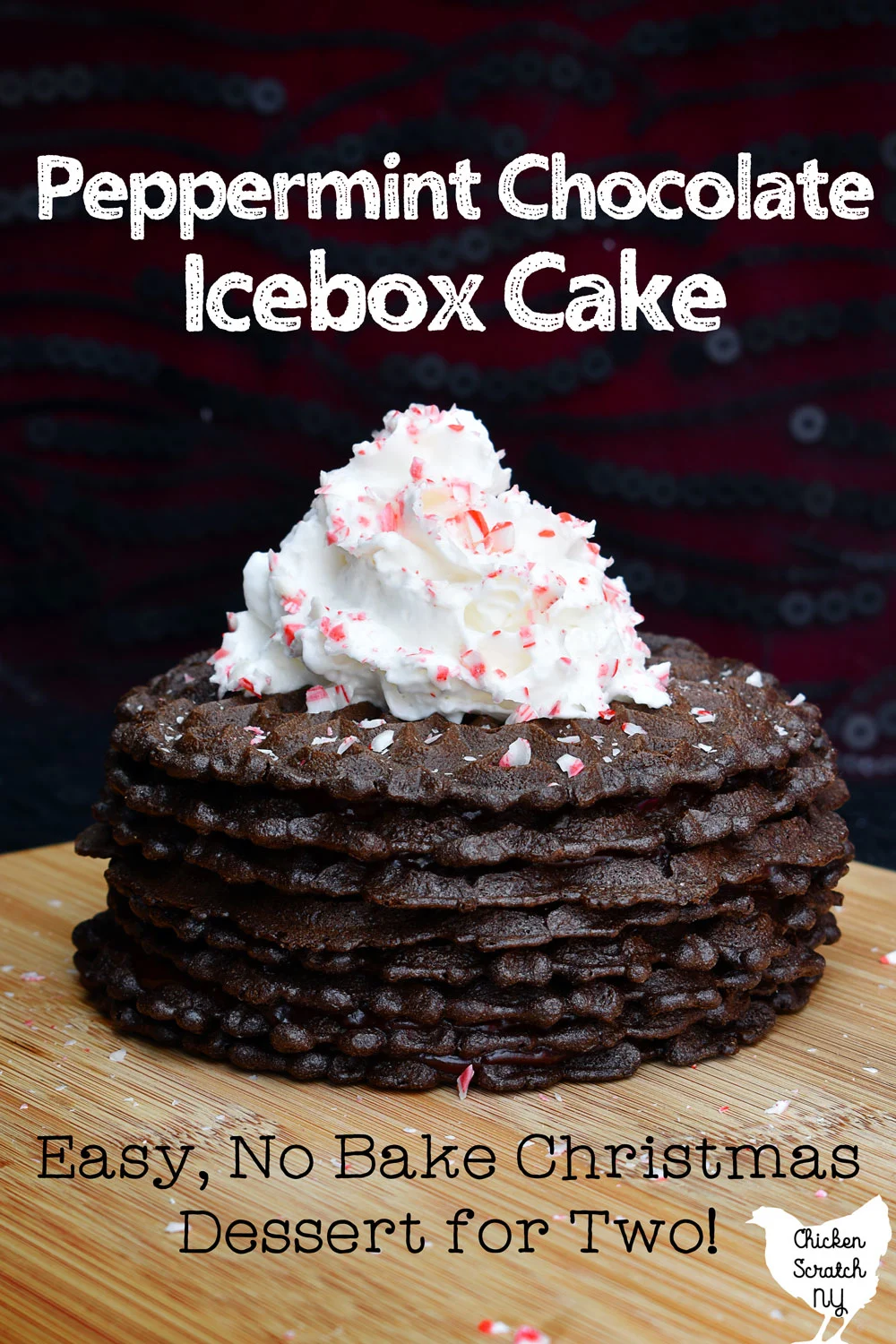 As an added bonus it gets better as it sets and is best made the day before it's needed. Leaving you to spend time with your guest instead of messing around in the kitchen!
The secret ingredient for this oh so simple but fancy dessert is a package of dark chocolate Pizzelle cookies. I get my pizzelle at Aldi, they are in the bread/bakery section.
They come in a plastic case that hold four individual packages of cookies, the second you open up the bags the cookies start to go stale. I used one whole package of cookies for one cake.
Pizzelle are thin waffle-like cookies that are almost too dry to enjoy on their. own. I like to dip them in my coffee (like a wild animal) or in chocolate.
If peppermint isn't your thing you can always leave that out and go for a plain chocolate dessert or use vanilla pudding and get a black and white Oreo look.
Another option if you don't like chocolate or you're just really loving this no-bake dessert method you should check out is my very Christmassy Eggnog Icebox Cake made with vanilla pizzelle and eggnog pudding exactly the same way.
Pizzelle Ice Box Cake Tips and Tricks
The pizzelle cookies are very stiff straight out of the package but they will soften up with the moisture from the pudding and your dessert will shrink in height.
After sitting overnight the cake will be soft to the touch, the cookies will retain a little bit of chew around the edges but the inside will be soft, almost like a crepe cake. But you don't have to make any crepes!
You'll know they've sat long enough when the top feels soft. The icebox cake will be soft enough to easily cut with a spoon.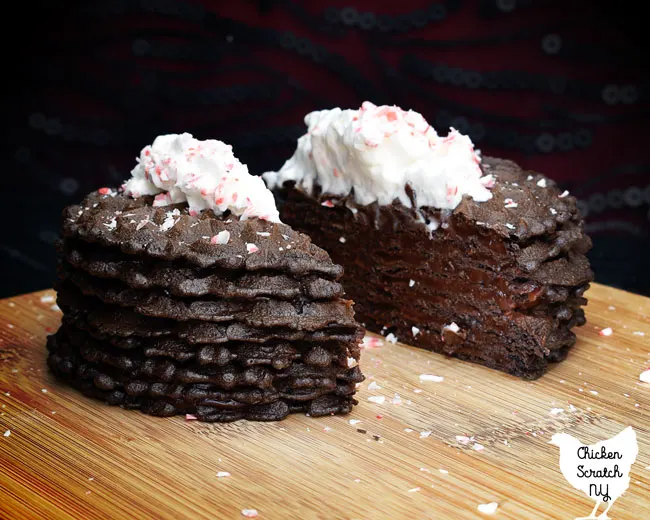 Thanks to the softening effect of the pudding the little cakes can be tricky to move once they've set completely. I recommend placing a small circle of parchment paper under the bottom cookie before you start and it will help you get an offset spatula or regular spatula underneath so you can transfer the cakes to a serving stand or dessert plate,
You may also have a bunch of cookies that are broken in half straight out of the package. Don't use them for the top or bottom layer but you can easily add slightly broken pizzelle to the middle layers and the pudding will hold them together.
If you have any leftover pizzelle do yourself a favor and dip them in melted chocolate. You can even sprinkle on some crushed candy canes for a quick holiday treat!
One more note, you will have extra pudding if you only make one cake. It's delicious on its own, eaten off extra cookies, or served up inside a Peppermint Bark Shot Glass.
Yield: 1 Cake
Chocolate Peppermint Ice Box Cake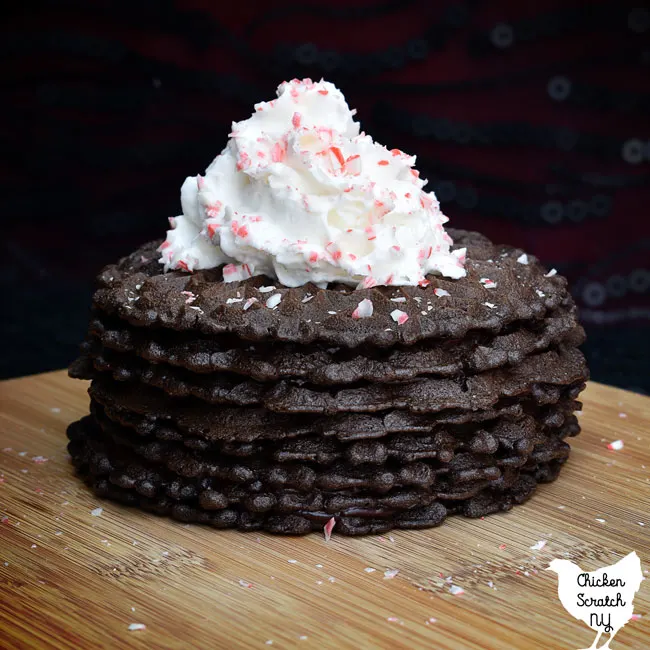 This easy Chocolate Peppermint Icebox care is the perfect Christmas dessert for two. If you can make instant pudding you can pull this off!
Total Time
8 hours
5 minutes
Ingredients
1 box Instant Chocolate or Dark Chocolate Pudding
Milk required for Pudding
1/4 teaspoon Peppermint Extract
1 package of Dark Chocolate Pizzelle Cookies (about 9 cookies)
Crushed Candy Canes & Whipped Cream for serving
Instructions
Mix up pudding following package instructions, adding the peppermint extract with the milk
Allow the pudding to soft set in the refrigerator
Lay down one pizzelle cookie, add a spoonful of pudding spreading it into an even layer using a spoon or offset spatula and add another cookie.
Continue stacking pudding and cookies, ending with a cookie
Transfer the icebox cake into the fridge covering with plastic wrap or an overturned storage container and allow to sit for 4 hours or overnight
Serve cold topped with a dollop of whipped cream and a sprinkle of crushed candy cane
Notes
Crush unwrapped candy cakes with the bottom of a heavy glass or jar
Recommended Products
As an Amazon Associate and member of other affiliate programs, I earn from qualifying purchases.
Check out my Desserts page for more ideas or start here: