Before we get to the recipe for an Eggnog Icebox cake allow me to blow your mind. You can make instant pudding with eggnog. Bam, mind blown right? It's thick, creamy and oh so eggnogy.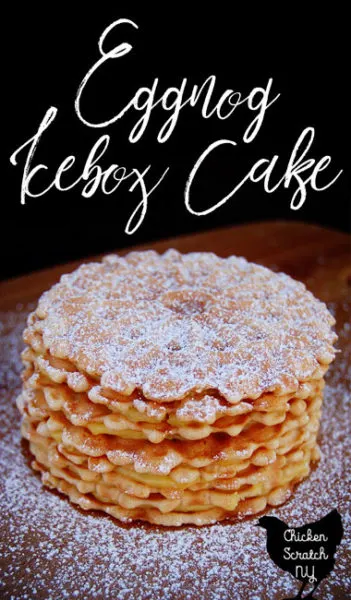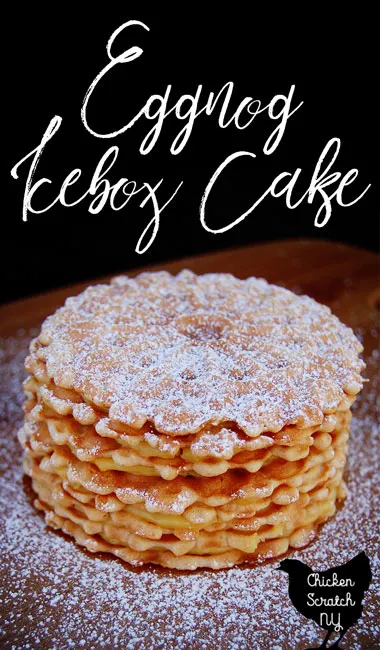 If you know me I can imagine you're sitting back clutching your pearls in dismay at the thought of me using instant pudding mix. And normally you'd be completely right.
But then one day, while wandering through Target (as you do) I found a pouch of Jello brand Simply Good Vanilla pudding mix. Side note, this isn't an ad or sponsored post.
I also grabbed a carton of eggnog because it's almost December. My curiosity got the best of me and I had to know what happened if you substituted eggnog for milk.
Lucky for all of us you can and it's awesome. All it takes is 2 minutes of whisking and a short wait and you have deliciously thick and creamy pudding that screams out with eggnog flavor.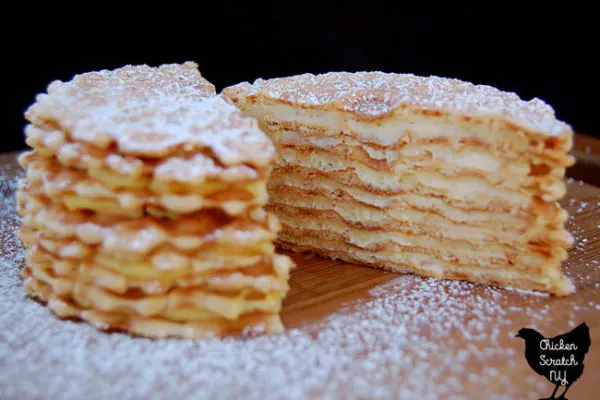 I recommend sampling a few spoonfuls just to make sure it's ok then get out a plate and a stack of cookies. A while ago I made Chocolate Dipped Pumpkin Pizzelles and fell in love with the decorative and crunchy cookies.
After Aldi's ran out of pumpkin pizzelles I grabbed a package of vanilla and that's what I decided to turn into an icebox cake. An icebox cake is layers of pudding or whipped cream sandwiched between thin cookies and placed in the fridge.
Over time the liquid in the filling softens the cookies. It sounds weird but it's so good.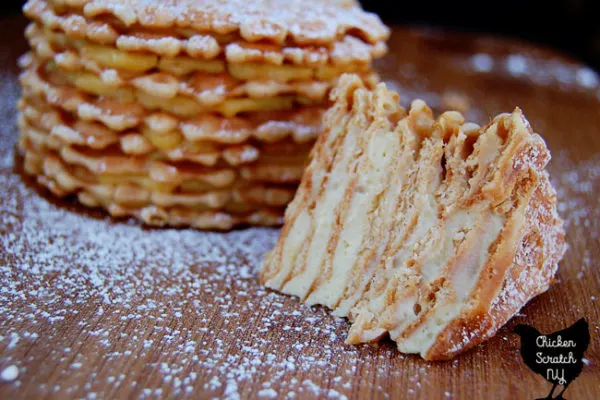 It's one of the easiest desserts I can think of to make. The hardest part is whisking the pudding, or maybe waiting to eat it.
The only real tip I can think of is to stack the cookies higher than you want the finished cake. As it sits the whole thing compresses a bit.
I used one package of 8 cookies and about 1/2 cup of pudding for one mini cake. It was enough for my boyfriend and I to enjoy after dinner. If you're serving up icebox cakes for a party switch up the cookie and pudding flavors to make something for everyone in a little icebox cake buffet!
The extra pudding was eaten without complaints by yours truly, even if you aren't feeling the ice box cake do yourself a favor and try the eggnog pudding on it's own. It's a delicious Christmas treat, especially if you happen to top it with a bit of whipped cream and a sprinkle of nutmeg.
Don't forget to PIN this to your holiday dessert board! What is your favorite way to enjoy eggnog?
Yield: 2 servings
Eggnog Icebox Cake - No Bake Christmas Dessert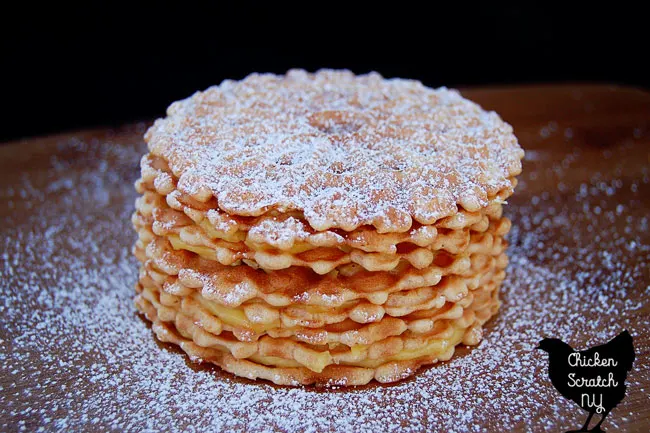 Whip up a batch of eggnog pudding and squish it between layers of cookies before throwing it in the fridge overnight for a delicious eggnog icebox cake
Ingredients
8 Vanilla pizzelle
2 C eggnog
1 package Jello Simply Good Vanilla Pudding
Instructions
Whisk pudding mix into cold eggnog for 2 minutes and allow to set for 5 minutes
Place a cookie on your serving plate and top with a spoonful of pudding
Add another cookie
Keep layering until you have 8 cookies and 7 layers of pudding
Place in the fridge overnight
Serve cold from the refrigerator
Notes
You will not use all the pudding in one cake!
Recommended Products
As an Amazon Associate and member of other affiliate programs, I earn from qualifying purchases.
Check out my
Dessert Recipes
page for more ideas or start here: