Sunday evening my boyfriend looked at me and said those three little words we all love to hear "you look terrible." Thankfully he followed them up with "go lay down" and the next 3 days are a blur of fever chills and body aches. I'm finally on the upswing, I think and I'm so far behind it's not funny.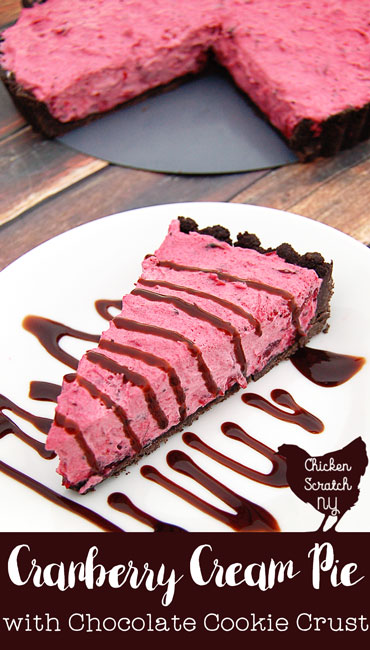 For example I made this cranberry cream tart for Thanksgiving. It's an easy, no-bake holiday dessert that comes together quickly and holds well in the fridge. Last year I actually made a much more complicated version with chocolate ganache and stabilized whipped cream. Lucky for all of us this tastes just as good and takes way less time.
I made my tart in a non-stick tart pan with a removable bottom. I'm really weird about cooking with non-stick in the house because I have a parrot so I've never actually baked in the pan. It does make really nice no-bake tarts though!
The easiest way to get a fine cookie crumb for your crust is to chop up the cookies in a food processor. Toss about 1/2 the cookies in to start and add the rest through the shoot as they grind down to make room. Check a few times for lumps! You want the crumbs smooth as possible.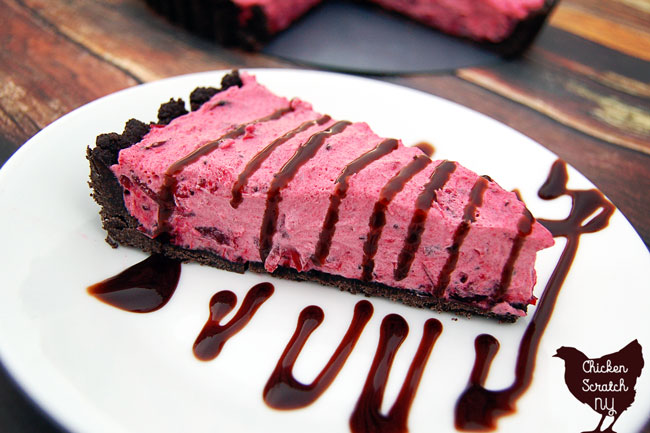 When you add the melted butter it's going to look really wrong at first. Like you have too much cookie and not enough butter but keep folding it over until it all looks wet. Then when you smoosh it down the heat from your hands will help the butter stay pliable and you'll think you have too much butter. Let it set in the fridge and it's all going to work out in the end.
I actually made my cranberry sauce a few days before I got to the pie, I just threw in the fridge in a covered pyrex bowl and forgot about it until I needed it. I actually made this, the Brie with Pear, Honey & Rosemary, the Eggnog Icebox Cake and the Christmas Crack Bites all in one day! My fridge was full of a very strange combination of things for a while…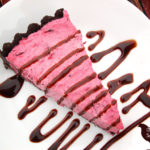 Cranberry Cream Tart
A sweet & tart no-bake Cranberry cream tart with a chocolate cookie crust is the perfect make ahead dessert
Ingredients
1

bag

Cranberries

pick out bad berries

2

T

White Sugar

26

Chocolate Sandwich Cookies

6

T

Butter

Melted

1

C

Whipping Cream

1/4

C

White Sugar
Instructions
Combine Cranberries, 2 T of sugar and a splash of water in a small saucepan over medium heat

Cook and stir frequesntly until berries are burst, sugar is dissolved and the fruit gets very thick

Remove from heat and allow to cool to room temperature

Crush cookies in a food processor or using a plastic bag and rolling pin

Stir together crushed cookies and melted butter

Squish cookie mixture evenly across the bottom of the pan and up the sides. Place in fridge to harden

Whip cold cream in a cold bowl, gradually adding in sugar, until stiff peaks form

Fold cooled cranberries into whipped cream and spoon into cookie shell
Recipe Notes
This dessert is on the tart side, I'm not a huge fan of super sweet desserts. If you want a sweeter result add extra sugar when you cook the cranberries. 
More Holiday Desserts: