The Moss Stitch is a beginner-friendly crochet stitch perfect for warm blankets and mindless stitching. Whip up a sweet and cuddly blanket with this easy pattern using one giant skein of yarn!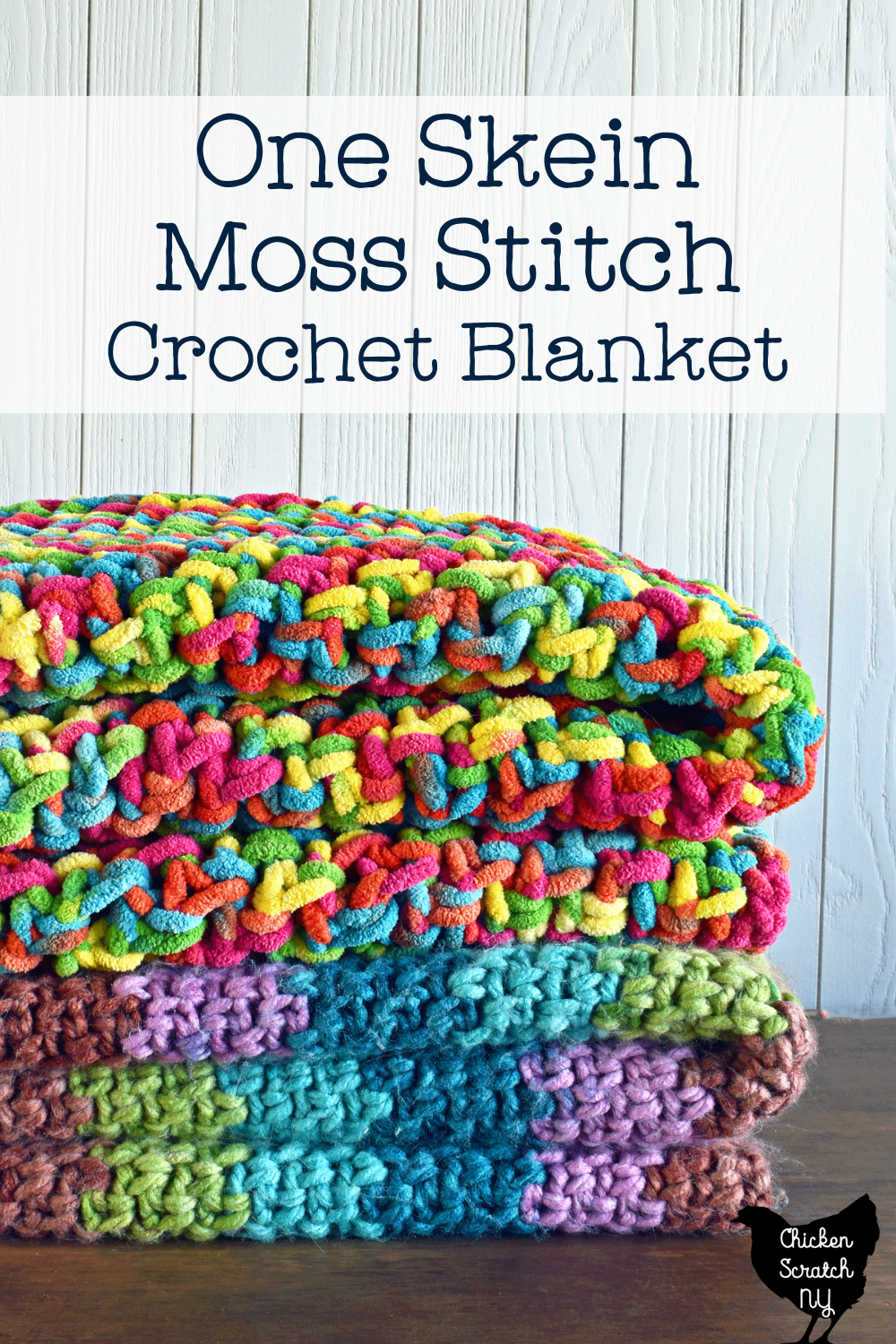 If I have to be honest I enjoy the process of crocheting more than I enjoy the final project. Especially with a simple pattern, the repetition is relaxing and almost meditative.
Moss Stitch is the perfect choice for getting in the zone while you work on a project and since you only need to know a chain and single crochet it's a great choice for beginners.
How to Crochet the Moss Stitch
The moss stitch is a simple repetition of a chain and a single crochet. When you move on to the next row you switch so you're doing your single crochets in the space made by the chain and the chains over the single crochet.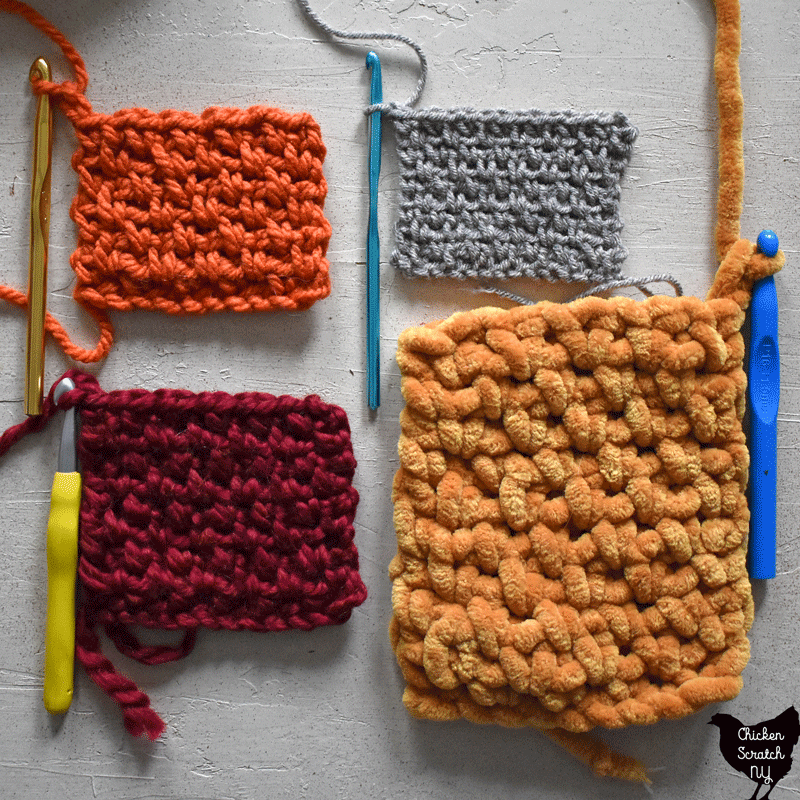 You'll end up with a really pretty V pattern that looks the same on both sides and a unique effect from color changes due to the intermingling rows.
The yarns used for these swatches are:
It can be a pretty slow-growing stitch if you're using a thin yarn but if you pick something bulky or super bulky it adds up quickly. It's also one of the fastest stitches to crochet thanks to working in chain spaces instead of stitches.
That little detail also makes it a great choice for a yarn like Homespun where stitches can be notoriously difficult to find.
You start with an even number of chains, work your first single crochet into the 4th chain from the hook and then start your moss stitch.
Repeat the pattern of single crochet & chain, working the single crochets in the chain space in the row below.
When you reach the end of a row, chain two and turn your work. Start the pattern again working your first single crochet in the first chain space.
Lion Brand Cover Story
I was working on a different post about crocheted blankets when I came across an endcap at Joann's with GIANT skeins of yarn called Cover Story. Each one could be a footstool.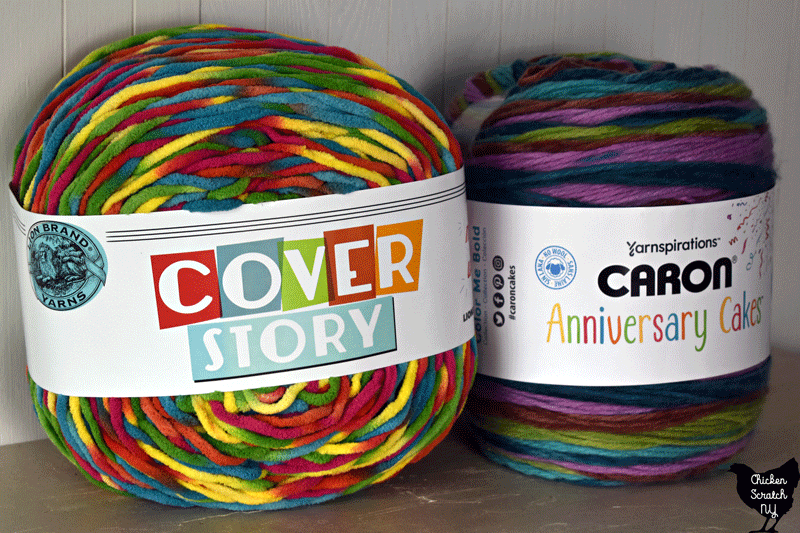 Cover Story is a super bulky (size 6) chenille yarn, very similar to Bernat blanket yarn in appearance but I don't hate touching it. Whether it's the yarn itself or my hands are better moisturized we may never know.
The 547-yard skeins come in 17 different colorways including solid light pink, navy, and light gray along with 14 different multicolor options.
I had my eye on the cool grey-toned Mica but ended up walking out of the store with Alchemy, a super bright mix of yellow, green, pink, blue, and orange that looks exactly like a pile of sour gummy worms.
The label recommended an N (13 or 9mm) hook so that's where I started. I think the blanket would be a smidge nicer if I had used a larger hook but I didn't have one and I wasn't about to go back to the store for that (who know how much more yarn would have followed me home!).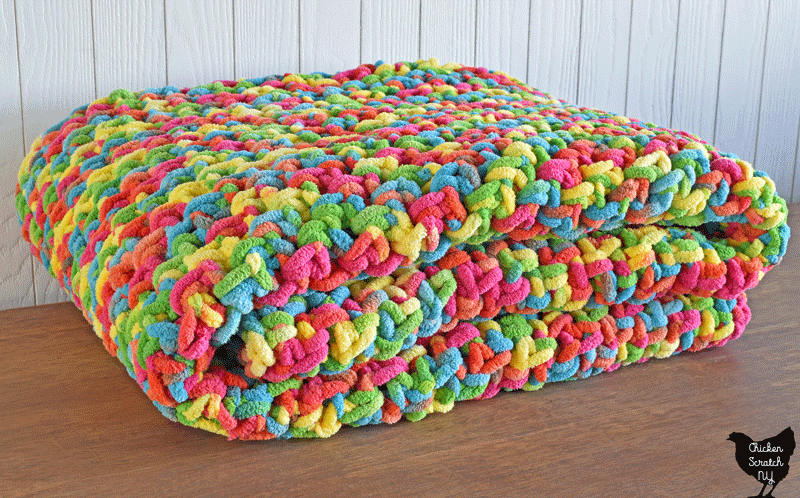 For my Gummy Worm Blanket (named & claimed by my youngest child before I even finished the 3rd row) I started with a chain of 76 and ended up making 73 rows before I ran out of yarn. The finished blanket was 34 x 44 which is perfect for a kid's cuddle blanket.
Out of the two blankets I made this was the clear winner for speed. I had this baby done in a few days!
It's on the small side but it's perfect for a kid and doubling up on giant yarn skeins would give you a nice lap blanket.
The label claims you can knit a 48″ x 52″ blanket from one skein but crochet eats yarn and you aren't going to get that big of a blanket from a single skein.
A few notes about the yarn: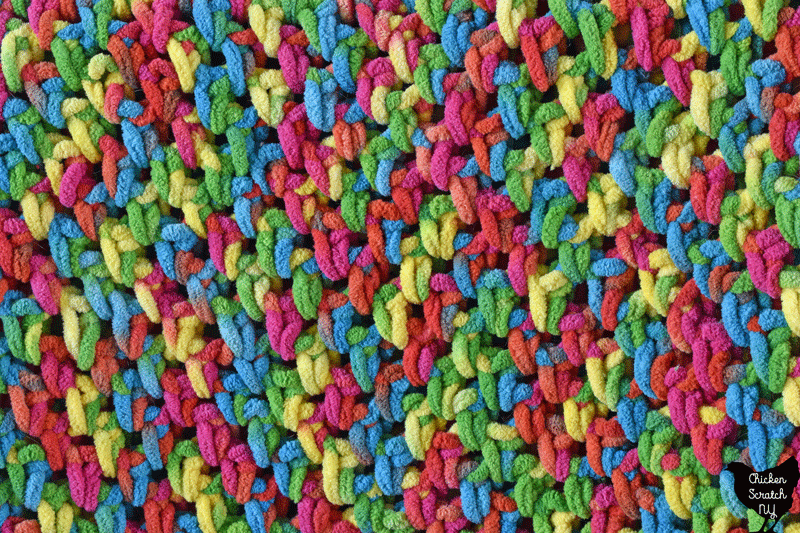 It's not the easiest to work with, it is very sticky and it clings to itself. Moving up a hook size might have made it easier to work with but I think it's just part of working with this style of yarn.
There were A LOT of breaks in the yarn, I found 6 which is more than 1 per hundred yards. A big reason I was looking forward to a one-skein blanket was the lack of weaving.
I'm lazy and I just want to crochet a blanket and move on. If I have to spend an extra hour weaving in a pile of ends that shouldn't exist I'm going to be grumpy.
Fortunately, the color changes in the Alchemy colorway are so frequent that you don't notice any variation in the color pattern. But still… so many ends.
This is the first time I've used this yarn so I can't say that they're all like this but it is something to be aware of, especially if you're paying full price and not getting the yarn on sale.
This blanket is thick and pretty stiff but it is warm and cuddly. I basically had to wrestle it away from my kid to take these pictures.
Caron Anniversary Cakes
The second giant skein of yarn we're going to talk about is the Caron Anniversary Cake available at Michael's. I've been out of the yarn loop for a while but apparently, this is a yearly release where they change up the colors but keep the concept the same.
Just like Cover Story, the label claims to be a super bulky yarn but if you compare the two the Anniversary Cake is much thinner. It's also a more traditional yarn with multiple plies twisted together.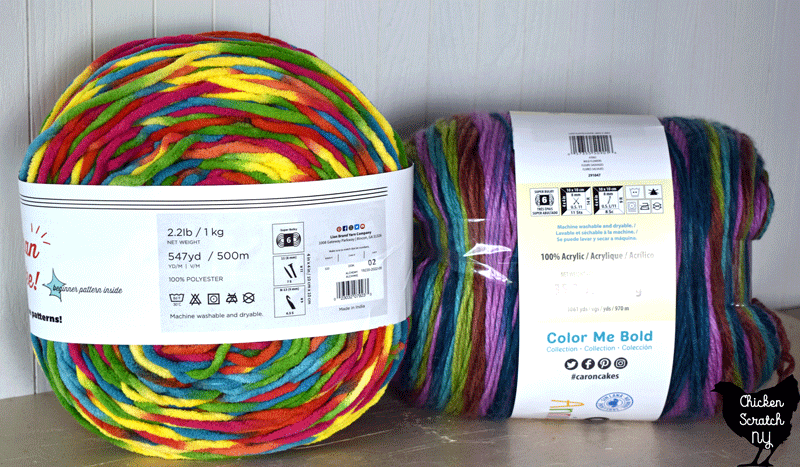 It reminds me of a thicker version of Loops and Threads Charisma yarn, which is a bulky yarn available only at Michael's. The Anniversary cakes are 100% acrylic, I thought the yarn was soft and not at all scratchy.
Caron Anniversary Cakes are over 1,000 yards of yarn. That's like 10 regular skeins of super bulky yarn.
This year there are 11 colorways, 7 are multi-colored self-striping yarns and 4 are 'Dots' and look like small 2″ blobs of color on a white base. I was really tempted by the Sweet & Sour Dots colorway but I have a fear of white blankets so I picked up Wildflowers instead.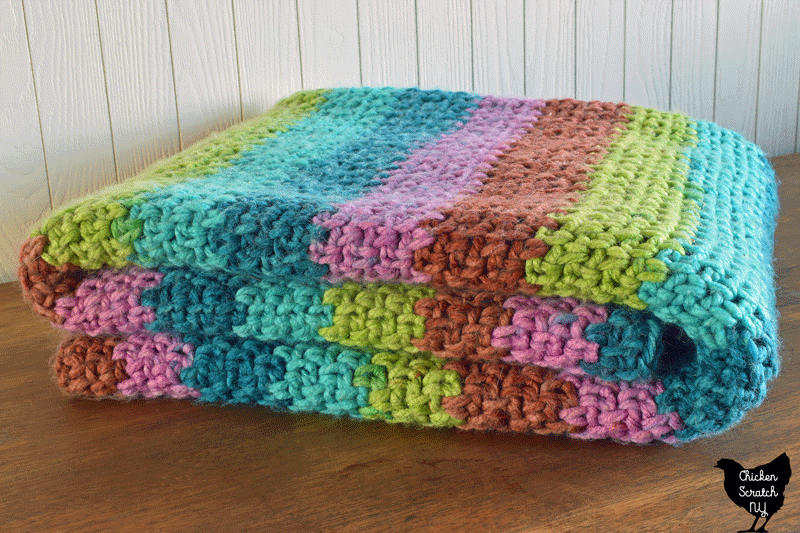 Wildflowers is a striping colorway, moving from a warm brown to purple to dark blue to light blue to green before repeating.
I turned my Caron Anniversary Cake into a moss stitch blanket for my oldest daughter, starting with a chain of 126. It turned out to be about 46 x 51 when I ran out of yarn after 122 rows.
With the width of my blanket, I was getting about 6 rows per color and I ended up with a total of 23 color changes after using the whole skein.
This yarn was perfect for the moss stitch, it has beautiful stitch definition and drape. I was also impressed by how warm it kept me when I was working on it, it's always nice to have a thin blanket that can keep you warm!
A few notes about the yarn: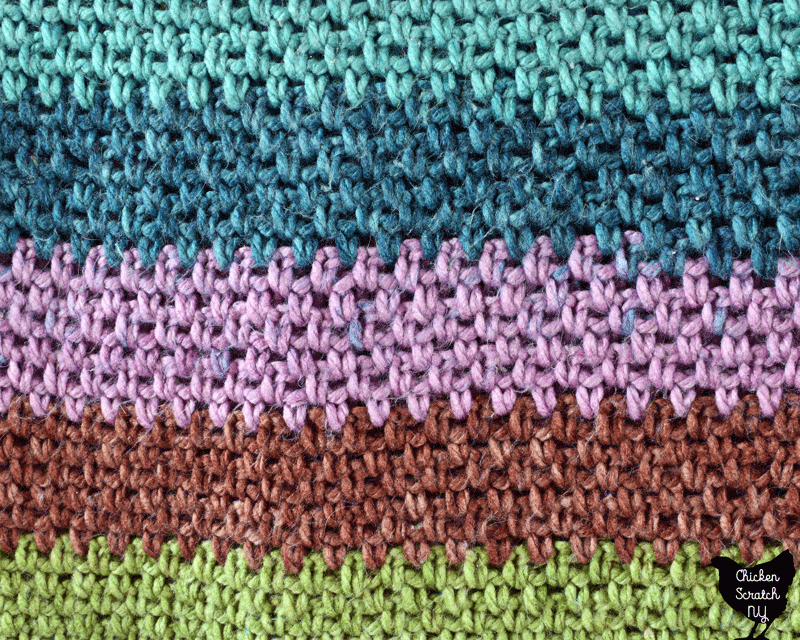 It was really easy to work with, I used an 8mm metal hook, and other than the occasional splitting it was perfect. I didn't have any trouble figuring out where my hook was supposed to go which meant I was able to stitch really quickly.
When the yarn did split it was really easy to remove a few stitches back to where I had missed a piece and redo my stitches.
I found 3 breaks in the yarn, one was at the first color change and I was afraid I was in for some trouble but it turned out to not be much of an issue. When I came to a break I just cut off the factory knot and retied it with longer tails so I could weave them in securely.
There is little to no blend between the colors in the striping yarn, it's a pretty abrupt change from one color to the next. That's not really a good or bad thing but it is something you might want to know before you buy.
By the time I got to the end of this blanket, the beginning section was already getting a bit of a fuzzy halo. I'm not sure if that's a good omen for longevity but so far my daughter loves the blanket.
It also had one specific trait that made me fall head over heals, if you've ever fought with a center pull skein of yarn to find the end you'll be happy to know this skein has it pulled out for you and attached to the band around the yarn with a sticker!
---
Other Moss Stitch Blankets you might enjoy making:
---
Check out my Crochet page for more projects or start here: