Make your Halloween holographic with a spooky squad of DIY Melt and Pour Ghost Soaps! Using a clear base lets the glitter shine (literally) in this sweet and spooky soap.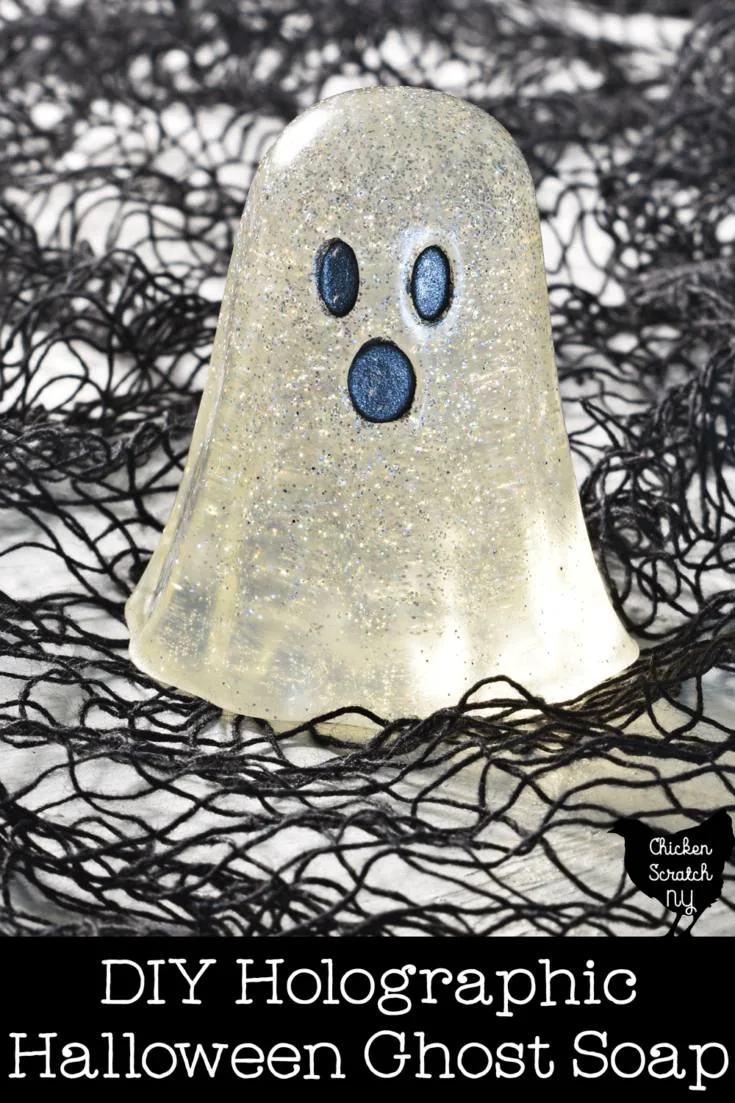 This easy melt-and-pour soap can be made in a few hours and makes a great Halloween gift. The simple recipe is perfect for beginners or experienced soap makers.
Holoween Ghost Soap Supplies
When it comes to making soap you can't get much easier than this. You'll need a clear melt and pour soap base, the clearer the better.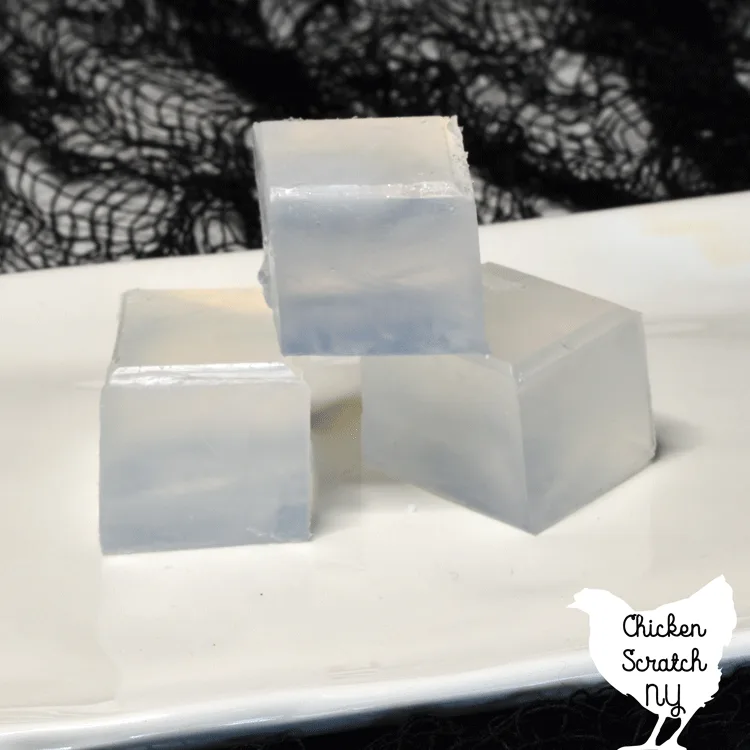 Avoid honey melt and pour soap base unless you want your ghosts to look yellow. If you want to skip the holographic glitter you can use white melt and pour soap for a snowy white ghost.
You will also need biodegradable holographic glitter. I'm not a big glitter person but they really bring these ghost soaps to life!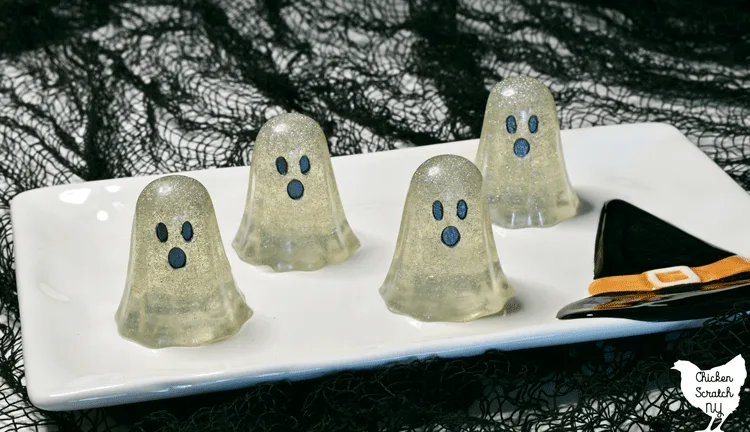 I know it looks mostly silver in the pictures but in real life when you move the soaps around you get the awesome rainbow flashes.
If you want to fill in the faces on your ghosts you'll need black mica pigment, isopropyl alcohol and a small paint brush. Mix a small amount of mica and alcohol and apply with the brush.
The mica will likely wash away the first time you use your soap but I think it's well worth the few seconds it takes to add them.
As for fragrance, you'll need to be a little careful here. A lot of fragrance oils contain Vanillin which adds vanilla notes and can turn your soap brown.
If you want to be absolutely certain your soaps won't discolor just leave out the fragrance. I wanted my ghosts to smell nice so I picked a fragrance with 0% vanillin but they still went a tiny bit yellow.
I went with Apple Orchard from Nature's Garden. It's a true apple scent without all the spice and bakery notes you usually find in fall fragrances.
Back in the day I used to sell my homemade wax melts and it was always the best seller, I even had a woman who special ordered 20 bars at a time! If you're looking for a good apple fragrance for soap or candles give it a shot.
You will also need to pick up a silicone ghost mold. The one I used is from Joann Fabrics and it is labeled as an ice mold.
I love using silicone baking molds (or ice trays) for soaps, there are so many options and they're the perfect size for gifting. If you also use silicone molds for food make sure you mark them, once you've used them with fragrance oils you shouldn't use them for food.
This is where things get a little tricky because every mold is different. The best way to make sure you're not over or under-making your soap is to estimate the volume of the mold with water.
You need to measure how much water it takes to fill the mold cavities. For this ghost mold, it took a little less than 2 tablespoons of water to fill each depression.
There are 8 ghosts so I estimated 16 tablespoons of soap even though I know that's a little high. That works out to be a cup of melted soap or about 8.5 ounces of clear melt and pour soap (by weight).
If you're using white melt and pour measure out 9 ounces.
You'll need to do this for whatever mold you're using. Make sure to do it ahead of time so your mold is completely dry when then it's time to add the melted soap.
I prefer to make a little bit extra that I can pour into another mold rather than not having enough and ending up with a partially filled cavity.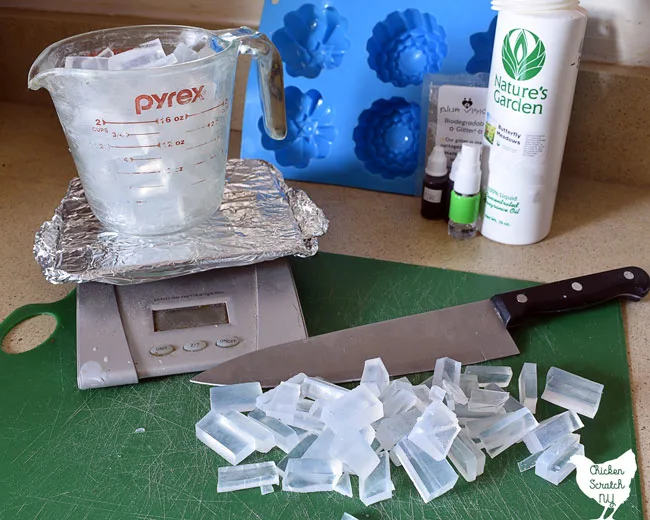 You will also need a scale, a glass measuring cup, a plastic spoon, and a set of measuring spoons. I keep all of my bath and body supplies together in a bin out of the kitchen so nothing accidentally gets used for food.
The Dollar Tree is a great place to pick up measuring spoons and tools for soap making.
Learn the Basics of Melt and Pour Soap Making
Yield: 8 Ghost Soaps
Melt and Pour Holographic Ghost Soap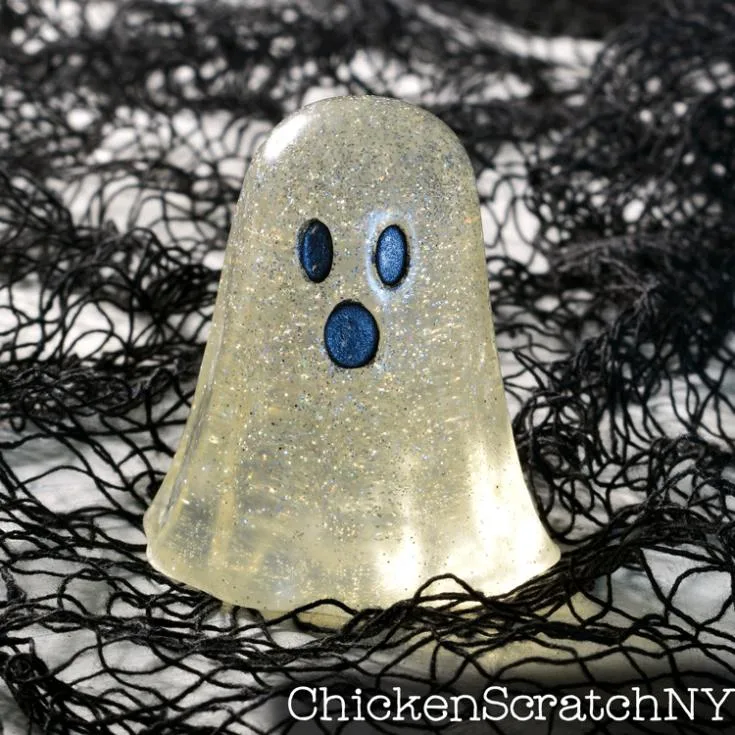 Make your Halloween holographic with a spooky squad of DIY Melt and Pour Ghost Soaps!
Total Time
2 hours
15 minutes
Materials
8 oz Clear Melt and Pour Soap Base
1/4 teaspoon Biodegradable Holographic Glitter
1 teaspoon Apple Orchard Fragrance OIl (optional)
Black Mica Powder
Tools
SIlicone Ghost Mold
Scale
Glass Measuring Cup
Spoon
Measuring Spoons
Paint Brush
Spray Bottle with 91% Isopropyl Alcohol (optional)
Instructions
Chop soap base into small cubes and melt for 30-second intervals in the microwave
Stir between heating, stop when a few lumps remain, and stir until they're gone
Add glitter
Stir in fragrance oil
Pour into molds
Spray with alcohol to remove surface bubbles
Allow soap to set fully
Remove soaps from mold, mix a small amount of alcohol with black mica and paint faces
Recommended Products
As an Amazon Associate and member of other affiliate programs, I earn from qualifying purchases.
---
Check out my DIY Bath & Body page for more ideas or start here: