Halloween is the best holiday and (not that we need excuses!) it's a great reason to make a quilt or fifteen. Whether you do that with a Halloween quilt pattern, Halloween fabric or both is up to you!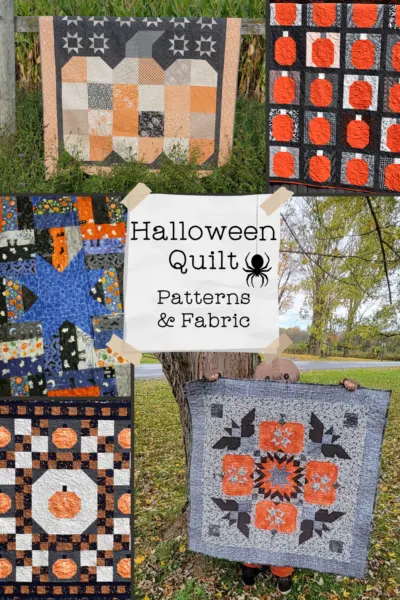 As far as I can tell there are two ways to make a Halloween quilt, either with a Halloween-specific pattern or with Halloween fabric. Of course, you can also go for gold and use Halloween fabric to sew a Halloween pattern.
Halloween Quilt Patterns
When it comes to iconic characters, movies, and just things it's hard to beat Halloween for options. You've got ghosts, witches, black cats, and mummies along with pumpkins of every size and shape.
With all these options it's easy to find a Halloween quilt pattern perfect for your style and skill level.
Halloween Quilt Patterns
Get ready to get spooky and sweet with these Halloween quilt patterns! All of these patterns have specific Halloween elements that really get the point across even if you aren't working with Halloween fabrics!
As an Amazon Associate and member of other affiliate programs, I earn from qualifying purchases.
Halloween Quilting Fabrics
As fun as Halloween quilt patterns are, my true love is Halloween quilting fabrics. I personally prefer to sew easy patterns and a lot of themed quilts are very technical and can get fussy.
I find the easiest way to get around this is to make "regular" quilt patterns with Halloween fabrics. Thanks to after-season sales, overbuying for pattern testing, and a general lack of self-control I have a whole drawer devoted to my Halloween fabric collection!
It doesn't help that every year new lines come out and each and everyone is amazing in its own way.
Here are a few of my favorite Halloween lines available this year:
Halloween Whimsy is right on the line of too cutesy for me. I love the toned-down color palette and the old-school vibes that remind me of my childhood in a weird way.
My favorite prints in the line are the subtle color washes, especially the black. I would literally buy a bolt of it if I had the money.
Candelabra is a pretty small line but it's filled with classy Halloween vibes. Every print is a winner for me.
I love the Cream Scroll and Black Damask for background prints and I think the black cats with bright yellow eyes in the Black Eyes fabric would make adorable Halloween dresses for my kids.
My absolute favorite fabric is the large ornate picture frames with ravens, it's called Cream Raven Portraits and I think it would be awesome for fussy cutting or for backing.
Moving a bit over the line into too cute for me we have Bad to the Bone. Now I do love a good pun and the fact that this line features a whole lot of skeletons tickles me in the best way.
Bad to the bone would be perfect for a kid's Halloween quilt, or you could make it a little less cutesy by sticking with geometric prints like the AMAZING scribbly Black and White Dot and Black and Orange Gingham.
Out of all the new 2022 Halloween Fabric lines, Late October is the one I've been looking forward to the most.
I love the soft orange, the variety of patterns, and its versatility. The black and white and black and grey prints would make great backgrounds for any quilt.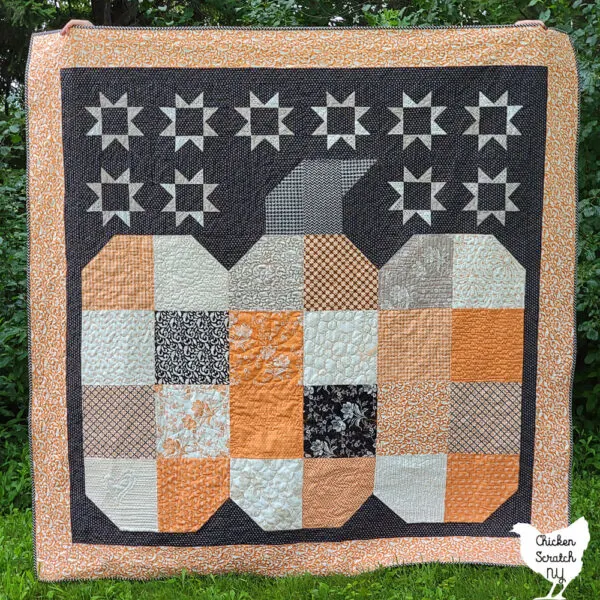 I think it's got a similar vibe to the super popular All Hallow's Eve and I think it would make a great, The Great Pumpkin quilt.
---
When I was looking up fabric to write this post (after I hid my wallet from myself..) I noticed a few older fabric lines that were still available on Fat Quarter Shop. I don't know how long these 2021 lines will be available so grab them fast if you love them:
I used Midnight Haunt to make my Halloween version of the Pumpkin Lattice Quilt. I fussy cut the Orange Skeleton Damask for the pumpkins and I think they turned out amazing!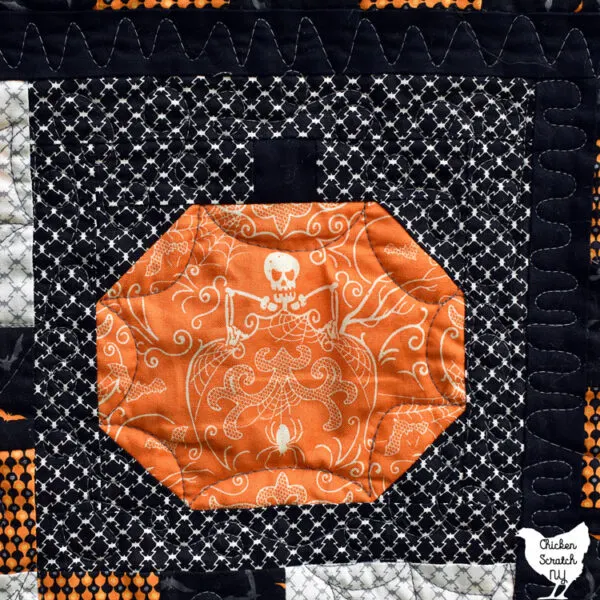 I also used a lot of the geometric prints, including Persimmon Clamshells and Parchment Haunted Check, and Slate Harlequin Bats for my outer border. It's really hard for me to pass up a large print for backing and I went with Slate Pumpkin Scroll for this throw.
Midnight Magic II came out very late last year and most if not all of it is still available in 2022. The prints are all very small and it works really well for precut patterns.
I've used Midnight Magic II for two quilts including Howden, a wall hanging, and a bunch of test blocks that will probably be turned into a table topper.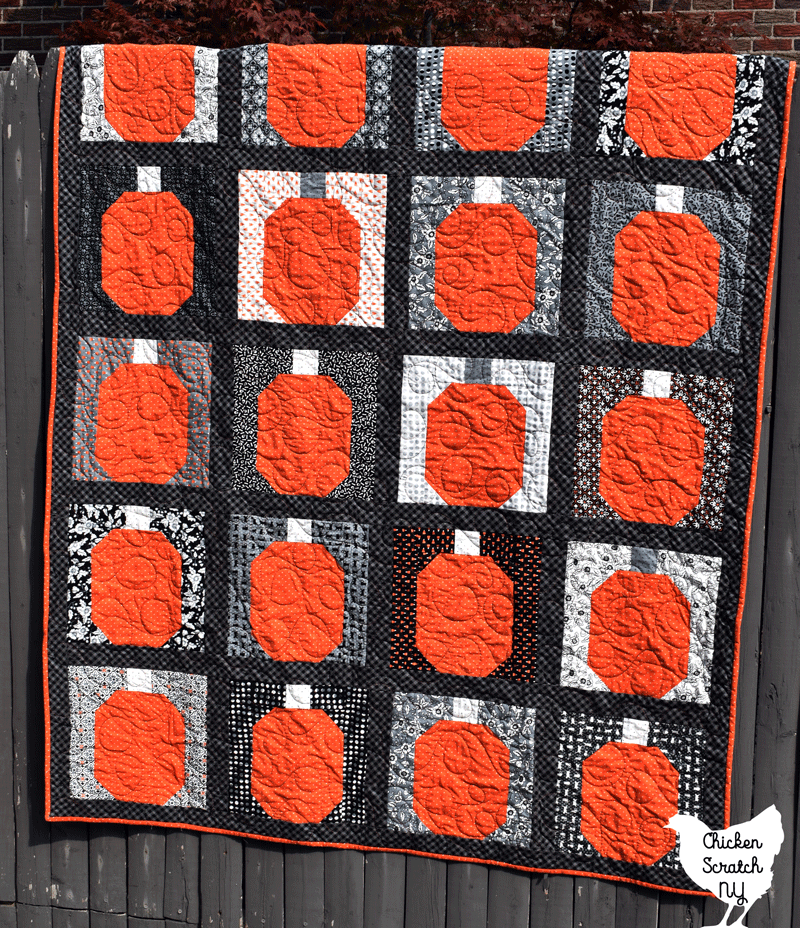 If you like simple prints and traditional Halloween colors this is one you won't want to miss!
---
Check out my Quilting page for more info or start here: