This Christmas Breakfast frittata is a quick, healthy and tasty addition to the table. It's filled with veggies, eggs and a bit of cheese to stand out among the pastries and sweets.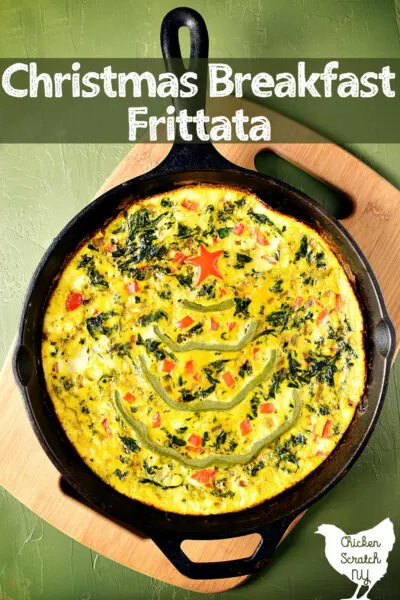 A frittata might seem like an odd odd choice for Christmas breakfast but it's got a lot going for it. First of all, you can make it ahead of time. Leaving you free to spend your morning sipping coffee and watching your kids rip open all their gifts in 1/16 the amount of time it took you to wrap them.
Another benefit, this is the perfect opportunity to force feed your family vegetables. Considering this is the season of sugar a few eggs and veggies are just what we all need.
---
---
A frittata is basically a giant omelette that your don't flip or a quiche with no crust. There are a few tricks to getting the perfect frittata that isn't soggy or too egg-y.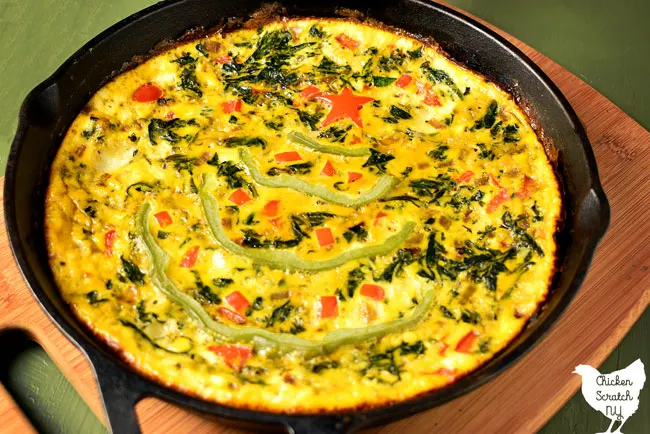 Let's start with the pan, I cook just about everything in my kitchen in some type of cast iron and this is no different. This recipe works well in an 8 inch cast iron skillet.
Never put anything in a cold cast iron pan, I usually turn the burner on, add my oil or butter and let the pan heat up while I'm chopping my veggies.
Start with the onions, cook them until they're soft and caramelized. Then add the spinach. You probably won't be able to add more than half the package at a time so go slow and add it in batches until it's all wilted.
Then grab your kitchen scissors and chop up the spinach right in the pan. You can skip this step or dump everything on a cutting board and chop it with a knife. I like the effective, quick and lazy scissor method
Speaking of the veggies, it took me about 4 tries to get the star right for the top of the tree. The best way I found was to lightly trace the star on the meaty side of a flat piece of pepper and then cut through the skin side.
The best thing about frittatas is you can pretty much clean out your fridge into the pan. I left out meat this time but you can add in sausage or shredded chicken. I used Queso Fresco but you can go with mozzarella, add parmasean or goat cheese. The sky is the limit when it comes to flavor combos here!
The thing that takes this from a plain breakfast to a festive Christmas Frittata is the simple tree. The green branches are made from 1/4 inch thick slices of green bell pepper.
I think the curved lines of the pepper give it a more tree like appearance. The top and the 'decorations' are all made from red pepper. You could add this fun design to any flavor combo for that extra Christmas flair.
Christmas Breakfast Frittata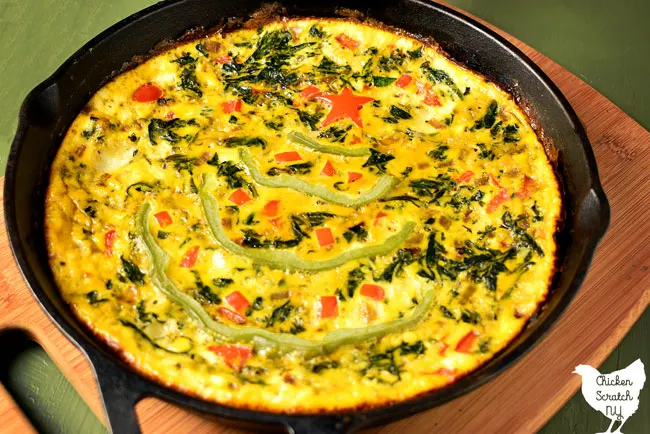 Stove Top Time
30 minutes
Ingredients
1 tablespoon coconut oil or butter
1 Onion, diced
1 Bag of Spinach, washed
1 Red Bell Pepper, cut one star shape and chop the rest
Pinch of Salt
8 Eggs
2 heaping tablespoons Sour Cream
1/2 wheel Queso Fresco
Green Bell Pepper, cut into 1/4 inch slices
Instructions
Preheat oven to 425 degrees
Melt butter in 8 inch cast iron skillet over medium heat, add onion and cook, stirring frequently until soft and brown
Add spinach in batches, folding it into the onions. It will begin shrinking almost immediately
When all of the spinach has cooked down grab your kitchen shears and cut up the spinach in the pan
Reserve a few pieces of red bell pepper and star, dump the rest in the skillet and add a pinch of salt
Stir and cook the veggies allowing most of the water to steam out
In a separate bowl whisk together the eggs and the sour cream
Crumble the cheese over the veggies and add in the eggs
Stir well to combine and evenly distribute the veggies in the pan
Add the green pepper rings in a tree shape, place the star at the top and add the reserved red pepper pieces as ornaments
Move the skillet to the oven and cook for 6-15 minutes. The frittata is finished when the edges are fully set and the center barely jiggles
Serve warm, cold or room temperature
Recommended Products
As an Amazon Associate and member of other affiliate programs, I earn from qualifying purchases.
---
Check out my Christmas page for more ideas or start here: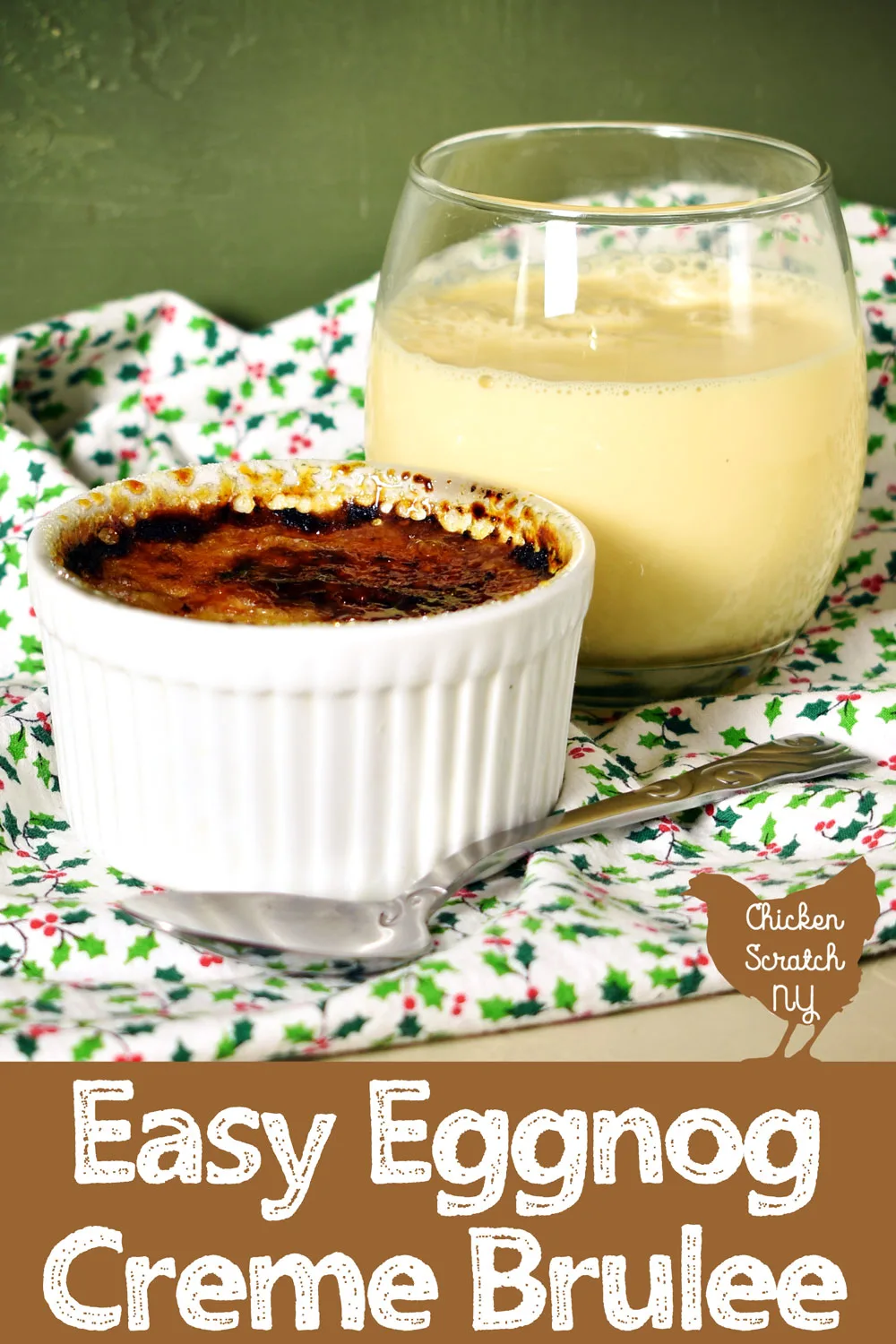 Welcome to the 5th annual 12 Days of Holiday Ideas event, hosted by Shirley of Intelligent Domestications and Erlene of My Pinterventures Between Nov. 11th and December 6th there will be hundreds of new ideas shared by over 55 Co-host bloggers!