Eggnog is one of my favorite holiday flavors. I put it in my coffee, cocktails, icebox cakes and now I've turned it into a deliciously Christmas-y creme brulee.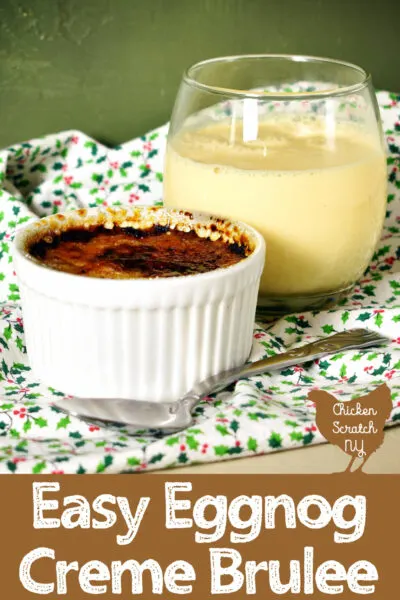 This post is sponsored by Dixie Crystal.
---
Welcome to the 5th annual 12 Days of Holiday Ideas event, hosted by Shirley of Intelligent Domestications and Erlene of My Pinterventures Between Nov. 11th and December 6th there will be hundreds of new ideas shared by over 55 Co-host bloggers!
Go here to see our kick-off collection of Holiday ideas as well as all of this years talented participating DIY and Foodie Blogs. Download this years November and December calendars with all of the topics and dates so you can make plans to watch for ideas!
We are hosting a BIG GIVEAWAY from our Sponsors this year! Be sure to scroll all the way down for more information and to enter to win!
---
Creme Brulee sounds super fancy and slightly intimidating but it's actually pretty simple once you get the basics down. I've made plain vanilla creme brulee and a Pumpkin Chai Creme Brulee that could shame any pumpkin pie but this time I wanted to get my custard into the Christmas spirit.
Creme brulee starts with a base of heavy cream and flavoring that is heated. It's slowly combined with egg yolks and sugar and them cooked in a water bath.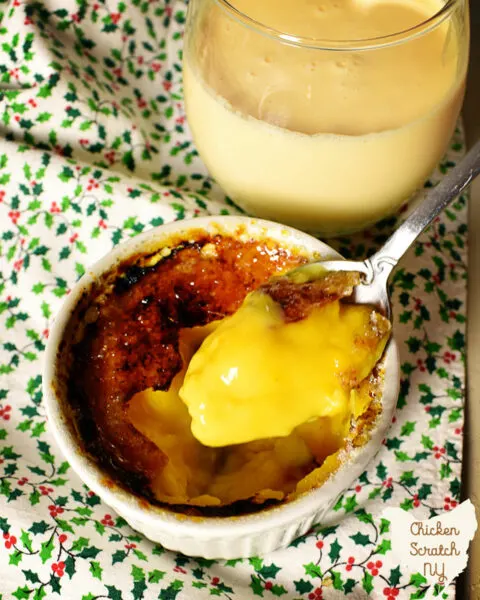 After the custard is cooled it's placed in the freezer to really chill and then a thin layer of sugar is spread on top. Using a kitchen torch the sugar is melted (caramelized) to give it a hard shell.
Breaking through the hard caramelized sugar is what sets the creme brulee apart from any other dessert. And the creamy cool custard isn't anything to ignore either.
There are two main techniques you'll need to to pull off this recipe. Tempering and a water bath. Neither are that confusing but I'm going to break them down to make things a little easier to follow.
Tempering
You cannot dump hot cream (or eggnog in this case) into your egg yolks or you will cook them. The solution to this is called 'tempering'.
Slowly pour a small amount of the hot cream into the egg yolk/sugar mixture while constantly whisking. After you've added about half of the hot cream you can go a little faster.
When everything is combined it doesn't hurt to run the whole thing through a fine mesh sieve. It will catch any clumps of undissolved sugar and any bits of cooked yolk.
Water Bath
Creme brulee needs to be cooked in a water bath. The water bath keeps the temperature even and adds moisture to the air in the oven keeping the custard from cracking.
I set up my water bath by placing a towel or wash cloth in the bottom of an oven safe dish and then adding the ramekins. After filling the ramekins I pull out the wrack in the oven and place the casserole dish on the oven wrack.
Then I add the water. It's way safer than trying the maneuver a casserole dish filled with boiling water and you aren't as likely to get water in your custard.
For best results you need to use hot water for the water bath, an electric kettle is perfect for this or you can start heating water up in the stove when you're heating up the eggnog.
Yield: 4 servings
Eggnog Creme Brulee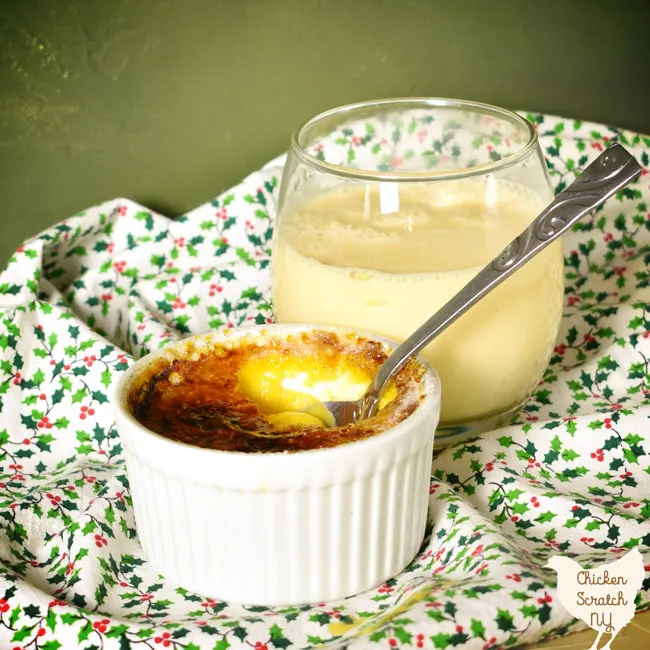 Put a Christmas twist on a classic dessert with this recipe for Eggnog Creme Brulee! You can make it ahead of time and keep it on the fridge until it takes a quick spin under a kitchen torch for a perfectly crunchy sugar crust!
Chill Time
2 hours
45 minutes
Total Time
3 hours
35 minutes
Ingredients
2 Cups Eggnog (I used Hood Golden Eggnog)
Gentle Sprinkle of Nutmeg
5 Egg Yolks
1/2 Cup Dixie Crystals Granulated White Sugar plus extra for tops
Instructions
Preheat oven to 325
Set four 7-8 oz ramekins in a casserole dish lined with a wash cloth or towel
Heat eggnog and nutmeg over medium heat until bubbles appear around the edge and it begins to steam
Whisk together egg yolks and sugar until smooth
Temper egg yolks by slowly adding a small amount of the hot eggnog while whisking
Add the rest of the hot eggnog and whisk until uniform
Pass the mixture through a mesh strainer to remove any cooked bits of egg yolk or clumps of undissolved sugar
Skim off the foam and split between the ramekins
Place the casserole dish on the oven rack and add boiling water 1/2 way up the sides of the ramekins
Bake 30-40 minutes, the center should still be slightly jiggly
Cool on a wire rack and them transfer to the fridge for at least 2 hours or overnight
Place creme brulee in the freezer for 45 minutes before serving
Remove the custards from the freezer, add a tablespoon of sugar to the top and tilt the ramekin to get the sugar over the entire surface, dump off the excess
Melt the sugar with a kitchen torch. Allow the sugar to harden before serving
Notes
Technically I used the wrong ramekins for creme brulee, you should use wider, more shallow dishes to get a better sugar crust to custard ratio.

I don't make it enough to justify buying special dishes so I use the ramekins I have on hand.
---
MEET OUR SPONSORS who have generously donated fabulous prizes for the Big Christmas Giveaway!
DecoArt winner will receive a prize package valued at $100!
Dixie Crystals/Imperial Sugar winner will receive a Keurig Coffee Maker valued at $100!
Oriental Trading winner will receive an OrientalTrading.com gift card valued at $200!
Cabot Cheese winner will receive a gift basket of Cabot products valued at $75!
Burlap Fabric winner will receive a prize pack of products valued at $50!
Zulay Kitchens winner will receive one Milk Frother and a Lemon Squeezer valued at $21
It's Home To You winner will receive one wooden Santa sign valued at $65
Giveaway begins Nov. 8, 2019 and ends Dec. 6, 2019. Winners will be notified by December 13, 2019. Sponsors will ship each prize to the winner. There will be a total of six winners, one for each prize. Drawing is by random selection using the Rafflecopter widget.
Must be 18 to win. Open to U.S. residents only. Terms & Conditions a Rafflecopter giveaway