Valentine's Day is on it's way and what better way to celebrate than with a whole pile of Valentine's Day Word Searches and lots of chocolate? I can't help you with the chocolate part but I've got you covered with the puzzles.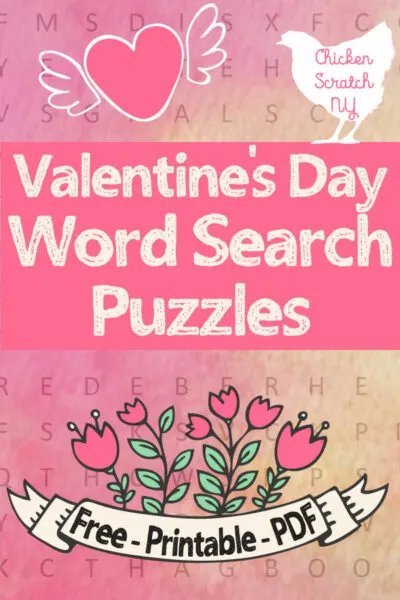 Word searches are a great way to settle down after a long day of handing out valentines and planning your after-Valentines chocolate sale haul.
Easy Valentine's Day Word Searches
I though this sweet poem would be a perfect nod to Valentine's Day. For this easy puzzle the bold words in all caps are the ones to look for:
Hard Valentine's Day Word Searches
I've got your back if you're looking for more of a challenge too, as a 30.. ahem.. something year old lady I love a good word search too. The difference is my kids drink chocolate milk with theirs and I'm more likely to be sipping something stronger like a Strawberry Shortcake Shot.
To make things even easier, I'm adding keys to my difficult word searches!
All of these puzzles are only available here as PDF downloads. I had a lot of problems with Google drive and schools not getting along and this is the solution I came up with.
Click on the picture or the text underneath and it will open in a new window where you can download or print the puzzle.
I make these puzzles available for free so please don't sell or profit from them. You can print one copy for yourself or enough for your whole school class, scout troop, family etc. The PDFs do not have the giant chicken watermark on them
Don't forget to PIN this to your Valentine's Day board!
Check out my Puzzles page for more printable fun, I update and add new puzzles every year or start here: