If you're looking for an easy Christmas treat, look no further! Toasted Almond and Cranberry bark is a delicious and quick holiday treat that doesn't require the oven.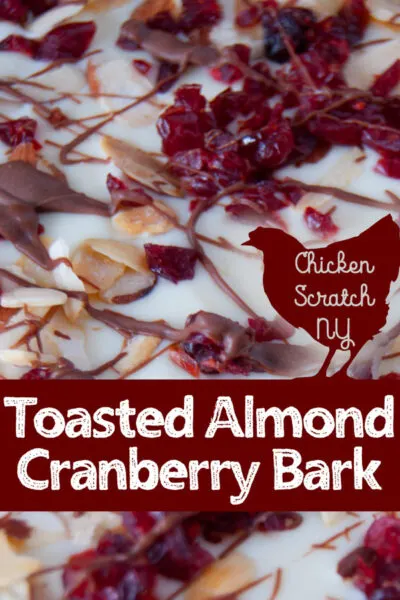 Some Christmas treats are too easy to seem real, this recipe for Toasted Almond and Cranberry Bark is one of them. With a few basic ingredients, you can whip up a gourmet-looking holiday treat to fill cookie trays and holiday gift tins.
Chocolate Bark
I've made this with almond bark, purchased in brick form, and with a bag of Ghiradelli melts. I think the Ghiradelli adds a special touch and it does taste better but if you're making for a crowd save your money and use the almond bark.
There is less chocolate in a bag of Ghiradelli melts so your base might be overwhelmed with toppings, the easiest solution is to leave some off unless you like a very decorated chocolate bark!
It might be tempting to melt a block of chocolate and save even more money but unless you're going to temper it's going to end up permanently soft with a white cast and unpleasant flavor. If that's the route you want to go check out this tutorial for how to temper chocolate from Epicurious.
I think it's easiest to melt the chocolate in a glass measuring cup in the microwave, going in short bursts and stirring. Stop heating it when you have a few lumps left and stir it until it's smooth.
DO NOT add water or use any wet utensils or your chocolate will seize up, get chunky and look gross. You can also end up with that look if you overheat it, luckily that one you can come back from. Add a tiny bit of coconut oil and stir until it's smooth again.
Toasted Almonds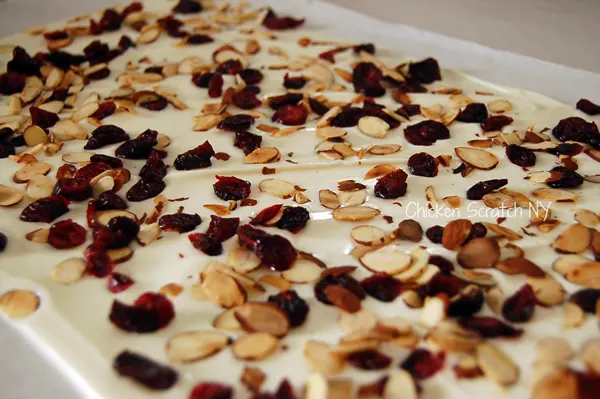 Toasting the almonds adds a crisp texture and changes the flavor for the better. Try a raw almond and one you've freshly toasted and you'll see what I mean.
I toast mine on the stove up on a small cast iron griddle over med-low heat. Keep them stirred and you'll start to notice a delicious scent. Be careful not to burn them or they'll get a bitter flavor.
Putting it Together
Cover the counter with a large piece of parchment paper before you start. Make sure your toasted almonds have cooled and you've got your cranberries chopped up. If you're doing a double batch you can whip out the food processor but I just use a knife.
Melt the chocolate wafers or almond bark in a glass measuring cup until it's smooth. Pour onto the parchment and smooth it out with an offset spatula. You can also use a butter knife but the spatula makes things much easier.
Immediately sprinkle on the almonds and cranberry pieces. If you have little helpers they will love this part, they can't really mess it up but remind them not to touch the chocolate with their hands or it will go everywhere.
Gently press on the toppings to make sure they're really in the chocolate. Then melt a small amount of dark chocolate or chocolate almond bark and drizzle it over the whole block.
Allow the chocolate bark to completely set and then break it into smaller pieces to enjoy yourself or give away to friends as part of your Christmas cookie trays.
Yield: 30 pieces
Toasted Almond & Cranberry Bark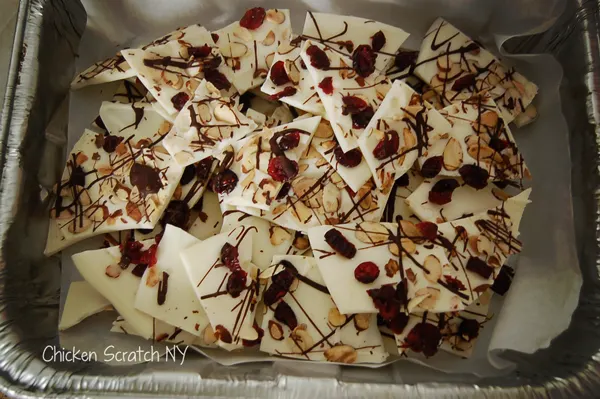 Whip up a pretty and festive Toasted Almond and Cranberry Bark drizzled with dark chocolate in minutes perfect for holiday gift giving or cookie trays
Ingredients
1 package Vanilla Almond Bark
1/2 C Almonds
1/2 C dried Cranberries
2 squares Chocolate Almond Bark
Instructions
Toast almonds in the oven or (very carefully) in a hot cast iron pan and set aside
Spread out a long piece of parchment paper on your kitchen counter
Break up the package of Almond Bark and heat in the microwave following the directions on the package. It will still look lumpy when it's fully melted so give it a good stir before you put it back in the microwave
Pour the melted candy on the parchment paper and smooth out with an offset spatula
Immediately sprinkle on the almonds and cranberries. The cranberries have a tendency to stick in clumps so try to keep them apart
Gently press on the goodies to make sure they are stuck into the candy
Heat the squares of chocolate in a small cup at 15 second intervals until easily stirable
Use a fork to make chocolate lines across the candy, I like to do diagonal lines one way across the whole piece and then go back across the other diagonal
Let the whole thing sit undisturbed until the candy and chocolate are set
With clean hands peel the candy off the paper and break into chunks
Notes
For a fancier (and better tasting) almond back swap out the Almond Bark with Ghiradelli Melts
Recommended Products
As an Amazon Associate and member of other affiliate programs, I earn from qualifying purchases.
---
Check out my Dessert Page for more ideas or start here: