I've been on a lemon kick. It started with the flu and many, many hot toddies. I ended up with a bag of lemons and a whole lot of ideas. First stop on the lemon train? Blueberry Lemon Fudge.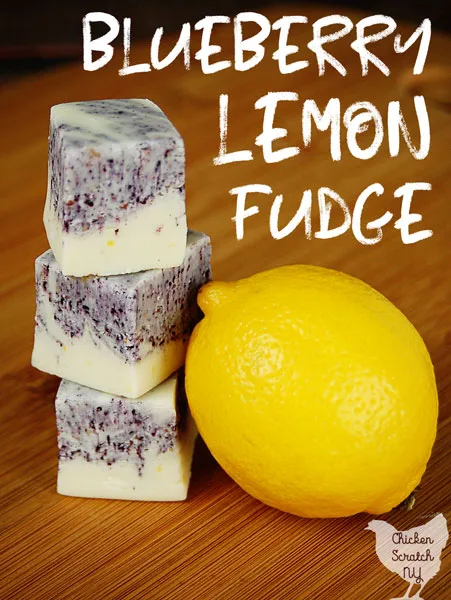 Lemon zest and lemon extract are the key to the bright lemon flavor. White chocolate is very sweet and having the tart and acidic lemon really tones that down. I'm usually a dark chocolate person but that wouldn't really work with this recipe.
I use a small grater to zest my lemons. I can honestly say I've never measured lemon zest, it just seems like an extra step I don't need. You have a decent hang time with this fudge, especially if your pan holds heat well so you can zest the lemon right into the pan.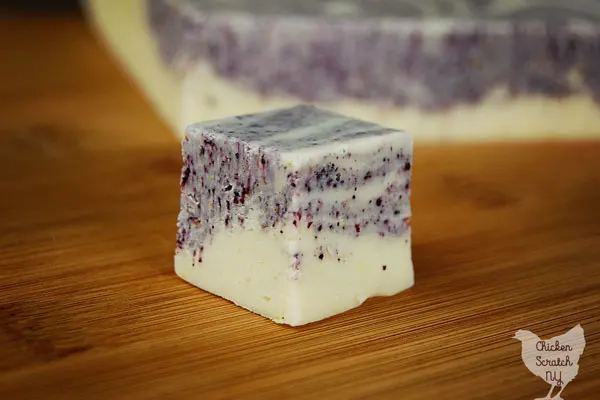 The blueberry flavor comes from an unexpected source. I ground up freeze dried blueberries into a powder before stirring them into the still liquid fudge. You can grind the fruit up in the food processor and then sift it to remove large pieces or smoosh it through a sieve with a spoon and then your finger when you get impatient.
I find freeze-dried fruit fascinating! Last year I played around with adding fruit powder into meringues but I never got it to work, I think the fruit was too heavy. That's how I ended up making Vanilla Orange Chocolate Dipped Meringues. I was sick of failing at something I usually knocked out of the park.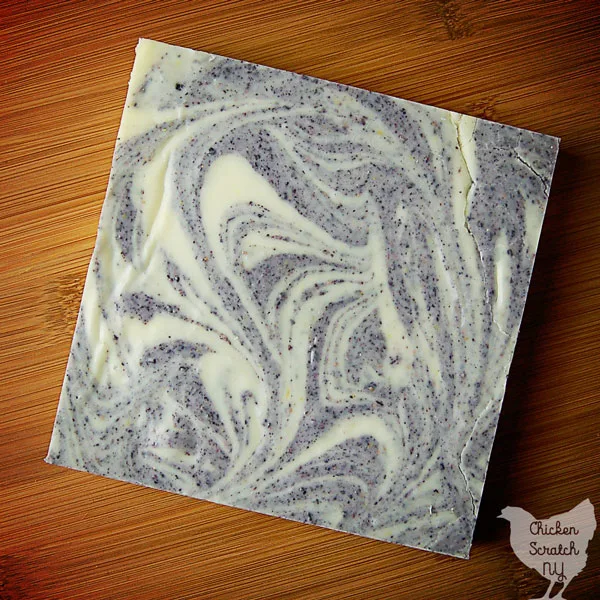 Anyway! The blueberry powder will look paler than you expect but don't worry, once it's stirred into the fudge you get a pretty blue hue. If you want to skip the marbling step you can dump the powder in when you add the zest and extract but the blue color won't be as defined. I like the swirling and I think it makes the blueberry lemon fudge look extra fancy.
Blueberry Lemon Fudge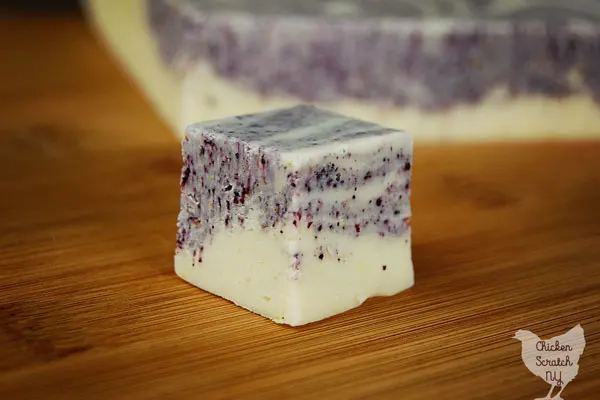 Enjoy a creamy, tart and sweet fudge made with real blueberries and lemon flavors. No artificial colors or flavors!
Ingredients
2 10-12 oz bags White Chocolate Chips
1 can Sweetened Condensed Milk
2 cups Minimarshmallows
1/4 t Salt
1 t Lemon Extract
1 lemon Zested with a small grater
1/2 cup Freeze Dried Blueberry Powder, Pulverize freeze dried bluberries in a food processor and sift to remove large pieces
Instructions
Line an 8*8 pan with foil
Combine white chocolate chips, sweetened condensed milk, marshmallows and salt in a medium heavy bottomed saucepan over medium heat. Stir frequently until everything is melted
Remove from heat. Stir in lemon extract and zest
Pour 3/4 of the fudge into the pan
Fold blue berry powder into remaining fudge until uniformly blue-purple
Dollop blueberry fudge on top of the lemon fudge in the pan and swirl with a chopstick
Place in the refrigerator over night or until set
Cut into small squares to serve
Don't forget to check out: