With the holidays upon us it's time to send out those holiday cards, and whip up crafts and ornaments to spread all sorts of good cheer! Free Holiday fonts are a great way to add a Christmasy touch to your DIY projects.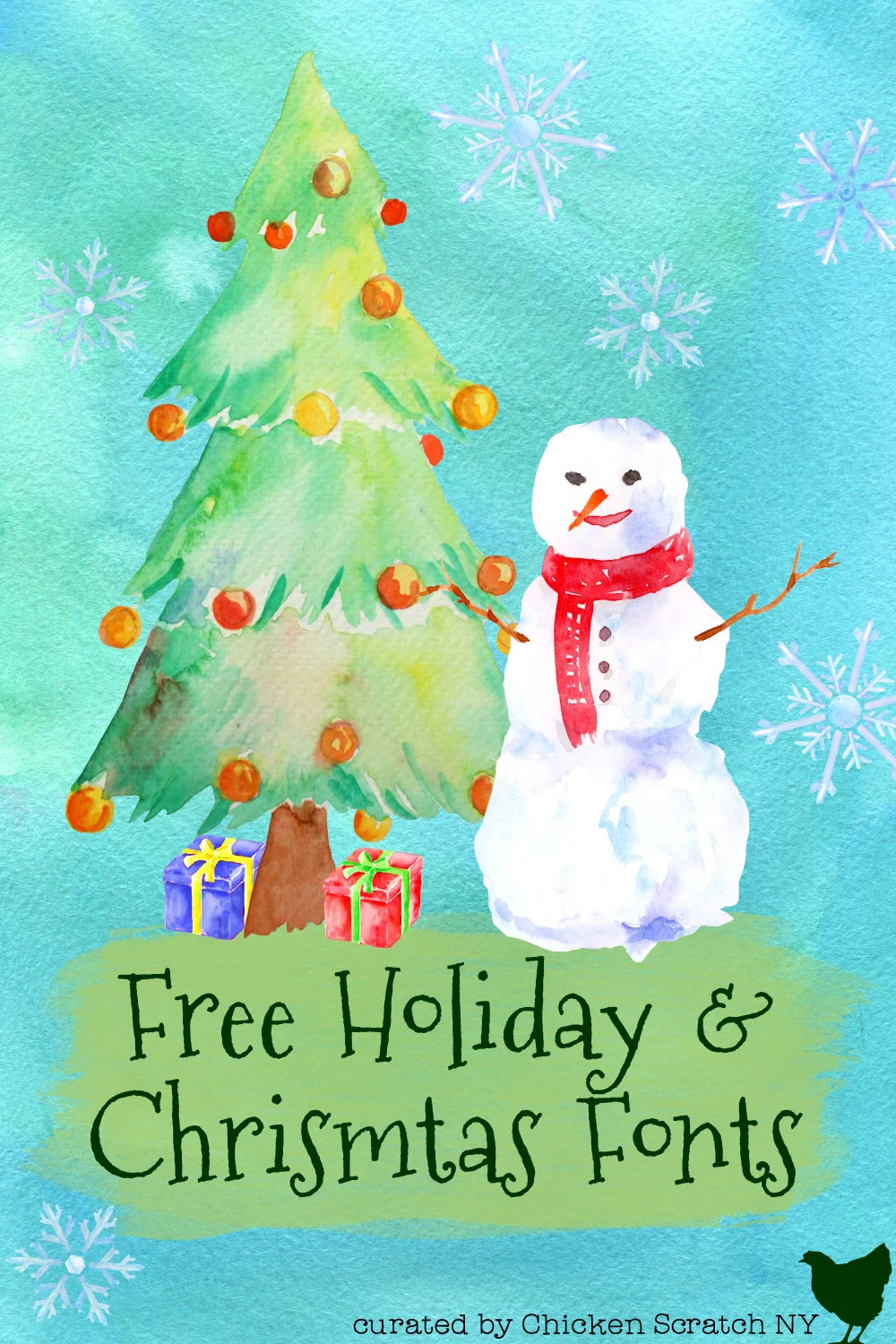 I am not the owner or distributor of any of these fronts. Please check the original sources for terms of use before utilizing them for any commercial uses.
Handwriting Holiday Fonts
For this time of year I love handwritten fonts, it adds a personal touch even if it is computer generated. It's especially nice when you have the handwriting of a squirrel hopped up on Dunkin.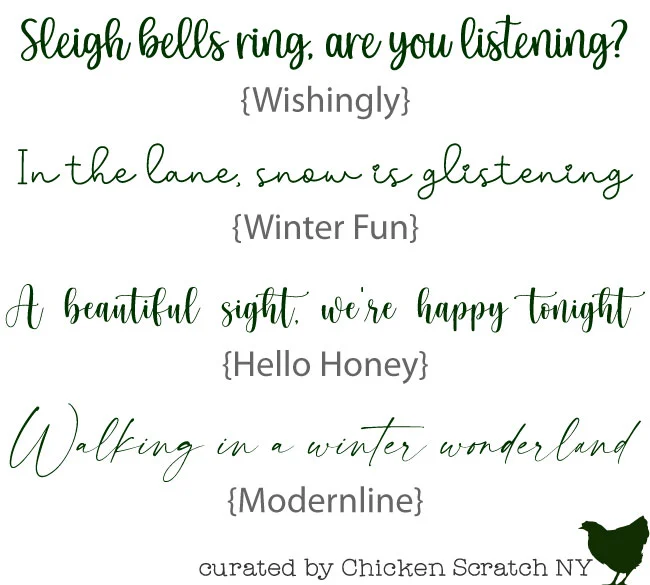 Wishingly · Winterfun · Hello Honey · Modernline
Fancy Holiday Fonts
The holiday season is also a great time to break out the super fancy fonts that seem out of place for everyday use. Ornate swirls, faux wood-cut and even gothic lettering can add a special touch to your work.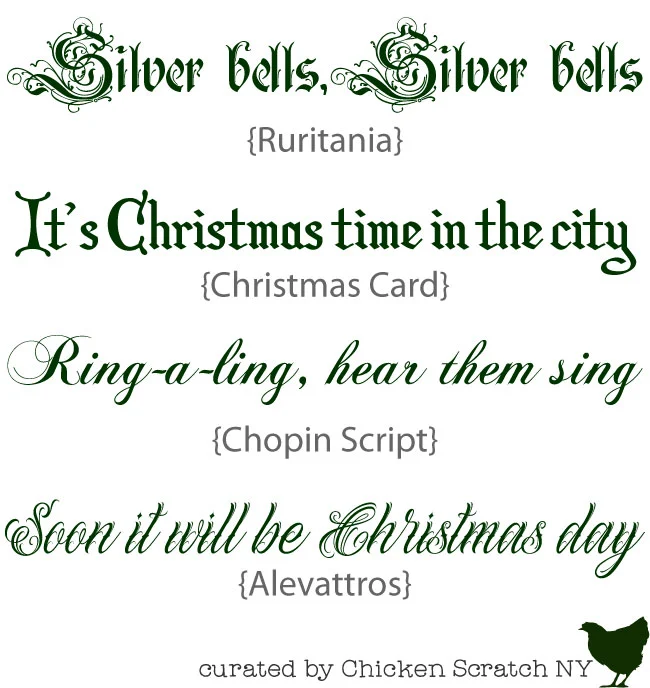 Rutitania · Christmas Card · Chopin Script · Alevattros
Childlike Holiday Fonts
Christmas for me is all about my kids, including the oh-so-fun Elf on the Shelf and a dizzying array of holiday crafting. The following fonts have a kid friendly vibe for working with your little ones.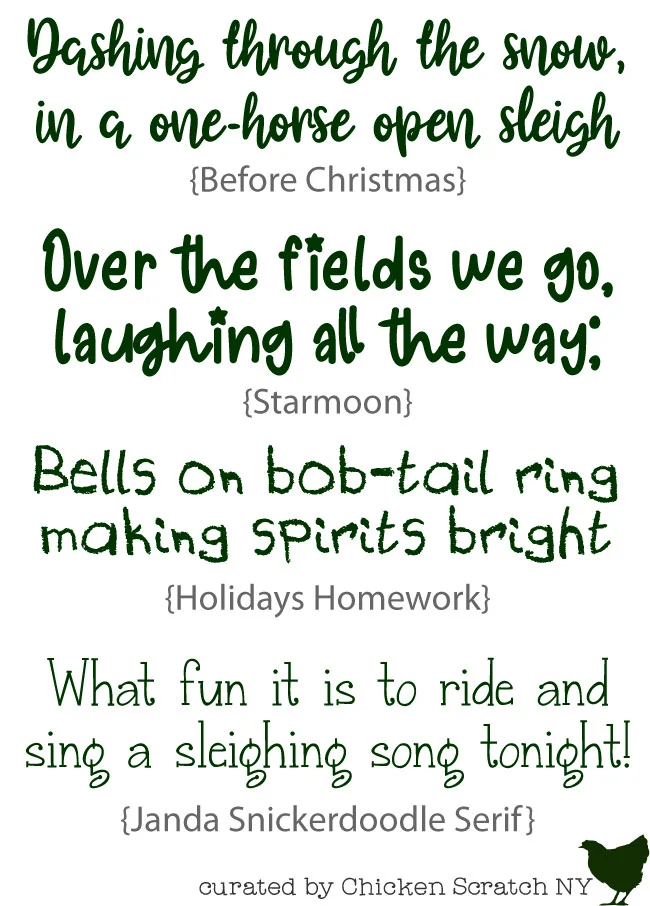 Before Christmas · Starmoon · Holidays Homework · Janda Snickerdoodle Serif
Straight Up Holiday Fonts
Sometimes you have to be a little bit extra, and why not at Christmas time? The following fonts are ALL CHRISTMAS ALL THE TIME. There is not doubting they were created with the winter holiday season in mind.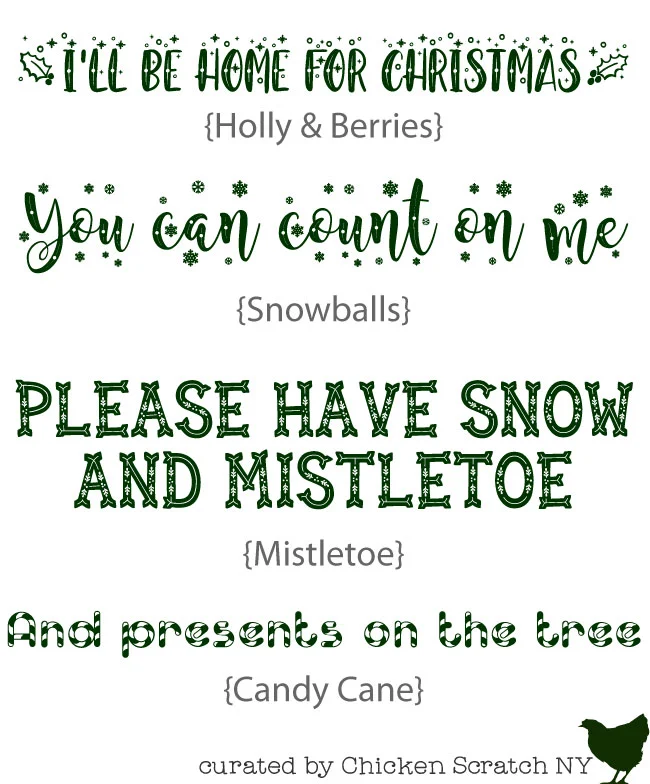 Holly & Berries · Snowballs · Mistletoe · Candy Cane
Holiday Commercial Fonts
If you're doing your Christmas crafting with sales in mind you should turn your sites to free commercial fonts. My favorite source for free font for paid use is Font Squirrel.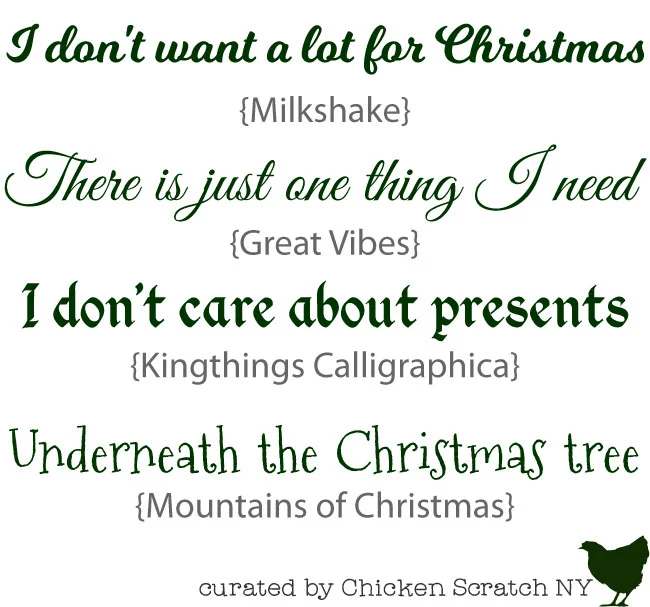 Milkshake · Great Vibes · Kingthings Calligraphica · Mountains of Christmas
If you're looking to spend a few bucks pick up a Holiday Font Bundle from my favorite, The Hungry Jpeg. They are constantly changing up their offerings and it's worth checking them out every month for the freebies alone!
Fonts listed in a previous version of this post: Always Forever, Centeria Script, Champagne, Champignon, Cinnamon Cake, Halo Handletter, Jami, Jenna Sue, Just Act Casual, Luna Bar, Fontleroy Brown, Memos Hand, Selfish, Teaspoon Display, Follow You Into the World, Janda Celebration Script, Janda Romantic
Looking for more? Check out: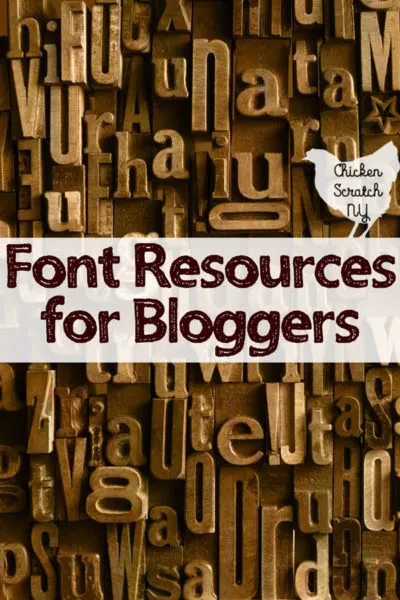 Kimberley Geswein Fonts, Crafty Fonts, Spooky Halloween Fonts,
September Font Round Up, Dingbat Basics, Unique Fonts for Your Blog