This is a Sponsored post written by me on behalf of Miracle-Gro for SocialSpark. All opinions are 100% mine.
Who doesn't love the look of lush, overflowing baskets of flowers hanging on the porch? I spent a few years dutifully filling coir-lined baskets with plants and soil, watering them religiously for a few weeks and then forgetting for a day or so and then everything dies. It doesn't take very long at all for all the moisture to disappear and the plants get crispy. Turns out there is a trick to using those baskets, a trick no one told me. In an attempt to save some plants I'm passing it on to you today. This tip is brought to you by Chicken Scratch and Miracle-Gro.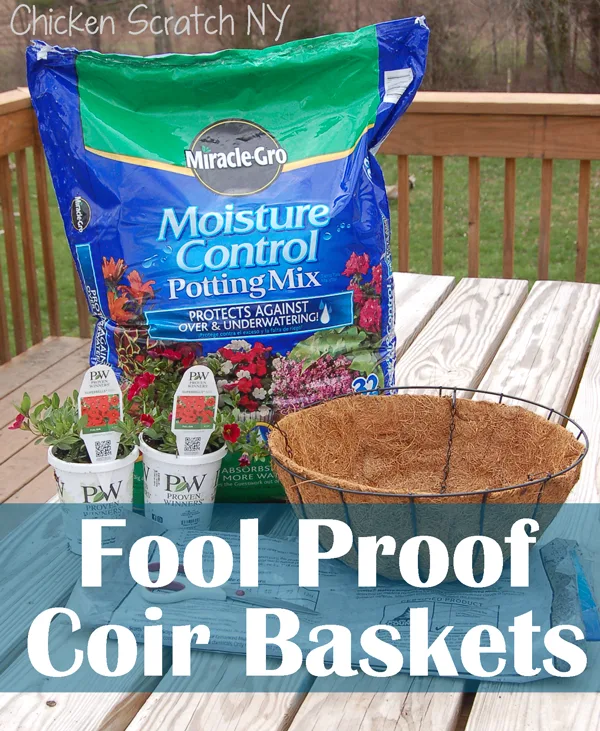 You'll need:
a coir-lined basket (Lowes has 2-3 styles and all are under $5)
a sheet of heavy plastic (I used an empty mulch bag)
Scissors
Plants
Bucket or empty planter (optional)
Set your planter on top of the bucket to keep it stable, or just prop it up on the table. Line the basket with the plastic, clip a few holes in the bottom to prevent water from pooling or causing a volcano-style run over. Add some potting mix, enough to bring to top of your plants to the top of the basket when you set them in. Clip the plastic back, about an inch or so below the top of the liner, it's not pretty so you don't want it to show.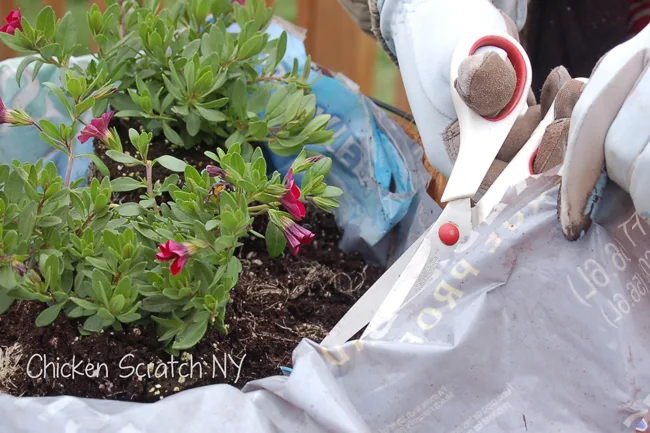 Break up the root balls and place your plants in the basket. Add more soil around them, press down to eliminate air bubbles and keep the plants steady. Give them a healthy watering and hang them up, thanks to the special moisture control potting mix and the plastic liner your plants are ready for the summer heat.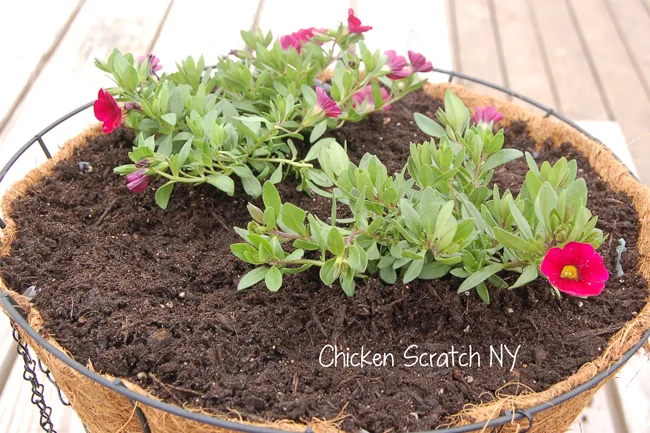 I hope this helps your summer planting projects stay healthy. If you need some more planting inspiration check out Miracle Gro on Pinterest and be sure to follow their boards for fun garden projects for the whole family. If you're more interested in an interactive community go visit The Gro Project on Faceboook. Now go get dirty!.
*Update* The basket did better than I ever thought possible! It survived high temps and full sun that put this pregnant lady on modified bed rest. I moved it to the front bed where I never remembered to water it and it thrived all summer long into the fall where it eventually died under a few inches of snow.