The inspiration for this dish is the baseball bat sized zucchini my brother-in-law provides us with each summer. Each zucchini is different and will hold a different amount so the filling is approximate and this is really more of a guideline than a recipe.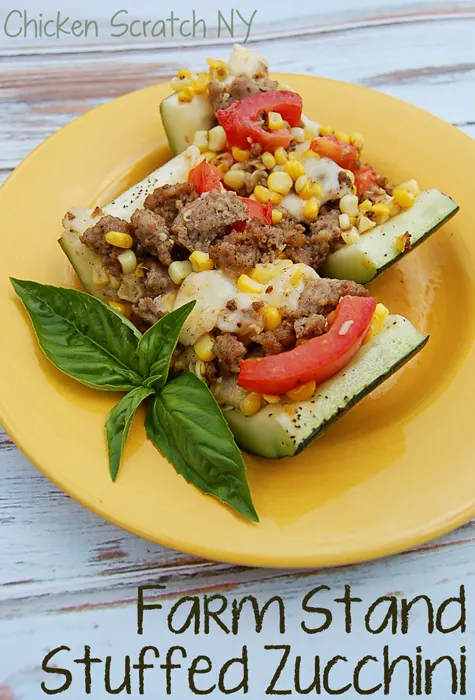 We always add meat but you could easily omit that and have a vegetarian dish.
Farm Stand Stuffed Zucchini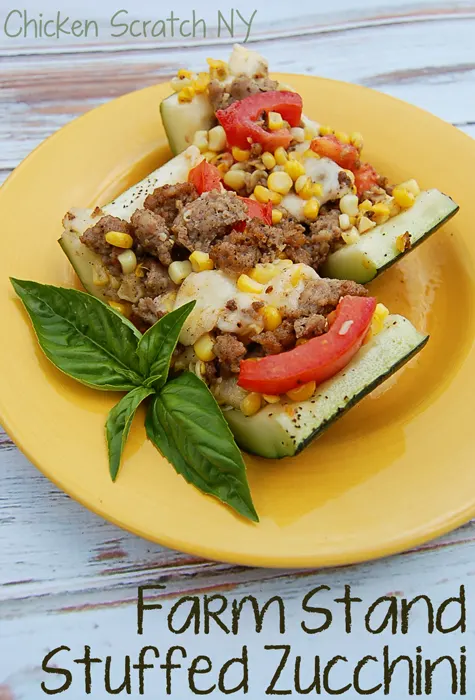 Read the whole recipe though, it requires doing several things at once. After putting the zucchini in the oven start the sausage, while that's cooking chop the tomatoes and mozzarella. The sausage and zucchini should be done around the same time.
Total Time
1 hour
10 minutes
Ingredients
2 over grown zucchini
3/4 lb loose sausage
2 egg sized balls of fresh mozzarella
2 T grated Parmesan cheese
Veggies, use what ever looks good in the garden or at the farmers market. This time we used
2 Roma tomatoes, chopped
3 ears sweet corn, cut off the cob
4 cloves garlic, chopped
Fresh Basil
Instructions
AA1`QAAAAQWQAAAAAAAAAAAAAAAAAAAAAAAA
Preheat oven to 400
Cut zucchini in half and scoop out seeds, brush with olive oil and lightly season with pepper.
Bake zucchini, hollow side up, in a casserole dish for 30-45 minutes or until it starts to get slightly tender.
Cooks sausage over medium heat, add a table spoon of oil if your sausage is lean.
Chop tomatoes and mozzarella into bite sized pieces. Don't go too small with the tomatoes or it'll turn to mush.
When sausage is cooked through push it the outsides of the pan to make a hole. Pour another tablespoon of oil (if needed) into the center and add the garlic and sweet corn. Stir well, cook until corn turns bright yellow and garlic is soft.
Add sausage and corn mixture to the bowl with the tomatoes and mozzarella. Toss with Parmesan and more pepper id needed.
Turn the oven off. The heat left in the oven is enough to melt the cheese. Scoop sausage mixture into zucchini and return to the oven for another 15 minutes or until cheese is melted. If you have any extra filling pop it into a casserole dish and put it in the oven with the zucchini.
Serve warm with fresh basil.