Counting down to Christmas is a great way to build up the holiday magic in your home. I tend to go overboard with it, we have at least four countdowns going from December 1st until Christmas.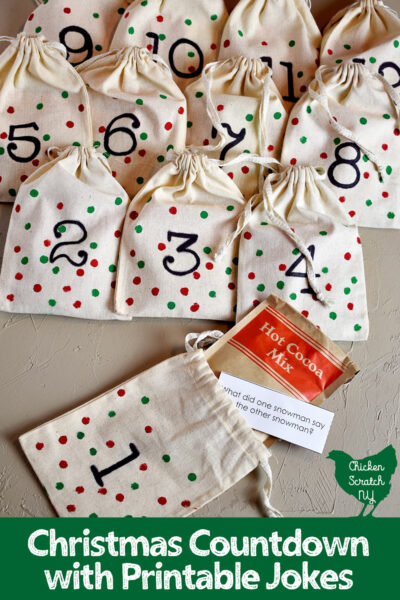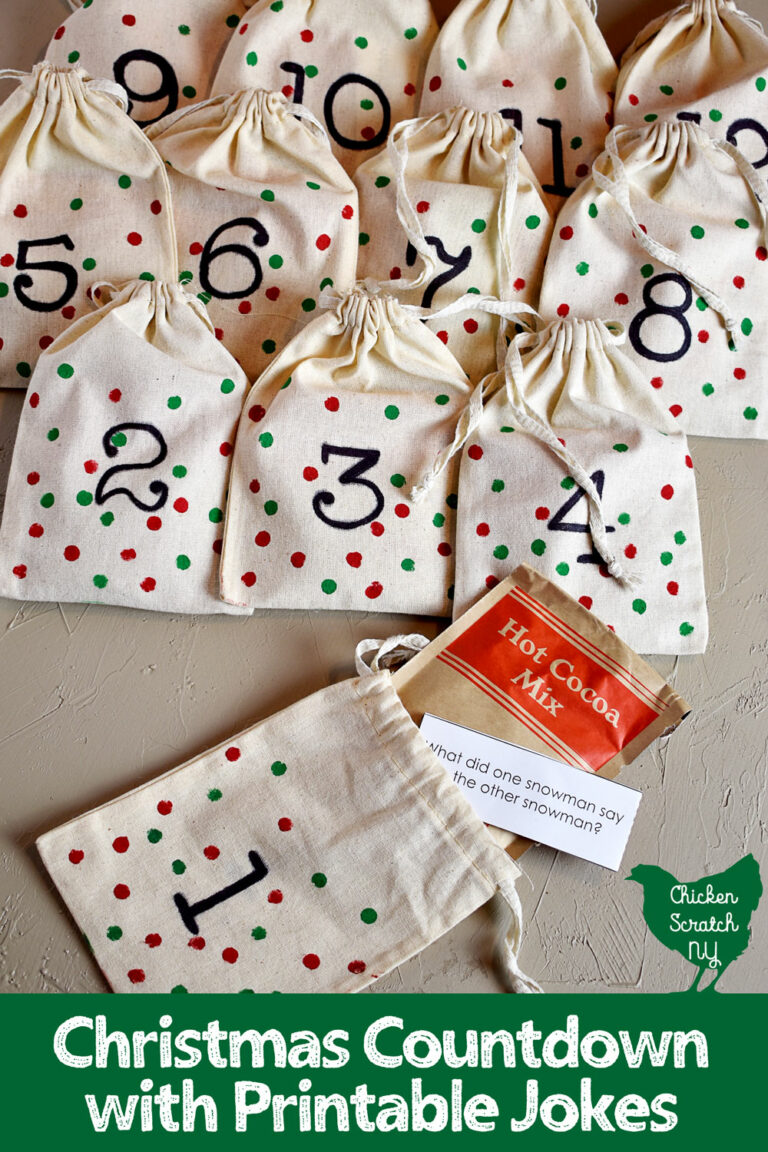 This year I wanted to add another and when BurlapFabric.com offered to sponsor this post I decided it was fate. They were nice enough to send me two sets of muslin bags to make up another DIY Christmas Countdown.
---
Welcome to the 5th annual 12 Days of Holiday Ideas event, hosted by Shirley of Intelligent Domestications and Erlene of My Pinterventures Between Nov. 11th and December 6th there will be hundreds of new ideas shared by over 55 Co-host bloggers!
Check out the Kick off Post here to see our kick-off collection of Holiday ideas as well as all of this years talented participating DIY and Foodie Blogs. Download this years November and December calendars with all of the topics and dates so you can make plans to watch for ideas!
We are hosting a BIG GIVEAWAY from our Sponsors this year! Be sure to scroll all the way down for more information and to enter to win!
---
DIY 12 Days of Christmas Advent Calendar
On to the project! I tried to keep this one pretty simple, the holidays are crazy enough without adding a pinterest craft with a million steps.
Maybe I'm alone in this but I find keeping track of anything for 24 days is not going to happen so I cut it down to 12 days. Which means you'll be starting your countdown on December 13th so you have a little more time to throw this together.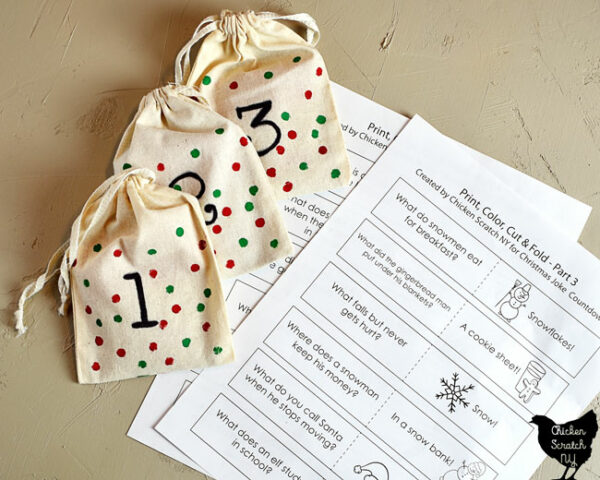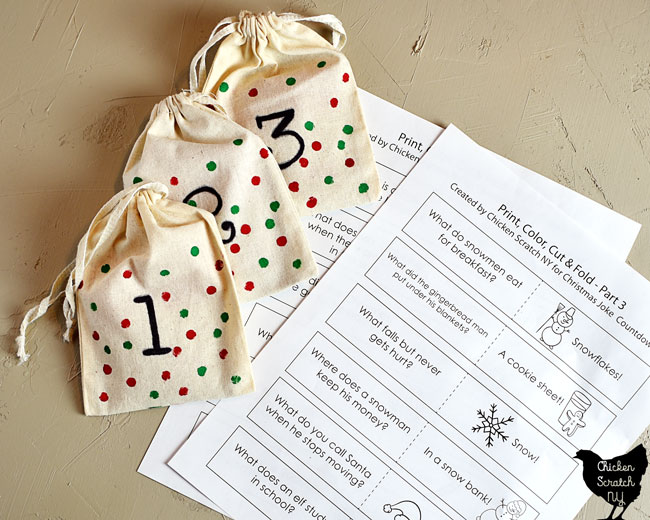 As much as I'm all about holiday magic and making the holidays extra special I'M SO DONE WILL ALL THE CRAP MY KIDS BRING INTO MY HOUSE. I decided the best idea was to take something we already do add a twist and call it a night. Or 12 nights.
So I took our nightly ritual of hot chocolate and added a packet to each bag. And then to make it even better I threw in a dad joke.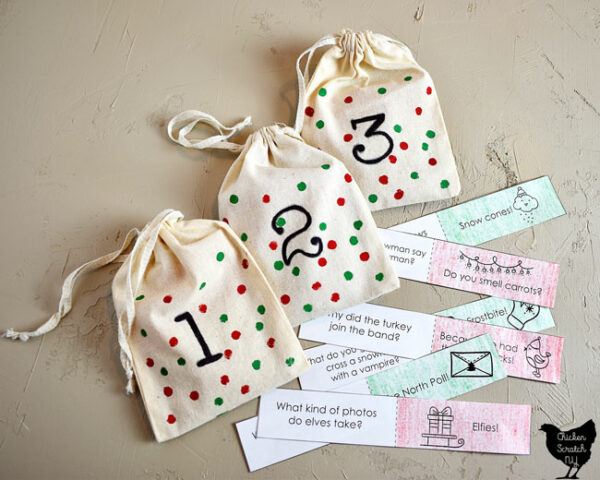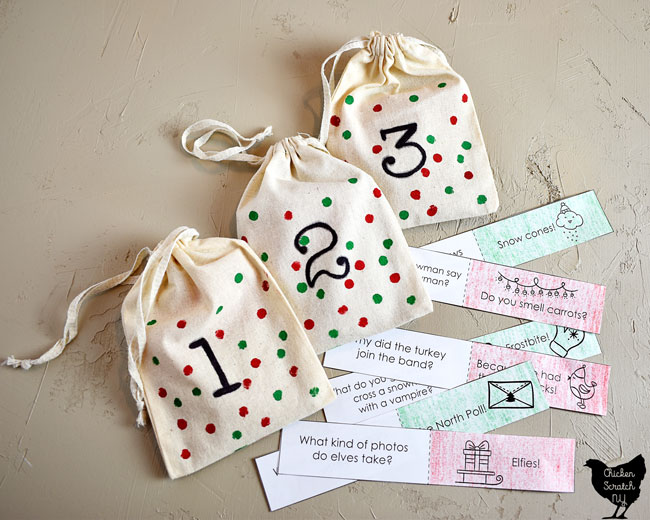 24 dad jokes actually, because I have the same sense of humor as my 3 and 5 year old kids. I also really need them to pick up a few new jokes because they've been writing their own and none of them make any sense.
If you have kids you understand how putting anything in a tiny bag to open automatically makes it 1000x better, or maybe that's just my kids? Either way I'm going to exploit that shortcut to joy as much as I can as long as I can.
Christmas Countdown Supplies:
12 Muslin Bags
Sharpie
Red & Green Paint
Scrap Card Stock & Hole Punch (optional)
Printed Jokes
Crayons
Scissors
Jokes 1 – Jokes 2 – Jokes 3 – Jokes 4
Advent Calendar Instructions:
Fold up the number template so it fits inside the bag with one number visible
Slide the folded paper inside the bag and trace the number with the sharpie, repeat with all the bags
Cut a piece of card stock to fit inside the bags, cut a second piece slightly larger than the bag and use the hole punch to make random polka dots
Place the first piece of paper in the bag, set the second on top and use the foam paintbrush to fill the dots in with the red and green paint avoiding the numbers
Use crayons to color in the jokes and then cut them out and fold in half
Add one packet of hot chocolate and one joke to each bag.
---
MEET OUR SPONSORS who have generously donated fabulous prizes for the Big Christmas Giveaway!
DecoArt winner will receive a prize package valued at $100!
Dixie Crystals/Imperial Sugar winner will receive a Keurig Coffee Maker valued at $100!
Oriental Trading winner will receive an OrientalTrading.com gift card valued at $200!
Cabot Cheese winner will receive a gift basket of Cabot products valued at $75!
Burlap Fabric winner will receive a prize pack of products valued at $50!
Zulay Kitchens winner will receive one Milk Frother and a Lemon Squeezer valued at $21
It's Home To You winner will receive one wooden Santa sign valued at $65
Giveaway begins Nov. 8, 2019 and ends Dec. 6, 2019. Winners will be notified by December 13, 2019. Sponsors will ship each prize to the winner. There will be a total of six winners, one for each prize. Drawing is by random selection using the Rafflecopter widget.
Must be 18 to win. Open to U.S. residents only. Terms & Conditions a Rafflecopter giveaway