I've always had a thing for copper, when given the choice I'll always pick it over silver or gold. When Oriental Trading Company reached out for a Thanksgiving collaboration I was immediately drawn to the sparkly copper items. I thought an autumn table candle display was a great time to celebrate my love of copper.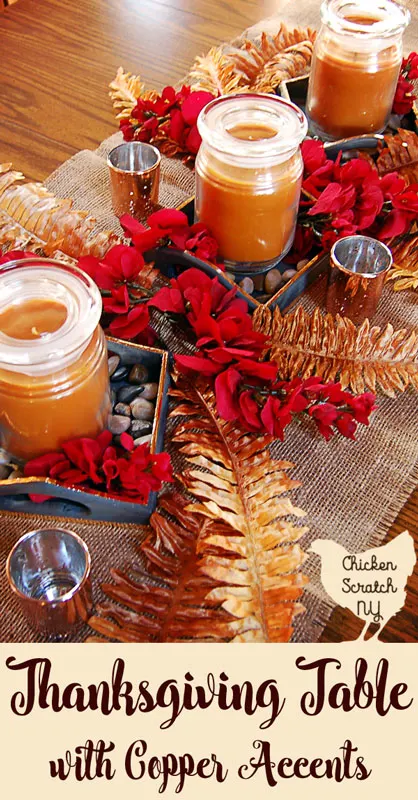 In case you thought I suddenly had a well lit dinning room… well no. I took these at my moms house where we have our holiday activities. I had a general idea of what I wanted.
I love candles and I burn so many in the winter. I'm partial to my pure beeswax candles but I do love a good jar candle on occasion.
Digging around I found 3 matching candles that I thought would look good running the length of the table but I wanted a little bit more going on.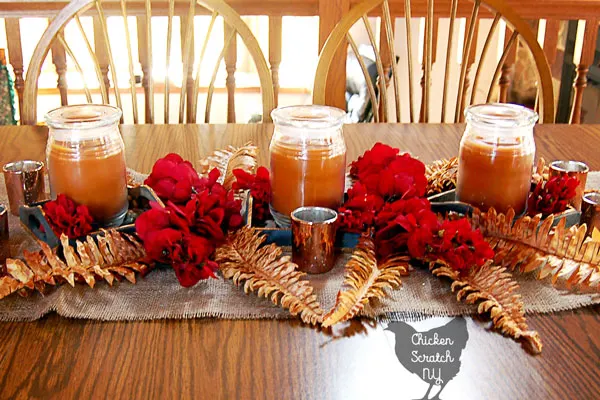 I started with a piece of burlap, I'm at the point in my crafting career that I literally have a tub of various colors of burlap. I went with a basic natural colored burlap but a piece of dark brown was certainly in the running.
I painted 3 wooden trays with a dark grey paint to keep things on the neutral side but I was really close to using a dark red. Then I took the 1/4 inch size of double stick tape and ran a line around the bottom.
Using 1/8 inch double sided tape I outlined the top of the tray. I removed the orange layer one side at a time and applied copper foil.
I found the best way to get the copper on without making yourself crazy was to cut thin strips, a tiny bit wider than the tape, and stick them down one at a time rubbing over the foil and filling in any empty spots with foil scraps as you go.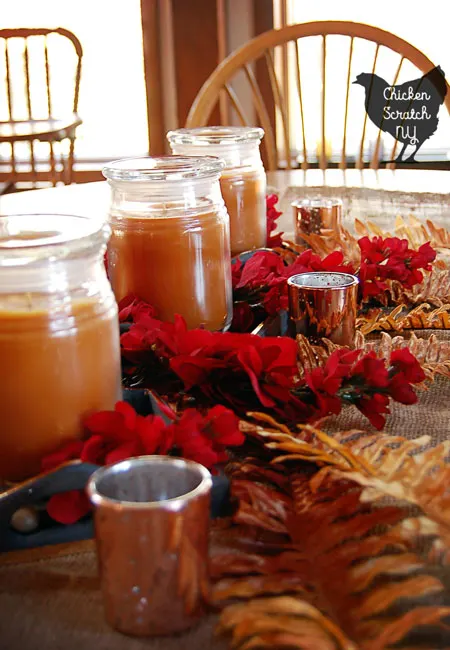 The foil is very fragile and easy to rip or fold up so try not to work under a fan or anywhere drafty. Finish up by brushing over the copper & tape with a stiff paintbrush.
It won't remove the copper from the tape but it will get rid of all the extra. You'll get lots of flakes so make sure you can easily clean up your area.
It also sticks all over the wood but you can't avoid it so just enjoy the glimmer of copper flecks.
I set the trays on the burlap and set a jar candle in each. But I wanted more candles and more copper. A handful of copper mercury glass votive holders was just what I was looking for.
I'll fill each with a votive candle when the time comes to set up for the holidays but for today's pictures I forgot to bring them.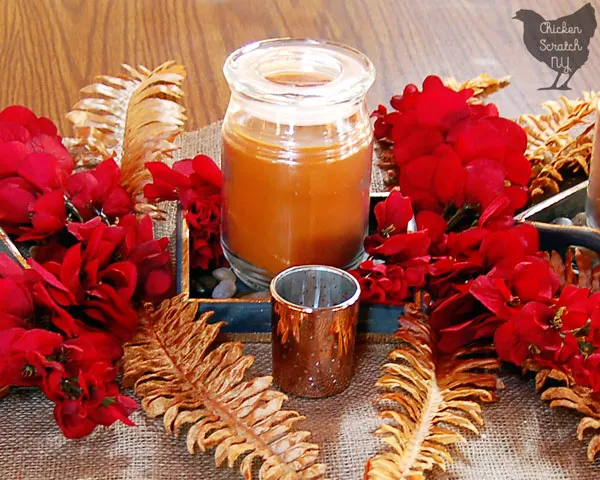 I grabbed some autumn hued flowers to fill in the empty space and add a little color. I used gold/copper ferns left over from my Dogwood & Dahlia wreath and red wisteria I've had for years, it's the same as the purple wisteria from my Wicked Wisteria wreath.
Thanks again to Oriental Trading Company for my copper goodies. If you're looking for more fall ideas check out my Autumn & Thanksgiving page or start here: