I'm sure I'm not alone in thinking that this winter has been strange. Following a sadly snowless Christmas we've ping ponged between sub-zero lake effect snow and a few 50 degree days (I'm in central New York, we should have several feet of snow at this point). Unfortunately for me the nice weather hasn't led to a lot of outdoor time, everything is muddy and slippery, the grass is literally sliding out from under your feet. Being pregnant my balance isn't it best these days and I'm really paranoid about falling so I've been stuck inside with my nose in a book. Not that that is a bad thing! I love reading and rarely have the time in the spring, summer and fall. I prefer informational books, mostly on cooking, crafting and of course gardening. I thought I'd share my favorite gardening books and a few catalogs in case you find yourself stuck inside with nothing more than a cereal box to read.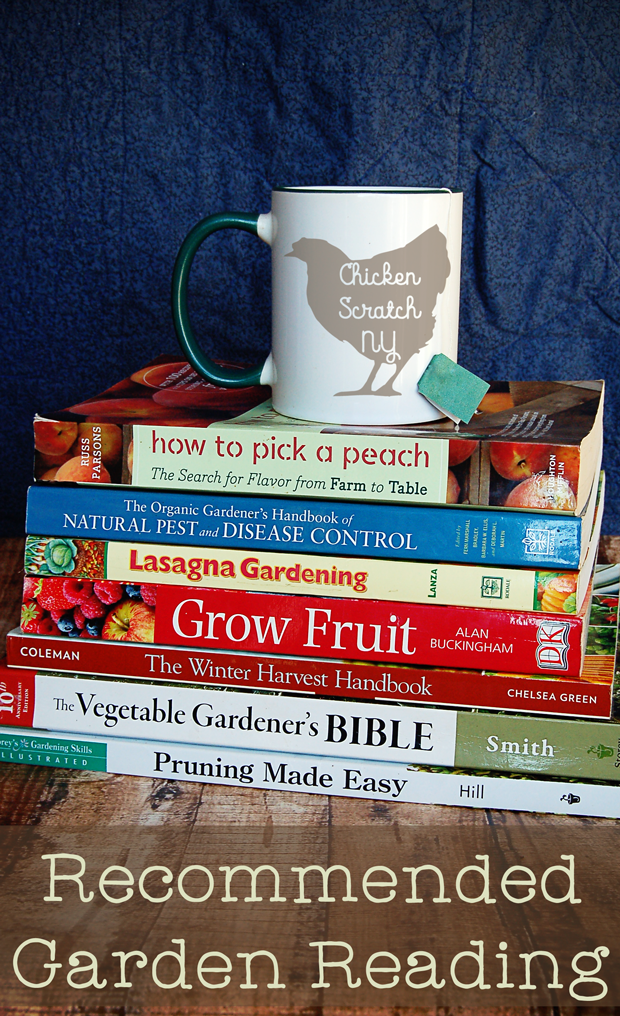 If you plan on buying any of these from Amazon (many thanks if you get them through my links!) do your wallet a favor and check out the used book section, sometimes you can find 'like new' books for steep discounts.
My all time, hands down, irreplaceable favorite gardening book is The Vegetable Gardener's Bible
. It's a big book and it's full of info! There are lots of charts and they do a great job at breaking down information into digestible bits. It covers everything from site selection and soil prep to dealing with pests and diseases and well… it just has EVERYTHING. The only negative I've seen (and I gleaned this from amazon reviews, I have no issues with the book) is that since the author is based in Maine it's geared more towards northern gardeners, I'm a northern gardener so I haven't had any issues but if you're growing in the deep south you might want to keep that in mind
Another book that I love to flip through and refer to from time to time is Lasagna Gardening
. We have gross, wet, hard, rock filled clay soil. It doesn't drain, you can't dig in it until late May or more likely June because it's so wet and sticky. When we decided to put in a vegetable garden we knew that yearly tilling was a no-go. So we put in raised beds, currently we have six 14*4 ft raised beds made of 2*6 pine board. If you can picture that in your head you'll see that it's a lot of dirt to fill those in. Thanks to the chickens and alpacas (and the cows before they moved away) we had lots of old poo hanging around looking for a home, it made a very nice base for our 'lasagna' filling. I've found the lasagna method works wonders for soil structure and fertility. While this book isn't strictly about raised beds I'd recommend it 10000000x over Square Foot Gardening, that book is more like an infomercial than a gardening guide…
Moving on to The Winter Harvest Handbook
. It seems fitting to read about winter gardening in the dead of winter. Unlike growing food in the spring, summer and fall; winter gardening requires a decent amount of prep work. It's way more convenient to think it over in the winter when you're not trying you hardest to keep the pole beans you accidentally planted instead of bush beans from murdering your pepper plants. Oh, that only happened to me? Either way, you've probably got more free time in the winter to ponder things like hoop houses and cold tolerant lettuce varieties.
I think I picked up Grow Fruit
 at a book sale for almost nothing, and it's worth a lot more than that. It covers all the major types of fruit, apples, pears, cherries, peaches, plums, raspberries, currants, even gooseberries and figs. There are tips on pruning ('normal' pruning and fancy things like fans and cordons), selecting good planting sites, how to maximize fruit production and a whole photographic index of common fruit tree pests and diseases. If you're thinking about adding some fruit trees or bushes this is definitely a book you want to check out.
On the same topic Pruning Made Easy
 is an absolute necessity in my life. Most fruit trees, especially the vigorous ones, don't do so well without seasonal pruning. It's not really a hard task but it was be over whelming if you don't know what your doing and even a little bit scary (yes, you really need to cut that much off). Pruning made easy is filled with diagrams and step-by-step instructions of pruning just about anything. Not only does it do a great job covering fruit trees, bushes and vines but it also covers shade trees, roses and ornamental bushes like lilacs and forsythias. If you're like me and you're picking up this homestead/farm/orchard lifestyle on you're own with only help from the internet and a stack of books you know how valuable good, easy to understand information is. I'll be honest when I say I take this one out in the field with me when it's time to trim up the grapes or prune back the apricot.
The Organic Gardener's Handbook of Natural Pest and Disease Control is a great book to have that you hope you'll never need. The first half of the book breaks down issues by plant type, for example you're our weeding (because you're a better gardener than I am) and you notice the roots on your radishes are rough with dark spots. Flip to page 179 and under radish problems you'll discover you've got scab. Luckily the next paragraph  explains that it's a fungal problem caused by low magnesium in dry, acidic soil and explains how to remedy the problem with Epsom salts or compost. The second half of the book is a photographic index in color of pests and diseases. If you're an organic gardener or even if you just try to keep things on the natural side you're gonna have insects in your garden, some are really bad, some are pretty neutral and some are awesome! It's really good to know what is what. Following the chapter on insect pests is another filled with beneficial insects and maybe more importantly, how to attract them. The OGHNPDC (long little, amazing results) is such a great resource to have on hand, I can't recommend it enough.
One more just for fun. How to Pick a Peach
 isn't a gardening book at all. BUT it's another one of those books with an almost impossible amount of awesome information in it. It looks at a wide variety of fruits and vegetables. It gives a little bit of history about each type, when and how to find the best of the best at farm stands and markets and includes a few recipes that make the most of peak produce. Gardeners and foodies will both appreciate this book.
If your wallet is a little empty after the holidays you can always hold yourself over with seed catalogs! This is the time of year when they start rolling in, it's also the time of year my husband starts rolling his eyes while getting the mail. My favorites are from Baker Creek Heirloom Seed, Johnny's Selected Seeds and Botanical Interests. They're all full of bright colorful images and descriptions. I also eagerly await the catalogs from Stark Bros, Dixondale Farms Onions and Fedco Seeds.
I've been ordering from Baker Creek for years now, I'm very drawn to old, odd varieties of food and they do that better than anyone. Every year they seem to come out with a wide variety of new old things. This catalog is one you don't want to miss, you might even be tempted to hang some of the pictures up on the wall! I like to order my 'farm seed' from Johnny's, like the buckwheat and clover I use as a cover crop as well as my seeds for sprouts, shoots and microgreens (the latter is still in the experiential phase…). They are geared more towards market gardeners than the home grower and the packet prices are pretty steep but you'll save lots of money if you're buyign larger quantities. I love to order off their sale page for huge savings on things I grow a lot of. They do have heirloom seeds but a lot of their seeds are hybrids (which are NOT GMO) so if seed saving is important keep that in mind.
Last year I planned on ordering a few seed mixes from Botanical Interests to plant in front of the chicken coop but I ended up planting pumpkins there instead. Assuming I have the energy to plant anything this year I'll ordering from here this spring. I really want to try the bee mix somewhere out in the orchard (the  whole back field is ironweed and literally hums with honey bees all summer so it's not like we really need to do a lot to help out the little guys but there is no harm in a pretty orchard right?). Speaking of the orchard, when we started planting fruit trees we bought from Miller Nursery in New York, sadly they closed down and somehow ended up transferring a lot to Stark Bros so that's who we've been using for the last few years. They have a good selection, good prices and good quality. I already have a big order planned for this year even though I'll be 8 months pregnant when it's time to plant trees (luckily my husband has lots of friends that owe him favors!)
I talked about my onion ordering in my post on Why I Refuse to Grow Onions from Seed, I have always ordered my onions from Dixondale and I've always been happy with my onion starts. If you have a friend or family member who gardens I recommend splitting an order, the more you order the more you save!
If you've never checked out Fedco you should do so now. Two years ago I placed my first order with them and I was really impressed with the quality. They sell such a huge variety of stuff. And the prices? Oh my, you can't get any cheaper. They sell by weight, not absolute count and they have multiple options for sizes. Just an example, you can buy 2 grams (~500 seeds) of my favorite cabbage, Early Jersey Wakefield, for 90 cents.
I hope I've given you a few ideas for spending those long winter nights cuddled up without a TV (another one of those addictions we're trying to break now that we have an army of minions kids). I take no responsibility for exaggerated garden planning or mountainous seed orders!