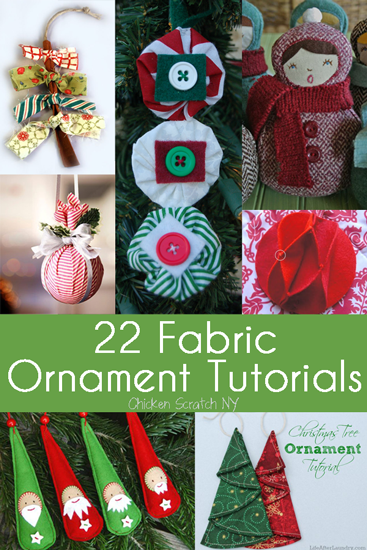 I love fabric, I have a room in my house basically dedicated to it. I fully admit I have more than I'll ever use. Part of the problem is my lack of willpower (especially against the remnant bin at Joanns) and part of it is my inability to toss usable scraps.
But you know what scraps are perfect for? Ornaments. Here is a round up (in no particular order) of 22 amazing fabric ornament tutorials: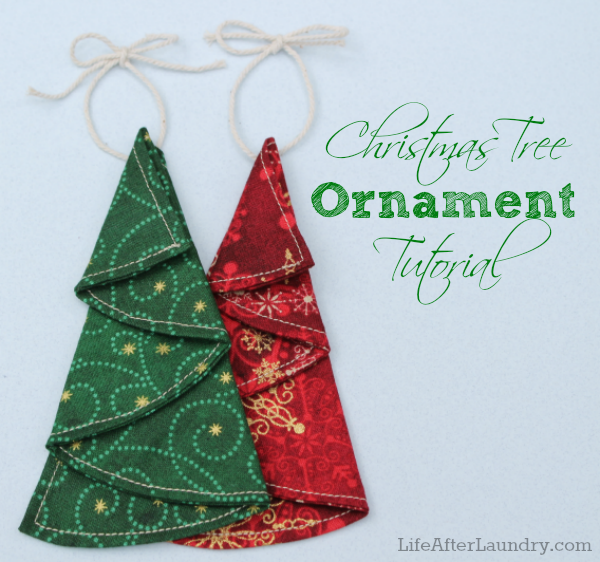 Christmas Tree Ornament Tutorial from Life After Laundry- This is one of my favorite ornament tutorials. It looks so much more complicated than it is!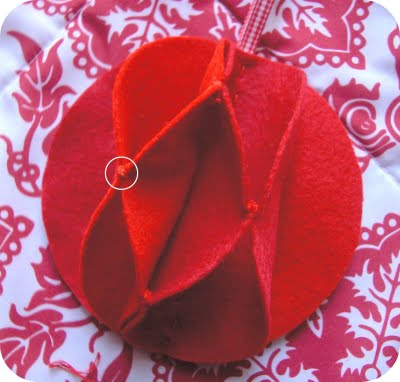 Felt Christmas Ball Ornaments from Zakka Life – If you saw my Christmas Garland round up you probably picked up that I love felt for crafting.  I've got these on my must craft list for sure [UPDATE 2016 – this post is no longer available sorry!]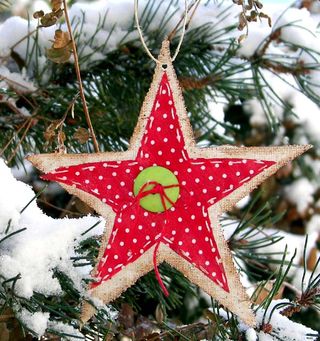 Burlap and Paper Stars from Helmar USA – I love rough and rustic styled ornaments and these fit that perfectly from the raw edges to the large stitches.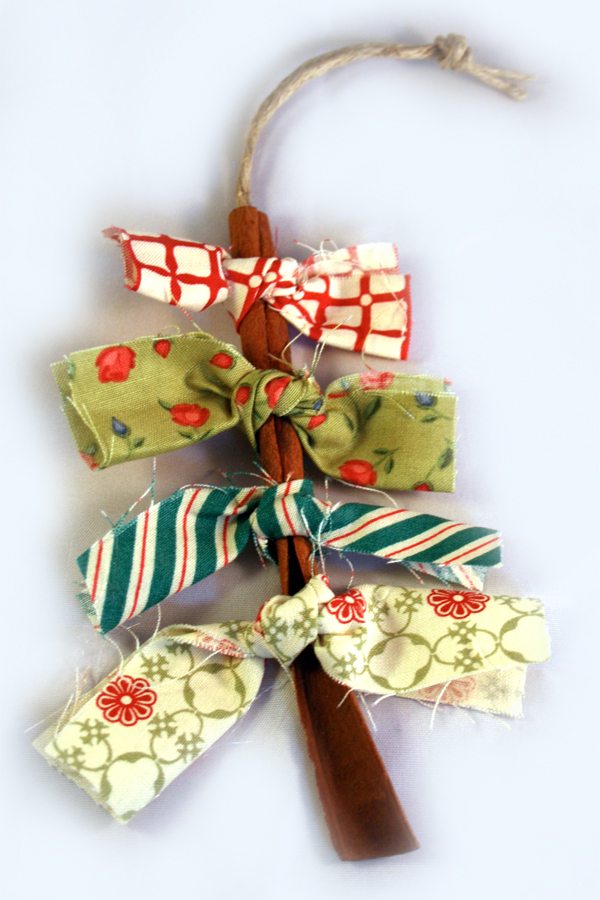 Cinnamon Stick Christmas Tree from Cosmo Cricket – Love the scrappy nature of this, you don't even need to use holiday fabric!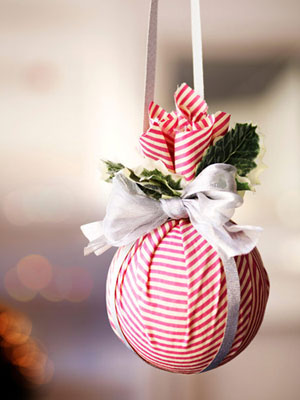 Kissing Ball from Good Housekeeping – This is a great  idea for old, ugly ornaments. I've got a huge container of shatter-proof bulbs that I'll never use again that will be getting this treatment.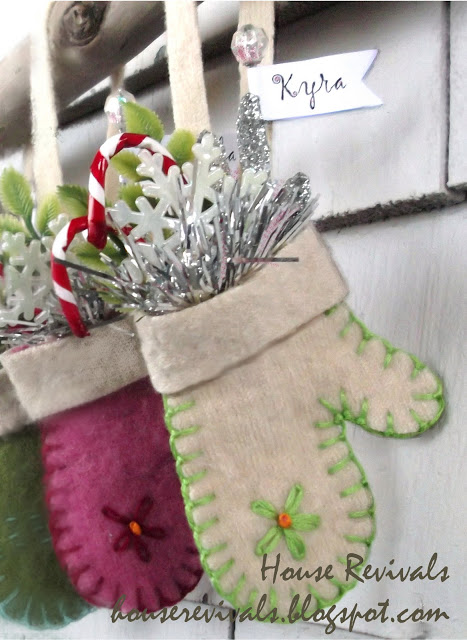 Mini Felted Wool Mitten Ornaments from House Revivals – Upcycleing is a great way to stretch your holiday budget. You could add these to a gift and tuck an extra surprise in the pocket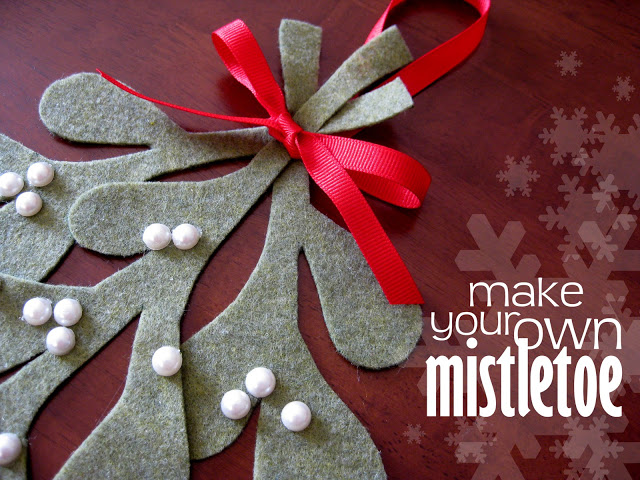 Make your own Mistletoe from Stay at Home Artist – More felt! The little pearls add a sweet holiday touch. I wish we had somewhere to hang mistletoe where my husband wouldn't run into 100x a day and 'move' it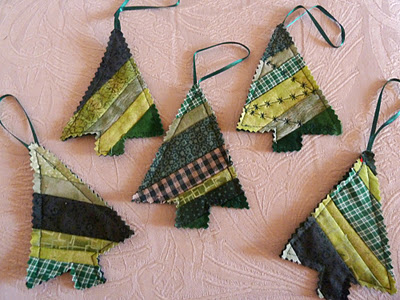 Scrappy Christmas Trees from Debz Days – Scrappy fabric crafts are my favorite, there is so much less pressure when you are working with throw away bits! You could make a whole set of these very quickly and they would all be different. (2017 – No longer available online)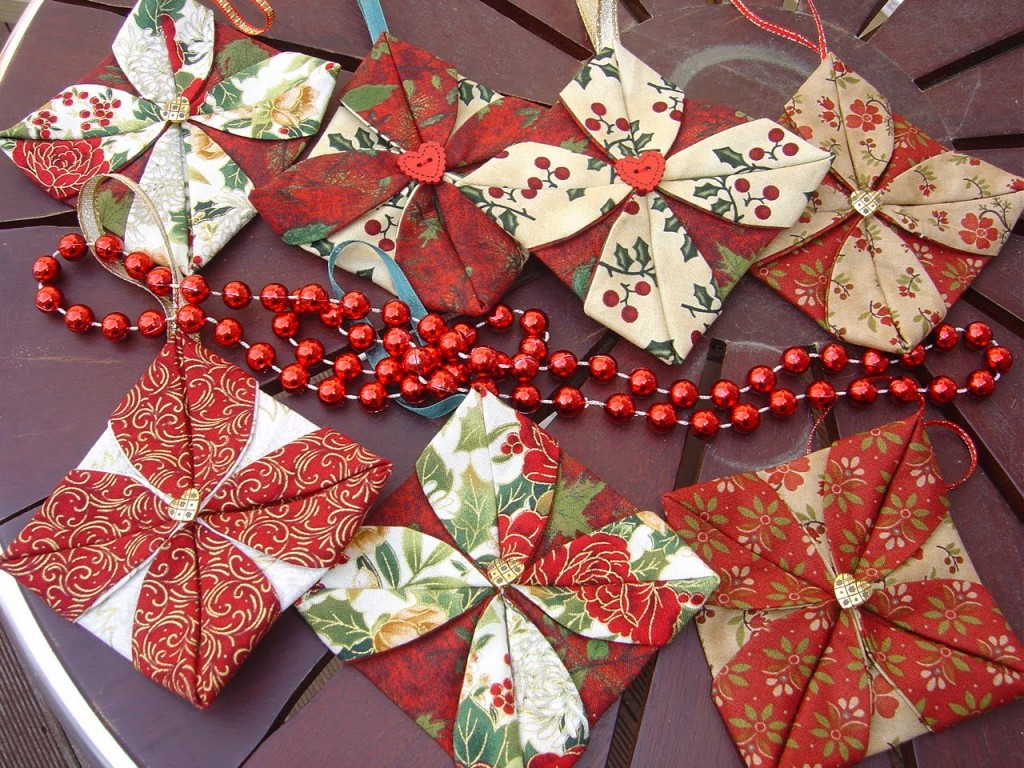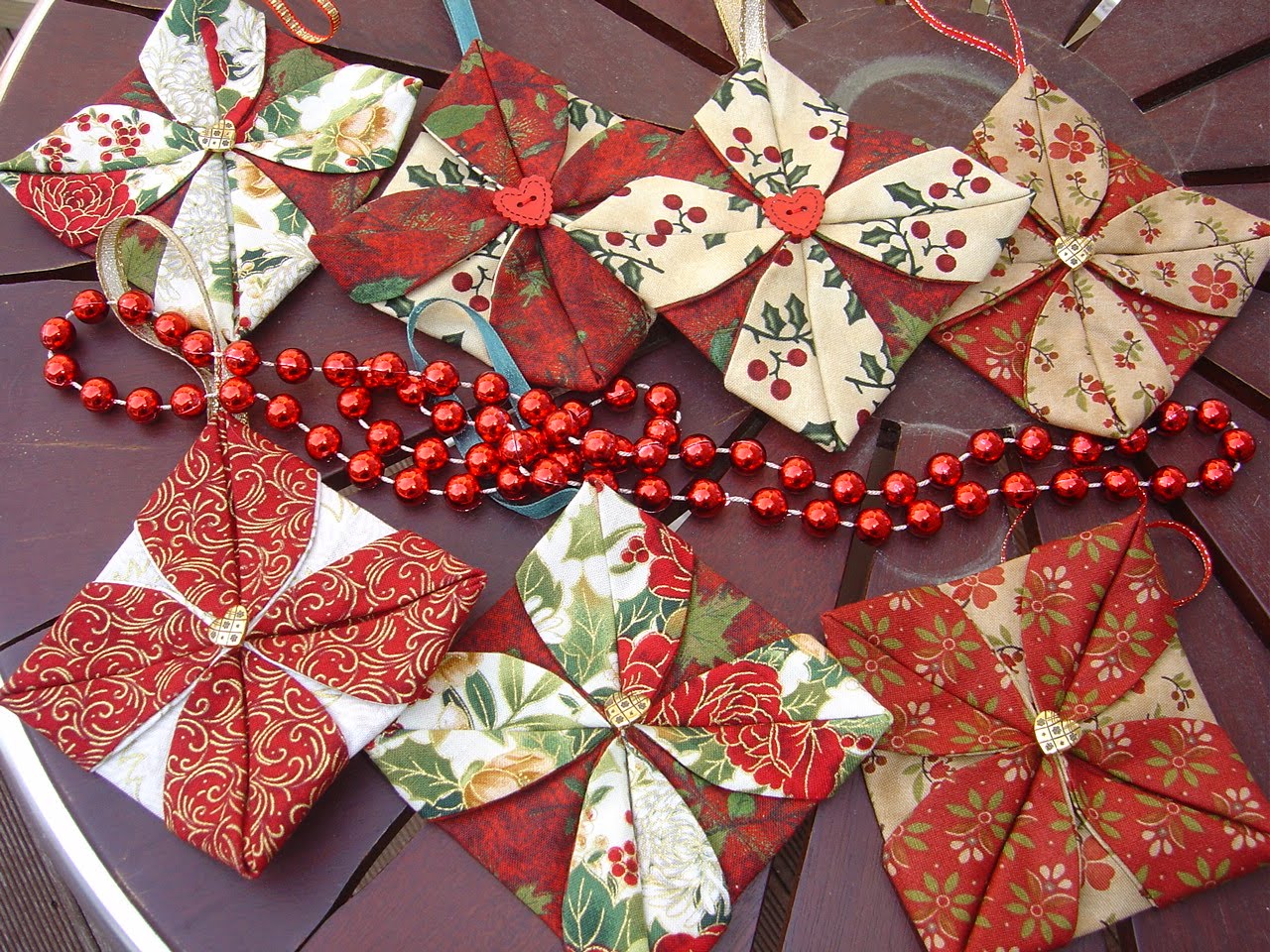 Folded Fabric Ornament from Katroma's Tutorials – This one's a little more complicates than the others, there is an element of origami going on too. They have 'family heirloom' written all over them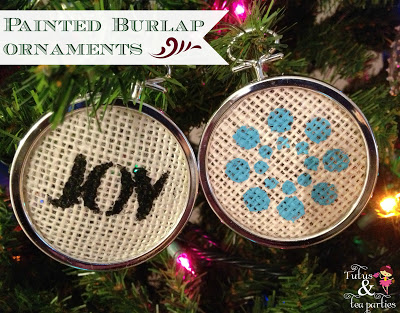 Painted Burlap Ornaments from Tutus and Tea Parties –  The little frames remind me of pocket watches! This is a great project for the less than crafty, stencils make painting the burlap so easy. (2017 no longer available)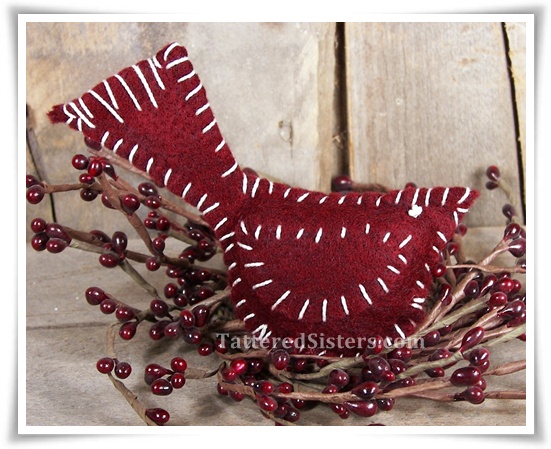 Primitive Cardinal Ornament from Tattered Sisters – I always decorate with birds and cardinals are my winter season favorite (side note: I can't have bird feeders because the chickens and my turkey Henrietta empty them in minutes). I love this happy little birdy sitting on it's berry nest.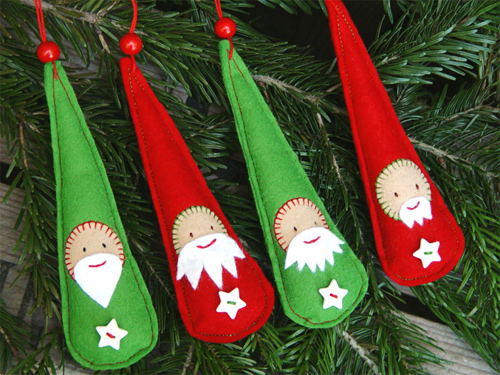 Gnome Ornaments from Revoluzzza – I'm not sure if I like the little faces, the tiny beards or the teardrop shape more!  I want a whole army of these little guys on my tree, I'd probably replace the bead on top with a jingle bell.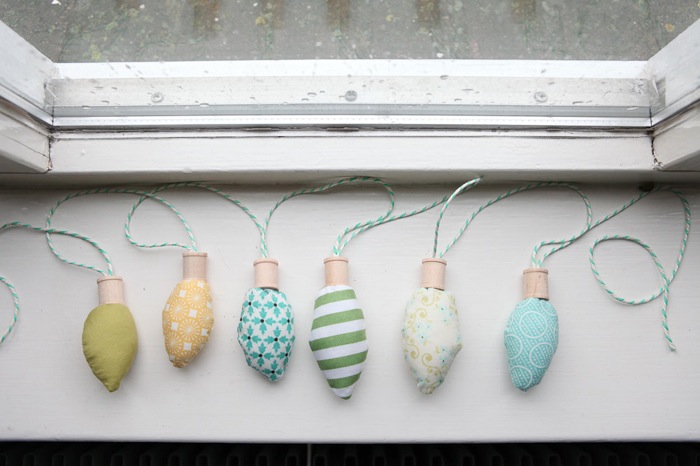 Retro Fabric Christmas Lights from Kojo Designs – Another project perfect for the scrap bin! I love how the creator gives instructions for making single ornaments and a garland.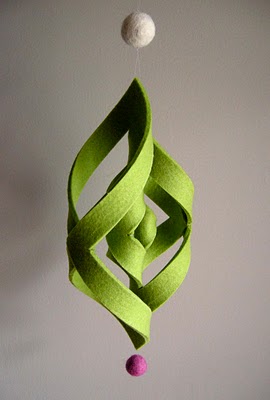 Felt Ogee Ornament from betz white – I know this looks like a brain teaser but it's not hard to make this at all! The little balls finishing off the top and bottom add a great touch.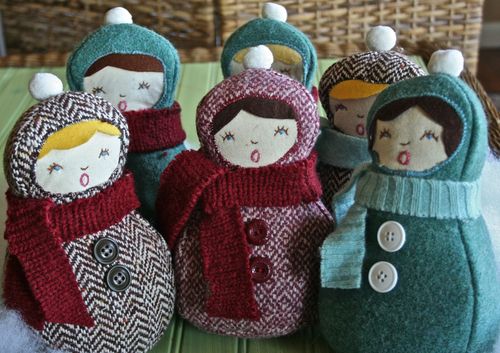 Winter Caroler Tutorial from Gingercake – This is another slightly involved ornament but so worth it in the end! You could even make some to look like your family and friends.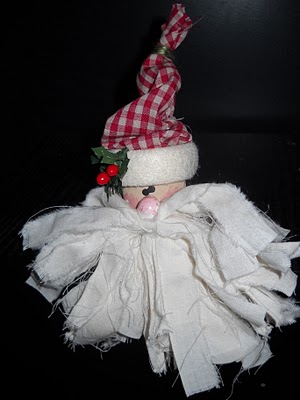 Country Santa from Craft Goodies – Look at his little face! Even though this looks involved there really isn't a lot standing between you and your very own rustic Santa.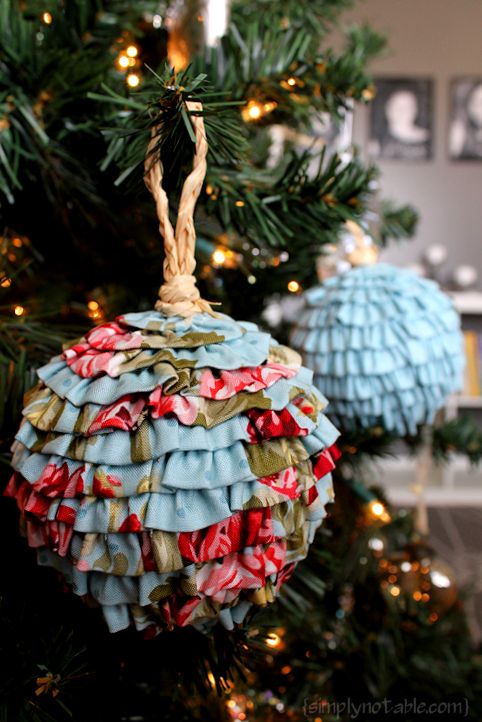 Frilly and Flouncy Ruffled Balls from Simply Notable – Ruffled fabric is perfect for adding texture to anything. You wouldn't even need that many of these fluffy balls to make a statement on your tree.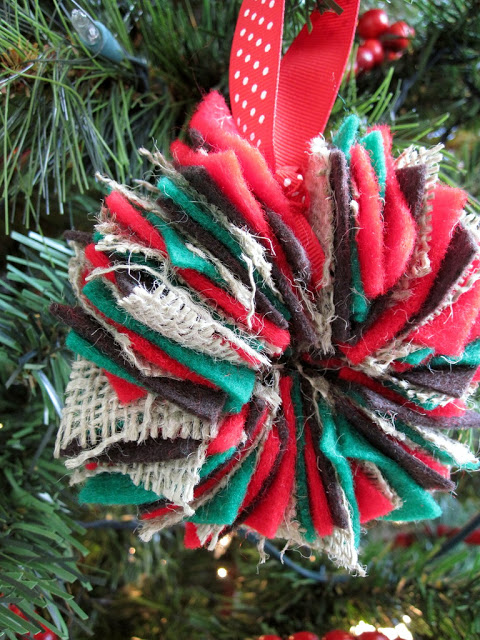 Felt & Burlap Wreath Ornament from Little Home on the Range – This is a cute project you could let the older kids help with,  start by cutting piles of squares in several colors out of burlap and felt and then let everyone make their own custom wreath.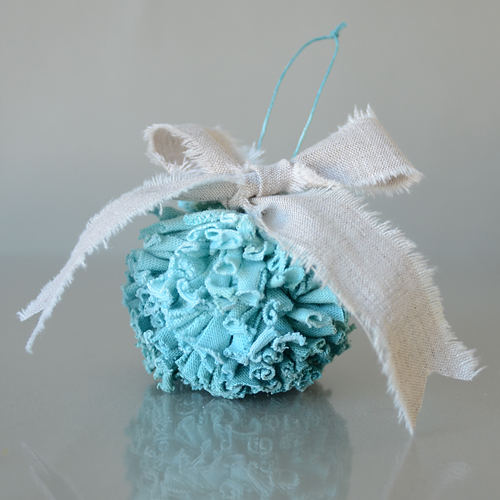 Recycled T-shirt Pom Pom from Skip to my Lou – Who doesn't have a bag (or six) of t-shirts hanging wound waiting to become something more fun?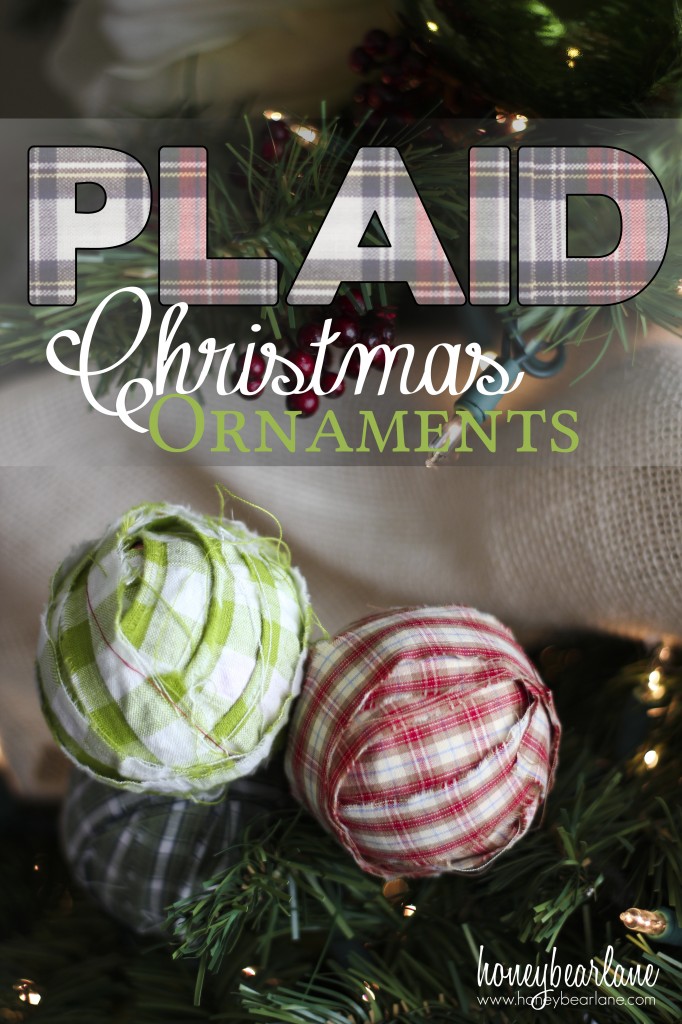 Plaid Christmas Ornaments from Honey Bear Lane – My inner lumberjack loves these!  You could substitute any fabric you have and transform your tree with a cheapo box of shatterproof ornaments and a glue gun.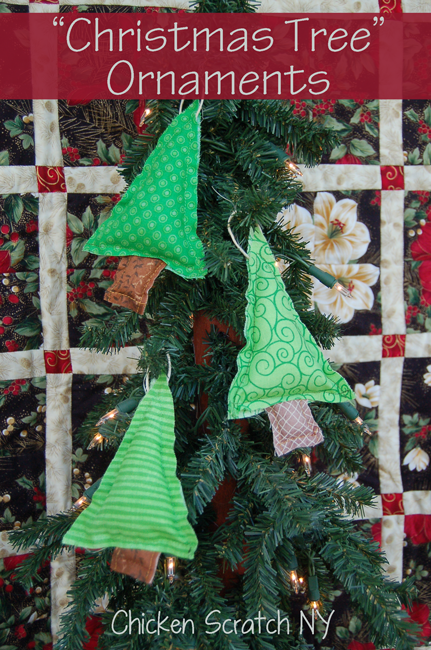 Stuffed Christmas Tree Ornaments from CSNY – Simple enough for a sewing novice these stuffed trees are easy to customize to your color scheme and cheap to make even if you need to buy everything (except maybe a sewing machine)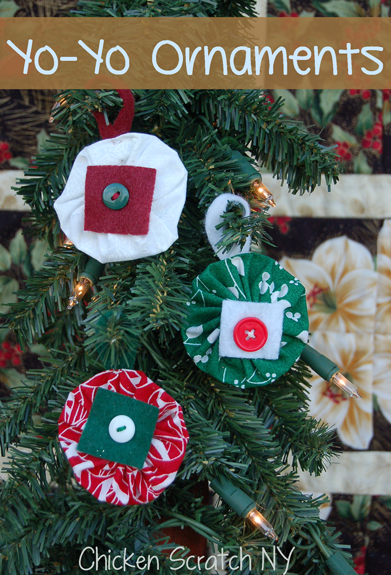 YoYo Ornaments from CSNY – I can say from personal experience that these also make great kitten toys. I don't know where they are finding them but at least once a day I find one being flung around like a hockey puck.
Love what you see? Be sure to follow my Winter Wonderland Pinterest board.
Don't forget to check out: