Another crazy week flew by! Almost didn't have a party because I forgot it was Thursday…
In other news:
I'm wedding dress shopping on Sunday! Wish me luck!
If you missed it, we had another wedding guest post.
This time ChiWei from
One Dog Woof
shared some DIY details from her 2007 wedding
I love this picture! The flowers look like their glowing!
I'm still looking for Wedding Guest Posts! Please, please, please email me if you are the tiniest bit interested! Guest posts are a great way to promote your blog!
The top-viewed link last week was from Sarah at Nature's Nurture
She shared how to freeze fruit. Strawberry season id on the horizon here and I can't wait ti get some fresh berries! I always pick way more than I can use so I'll be using her tips to preserve some of the overflow. If you haven't been there do your self a favor and check it out! She posts some pretty cool stuff all the time
Congrats! You are are top of the pecking order (trust me, it's the best place to be!)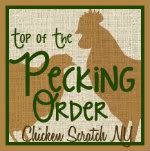 On to the party, here are the rules:
Link up any thing crafty, food, garden or photo related.
Please no giveaways or shops
Don't make me be the grinch!
Link up to a single post, not your blog
Pretty please link back with a text link or button!
It doesn't have to be on the post, just have it somewhere on your blog
Check out at least 2 other entries for everything you enter.
It's all about the love!
You don't have to be a follower but I'd love it!
Link up as much as you want
By linking up here you give me permission to use your photos if you're featured here on my blog and to have your post added to my feature pin board
*Links have been declining at a depressing rate, I'd love for some help getting the word out on my party! Any other Thursday parties out there want to cross-promote?