Sometimes you feel like a nut, some times you don't. And sometimes you feel like crazy, glittery, shiny over the top festive and sometimes you don't. These are perfect for those times when you don't want your house to look like it was taken over by glitter happy elves.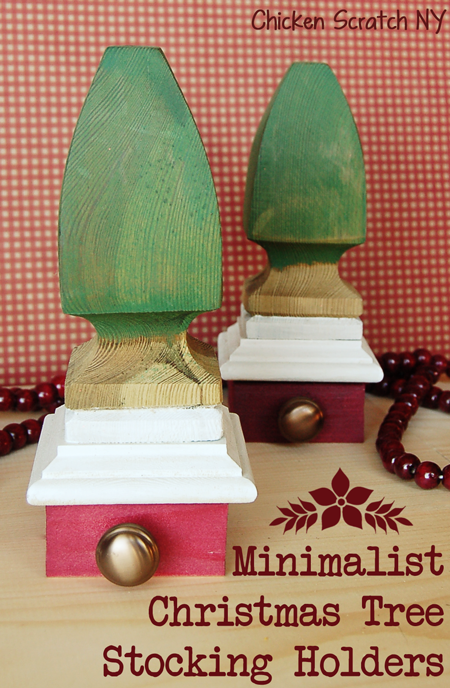 These stocking holders require a tiny bit of drilling but other than that they basically put themselves together. You can find all of the wood and hardware you need for these at Lowes.
Supplies (for each):
1 4×4 Post Cap
Green Tinted Wood Stain (I used the Fiddle head color by Cabot)
1 5×5 Post Cap
White Acrylic Paint
4 inch scrap piece of 2×4
Royal Garnet Spray Paint
Drawer Knob
Hanger Bolt
Drill with large bit and small bit
Instructions:
1. Stain the top portion of the fence post topper with green tinted stain. You could use paint but I wanted the wood grain to show through. Paint the bottom 'notch' white with the acrylic paint.
2. Paint the 5×5 cap with the white paint. When both dry screw together using the screw on the post cap. You have to twist pretty hard.
3. No pics, this was a scramble in the garage and the camera was MIA. Mark the center of your 2×4 piece, drill a hole using the larger bit. This will be the hole for the end of the post cap screw. Pick the front side of your holder, drill a hole for the knob. Spray paint with the royal garnet. When this dries screw it on the the bottom of the 5×5 post cap. Basically you're making a wood kebab.
Step 4.
Screw the non-pointed end of the hanger bolt into the knob. Screw the pointed end into the the hole you drilled into the wooden block.
You can find the hanger bolts with the screws, look for the orange section.
Optional: Add a cute little bow and you're done!
Find more holiday projects on my
Christmas
page