Decorate your door with a sweet and spooky witchy wreath! This glitter bomb was inspired by $359 wreath, recreated for less than $35!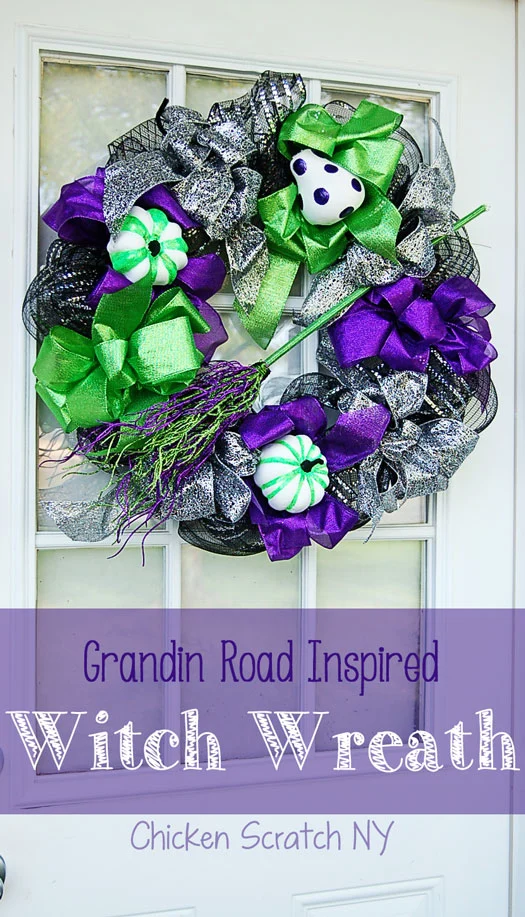 I fell in love with the "Cast A Spell" wreath from Grandin Road, it's gorgeous; it's got beautiful ribbons, gourds and amazing details. It's also $359. Yeah, choked on my coffee when I saw that.
I didn't need a new wreath because I already made my simple Witch Hat Halloween Wreath. But my sister is always after me to "make things" for her. I really wanted to make this wreath so I figured why not, I could always blog about it.
My sister is basically my polar opposite. I like rustic, burlap, and natural colors. She likes SHINY, glitter and neon. So with that in mind I set out to make this wreath for her.
A leisurely stroll through Michael's Halloween clearance (why wouldn't it all be on clearance the first week of October?) with a 25% off total purchase coupon led me to all the supplies I needed to make my own Halloween wreath.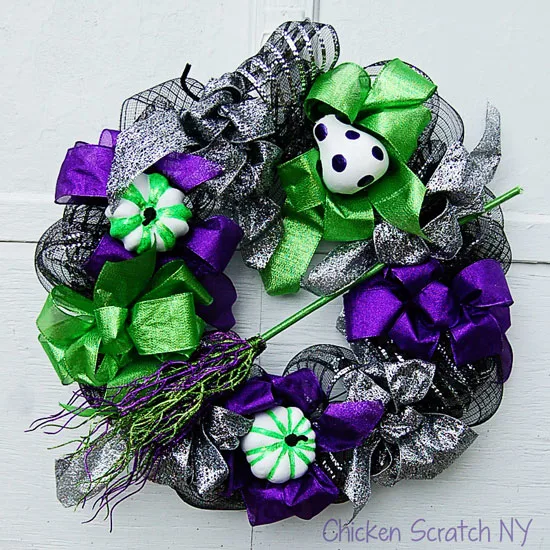 Glittery Witch Wreath Supplies:
Brace yourself, a lot goes into a wreath this ridiculous!
6 inch Deco mesh in black and black/silver stripe
18 inch Wire Wreath Frame
3 inch wide wire edged ribbon in Lime, Purple and Black/Silver (fun fact: this is all Christmas ribbon since the Halloween ribbon was all gone)
Pack of small pumpkins/gourds
Craft paint in black, white, lime, purple, lime glitter, purple glitter
Dowel (I actually used the stem from a fake flower)
Deco mesh tubing in green or ribbon
2 branchy wreath picks for the broom
Craft wire
Scissors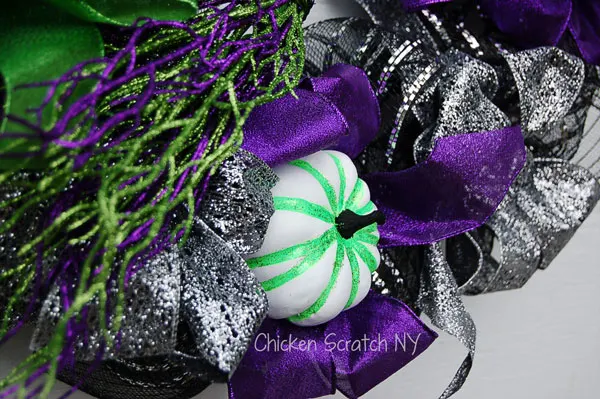 Instructions:
1. Clip pipe cleaners in half and connect them to the braces on the wire wreath frame. Do two zig-zags of black and silver deco mesh, keep it poufy. Go from inside to outside at each of the 9 braces.
2. Add a circle of black deco mesh with more pipe cleaners connecting it to the center of the wreath form, you'll have to push the silver out of the way. Each brace should have 3 connections; black/silver, black, black silver. The wreath will still look pretty sparse but it's ok!
3. Paint 3 gourds white with matte craft paint. It took me lots of coats, spray paint would have been a faster option.
4. When your gourds are white enough paint lime green stripes on two and purple polka dots on the other. You might need a few coats again.
5. When the colors are dry add a few more coats of glitter paint, green on green and purple on purple.
6. Cut a small slice in the back of each gourd, fold a pipe cleaner in half and stick it in as far as you can go. They should stay pretty securely.
7. Start making bows, I like this bow tutorial on YouTube. Make 4 from the black/silver glitter ribbon, 3 from the purple and 2 from the green. Two purple and one green will have gourds in the center so you can leave off the middle loop.
Four bows is tight from 25 feet of ribbon, if you want them even you can unroll all the ribbon and cut it into 4 pieces. I did not do that and I had a bow a little bit smaller than the others but the world kept turning.
8. Use the extra wire from making the bows to attach them to the wreath frame at the 9 braces. Look at the photo for placement.
9. Attach the gourds, lime stripes go on purple bows and the purple polka dots go on a lime bow.
10. Slide/force the deco mesh tubing (or washi tape or ribbon) over the flower stem to make the broom handle.
11. Cut apart the wreath picks as close to the joint as possible. Wrap and secure wire around one end of the broom handle. Add a few sprigs from the pick and wrap with wire.
Keep wrapping and adding until you're out of pieces. Wrap about a dozen more times, clip the wire and twist it off so it doesn't unravel.
12. Use a few pieces of wire to attach the broom to the wreath.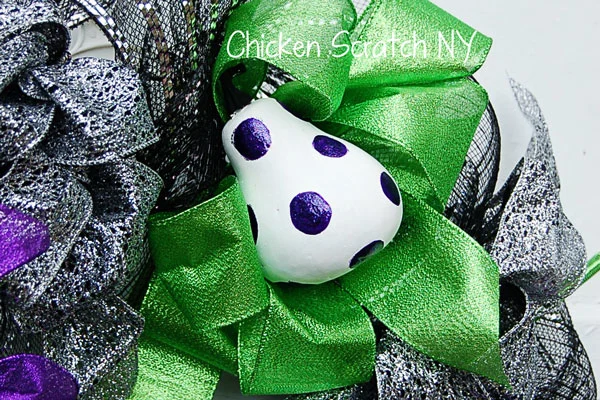 Cost breakdown after sales and 25% off total purchase coupon:
Wreath Frame – 2.99
Black/Silver Deco Mesh – 3.59
Black Deco Mesh -2.69
Pipe cleaners – .74
Black/Lime/ Purple Ribbon – 5.24 each
Lime/Purple glitter picks – 1.57 each
Pumpkins (I used 3 but 5 came in a bag) – 3.74
Total: $31.04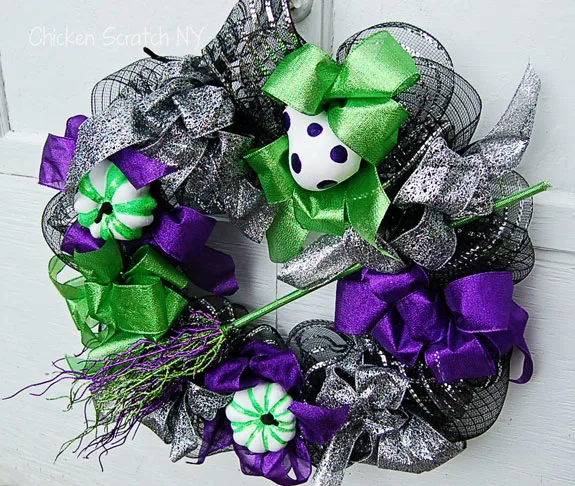 Just a recap – The original was $360 dollars, mine cost $31
Other costs including paint, wire and the mesh for the broom handle I didn't add because I had them for other things. You will also need to add in the cost of paint brushes, wire cutters or scissors if you need those.
---
Check out my Halloween Page for more spooky fun or start here: