Have you seen those gorgeous trays stuffed to the brim with fruit, cheese and meat? They're called Charcuterie boards and they're really big on Pinterest right now.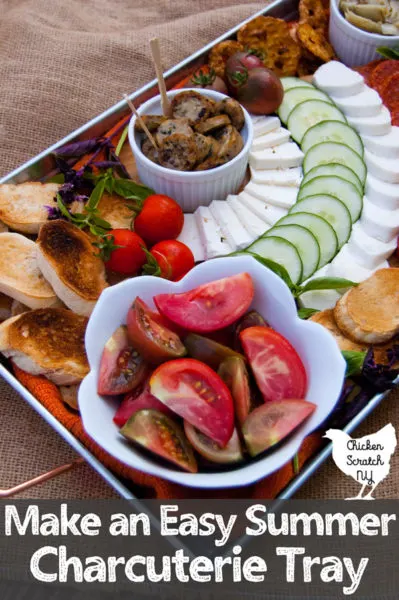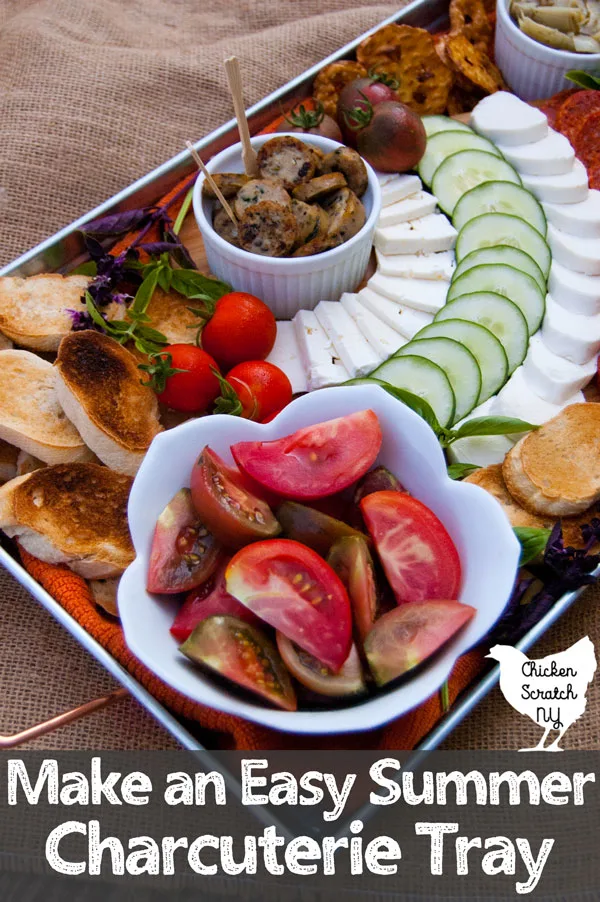 Of course that means I had to make one, specifically a cheap and not fussy version with fresh garden produce. The thing that sets this charcuterie board apart from the rest I've seen is the fresh tomatoes and cucumber.
Setting Up the Summer Charcuterie Board
At least half the reason you're setting up a fancy pants charcuterie tray is because it's pretty, right? I happened across this tray earlier this summer at Aldi's and loved the copper accents.
Luckily you can find trays like this one just about anywhere. I've seen them at Michael's, Target and TJ Maxx when I was searching for glasses for my new cocktail site. It doesn't really matter what it looks like as long as it's sturdy.
The first think you need to add to the tray is a towel. The towel will keep the cutting board and bowls from sliding around, especially nice if you need to move around with the tray.
Then go through the cabinet and pull out some ramekins or small bowls, a medium bowl and a cutting board that fits inside the tray.
The cutting board is for the cheese, meat and anything wet you don't want sitting on the towel but doesn't need a bowl. I used four small ramekins and a fancy midsized bowl I got at Pier One last summer and never used.
If you plan on serving this as an appetizer at a party grab a box of sturdy toothpicks. If it's just you and your sweetheart grab a few forks for the messy stuff. Most of the food can be eaten by hand.
Vegetables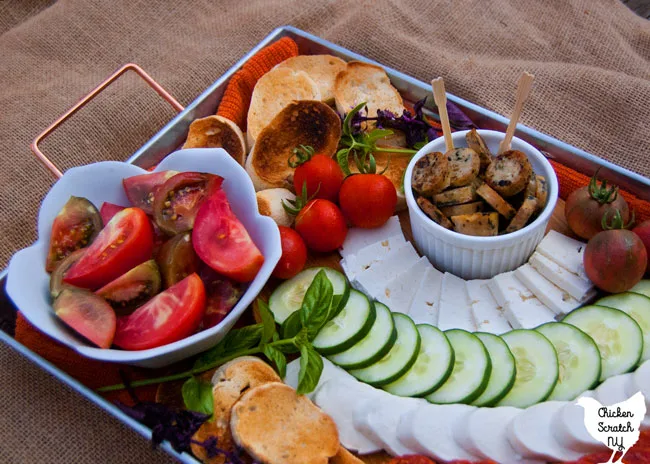 Traditionally the focus in a charcuterie board is on meat and cheese. Which is delightful, don't get me wrong. But it's summer and I have cherry tomatoes coming out my ears.
I'm a self-declared tomato snob and I refuse to eat them fresh out of season. If you've ever eaten fresh off the vine tomatoes you probably feel the same! I try to eat them as much as possible when they're available.
The cherry tomatoes are Black Vernissage and Supersweet 100 (I think, I lost the package). I also sliced up a few Cherokee Purple tomatoes and a red tomato that I also don't know the name of. I'm not that organized with my tomato seedlings ok? Haha
Speaking of garden mishaps, I didn't have any luck with cucumbers this year so I grabbed a few at a local farm stand. You can peel your cucumbers but I like the color from the skin and it doesn't bother me to eat it.
After the red and purple tomatoes and the green cucumbers I still wanted some more color and a bit of crunch. I raided the fridge and came up with some carrots. I peeled a few and sliced them into long sticks. If you're cooking with a lot of vegetables do yourself a favor and get a good knife.
I used crappy knives for years and recently upgraded and I can't believe the difference. It's so much nicer!
Meat
The tray I put together was for casual backyard picnic date for my boyfriend and I. My goal was the entire meal on one tray, no silverware and no messy hands.
There are two types on meat on this tray, pepperoni and an amazing chicken sausage. I was first introduced to the chicken sausage at Aldi's when I made my Instant Pot Chicken Sausage Soup with the apple chicken sausage.
I'm sure the apple sausage would be great here but I felt the spinach and feta chicken sausage would go even better. Slice two links of the sausage into 1/4 pieces and sear over med-high heat. Cast iron griddles are great for that!
Cook on both sides until the sausage starts to brown and gets a bit crisp around the edges. Serve the sliced sausage in a ramekin with a few toothpicks.
The pepperoni is sliced of a giant log. If you're in a rush you can garb pre-cut pepperoni. You can also swap it out for some summer sausage.
Cheese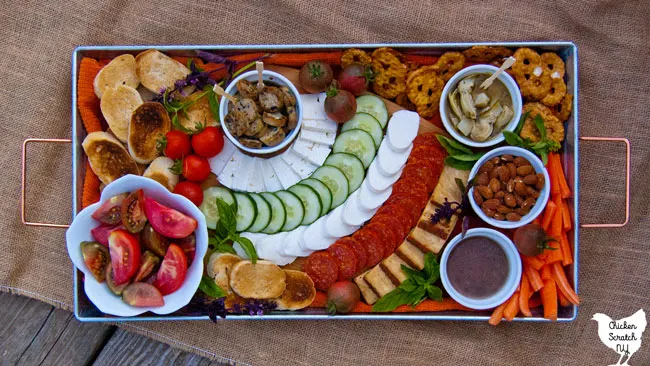 You may have noticed that options are a big part of the charcuterie tray. For this tray I have three different but cheap and available cheeses.
My heart belongs to fresh mozzarella and I'll slap in into and dish I can. It's creamy and goes incredibly well with pepperoni, basil and tomatoes.
Feta is another of my favorites. It's salty and crumbly and it belongs with cucumber. If you can buy a brick of feta that you can slice yourself, it might be in a container of salty brine or shrink wrapped in plastic.
The last cheese on the tray is an artisan cheese from Aldi's (that should not surprise you by now) it is tomato and garlic with herbs. It tasted nothing like the other cheeses. I really just wanted a cheese that wasn't blindingly white haha.
You want to put together something pretty but also something you want to eat. Pick out your favorite cheeses, as long as you have some variety you're good to go.
Bread & Crackers
We've got our veggies, meat and some cheese. Now we need something to eat all that delicious stuff on.
Obviously bread is a great option. Grab a baguette or another crusty loaf. The smaller size of the baguette helps it fit nicely on the tray but as always, you do you. Or you do your grocery store.
Slice the bread at a diagonal (because it's fancy) and toast it under the broiler for 3 seconds. Maybe closer to 30, just watch it like a hawk because it will burn and then your house will smell like burnt toast all day and you can't open the windows because it's 93 degrees with one million percent humidity.
Make things easy on yourself and grab a bag of crackers or like I did pretzel thins. They're super crispy and flat pretzels.
Everything Else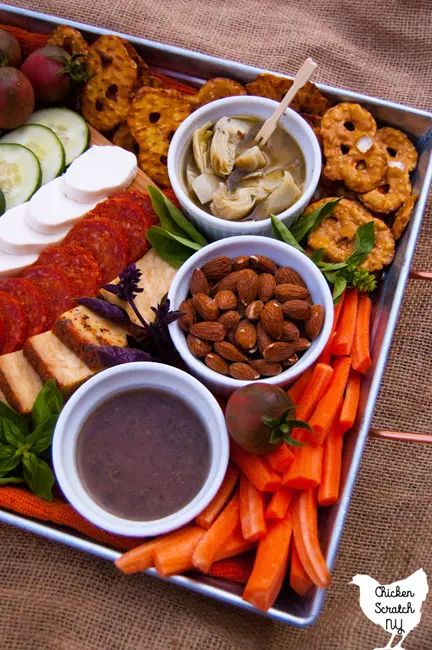 Next come the special add-ons. I've got the almonds, marinated artichoke hearts, vinaigrette and bunches of fresh basil in this category.
The salted almonds are crunchy and add a nice change of pace. Marinated artichoke hearts are one of my favorite foods. They are also great with the mozzarella and pepperoni, especially when made into a little open faced sandwich on the toasted bread.
The very odd looking ramekin is actually filled with a Greek vinaigrette. It's the kind of dressing that separates instantly but it still tastes pretty good.
I had to clip back the basil in the tomato basil container garden so I added it to the tray. It's pretty and also very tasty with the cheese and tomatoes.
Putting it All Together
Once you've got everything sliced and chopped it's time to put it together. Fit the cutting board into the tray, or a plate if you don't have a cutting board that fits. Line up your bowls and ramekins and start playing with placement.
Once you've got your bowls set up start placing the cheese, wet veggies and meat on the cutting board. I lined up my feta, cucumber, mozzarella, pepperoni and tomato cheese around the sausage ramekin.
Then you add the dry veggies and the bread & crackers. I used carrots but snap beans would be delicious too. The rabbits chomped mine and they're taking their time to recover so I don't have any yet.
Fill in any empty spaces with whole cherry tomatoes and fresh basil.
I hope you find this helpful and whether you serve your summer charcuterie board as a party appetizer or a special dinner for two, I hope it's delicious!
Don't forget to PIN this to your Appetizer or Date Night board!
Check out my Recipes page for more ideas or start here: