[This post brought to you by Chobani Yogurt. All thoughts, comments and ideas are my own]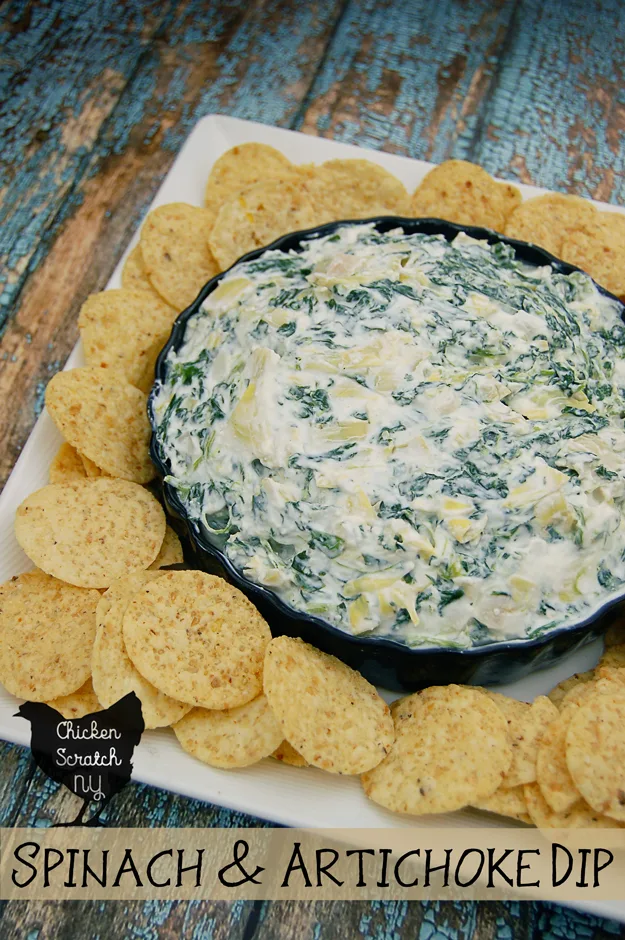 I'm not a sports fan (do you really think I have time for that? haha) but I do enjoy the food. My husband is a huge Giants fan so we do catch a few games on his days off. We usually head to my Aunts where we watch it on her giant (ha! it's a pun) TV and I sit at the kitchen table munching on snacks and reading cookbooks. The snacks are always plentiful, we always make venison chili for the main dish but we fill ourselves up with half a dozen dips and chip/cracker combos.
There seems to be a lot of blind hand to mouth eating, especially when things get tense. I only know what I've been told but apparently the Giants are either really good or really bad and sometimes it switches in the middle of the game. To me it's a great opportunity to get some veggies in my husband so we always have some spinach dip with a veggie tray.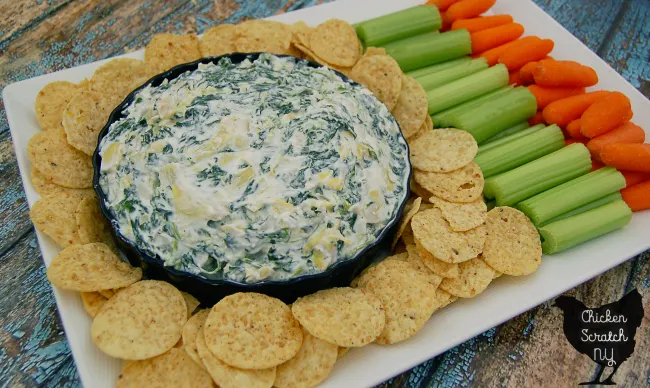 I remember the first time I helped my mom with her little packet of spinach dip powder. I was more than a little bit shocked, and slightly entertained, at the amount of stuff that went in to it. It was just spinach dip right? Did I really need to dirty every measuring cup in the house? Apparently the answer was a resounding YES!
Well, have no fear, this recipe has simplified it, most of the ingredients are pre-measured! And it might even pass for healthy, especially compared to the deep fried offering located a few bowls away. One tip, make sure you get the chopped spinach and not the leaf spinach, my husband picked up the leaf stuff and no matter how much I tried to chop it up it was a lost cause.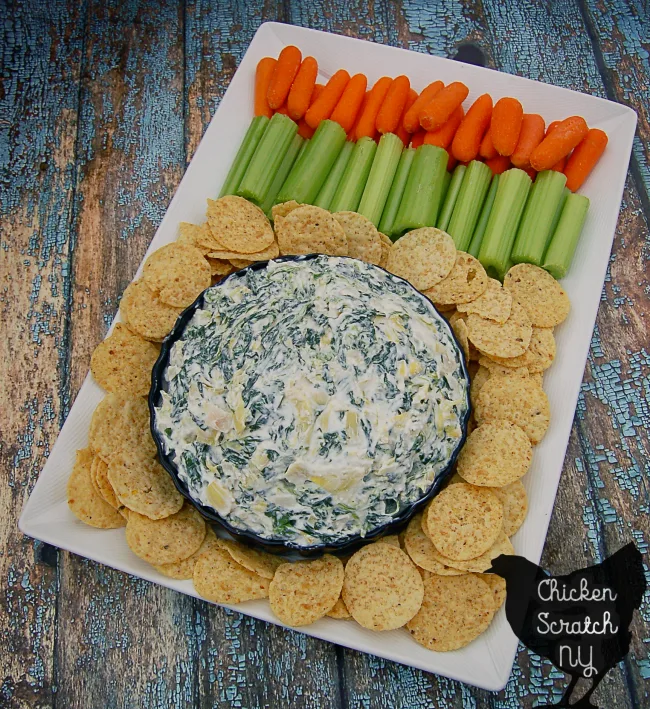 How small you chop the water chestnuts and artichokes is up to you. I like a chunkier dip and I'm pretty lazy when it comes to something you're gonna be chewing up anyway, so I kept the pieces of artichoke pretty big. The real purpose of the water chestnuts is the texture, so those I tried to cut at about a 1/4 inch dice. Chop the garlic small unless you like the occasional fiery surprise!
Spinach Artichoke Dip

A quick and healthy variation of spinach artichoke dip that comes together almost instantly to get you back to the game in no time
Ingredients
2 C Chobani Greek Yogurt, Whole milk or 0% works
1 block of chopped frozen spinach, thawed and squeezed
1 can water chestnuts, drained and chopped
1 jar artichoke hearts, not marinated, drained and chopped
1/2 C Pecorino Romano cheese
2 cloves of garlic, minced
Salt to taste
Instructions
Stir all ingredients together
Serve with chips, veggies and crackers
For more recipes and inspiration be sure to check out Made with Chobani and Chobani's Recipe Site