I was almost 20 before I realized that most of the world has no idea what a salt potato is.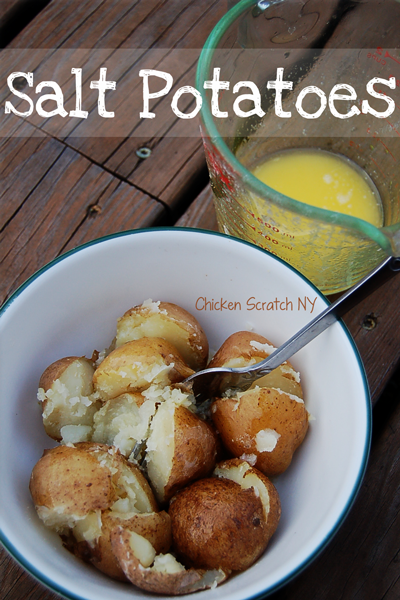 Apparently it's only a central New York thing. I was shocked. Never had a salt potato? Didn't know what they were?
I've since made it a mission to share the buttery delight of salt potatoes with the world.
If you live in the central New York area (I've seen them in Syracuse and the Utica/Rome area but I'm sure the reach is greater than that) you can just buy a bag like this: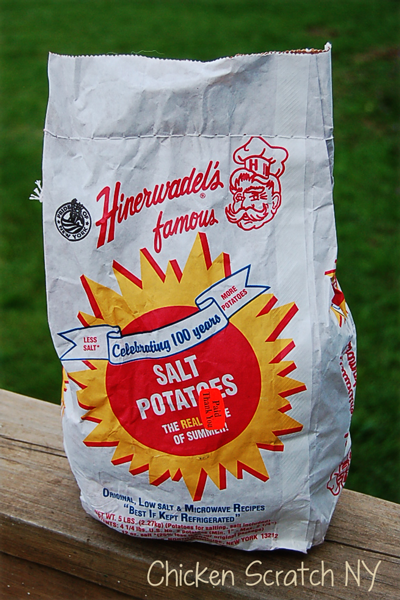 Depending on the store it's $4-5 for a five pound bag. If you can get a bag like this I'm going to assume you know what salt potatoes are and you're probably eating a bowl right now. If not, this is what you'd find inside one: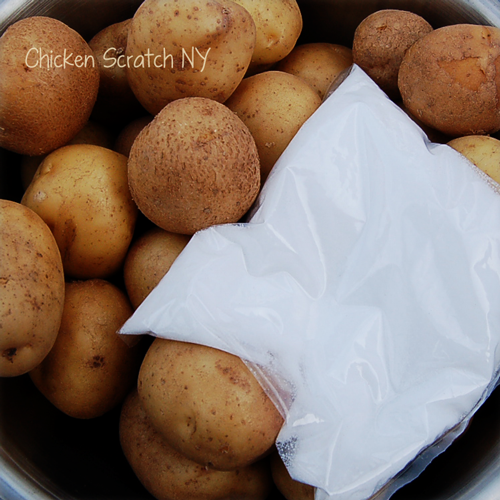 Small, white new potatoes and salt. The bag lists 4.5 pounds of potatoes and 12 oz of salt. We usually cook about half at a time for the two of us.
They don't keep on the shelf long though, the potatoes will sprout within a few weeks if you let them sit so you want to cook them quickly.
Before you start clutching your pearls in distress over the amount of salt, you don't actually end up eating much of it at all. The salt is what makes the potatoes so magical so don't be stingy.
Salt Potato Ingredients:
White new potatoes, in the golf ball size range or a bit bigger scrubbed clean with DO NOT PEEL
Salt
Water
Butter
How to Make Salt Potatoes:
Fill a big pot with water, leave room for bubbling and potatoes.
Add lots of salt, about one cup per 6 cups of water. Bring to a boil.
Add potatoes and boil for 20 minutes or until you can easily stab with a fork.
Strain
Serve hot with lots of butter
The Magic of Salt Potatoes
Why are these tiny lumps of heaven so good? The key is the salt.
It raises the boiling temperature of the water so the potatoes cook more completely breaking down more starch than with other methods.
And it forms a protective barrier around the potatoes so they don't get waterlogged. The result is the creamiest potato you've ever eaten.
Salt potatoes are historically from the salt mines of Syracuse, NY. In the 1800's the workers used to bring bags of potatoes to work and cook them in the salty brine.
They obviously had a good thing going and the practice of eating small potatoes boiled in super salty water caught on. Around here you'd be hard pressed to find any summer gathering without a giant bowl of them.
Do you have any local delicacies that the world need to know about? Share them in the comments, I'm always looking to try new things.
Check out my Recipe page for more ideas or start with these: