I wanted to add both a dessert and a strawberry rhubarb recipe to the line up for Rhubarb Week. I decided to go a little out of the box, I didn't want to add another strawberry rhubarb pie recipe to the world 😉 So I made a Rhubarb Panna Cotta with a Strawberry Balsamic Sauce.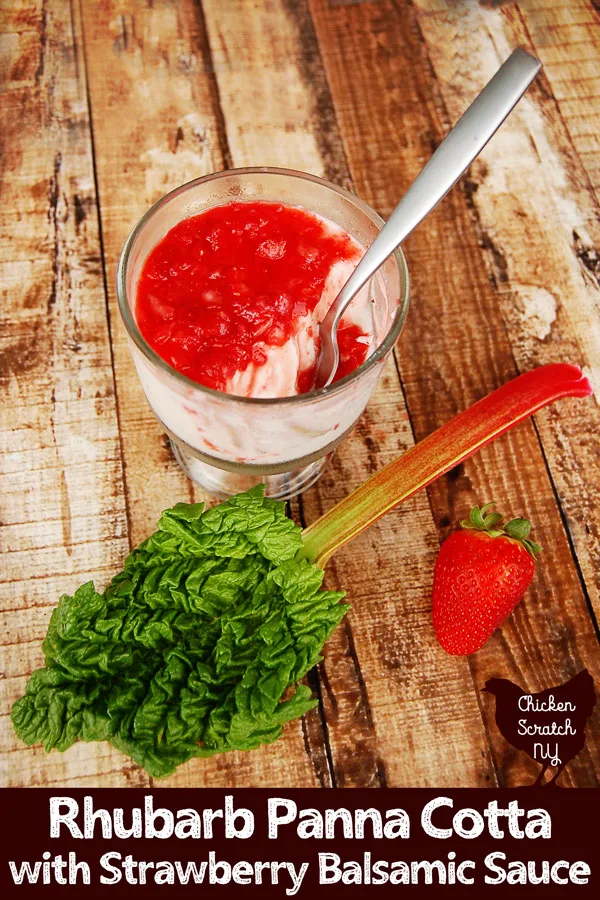 Panna cotta is a very fancy name for a milk jello. Which sounds disgusting, but stay with me. Panna cotta actually means "cooked cream" and it's a stove-top dessert made with heavy cream and gelatin. See why I said jello?
It's sort of like a creme brulee, but it's thickened with gelatin instead of egg yolks. That also means it doesn't have to go in the oven, which makes panna cotta perfect for the summer time.
Its usually served with a fruit sauce or compote. It doesn't have that delightful crunch of the sugar crust on a creme brulee but if you're looking for that I recommend my Pumpkin Chai Creme Brulee.
Gelatin comes in sheets or granules. I buy mine in a big tub of granules at the Mennonite market. The first step is cooking with gelatin is letting it bloom.
All that means is you need you sprinkle it on some liquid and let it sit for about five minutes. The granules will absorb some of the milk and fluff up.
Then you turn on the heat and whisk it all up until the gelatin is dissolved. Add in the rhubarb juice (need to make some? check out my Rhubarb Mimosa recipe, I run through the whole process!), heavy cream and sugar.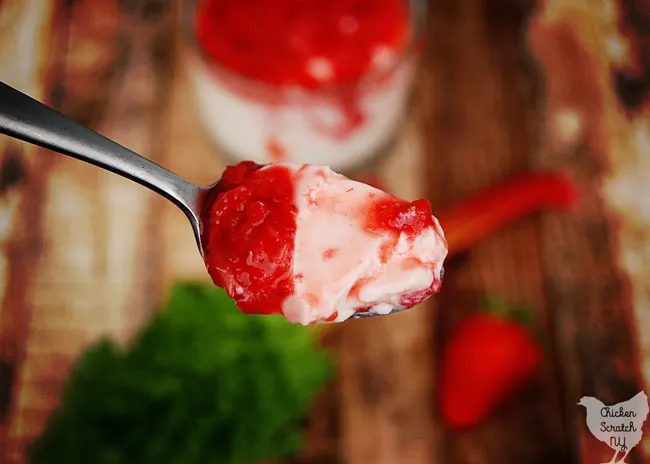 Keep whisking until the sugar is dissolved. You don't want it to boil, burned milk isn't quite the flavor profile we're going for 😉
Take it off the heat, whisk in the vanilla. Pour it into your serving dishes and stash it in the fridge over night. I poured mine through a fine mesh sieve to catch any undissolved sugar chunks.
The last step before serving is a deliciously fresh Strawberry Balsamic Sauce. It doesn't get any easier than this!
You need two cups of chopped strawberries. The riper the better. You don't need to get fancy, just lop off the tops and give 'em a quick dice.
Toss them in a bowl, sprinkle the sugar on top, pour in the vinegar and give it a quick stir. Then let it sit for about 5 minute.
When you come back to it the strawberries should be sitting in a ruby red pool of syrup. Sugar has the magical ability to turn ripe strawberries into a delicious sauce.
Give everything a quick mash with a fork and you're ready to impress your friends and family. Spoon the strawberries over the cold rhubarb panna cotta and serve.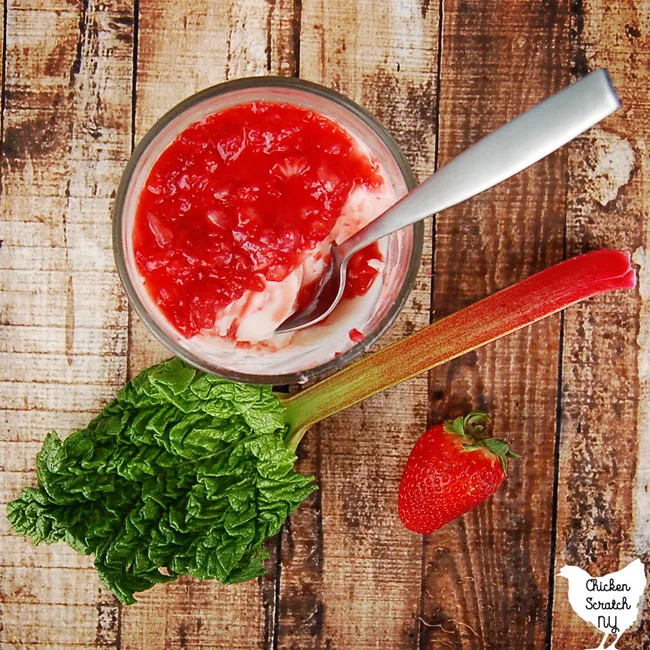 Don't forget to PIN this to your Dessert Board!
Check out the rest of Rhubarb Week: How to Grow Rhubarb, Baked Oatmeal with Rhubarb, Blueberries & Pecans, Rhubarb Mimosas & Instant Pot Ribs with Rhubarb BBQ Sauce
Rhubarb Panna Cotta with Strawberry Balsamic Sauce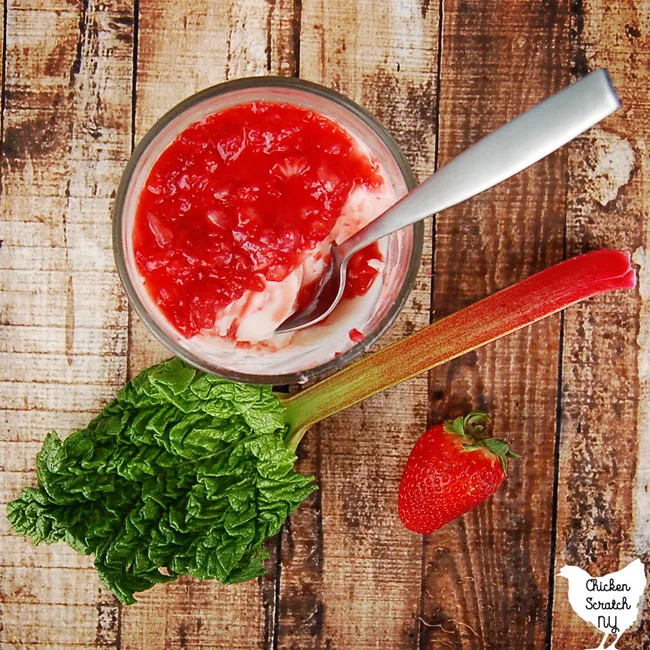 An easy but impressive summer dessert, this delicious rhubarb panna cotta is smooth and creamy with a tart bite. Topped with a strawberry balsamic sauce it's sure to impress
Ingredients
1/2 cup milk
2 1/2 tsp gelatin (1 packet)
1 1/2 cups heavy cream
2 cups rhubarb juice
1/2 cup white sugar
1 tsp vanilla
Strawberry Balsamic Sauce
2 cups chopped strawberries
2 tbsp sugar
2 tbsp white balsamic vinegar
Instructions
Pour milk into a medium sauce pan, sprinkle gelatin on top and allow to sit for 5 minutes
Turn heat to medium and whisk until gelatin is dissolved
Add in heavy cream, rhubarb juice and sugar. Whisk until sugar is dissolved
Remove from heat and whisk in vanilla
Pour into serving dishes, refrigerate over night or until set
Before serving, pour sugar and vinegar over strawberries and stir together
Let berries sit for 5-10 minutes until juices are released. Lightly mash with a fork and spoon over panna cotta
Serve cold
Notes
You can use regular balsamic vinegar but the color of the sauce will be darker
Check out my Dessert Recipes Page for more ideas or start here: