I'd like to share a summery upcycled garden project for a Rain Boot Planter. It's so simple! You can probably do it with stuff you already have, if not you can get every thing you need for pretty cheap.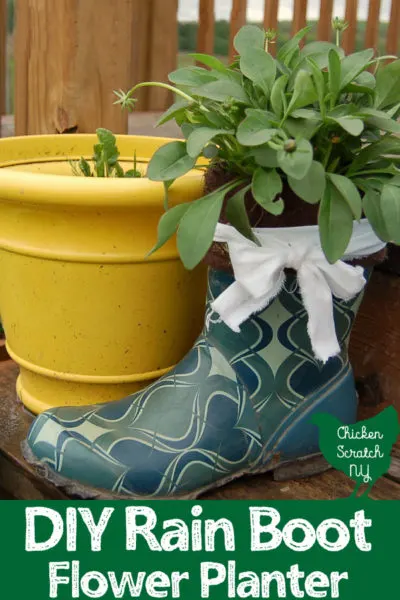 Garage sales and thrift stores are great places to pick up cheap foot wear. Especially since you won't be wearing the boot 😉
DIY Rain Boot Planter Supplies:
Old Rain Boots
Rocks
Dwarf Flower
Instructions:
I started out with a 'retired' pair of muck boots (they get retired when you step on a screw and need a tetanus shot and antibiotics). I also used a drill, gravel, potting soil and a dwarf coreopsis.
I loved these boots, and they weren't cheap. I've given up on fancy boots and I wear my Muck boots in the barn, my current pair is sporting some alpaca inflicted damage from George and the meningeal worm incident. Muck boots aren't cheap either but they are survivors.
Start by drilling a few (more) holes in the bottom of the boots. You need to use a large bit to get drainage holes, the soft rubber closed up over small holes. Also watch out for any metal bars running along the bottoms.
Fill the bottom of the boots with gravel, the plants make the boots top heavy and the wind can easily catch the plant and knock them over. This is especially true if you use high boots.
Fill the entire 'foot' part of the boot. Make sure to shake the gravel into the toes.
I received this plant as a gift for my birthday. I think the bright yellow flowers will look really cheery with the blue boots. Before you buy a single plant like this to divide make sure it has multiple stems.
You might even have something in your flower bed that needs to be divided.
This was large clump and I just pulled it apart with my fingers. Take care to separate the leaves, they might be tangled together.
Dwarf plants work really well for containers, they don't need as much room for roots. The shorter height also helps keep them from tipping over.
Gently stuff the plant in, you might need to add potting soil to the bottom of the boots to lift the roots. If you have extra room around the plant fill in with more soil.
Shake and stomp the boot on the ground to get the dirt settled in. Finish the other boot.
I tied a scrap of white fabric around each boot to brighten it up.
The Coreopsis is a perennial so when the seasons over I'll cut them back and plant them in a flower bed, saving the boots for more flowers next year.
Don't make the mistake of thinking the rain will keep these watered! I did and ended up with some pretty droopy plants even after near-constant thunderstorms.
All the above pictures are from early May, this is what they look like now:
Check out my
Garden Page
for more ideas or start with these: