Salt dough ornaments are a holiday classic, right up there with cinnamon applesauce ornaments. This year I wanted to give them a bit of an upgrade with sparkly glitter paint.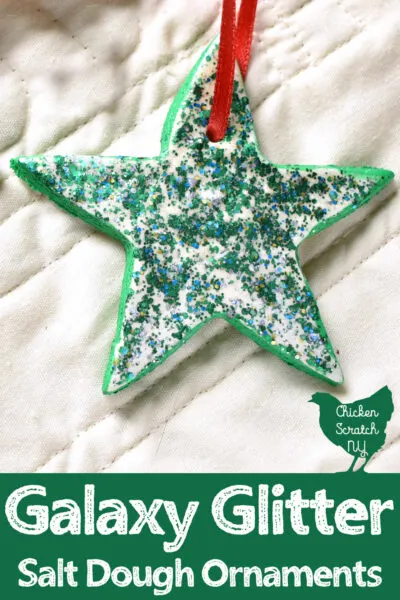 Normally I'm 100% anti-glitter but I'm opening my arms to it this time because the glitter is trapped in the paint. It can't get all over every (unlike the tiny blue glitter Mary's Elsa dress has been shedding for the last month).
This post is sponsored by DecoArt, they provided the paint I used to make these ornaments.
---
Welcome to the 5th annual 12 Days of Holiday Ideas event, hosted by Shirley of Intelligent Domestications and Erlene of My Pinterventures Between Nov. 11th and December 6th there will be hundreds of new ideas shared by over 55 Co-host bloggers!
Go here to see our kick-off collection of Holiday ideas as well as all of this years talented participating DIY and Foodie Blogs. Download this years November and December calendars with all of the topics and dates so you can make plans to watch for ideas!
We are hosting a BIG GIVEAWAY from our Sponsors this year! Be sure to scroll all the way down for more information and to enter to win!
---
Salt dough is one of these really simple things that I struggle with but unlike my issues with knitting (my left hand works at half the speed of my right) I'm not sure why.
I think it's a bit like baking bread where the moisture in the air can effect things, especially if you're trying to let them air dry. I went with the oven method because I'm impatient.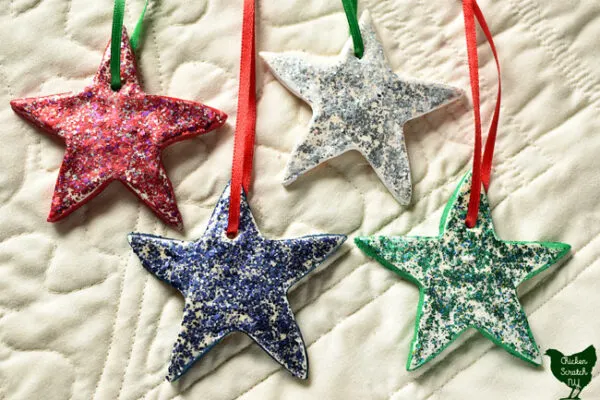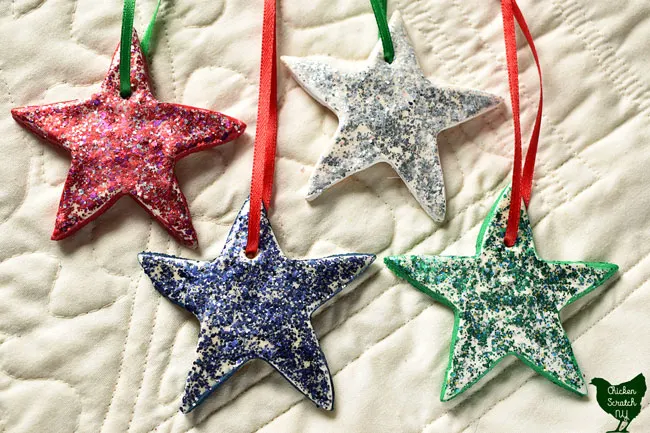 You only need three ingredients; flour, salt and water. I used cheap flour that I found in the pantry instead of my fancy white wheat flour that I use for baking. No one is (or at least no one should be) eating these ornaments.
There is one very special step YOU CAN'T SKIP or you'll end up with a pile of gross looking ornaments (ask me how I know). You need to spray the baked and cooled ornaments down with a clear sealer coat before you add the glitter.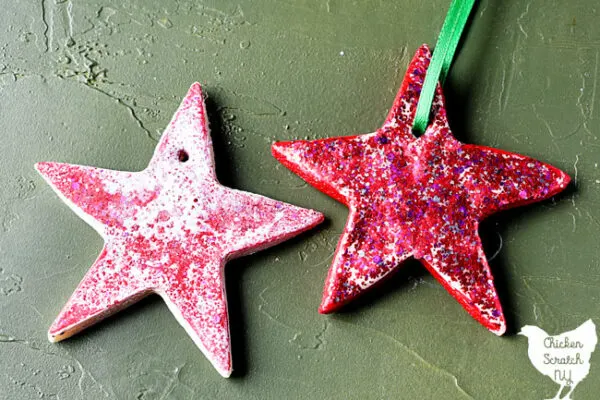 The regular paint doesn't seem to effect the salt dough the glitter paint does not play nicely with it. It looks perfect until it dries and then it gets cloudy and not glittery, trust me it's nothing you want on your Christmas tree.
It also helps to be gentle with the paint brush, I had a few areas where the salt dough started to flake up when I went over it too many times with the paint.
You can use any cookie cutters, I had a star that started out strong and then met it's maker in the hands of my 3 year old. I tried my best to fix it but that's why my stars are all a bit off.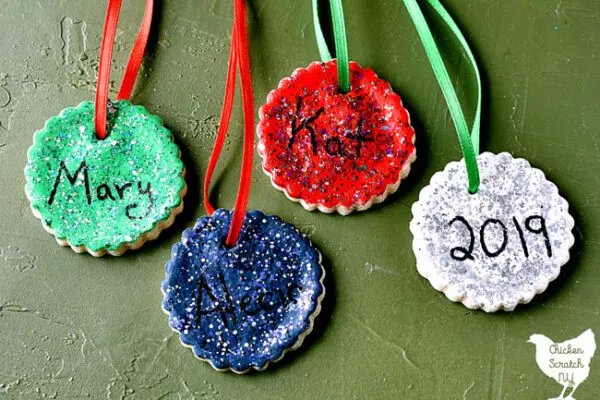 For my star ornaments I painted the edges with the solid colors and did several coats of glitter on the front. I also used a scalloped circle cutter and painted the front with the solid colors and them topped them with the glitter paint. When the paint was dry I added out names and the year with a Sharpie.
Yield: 2 dozen+ Ornaments
Painted Salt Dough Ornaments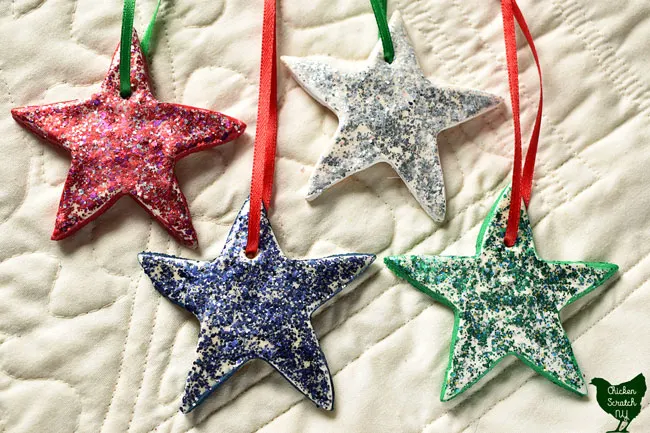 Turn plain salt dough into sparkly Christmas ornaments with glittery paint that won't shed all over your home
Total Time
4 hours
20 minutes
Materials
2 cups white flour
1/2 cup salt
3/4 cup warm water
Krylon Matte Clear Coat Spray
DecoArt Acrylic Paint in Santa Red, Kelly Green, Navy and White
DecoArt Galaxy Glitter Paint in Red Nebula, Extra Terrestrial Green, Deep Space Blue and Silver Moon
Thin Ribbon
Tools
Stand Mixer with Dough Hook (optional)
Rolling Pin
Parchment Paper
Silicone mat (optional)
Chopstick
Cookie Cutters
Cookie Sheet
Paint Brushes
Instructions
Combine flour, salt and water in the bowl of the mixer and stir with the dough hook until it's a solid lump
Knead by hand until the dough is smooth
Place half the dough on a sheet of parchment paper and roll out with the rolling pin until it's roughly a quarter inch thick
Cut out shapes with cookie cutters and add a hole at the top with a chopstick
Transfer to the cookie sheet, I baked mine on a silicone mat but you can also bake them on the parchment paper or directly on the cookie sheet
Bake for 2-3 hours at 200 degrees or until solid and no longer damp
Paint the front or the sides of the ornaments with the solid colors and let dry completely
Generously spray with clear coat (DO NOT SKIP THIS STEP!)
Add 1-3 coats of coordinating glitter paint, letting each coat dry before adding the next
String a ribbon through the hole or use and ornament hook to hang them on the tree
Notes
You can skip the mixer and make the dough by hand. Start stirring with a spoon and when it gets to hard get in there with your hands
Recommended Products
As an Amazon Associate and member of other affiliate programs, I earn from qualifying purchases.
---
MEET OUR SPONSORS who have generously donated fabulous prizes for the Big Christmas Giveaway!
DecoArt winner will receive a prize package valued at $100!
Dixie Crystals/Imperial Sugar winner will receive a Keurig Coffee Maker valued at $100!
Oriental Trading winner will receive an OrientalTrading.com gift card valued at $200!
Cabot Cheese winner will receive a gift basket of Cabot products valued at $75!
Burlap Fabric winner will receive a prize pack of products valued at $50!
Zulay Kitchens winner will receive one Milk Frother and a Lemon Squeezer valued at $21
It's Home To You winner will receive one wooden Santa sign valued at $65
Giveaway begins Nov. 8, 2019 and ends Dec. 6, 2019. Winners will be notified by December 13, 2019. Sponsors will ship each prize to the winner. There will be a total of six winners, one for each prize. Drawing is by random selection using the Rafflecopter widget.
Must be 18 to win. Open to U.S. residents only. Terms & Conditions a Rafflecopter giveaway