It's that grump dark time of year where I always feel oh so unmotivated. I wanted to fight that feeling create something, with Valentine's Day coming up fast this seemed like the perfect time to make a food related subway art sign.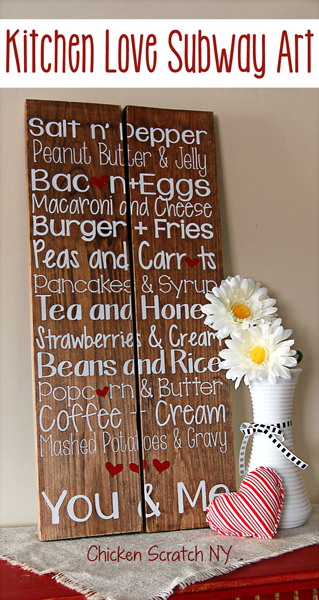 I used my silhouette for this and the weeding only took 15 years 6 months and 9 days. I kept it simple with a red and white color scheme, even with the hearts I don't think it's too over the top Valentine's Day so it can stay up all year long.
Kitchen Subway Art Supplies:
2 lengths of 24 inch long 1 x 6 board
2 lengths of 10.5 inch long 1 x 3/4 board
Silhouette or another vinyl cutter
12 x 24 inch sheet of vinyl
Hook for weeding
2 small eye hooks and wire for hanging
Instructions:
1. Stain all surfaces of the wood and let dry. Expect this to take forever, don't be like me and think this will all be done in a few hours.
After about 24 hours your should be good. Stick a piece of scrap vinyl to the front and if it sticks you're good.
2. Cut your vinyl (this was my first time cutting on vinyl without a cutting mat and I was no nervous I had to leave the room. It came out really well though!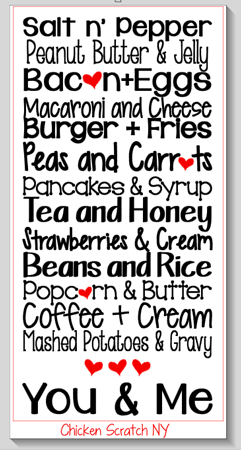 3. While you're waiting for the wood to dry weed the vinyl, again this will take longer than you'd think. Go slow and be careful of the insides of e's.
While weeding I realized I messed up my spacing and a few layers overlapped. I fixed it in the cut file so your sign will look nicer than mine.
4. After the wood dries it's time to put it all together. Lay the large boards face down and figure out how you want them spaces, I used an old metal brace to designate a scant 1/4 inch spacing.
Place the small boards perpendicular to the large boards dividing roughly them into 3rds. Screw/nail them into place (I ended up using staples because I only had 1 3/4 inch nails for the nail gun and they would have stuck out through the boards)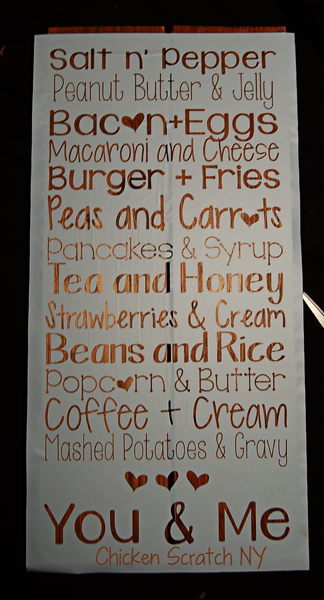 5. Apply the vinyl using transfer tape. Remember, if the stain isn't 100% dry the vinyl won't stick and you'll be sad. I was sad.
I didn't have any transfer paper so I used opaque contact paper from the dollar store. Opaque contact paper sucks so don't try it unless you're desperate.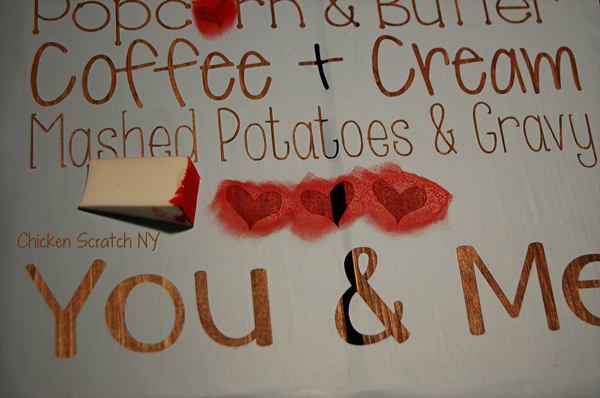 6. Use the cosmetic sponges paint over the vinyl using a VERY dry sponge and an up and down dabbing motion. Put a blob of paint on a scrap parer (I put it on the discarded vinyl backing) dip your sponge in and blot off most of the paint.
Do several thin coats and it cuts back on bleeding. I used white paint for the letters and red for the hearts. I was rushing because the baby was starting to fuss and I ended up with some oozing, keep the layers light and you'll be golden.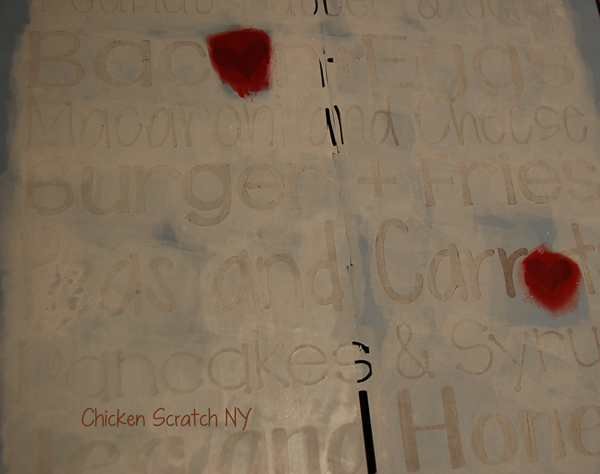 7. The paint shouldn't take long to dry and as soon as it is you get to weed the whole thing again! Technically it may not be weeding but it's the same process, again, I can't recommend the hook enough.
8. Screw the two eye hooks to the back above the top brace. String the wire through the eye hooks and secure it in a loose loop.
Hang it up!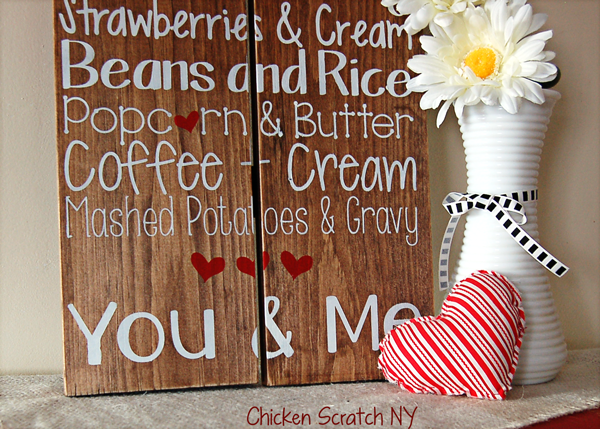 The fonts used for this project at all from Kimberly Geswein and are available at Dafont.
To the best of my memory they are: KG Behind These Hazel Eyes, KG Dark Side, KG Seven Sixteen, KG Somebody I Used to Know, KG Sweet n' Sassy, KG This Is Not Goodbye and KG True Colors. The heart is from KG Heart Doodles.
Check out my Vinyl Page for more ideas or start here: