Earlier this summer I did something I've never done. I broke the bottoms off two huge jars of pickled jalapeños that I was canning. The resulting confusion and sadness led to my boyfriend dragging me back to the farm stand where I bought another 1/2 bushel of jalapeño peppers.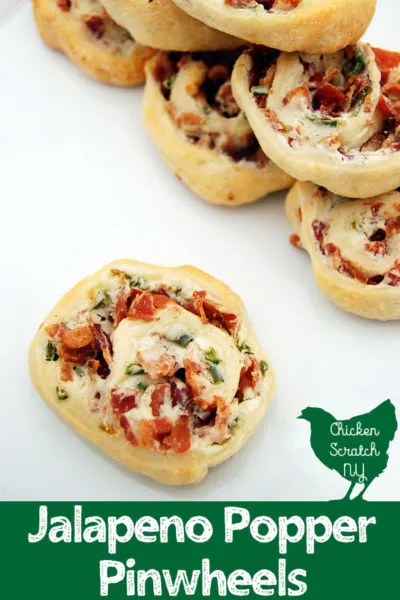 When the canning was done I was left with a pile of peppers. They needed to be turned into something awesome but easy. What better than a batch of mouth tingling Jalapeño Popper Pinwheels?
I seriously had to go America's Test Kitchen on this recipe. I started out with puff pastry and raw bacon.
Then I quickly realized I was on a crescent dough budget (seriously puff pastry is delightful but $5 for two sheets?!) and the raw bacon was just too problematic.
It made it too difficult to cut the roll into neat slices, whether that was my terrible knives or lack of skill is up for debate but I'm just going to blame the bacon.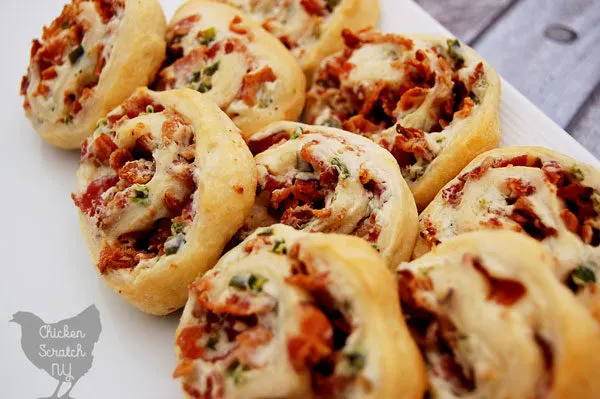 It turned out that cooked bacon was much easier to work with. Thanks to this disaster series of experiments I also learned the absolute best way to cook bacon!\
I used my cast iron pizza pan, laid out one layer of bacon and threw it under the broiler. Turn it once and it's done.
Leave the grease on the pan until it solidifies and then just scrape it off, as a bonus nothing makes cast iron happier than bacon. It's going to give you a great layer of 'seasoning' which in cast iron lingo isn't related to flavor but the magical non-stick proprieties you get from fat + hot cast iron pans.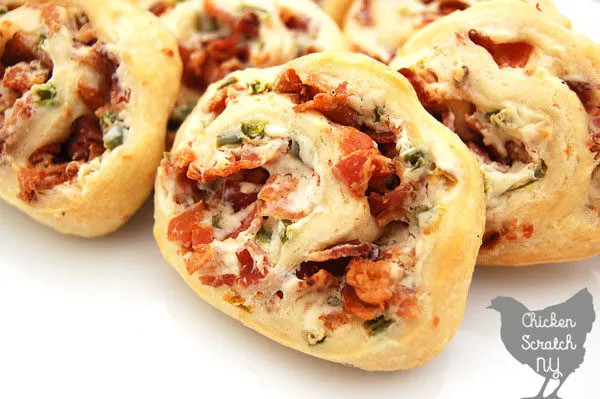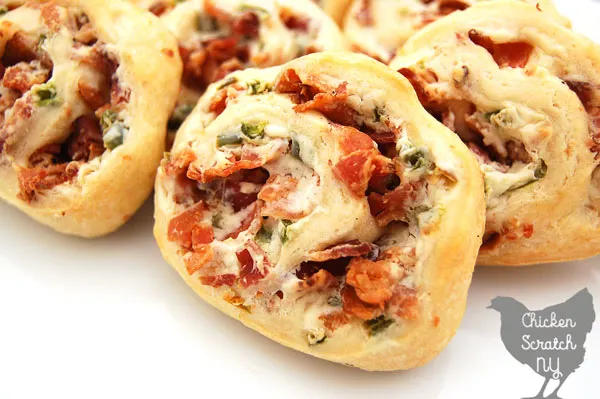 Don't over cook the bacon, it's going back in the oven once it's all rolled together so you don't want it super crunchy. Pull it out of the oven when it's still pliable and stick it on a stack of paper towels.
I cooked a pound of bacon for this recipe but I didn't use a pound of bacon. I had to test it of course, you can't cook bacon and not eat it! More realistically there is a pound-ish of bacon.
Also, in the name of complete transparency I never measured the cream cheese. I took my spatula and pulled out roughly half the container. I'm not sure about you but I don't have a lot of extra time to measure whipped cream cheese these days.
Yield: 20 -24 pieces
Jalapeno Popper Pinwheels - 4 Ingredient Appetizer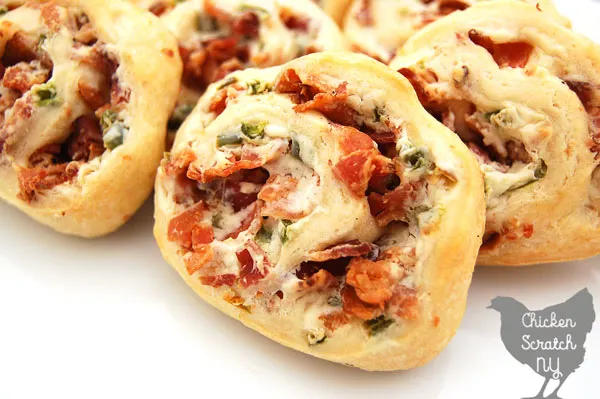 Whip up an easy appetizer with this 4 ingredient recipe for Jalapeno Popper Pinwheels. Enjoy the game day favorite flavors wrapped up in buttery pastry
Ingredients
1 package of crescent dough
3-6 jalapeño peppers, seeded and chopped fine
1/2 8 oz. tub of whipped cream cheese
1 pound-ish bacon cooked and chopped
Instructions
Preheat oven to 375
Mix jalapeños into cream cheese. Use more peppers for a hotter flavor
Roll out crescent dough, use your fingers to press seams together. If you do this on waxed paper or parchment it's easier to roll
Use a spatula to slather the crescent dough with the cream cheese mix leaving about an inch empty on one long side
Sprinkle on the chopped bacon and gently press bacon into the cheese
Roll up the dough ending with the inch of un-cheesed dough so it's dough-on-dough and it will hopefully seal a little
Throw it in the fridge for about 20 minutes to harden up
Slice into 1/2 inch pieces and lay on a cookie sheet
Bake for 12-15 minutes or until dough is puffed and golden
Transfer to a cooking rack
Serve warm or cold
Check out my Recipes page for more ideas or start here: