Rhubarb isn't just for dessert! The tart flavor plays well with meat, especially pork. Today we're making a Rhubarb BBQ Ribs in the Instant Pot.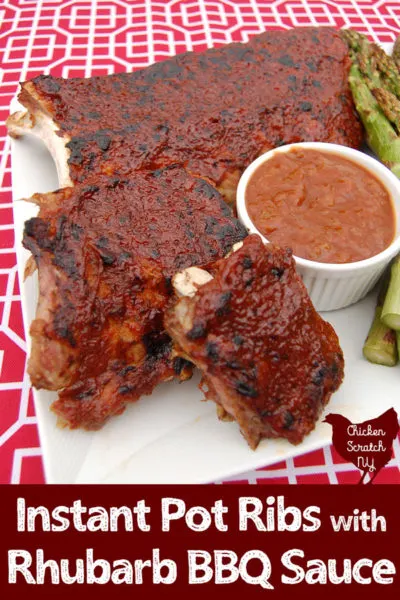 The three things I do most often in my instant pot are hard boiled eggs, soup and ribs. It takes about an hour from start to finish to make ribs that way. I'm not sure about you but for me, I'm willing to wait a whole hour to have delicious, fall off the bone ribs.
There are three parts to this recipe, the dry rub, cooking the ribs and the sauce. After getting slathered in sauce the ribs take a trip under the boiler to get everything hot and caramelized.
You can use any sauce you like for your ribs but this is Rhubarb Week and we're going all in with it. In my recipe for Rhubarb Mimosas I talked about making rhubarb juice and how it all cooks down to a paste.
That's what we're relying on here. I'm super lazy in the kitchen way too clumsy to be tossing hot liquid in a food processor and I broke my immersion blender so I really needed the rhubarb to break down on it's own.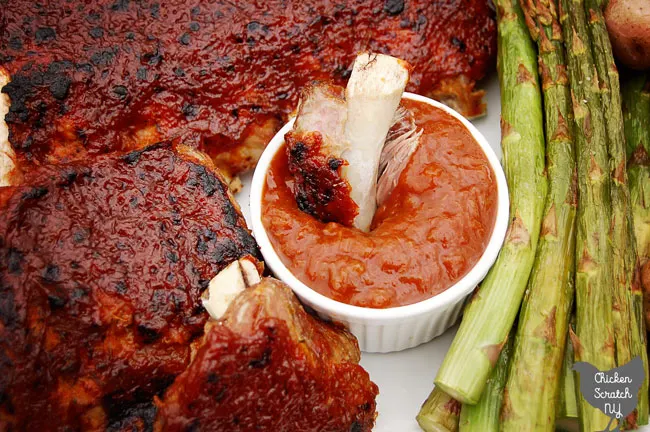 Luckily, with time and a little heat it does just that. It's not a completely smooth sauce, I wanted to add in some onion and that doesn't dissolve like rhubarb. But if you chop your onion pretty small you won't even notice.
Start out in a medium sauce pan sauteeing the onion in a little oil until it's translucent and limp. Dump in the sliced rhubarb, try to keep the slices 1/4 inch or small but it's not a big deal if you get a little longer.
Add the liquids and seasonings then stir it all up. Pop the cover on and let it simmer, stirring occasionally until all the rhubarb has fallen apart. Depending on how thick your rhubarb is this can be 10-20 minutes.
This is a tart sauce, if it's too tart for you add more sugar. If you want a little heat you can add in some hot sauce as well. That's the joy of cooking. You get to ignore everything I'm telling you and make it suit your tastes!
Meanwhile get your ribs going. Start by letting them come up to room temperature. I get mine at Aldi's and they come sealed in a plastic packaging. Pull them out and blot with paper towels.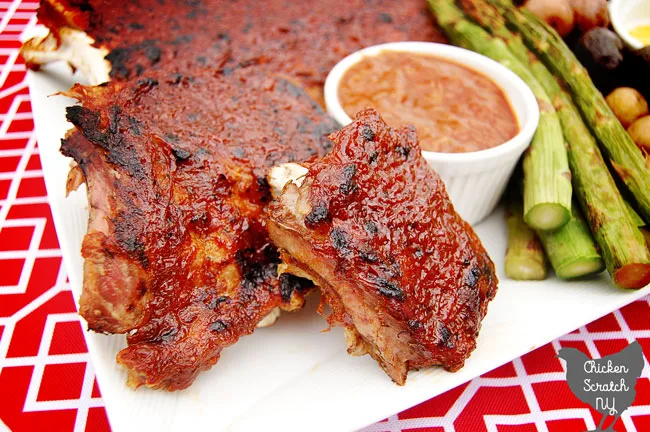 They have a membrane on the back, you should pull this off. I'll be honest, I try each time but if it's being a pain I just leave it. It's just me and my boyfriend, I'm not cooking for Gordon Ramsay! Whether you get the membrane off or not you then add the dry rub.
Set up the IP with a steamer rack, pour your liquid of choice in the bottom. I usually go 1/2 apple cider vinegar and half water. You can also use apple juice, broth or straight water.
Put the ribs on the rack, I do meaty side in. Lock the lid and seal the vent. Set to cook on High Pressure for 24 minutes. Let the steam release on its own for 10 minutes then manually release.
The ribs will be very tender when you try to pull them out. I've found tongs are the best option for removing them but usually they'll still separate into a few pieces.
Place them meaty side up on a cast iron pizza pan or whatever you use under the boiler. Now it's time for that deliciously tart BBQ sauce! Slather it on thick and pop them under the broiler on high until the sauce is bubbling and starting to blacken.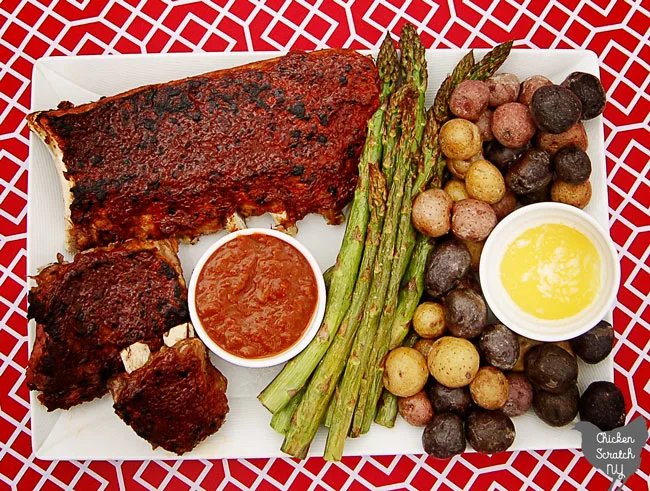 I served my Rhubarb Ribs with Salt Potatoes and some broiled asparagus. One thing I grow almost as well as rhubarb is asparagus. Anything you can plant and ignore is golden for me 😉
Don't forget to PIN this to your Instant Pot Recipe page!
Check out all the Rhubarb Week Posts: Baked Oatmeal with Rhubarb, Blueberries & Pecans, Rhubarb Mimosas, Rhubarb Panna Cotta with Strawberry Balsamic Sauce & How to Grow Rhubarb
Yield: 6
Instant Pot Ribs with Rhubarb BBQ Sauce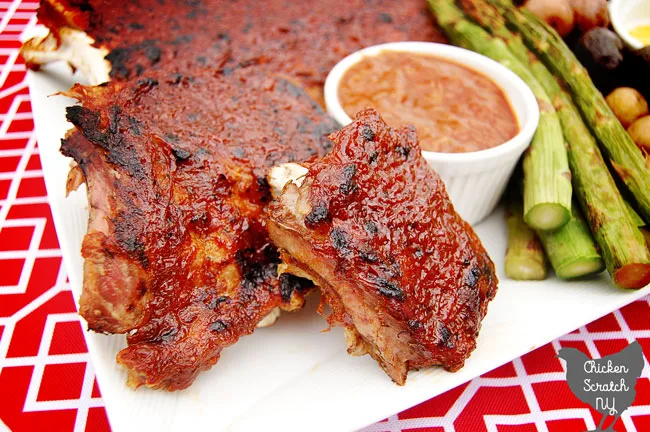 Get fall off the bone ribs on your table in about an hour with your Instant Pot. Switch up the flavor with a homemade tart and savory Rhubarb BBQ sauce slathered on right before a quick trip under the broiler
Additional Time
5 minutes
Total Time
1 hour
5 minutes
Ingredients
Dry Rub
1 tsp dried thyme
1 tsp paprika
1 tsp mustard powder
1/4 tsp black pepper
1/4 tsp garlic powder
Ribs
1 Rack baby back ribs
1/2 cup apple cider vinegar
1 cup water
Rhubarb BBQ Sauce
1 tbsp coconut or olive oil
1/2 cup chopped onion
2 cups sliced rhubarb
1/4 cup apple cider vinegar
1/4 cup tomato paste
2 tbsp Worcestershire sauce
1/2 cup brown sugar, add up to another 1/2 cup for a sweeter sauce
1 tsp mustard powder
1/4 tsp salt
Instructions
Instant Pot Ribs
Blot ribs with paper towels, remove membrane.
Combine all dry rub ingredients. Sprinkle over ribs and rub into meat
Set steamer rack inside the inner pot of the Instant Pot. Pour in water and apple cider vinegar
Set ribs in pot, meaty side in. Add lid and close vent
Cook on [High Pressure] for 24 minutes. Allow to naturally release for ten minutes (display will show L0:10) and push the vent to manually release the rest of the pressure
Transfer ribs to baking pan, slather with sauce and place under the broiler until sauce is bubbly and beginning to blacken in some spot.
Rhubarb BBQ Sauce
Sautee onion in oil over medium heat until translucent and starting to caramelize
Dump in sliced rhubarb, apple cider vinegar, Worcestershire sauce, brown sugar, tomato paste, mustard powder and salt, stir until tomato paste is dispersed. Allow to come to a simmer
Reduce heat to low and cover. Stirring occasionally until rhubarb breaks down and sauce begins to thicken
Notes
You can make the sauce ahead of time and store in the fridge or cook it while the ribs bake.
Plan for about 1 hour for the ribs in the instant pot between coming to pressure, cooking and the pressure release.
Check out my Recipes Page for more ideas or start here: