I eat a lot of soup. It's easy, it's cheap and it's so flexible. You can make it a million different ways and never get bored! Getting my Instant Pot has really upped my soup game and it's responsible for this Chicken Sausage Soup recipe.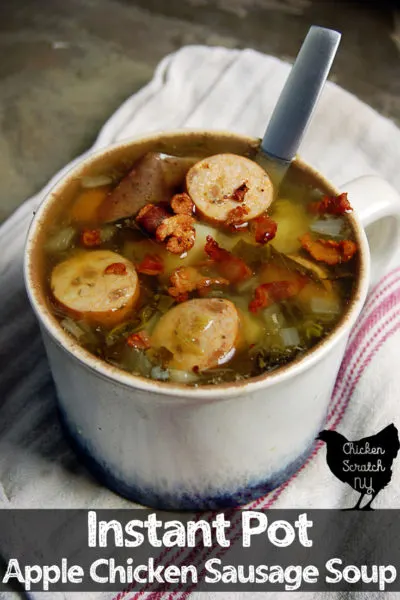 I have nothing against making soup on the stove, that's how I did it for years. But its just so much faster in the Instant pot! And I don't know about you, but I can't cook anything liquidy on the stove without boiling over and making a huge mess. If you're a capable adult you might not have that problem 😉
I talked about my Instant Pot discovery in my Easy Instant Pot Chicken Dinner recipe but if you aren't familiar the IP is a steam based pressure cooker. Once it comes to pressure it cooks incredibly quickly! I have the 8 quart Duo.
There are tons and tons of free recipes floating around Pinterest and the internet for the IP. But some of them aren't that great. Most IP recipe fails come from not having enough liquid or having liquid that's too thick. Since soups are basically liquid with stuff in it so it's pretty fool proof.
I've made quite a few batches of soup so far and every one has been a little different. I like to use up whatever I have in the pantry, that's where the Roasted Tomato & Pineapple Chicken came from.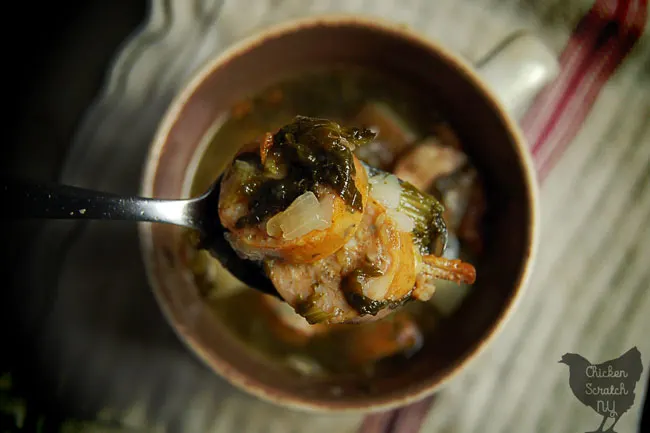 A while ago I had picked up a package of Sweet Apple Chicken Sausage by Al Fresco. It's in with the hot dogs and kielbasa. I wasn't sure what i wanted to so with it but the flavor combo was too tempting to pass up. I've also made it with Apple Chicken Sausage from my beloved Aldi's house brand. Both are delightful.
Using my instant pot I was able to whip up a batch of delicious soup with only a little bit of effort. I started the way I start all my soups, with bacon and onions. The saute function really comes in handy for building up your soup. You can't 'cook down' with an instant pot so it's important to get a lot of undiluted flavor into your recipe.
I buy 'bacon ends' which are irregular pieces and look nothing like typical bacon. It's also much cheaper and I don't usually make bacon strips so I'm ok with the oddness. I chop it up and let the fat render off.
When it looks crispy scoop out the bacon and set it on a paper towel to drain, dump in the onion and stir it around in the delicious bacon fat. Let it sweat, get soft and start to caramelize. Pour in a little stock to deglaze and scrape up the brown bits with a flat wooden spatula. Then add in the frozen spinach, potatoes and the rest of the broth.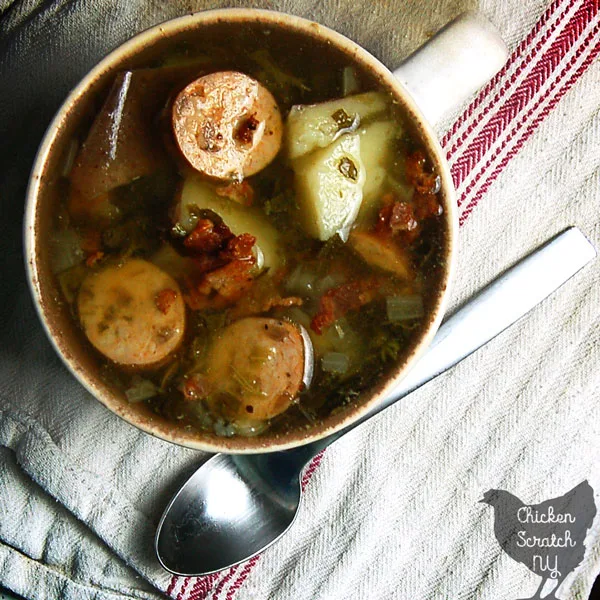 Close the lid and switch to high pressure for 4 minutes. Don't do what I did and hit 'Soup' see four hours and translate that in your mind to four minutes… The instant pot remembers your settings and last time I used 'Soup' I was making bone broth.
Let it naturally release for 5-10 minutes then open the valve. Dump in the sliced sausage (it's precooked so you only need to warm it up). Add salt and pepper to taste, I added a generous pinch of kosher salt and a few turns of pepper. How much salt you need will depend on the broth you use.
Don't forget to PIN this to your Instant Pot Recipe Board!
Apple Chicken Sausage Soup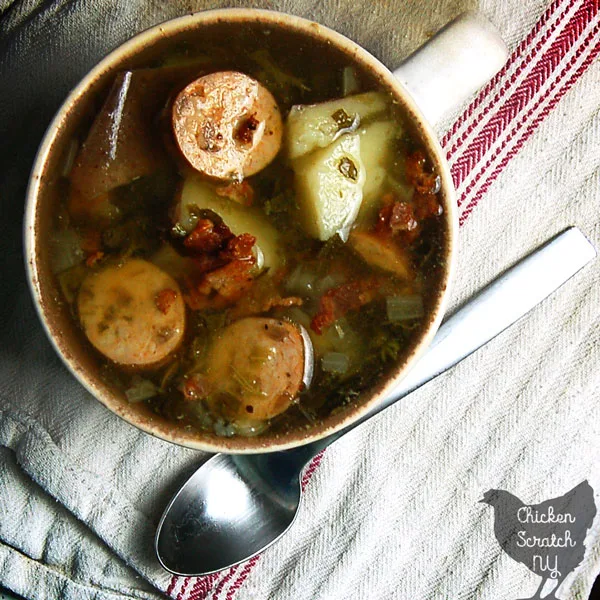 Throw together a mouthwatering Instant Pot soup loaded with slices of apple chicken sausage, chunks of red potato and plenty of spinach
*Cook time is an estimate
Ingredients
1/2 cup Bacon, roughly chopped
1 Onion, chopped, large
4 Red Potatoes, about palm sized
6 cups Chicken Broth
1 brick Frozen Chopped Spinach
1 package Apple Chicken Sausage, 1/4 inch slices
Instructions
Turn pot to [Saute] on high and add the bacon, cook until most of the fat is rendered out. Scoop out and place on a paper towel
Add onion and stir well. Allow to cook until onion has softened
Hit [Cancel] and select [Pressure Cook] making sure it's set to high pressure and for 4 minutes
Pour in some broth and scrape up the darkened bits on the bottom of the pan, add the potatoes, frozen spinach and the rest of the broth
Close the lid, make sure the vent is closed
Allow to come to pressure and cook. Let the pot release pressure naturally for 5-10 minutes before opening the vent
Stir in the sausage and allow it to warm through, it's precooked so it doesn't have to hit a specific temperature
Add salt if needed, this will depend on the saltiness of the broth you used
Some more dinner recipes to try: