I'm off my game (again!) I'm always ready for Halloween in August and then I blink and it's October 20th. My kid doesn't even have a costume! For the record she's going to be a bat and the fabric is somewhere on my kitchen table.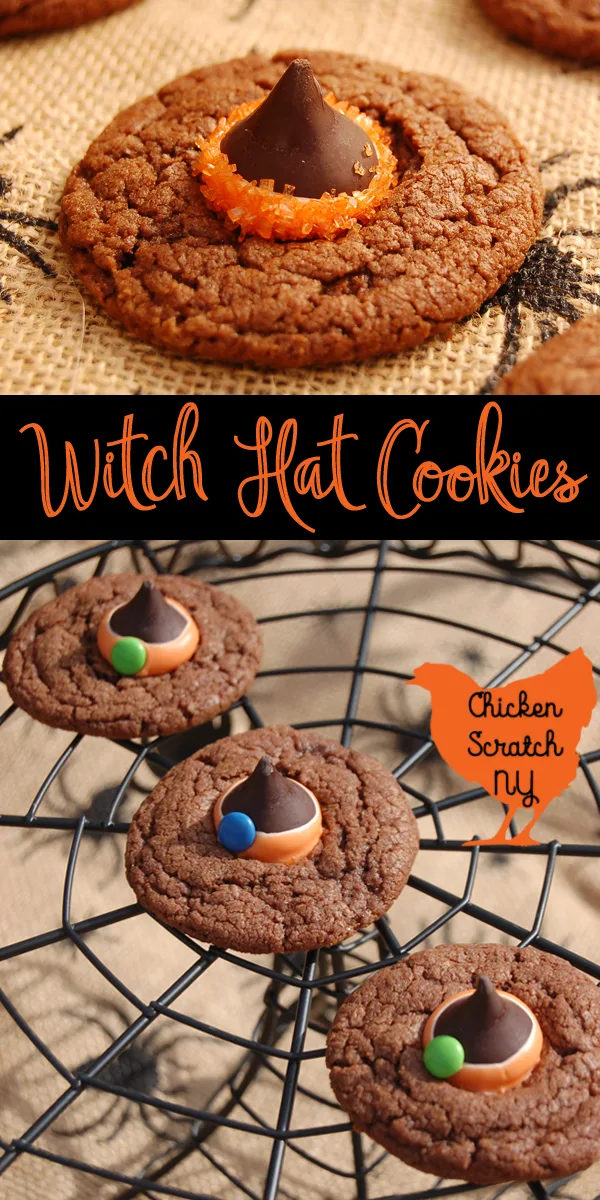 I was feeling like a Halloween failure so I put on Hocus Pocus and got to baking. You've probably made a version of these cookies, I've seen them called peanut butter blossoms but growing up we called them the kiss cookies.
This chocolate hazelnut twist on the classic is perfect on it's own but with a little pizzaz they become fancy witch hat cookies. I've given you two options for decorations but two other options in case you're not a fan of candy melts are a ring of colored icing or candy laces held in place by a dab of icing.
If you take either of those routes wait a few hours until the cookies are completely cool and the kisses have reset (they get very soft and if you accidentally smack them with the next layer of your 3-Tier Cooling Rack
you might want to cry a little)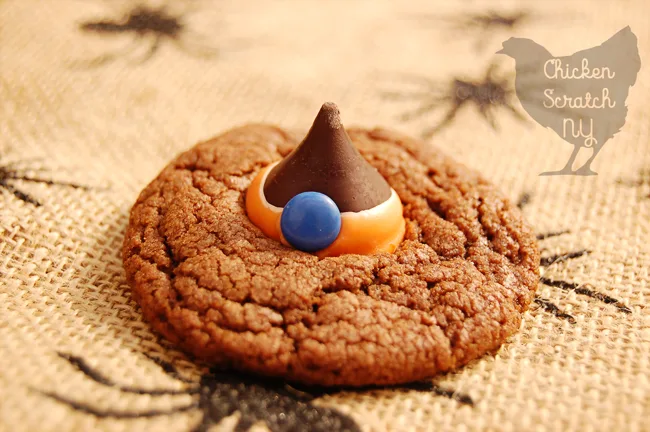 Yield: 30 -35 cookies
Witch Hat Halloween Cookies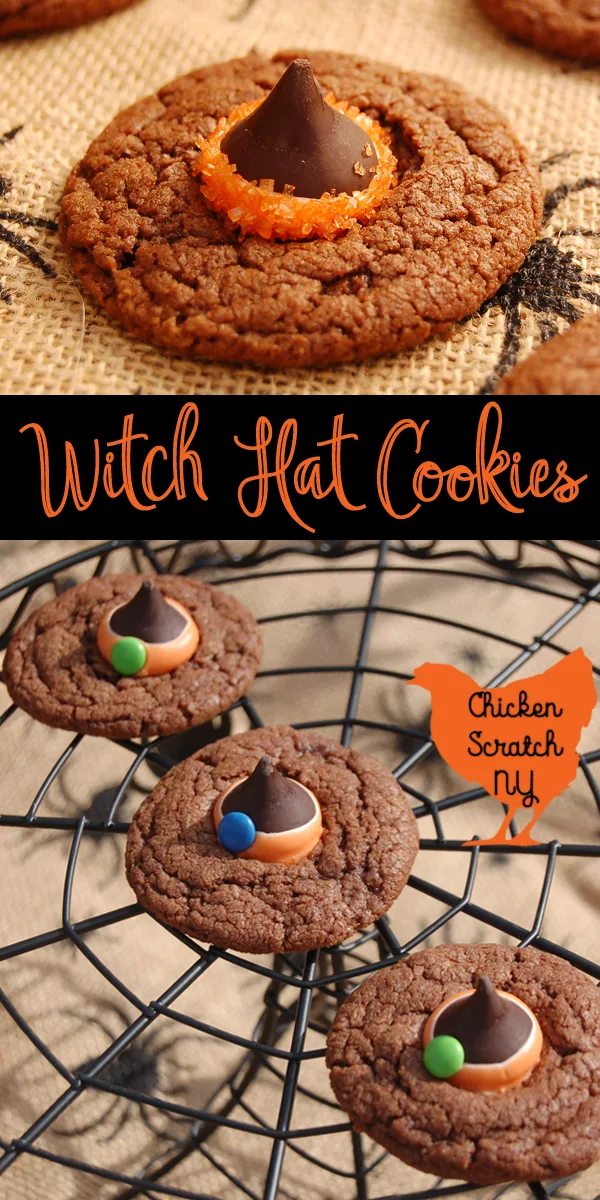 Fancy up simple Hershey Kiss cookies to make adorably sweet Witch Hats perfect to help your little monsters celebrate Halloween
Ingredients
35-45 Unwrapped Dark Chocolate Hershey Kisses
1/2 c Orange Candy Melts
Orange Sanding Sugar
1/2 c Butter, softened
1/2 C White Sugar
1/2 C Brown Sugar
1/2 C Nutella
1 Egg
1 1/4 C Flour
1/4 C Cocoa Powder
3/4 t Baking Soda
1/2 t Baking Powderx
Mini M&Ms
Instructions
Preheat oven to 375F, if your butter is in the fridge (because you cats and/or dog enjoy stealing and consuming the entire stick...) this is a good time to stick it in the mixer bowl to soften
Heat the candy melts in a shallow cup (glass ramekins are great for this) for 30 seconds, stir and heat for 15 second intervals until completely melted
Place a sheet of parchment or waxed paper on the counter. Dip the bottom on a kiss in the candy and then immediately into the colored sugar, do this for half of the kisses. You have to move fast or the heat from your hands will melt the candy
Dip the other half in the candy melts but skip the sanding sugar. Set the kisses aside until the cookies come out of the oven
Add the white and brown sugar, the Nutella and the egg to the butter in thebowl of the mixer. Mix on med-low until well blended
Add in flour, cocoa powder, baking powder and baking soda and mix until dough forms. It will seem really dry and unlikely to come together but it will!
Place one inch balls 2 inches apart on ungreased cookie sheets.
Bake for 8-10 minutes
Immediately add the kisses, transfer cookies to cooking rack
Add a mini M&M to the 'hat band' on the cookies without sanding sugar