We love books. I have a wall of bookcases filled with mine and the girls have their own books. I even have a giant tub of Christmas books that I hide away. But the Halloween books? They stay out all year of course!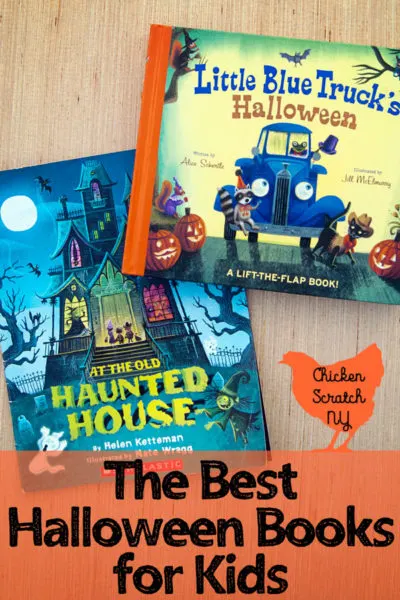 Halloween is my favorite holiday, that's probably why I can read EEK! Halloween fifty times and never get sick of it. I can actually recite that book, no reading needed; and not to brag… But I do a mean robot voice where needed.

We might as well start out with EEK! Halloween, it's about a group of very nervous chickens confused by the Halloween activities. It's a quick read and a board book so it's very sturdy. It's by Sandra Boynton the author of another favorite of ours Barnyard Dance, if you're familiar with that it's a very similar style.

Another Halloween board book my kids love is Seeking a Witch. I really enjoy reading this one because it has a fun cadence. If you read a lot of kids books you'll know what I mean. Some times they have really choppy phrasing and no rhythm.
Goodnight Goon is a fun twist on Goodnight Moon, it's almost too spooky for Mary. This fun night time story follows along with the original but everything is a little creepy. It was given to me at my baby shower, that should tell you something about my and about my friends 😉
One more short read is Llama Llama Trick or Treat. I've also got this one memorized. This was the book that finally got Mary to say trick or treat!
My girls absolutely live for lifting the flaps in books. I have a few with more tape than book after many surgeries to fix ripped pages. Of course we have a few Halloween favorites that fit the bill.

Mary and Kat got Where is Baby's Pumpkin? from their Great Grandma Mary and it's always in rotation. As a bonus there are lots of opportunities to ask my kindergartner to count things!
One more lift the flap book we love is Little Blue Trucks Halloween. Little Blue Truck is a favorite of ours, and his Halloween story is just as much fun as the others! Little Blue Truck is heading to a Halloween party and picking up his friends all along the way.
Each stop follows a repetitive pattern that the little ones quickly pick up on. The girls love guessing who his hiding beneath each flap before lifting them up and making the appropriate animal noise.
Even though most of our favorite Halloween books are short there are a few longer ones we enjoy. My kids are both young and the attention span of a 2 year old is 1/2 that of a golden retriever on a tennis ball court. Despite that Kat will gladly sit though these stories.
My kids were first introduced to Room on the Broom through the Amazon tv show. Both the book and the show are adorable. Like the other books on this list it has a great message, this one is about working together and the importance of friends.
Hedgehug's Halloween is extra special to us because Mary was a hedgehog for her first Halloween. This whole book is a tongue twister! Hedgehug is a hedgehog desperately in need of a costume.
Even though it gets a little sad it all turns out ok in the end with some help from his forest friends. It has a great message about friendship, something that's missing is most of the shorter books.
At the Old Haunted House is my current favorite. When Mary started preschool I was pretty excited for the Scholastic catalogs. I've been reading to her since she was born and I couldn't wait to go through those catalogs with her.
I remember how excited I was when I got to pick out a new book when I was young and Mary was just as excited. We were extra excited when the time came to pick out Halloween books! We got a few that were… not awesome but At the Old Haunted House turned out to be awesome. I've been reading it for the last year and I'm still not sick of it, if you have kids you understand how amazing that is!
It's a counting book and if you happen to be the kind of reader who throws in character voices and different accents you're going to love it. It is a bit of a tongue twister when you really get going but it has a great flow and sing-song cadence to it.
The Littlest Mummy is the last book I'm going to share today. I'll be honest, it's not exactly my favorite but my girls love it. Or at least Mary loves it, and Kat loves everything Mary loves.
It's about a family of mummys preparing for a big Halloween performance. Mae is the littlest mummy and is too small for the dance. But she haves the day with help from a friend. I think Mary loves the book because she is the youngest in her grade
What are your favorite Halloween book for kids?
Don't forget to PIN this to your Halloween Board! Check out my Halloween page for more ideas or start here: