I bought a bag of red onions almost a month ago with the intention of making a BBQ Chicken Pizza. Never happened, it's been so hot that even thinking about turning the oven on is too much.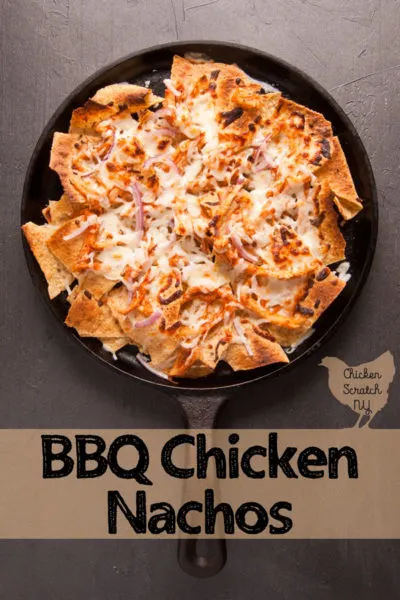 You do need the oven for these BBQ Chicken Nachos but thankfully not nearly as long! And since I'm the type to make her own pizza dough this is a huge time save over the pizza option.
I can't think of anything easier or faster than nachos in general, especially if you have happen to have the ingredients prepared ahead of time.
We're big chicken eaters here, I bake chicken thighs at least twice a week for me and the girls. I was never big on shredded chicken until I got an Instant Pot, now it's in constant rotation.
I buy large chicken breasts from Aldi's for my shredded chicken. I actually buy everything at Aldi's, including the chips, BBQ sauce and cheese I used for these nachos.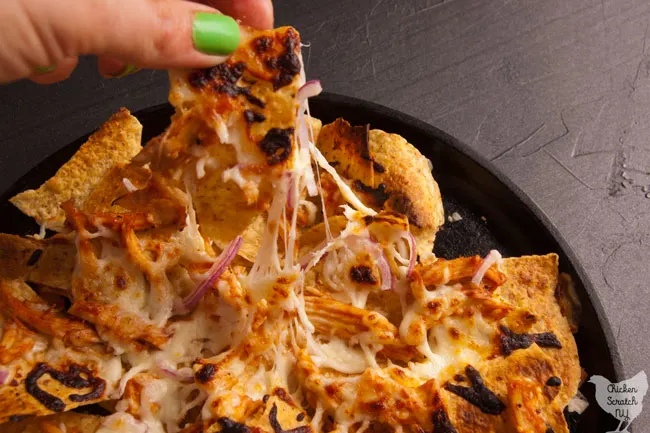 For nachos you want a nice melt-y cheese, I went with mozzarella mostly because I was still convinced I wasn't lazy and that I would be making a pizza.
The only other ingredient you need is a red onion. Fresh, thinly sliced red onions do wonders for these nachos, they add a little bit of fresh flavor and some onion-y pizzaz.
Everything for these nachos can be done ahead of time from shredding the chicken to slicing the onions. Meaning they're great party food or even a quick dinner.
Nachos are a great food for using up left overs, all you really need is chips and cheese, but you can add just about anything for flavor.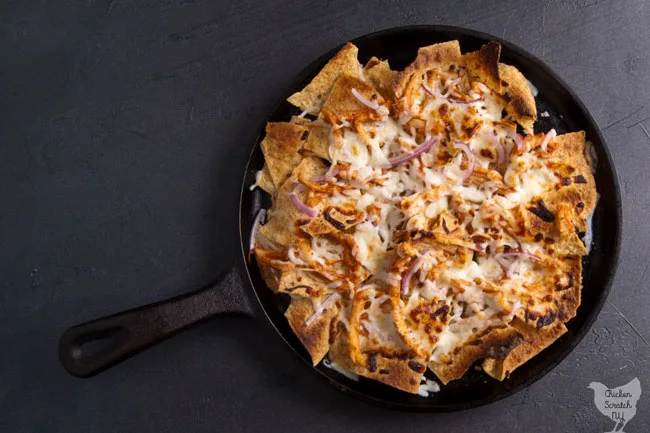 I love to make nachos on a small cast iron griddle or on my giant cast iron pizza pan depending on the group you're serving. They slide right off so you can easily serve them without worrying about burning anyone on the pan.
There are a few secrets to making great nachos, one is the chip disbursement. You want a more-or-less flat but overlapping layer of chips. I say flat because we're throwing them under the broiler and anything sticking up too high is going to be burnt before the cheese is all melted.
The next tip is to put down some cheese before the toppings. This layer of cheese will melt to the chips and help hold everything together. Then you add your toppings, spread them pretty evenly so you get some deliciousness in every bite.
After you get your toppings situated add more cheese. How much is a personal decision. I like to go pretty heavy but not so much that you can't see the chips or toppings. You want everything to melt before it starts to burn and that won't happen with a two inch layer of cheese 😉
The final tip is to watch them, they go from perfectly toasted to charcoal in an instant.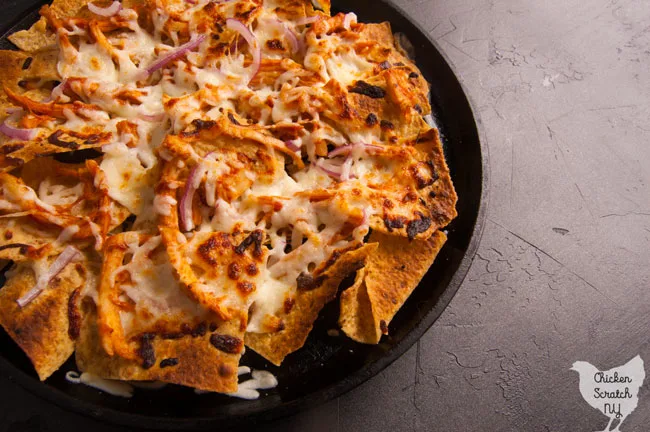 The lat tip is to just have fun, it's nachos, not a job application. If one batch doesn't turn out quite right you can adjust on the next one.
Nachos are also a great meal to get the kids involved with. Even a 2 year old can help spread out chips and sprinkle cheese! Just watch out for any plastic dinosaurs that might hitch a ride into the oven…
What do you like to eat on your nachos? Please leave your answer in the comments, I'd love to try something new!
Don't forget to PIN this to your Recipe board!
Yield: 2
BBQ Chicken Nachos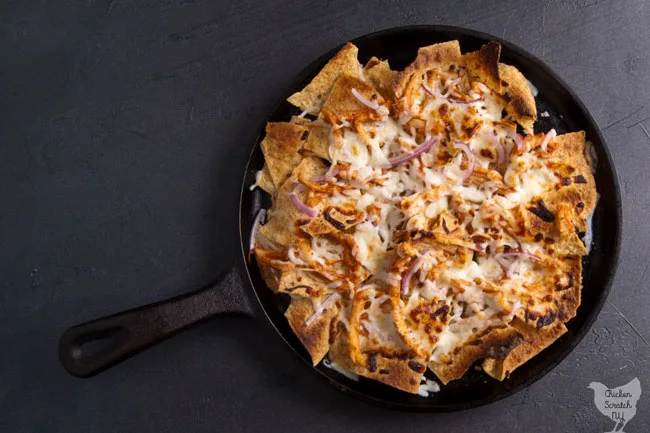 Delicious BBQ Chicken Nachos with red onion and tons of melted cheese are sure to be a hit at the dinner table or even at your next party. They're quick and so easy to prepare! Make this recipe a part of your quick meal rotation and you'll never be disappointed with dinner again
Ingredients
Shredded Chicken Breast
BBQ Sauce
Sliced Red Onion
Shredded Mozzarella Cheese
Tortilla Chips
Instructions
Make sure the rack is in the second position down and turn the broiler to high
Place a layer of chips on the pan, over lapping but not in a pile
Toss down a light layer of cheese, scatter the chicken and red onion all over
Add more mozzarella cheese and pop under the broiler
Remove when the cheese is melted and starting to brown.
For more ideas check out my Recipes page or start here: