Every year I try to come up with an easy DIY Christmas gift that the girls can help me with. They're still young so I try to keep things simple.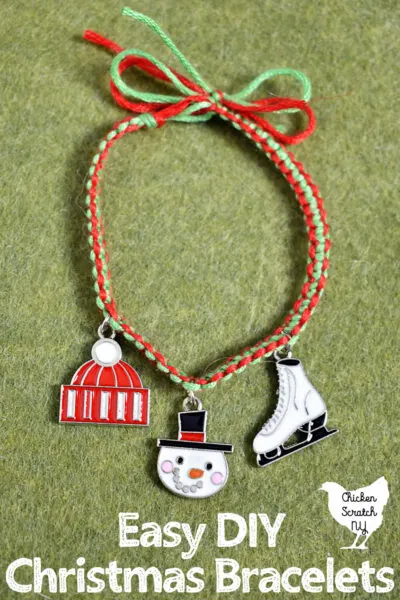 We decided to make bracelets and I ended up creating two different styles. The first is super easy using elastic cording, large beads and enamel charms, my little ones were able to help without a problem.
The second style is a bit more involved, I used embroidery floss and macrame knots to make bi-colored bracelets with enamel charms. They're a bit more work but I think they're a great activity for older kids.
I would like to thank Oriental Trading Company for sending me the supplies and sponsoring this post! This post does contain affilliate links to OTC, check out my affilate disclosure for more info.
---
Welcome to the 5th annual 12 Days of Holiday Ideas event, hosted by Shirley of Intelligent Domestications and Erlene of My Pinterventures Between Nov. 11th and December 6th there will be hundreds of new ideas shared by over 55 Co-host bloggers!
Go here (add your kick off post link) to see our kick-off collection of Holiday ideas as well as all of this years talented participating DIY and Foodie Blogs. Download this years November and December calendars with all of the topics and dates so you can make plans to watch for ideas!
We are hosting a BIG GIVEAWAY from our Sponsors this year! Be sure to scroll all the way down for more information and to enter to win!
---
Ugly Sweater Elastic Bracelets
If you have limited time or small kids this is the way to go! All you need is elastic cord, assorted plastic beads and enamel charms.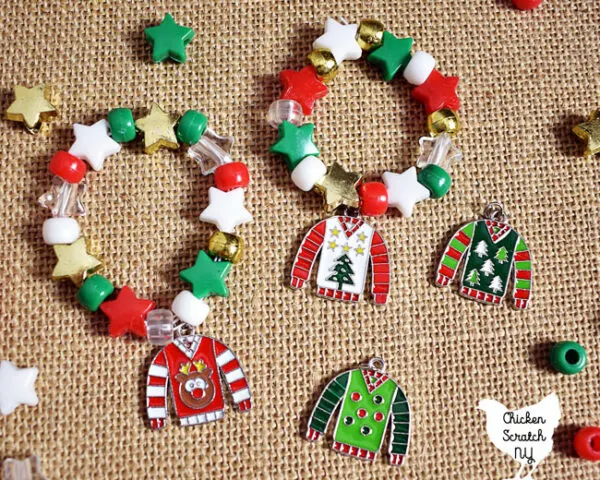 I misjudged the size of the cord and it was much thinner than I realized. TO make it thicker I doubled it over and used two strands instead of one.
String the beads on the elastic, add the charm in the middle, more beads and tie it off with a basic knot.
Aren't these ugly sweater charms the best? They're pretty big and I think they they work well with the chunky plastic beads. They come in a pack of 12 with 4 different designs.
Christmas Charm Friendship Bracelets
If you're looking for something a little involved you should try making a few macrame bracelets. You'll need red & green embroidery floss, two safety pins, enamel charms and scissors.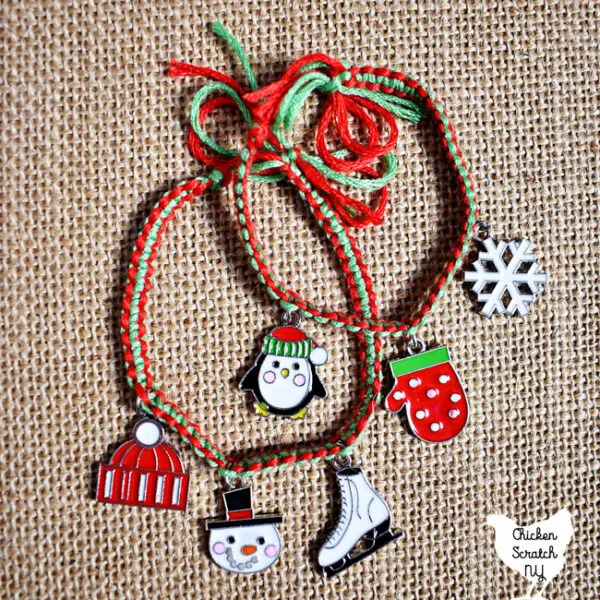 I used three charms on each of these bracelets, they're smaller than the sweater charms and they look cute in groups.
Measure out the length of floss you need to go around the wrist plus a few extra inches for tying. Without cutting the floss tie a small loop. This short piece will be the center of the bracelet that you'll tie your knots around.
Leave a long tail, about 3x as long as the piece you measured in the last step. Pin the top to a pillow or your jeans, you want to keep the center strands taut while you work.
Slip the charms onto one or both of the center pieces and then tie a small knot in the bottom and use the second stately pin to secure the bottom.
These are photos from my macrame ornaments, but they get the point across, for these brecelets the metal ring is going to be the pinned down embroidery floss you're working around.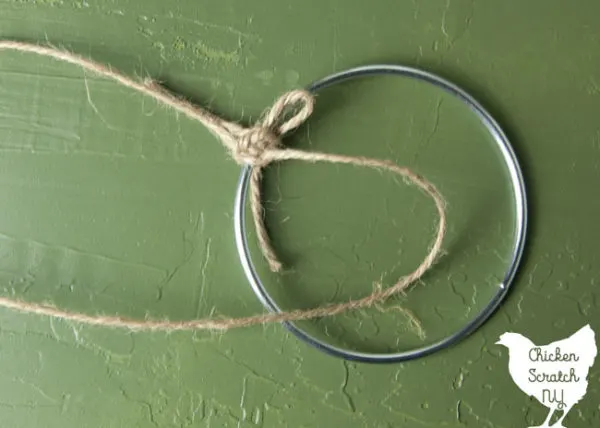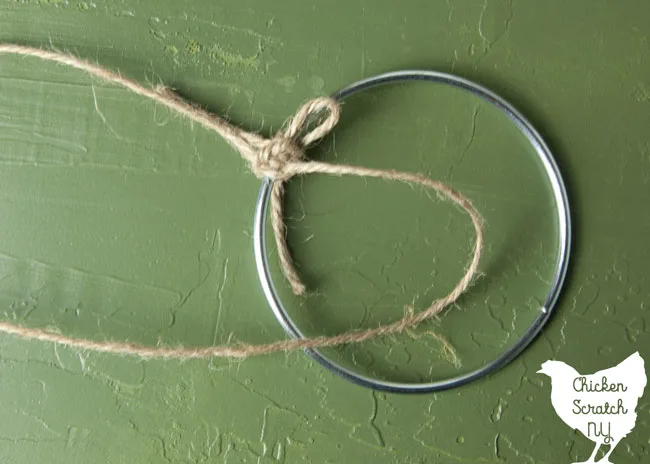 Made a large D on the right on the bracelet with one of the long pieces.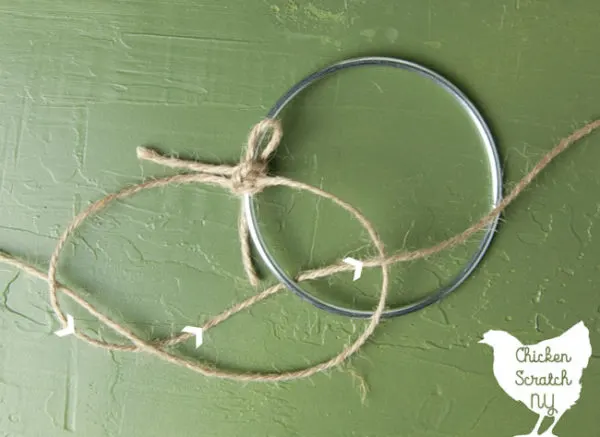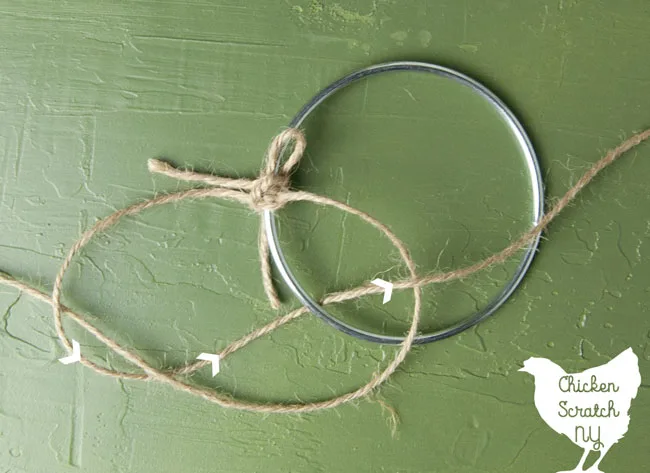 Take the other long piece of floss and take it over the tail, under the bracelet core and then up through the D. Pull it snug and repeat on the other side.
Unlike the ornaments that twisted around we want to keep this flat so we're going back and forth between sides.
Once you've completed about an inch and a half slide the first charm up. keep adding knots, after another inch slide up the second charm. Repeat until you've added all the charms. For the kids bracelets I tried to keep about an inch between all the charms.
Keep adding more knots until the bracelet is long enough. Unhook the safety pins and tie off the end of the bracelet.
---
MEET OUR SPONSORS who have generously donated fabulous prizes for the Big Christmas Giveaway!
DecoArt winner will receive a prize package valued at $100!
Dixie Crystals/Imperial Sugar winner will receive a Keurig Coffee Maker valued at $100!
Oriental Trading winner will receive an OrientalTrading.com gift card valued at $200!
Cabot Cheese winner will receive a gift basket of Cabot products valued at $75!
Burlap Fabric winner will receive a prize pack of products valued at $50!
Zulay Kitchens winner will receive one Milk Frother and a Lemon Squeezer valued at $21
It's Home To You winner will receive one wooden Santa sign valued at $65
Giveaway begins Nov. 8, 2019 and ends Dec. 6, 2019. Winners will be notified by December 13, 2019. Sponsors will ship each prize to the winner. There will be a total of six winners, one for each prize. Drawing is by random selection using the Rafflecopter widget.
Must be 18 to win. Open to U.S. residents only. Terms & Conditions a Rafflecopter giveaway