Frosty winter windows, classic Christmas tunes and the flicker of candles in a mirror. Serene and peaceful. Something we all need in our lives around the holidays right? It can be hard to find in the weeks and days before Christmas but this project will help you find a little calmness in the crazy. It was first shared a few days ago with my Christmas hutch decorations.

You will need:
Large Mirror (I bought an over the door mirror from Walmart for $6)
Frost Effects Paint (NOT the etching cream) and brush*
Vinyl & Cutter
Transfer tape
Painters Tape
Exacto Knife
Start by cutting your vinyl out. Put the text along the bottom of the mirror using the transfer paper. This was my first project using transfer paper and that stuff is amazing! Now whip out the painters tape. Place a generous line (2-3 pieces) above the text in a sloping line. Try to get your dog in all the pictures, bonus points if the light reflects in his eyes and he looks like he's going to eat you.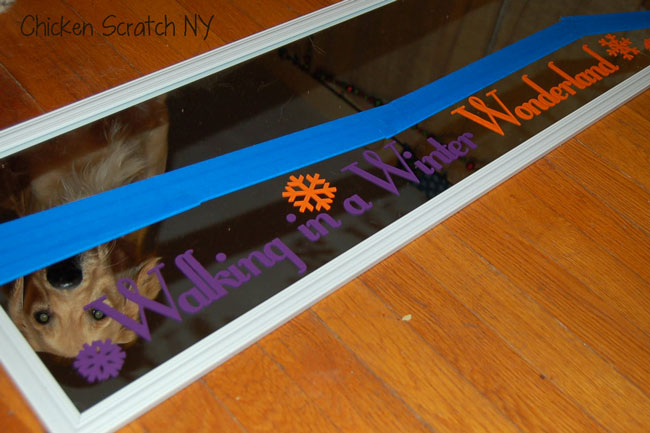 Take your exacto knife and carefully slice a wavy line in the tape. Remove the bottom portion of the line. Add your snowflakes in, putting the actual snowflake cutouts below the tape line and the 'negatives' above. Try to get a flattering picture of your husband here.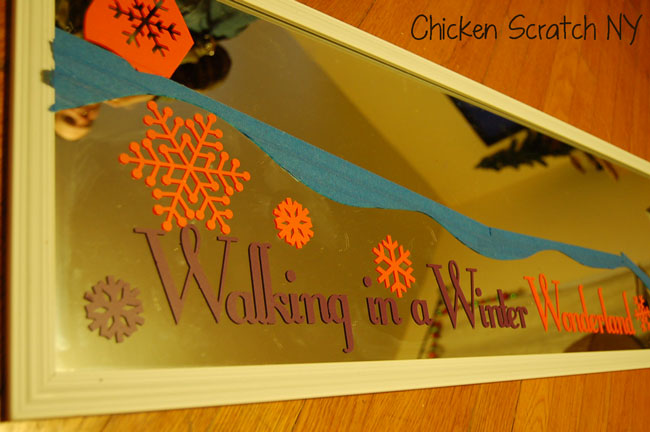 Get out your paint (I used Martha Stewart Frost Etching Effects)and start painting over the text and the area below the tape line. I liked the streaks so I played them up using long strokes. You could probably avoid them by dabbing with a foam stencil brush. When you finish the main section fill in the negative space in the frost paint. Carefully remove the vinyl. At this point I gave up on trying to photograph the steps. Here is the final, notice my husband being creepy and photo bombing.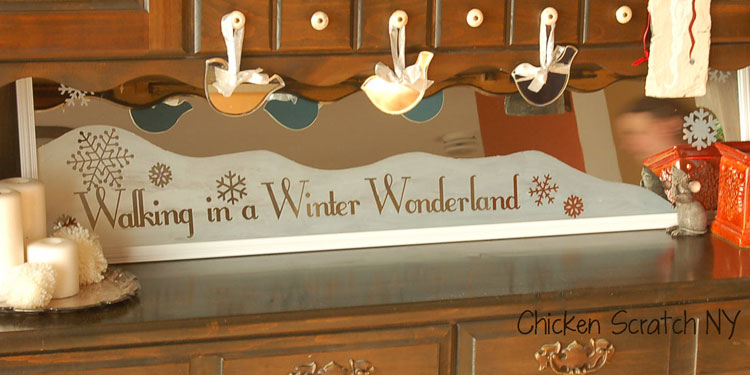 It didn't fit where I originally intended to put it so it ended up sort of wedged here. I think it would look amazing against a dark wall surrounded by glittering silver ornaments and mercury glass. But then wouldn't anything?
Update: In 2013 we put it on s shelf in the living room and my husband discovered he could use the DVD player remote on the opposite site of the room by bounding it off the frosted mirror. Bonus points for that one!
Where would you put a giant painted mirror?
*Unless you can figure out how to remove the mirror from the frame and wash it without injuring yourself or you home stick with the frost effects paint and not the etching cream