The inspiration for this Crockpot Beef Stew came from my lovely Bosnian coworker. Every week on Friday we take turns making lunch for the group and I'm lucky enough to get amazing Bosnian food.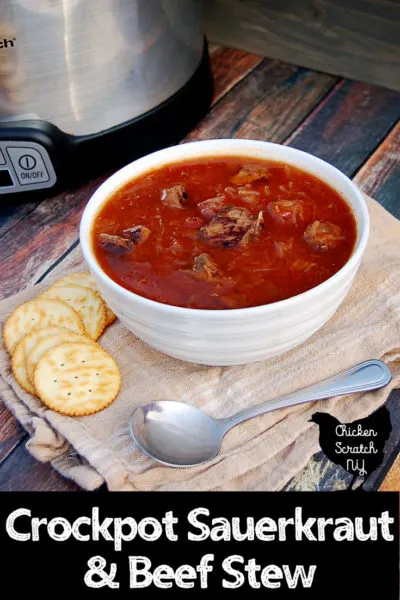 My favorite is Pita but Sarma is a close second. That's where this recipe comes from.
Sarma is stuffed cabbage but it's extra special because the cabbage is fermented sauerkraut-style. It's filled with rice, ground beef, onion and seasoning.
I wanted to get all those flavors together in a dish that didn't require hunting down sour cabbage leaves, or rolling anything. I turned regular stuffed cabbage rolls into a Stuffed Cabbage Casserole remember? I don't have a lot of free time these days.
Speaking of stuffed cabbage, my ex-husbands family is very Polish. They make the best perogies and golumpki (stuffed cabbage). The use fresh cabbage and cover everything in tomato sauce before cooking.
That's where the tomato addition came from in this recipe. It turns out Bosnian and Polish food is very similar.
The ingredients are all fairly simple but the flavors are amazing. So, so, so much cabbage!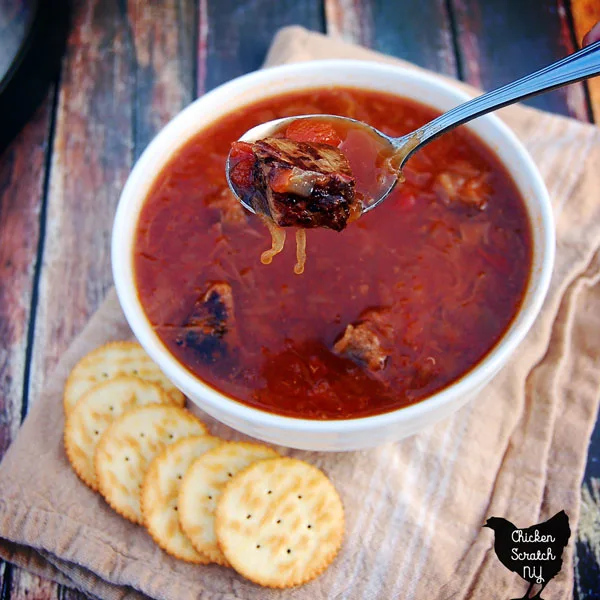 My first attempt at this soup used ground beef instead of stew beef and I dumped in the whole jar of sauerkraut. That ended up a clumpy and unappealing paste.
The next time I cut back the sauerkraut and used large chunks of meat for a better texture. It made a huge difference! No more slightly mushy piles of tangled sauerkraut.
Instead you're left with a hot bowl of tangy cabbage, beef and tomatoes. Serve it up with a healthy dollop of sour cream and you're in business.
Keeping a loaf of freshly toasted hearty bread on hand wouldn't be a bad idea either 😉
In an effort to make this beef stew busy life friendly I made it in my crock pot. I've been using my Instant Pot a lot these days but I didn't mind letting this cook for a few hours while I was pretending to fold laundry.
Side note, HOW do my two tiny children have so much laundry?! I swear someones sneaking in and changing their clothes 15 times a day…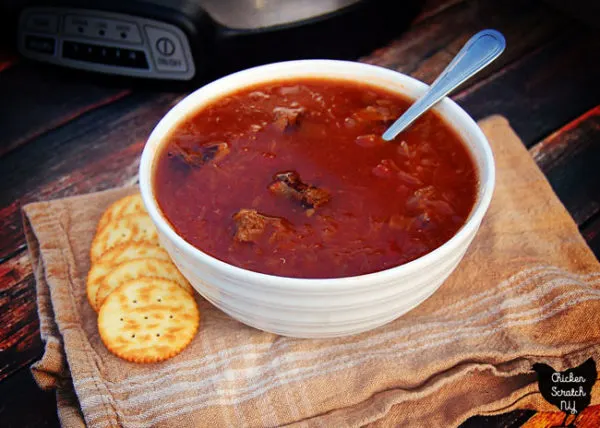 Anyway, back to the sauerkraut soup. As with everything I cook in my kitchen I started out with a preheated cast iron skillet. You need to preheat your cast iron if you don't want your food to stick. After roughly dicing the onions I gave them a quick saute to caramelize a little bit before dumping them into the slow cooker.
Then it's on to the meat, I used chunked stew meat for this recipe. I tried to cut the larger pieces down so they were all about bite sized. Back to your trusty cast iron it's time to brown the meat. This is an area where cast iron really shines.
Throwing the raw mean on to the pan should give you a nice sizzle. The meat will stick at first, when it easily lets go it's time to turn it to the next side. Tongs are great for turning the meat, you don't want to puncture it or you'll let those yummy juices out.
For best results work in batches, making sure to at least sear the larger sides. Don't go crazy trying to get every last bit browned, some of those beef chunks are very oddly shaped. Cramming too much in the pan at once will end up steaming the meat more than browning it.
After the meat and onions are out of the way it gets super (soup-er?) easy. Pour the beef broth, sauerkraut and crushed tomatoes into the slow cooker. Set it to high and cook on for 4 hours.
You might need to add salt, it really depends on how salty your beef broth is. And there you go, a nice Eastern-European inspired beef stew with sauerkraut! I fully reccomend serving it with sour cream and a nice slice of crusty bread.
Yield: 6 Servings
Sauerkraut & Beef Stew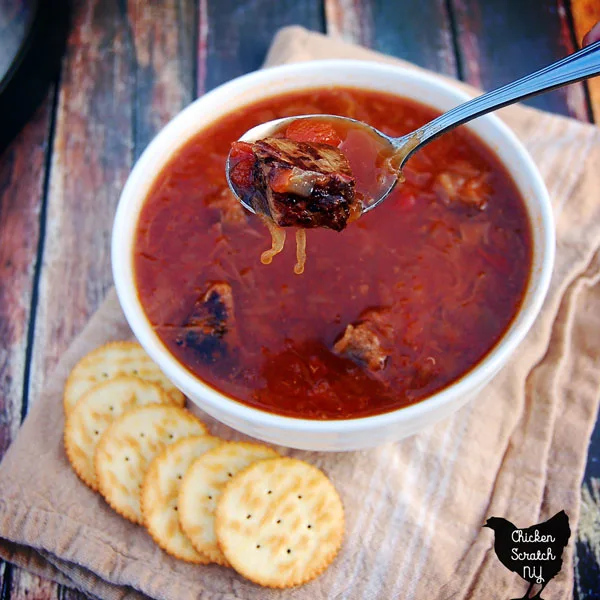 Enjoy a hearty bowl of Sauerkraut and Beef Stew filled with the tangy flavors of the Eastern Europe. This Crockpot recipe requires little prep for an amazing meal.
Total Time
4 hours
20 minutes
Ingredients
1 large Onion, chopped
2 tbsp Coconut Oil
1.5 lbs Stewing Beef, cut into bite sized chunks
2 cups Sauerkraut
1 28 oz. can Crushed Tomatoes
1 48 oz Beef Broth
Instructions
Saute onion in coconut oil until softened and lightly caramelized. Add onion to crockpot
Work in batches to sear the stew meat. Add beef to crock pot after it's browned
Add sauerkraut, tomatoes and beef broth to the crockpot
Cover and cook in high heat for 4 hours
Serve with sour cream and crust bread or crackers
Recommended Products
As an Amazon Associate and member of other affiliate programs, I earn from qualifying purchases.
Don't forger to PIN this to your Dinner or Soup board! Check out my
Recipes page
for more dinner ideas or start with these: