Christmas Tree Ornaments for your tree! Who doesn't love using up scraps? I love squeezing every last drop out of my craft supplies, mostly because I hate to throw things out but also because we're on a budget. I used my sewing machine to put these together but you could easily make them by hand, that would make them a nice portable project.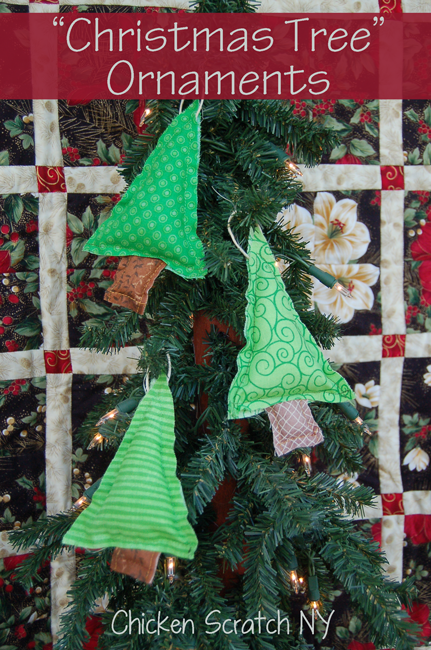 I've decided to make all my tree ornaments this year. I have beautiful ornaments I can't use (thank you devil cat) and the unbreakable ornaments make me sad (seams!! I can see the seams!!) so home-made cat-proof ornaments it is. Today is the first of my 'rustic' ornaments. It's probably also the easiest and like I said a scrap buster.
Supplies:
Fabric – green for the trees, brown for the trunk
Stuffing
Twine for the hangers
Sewing machine or needle & thread
Instructions:
Cut 2 triangles from the tree fabric and 2 rectangles from the brown
Sew around three sides of the 'trunk' and stuff lightly
Sew the two long sides of the tree, sandwiching the twine between the fabric at the point, stuff lightly
Stick the trunk into the tree and sew the whole she-bang closed
I used 2 colors of thread in my sewing machine, lime in the bobbin and olive in needle just to add some extra fun. The fastest way to whip up a whole stuffed forest is to cut multiple trees at a time using a rotary knife and mat. Always use a sharp blade and watch your fingers!
My trees are four inches wide at the bottom and five inches tall plus another inch or so for the trunk. I think it's a great ornament size but you could make smaller trees (2 inches wide, 3 inches tall) for mini-ornaments or even bigger if you had a giant tree or wanted to hang them from a door knob or as part of a wreath